2010-2015 Chevrolet Camaro
Upgrading the stereo system in your Camaro
2010 • 2011 • 2012 • 2013 • 2014 • 2015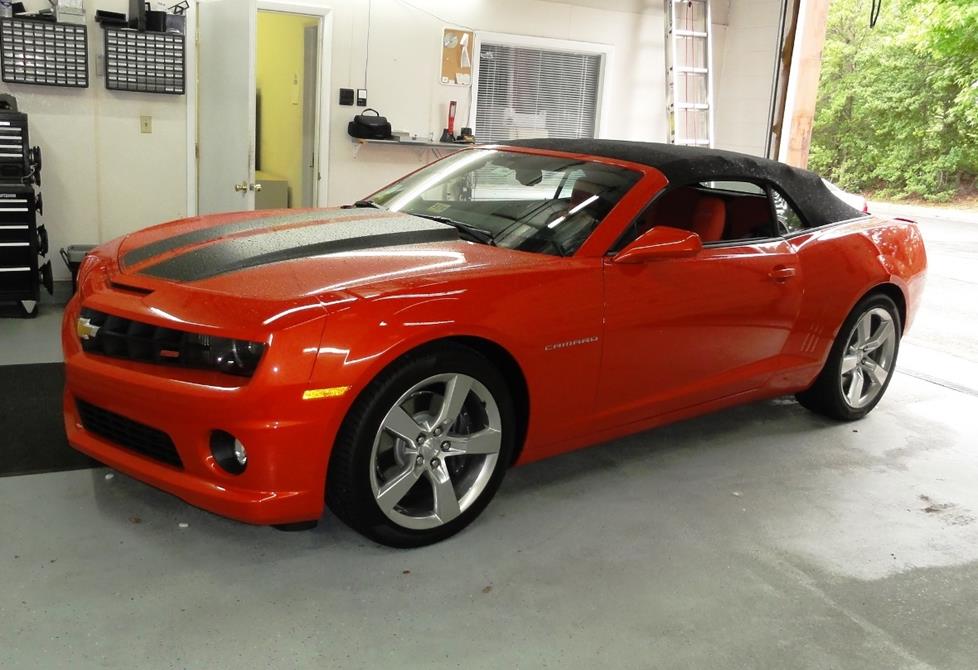 In brief: This Crutchfield Research Garage article gives you an overview of your Camaro's stock stereo system and your aftermarket upgrade options. Use our vehicle selector to find the gear that will fit your Chevy.
Overview of the Chevy Camaro
It's said that if you stick around long enough, everything will come back into style again. Somehow, the world just seems like a better place when vinyl records are popular, 3-2 baseball games are commonplace, and muscle cars can be heard rumbling around town on a Saturday night.
Ford started the whole retro muscle car craze with its 2005 Mustang, then Chrysler followed suit with the 2008 Dodge Challenger. In 2010, GM finally completed the trinity with a thoroughly modern muscle car inspired by the classic first-generation Camaros. Like its cross-town rivals, the Camaro is a remarkable synthesis of present-day performance and old-school style.
You won't find a push-button AM radio in today's Camaros, but if you want your stereo to sound as good as your car's exhaust note, you'll definitely want to upgrade. The Camaro offers numerous challenges to the would-be installer, but we're here to offer you the advice you need to get the sound you want. Installation-wise, the coupe and convertible are exactly the same until you get to the rear speakers, so those differences are noted where appropriate.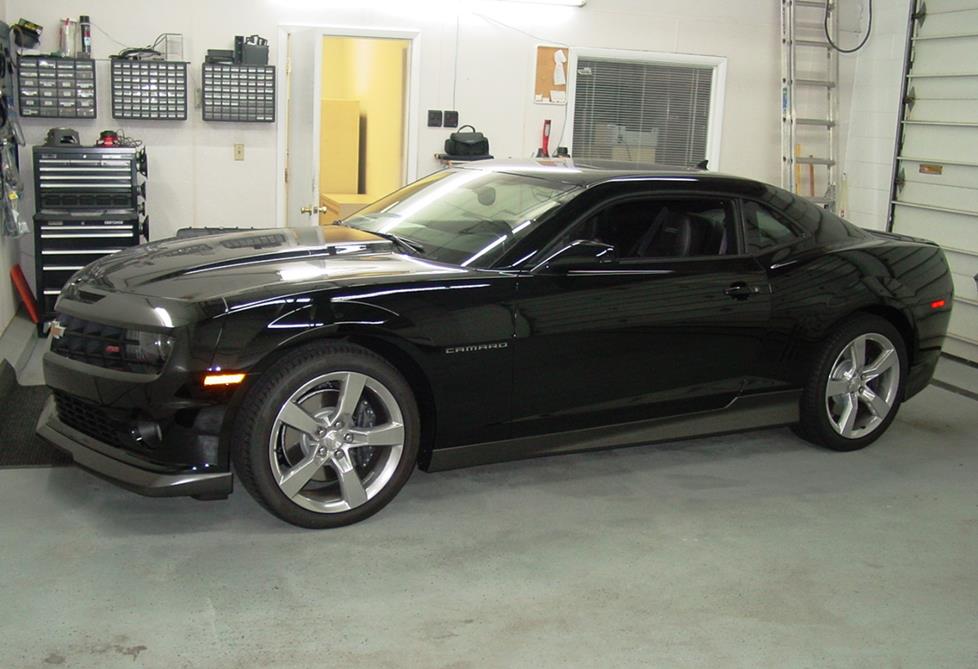 2010 Chevy Camaro coupe (Crutchfield Research Photo)
Factory stereo system
The Camaro's base stereo was a 6-speaker, 80-watt AM/FM/CD/MP3 audio system with XM satellite radio and an auxiliary audio jack. Buyers who opted for the Convenience and Connectivity package got plenty of both, with Bluetooth® connectivity (which eventually became standard equipment), steering-wheel-mounted audio controls, and a USB port.
The next level of stereo sound was a 245-watt, 9-speaker Boston Acoustics-branded system with an AM/FM/CD/MP3 receiver, XM satellite radio capability, steering-wheel-mounted controls, a USB audio interface and Bluetooth capability. GM's OnStar® system was, of course, present on all models. AUX and USB inputs for either system can be found in the center console storage compartment.
A rear view camera was added in 2012. In 2013, Chevy introduced a new MyLink touchscreen audio system, plus an optional MyLink-based GPS navigation system. We haven't had a chance to review a 2013 Camaro yet, so while we doubt there are significant changes to the stereo removal and replacement process, we don't know that for certain. Watch this space for updates.

The Camaro's factory receiver (Crutchfield Research Photo)
Replacing your factory radio
When shopping for a new receiver, you have a lot of options. Both single-DIN (2" tall) and double-DIN (4" tall) receivers will fit in your Camaro. You'll need a special integration package to install either size stereo without losing the lights, locks, climate controls, and OnStar. It's not a cheap kit by any means, but when you purchase your receiver from Crutchfield, you'll get a very nice discount on the purchase price
The Camaro's retro-modern styling is at once a proud glance back at GM's long, glorious past and a confident look forward to a bright future – which may or may not explain why the factory receiver looks like the front end of a '56 Buick.
Detailed stereo and speaker removal instructions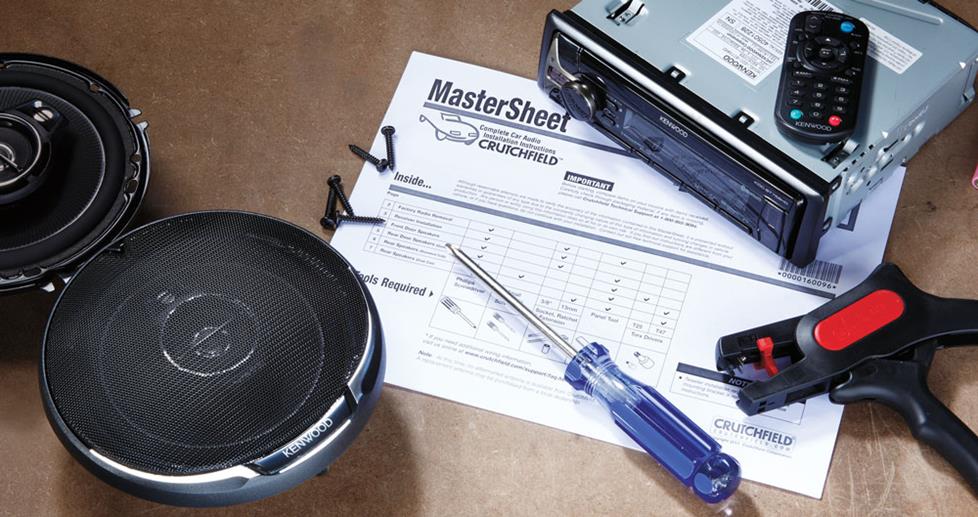 With step-by-step disassembly instructions and plenty of up-close, detailed photos, our exclusive
Crutchfield MasterSheet
™ takes the guesswork out of removing the factory stereo and speakers. It's free with your Crutchfield order, or you can purchase one separately for just $9.99.
Pulling the front end of an actual Buick into this Camaro's interior would be more difficult than getting the stock receiver out. But not by much. The interior looks terrific, but it's awfully tight in there, so getting to the factory radio is a multi-step process that requires time, patience, and skill. Removing the radio means removing the center console and most of the lower half of the center dash stack. There are lots of screws to remove and panels to finesse, so this is not an easy job. Once you've installed the new receiver, you have to do it all again, backwards.
If you're an experienced do-it-yourselfer, you can probably handle this installation on your own with help from the detailed, illustrated Crutchfield MasterSheet™ that's included with your purchase. If not, you might want to hand the receiver and the MasterSheet over to a professional installer, leave a phone number where you can be reached, and enjoy the rest of the day. We don't want to seem overly negative, but we do want you to know what you're getting into.
Tools needed: Panel tool, small flat blade screwdriver, socket wrench and extension, 7mm socket, Phillips screwdriver
Steering wheel audio controls
It's relatively easy to retain your Camaro's steering wheel audio controls when you install a new stereo. When you enter your vehicle information, our database will choose the adapter you need to make your factory steering wheel controls work with your new receiver. And you'll get it at a discount when you buy it with your new stereo.
Shop for car stereos that fit your Chevrolet Camaro
Replacing your factory speakers
The Camaro has speakers in the doors, the dash, the rear deck, and the rear side panel area.

The Camaro's front door (Crutchfield Research Photo)
Door speakers
Whether your Camaro has the base or Boston Acoustics system, you'll find a set of component speakers inside the massive doors. You'll need to remove the door panels, but other than that, the speakers are reasonably easy to reach and replace with the help of your MasterSheet.
To remove the door panels, you'll start by prying up the tweeter housing to release three clips. Disconnect the wiring harness and remove the housing. Moving down the door, you'll then remove one Torx T30 screw that's inside the door pull cup. Pry out the screw cover behind the door release and remove one 7mm screw.
Next, you'll remove two 7mm screws along the bottom of the door panel and one 7mm screw at the upper front corner of the door panel. With the panel loosened, gently pry around the edges with a panel tool to release 13 retaining clips, pull out the panel, and disconnect the harnesses and door release cable. Be sure to place the panels somewhere safe while you're swapping out the speakers.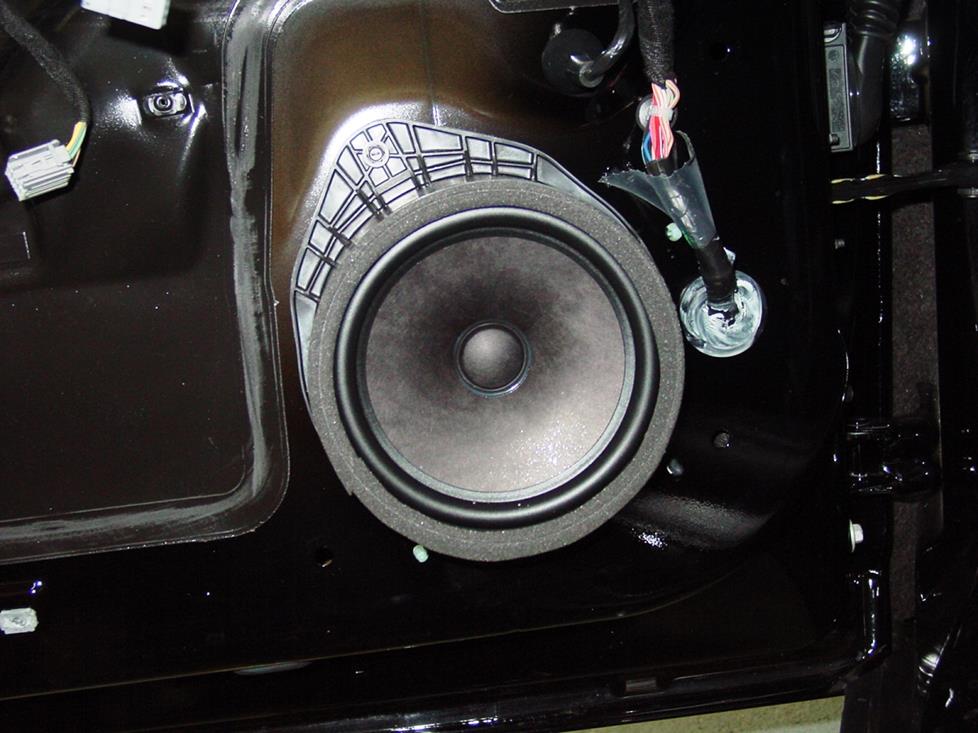 A stock woofer (Crutchfield Research Photo)
The stock woofers, regardless of system, are 6-3/4" units. You can replace them with a wide variety of 6-1/2" or 6-3/4" models, with the help of speaker adapter brackets included free with your purchase. We also include a Crutchfield wiring harness, so you can install your speakers without the hassle of cutting into the factory wires.
The tweeters are just over 1-1/2" in diameter and a number of component system tweeters will fit nicely. They're easy to remove, but you'll either need to fabricate a mounting bracket or use our universal backstrap to secure them in place. A wiring harness isn't available either, so you'll need to splice the vehicle's speaker wires to your new speaker's wires, or use PosiProducts wire-tapping connectors.
Tools needed: Panel tool, Phillips screwdriver, small flat blade screwdriver, Torx T30, 7mm socket, socket wrench and extension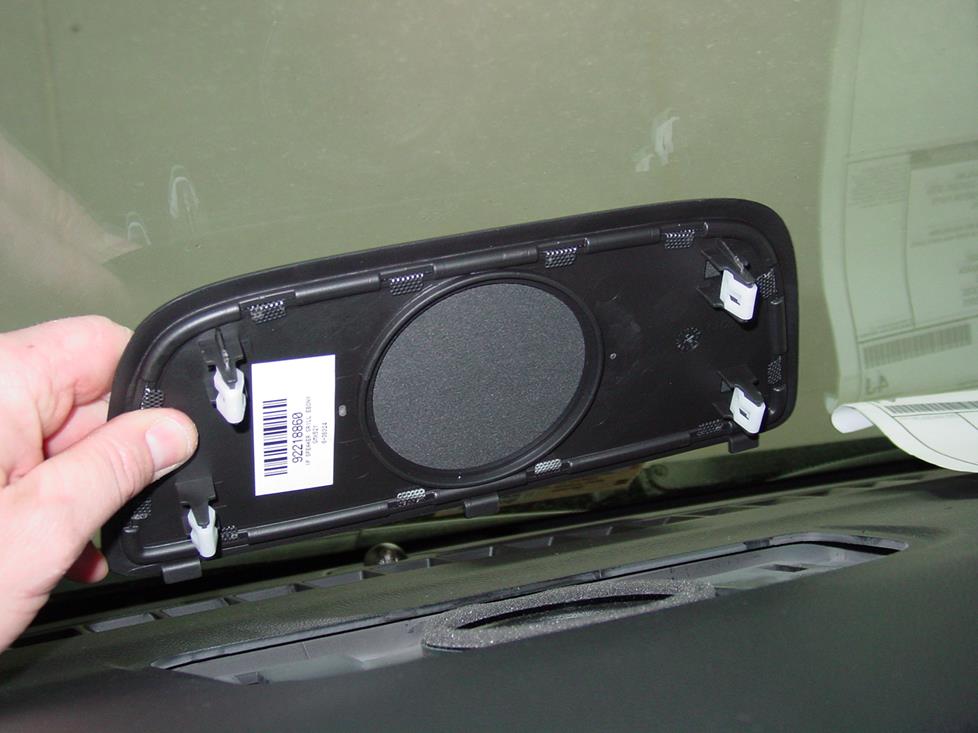 The center dash speaker is easy to get to, but you might not want to bother (Crutchfield Research Photo)
Center dash speaker
The 3-1/2" center dash speaker that's part of the Boston Acoustics package is easy to get to and hard to replace, because there really aren't any replacements available. All things considered, it doesn't make a huge difference whether you leave it there or disconnect it. Installing a set of quality component speakers in the doors will do a lot more to improve your soundstage.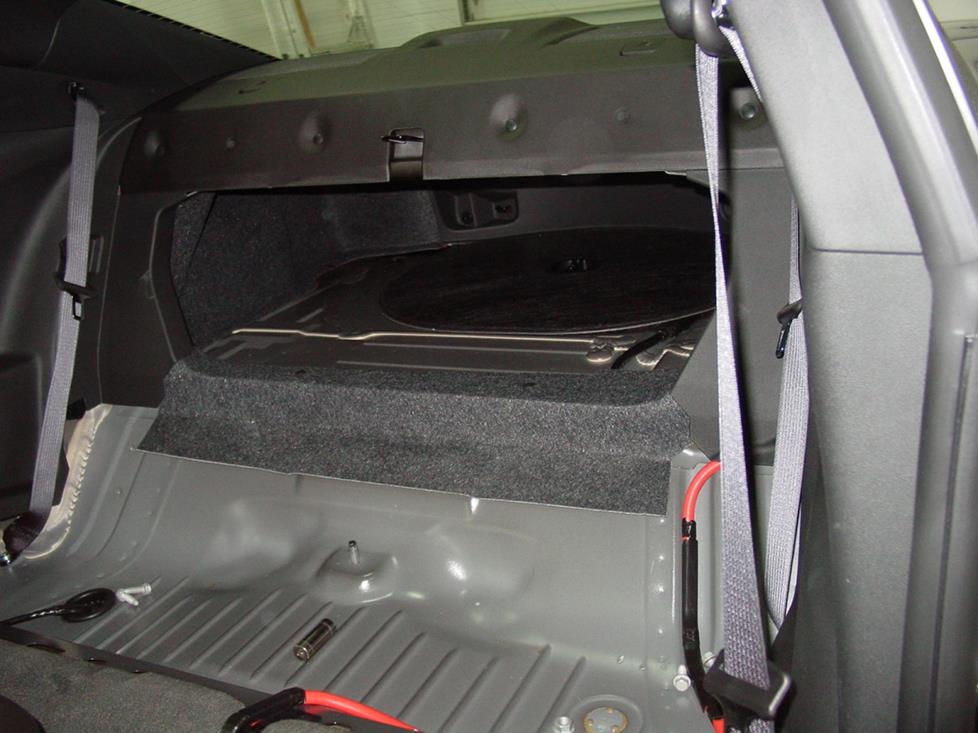 Getting there is not half the fun (Crutchfield Research Photo)
Rear deck speakers (coupe)
The Camaro coupe's rear deck speakers measure 6"x9" and look absolutely terrific right there where they are. They sound nice, too, especially the Boston Acoustics versions. Nothing to improve upon here, so we'll just move on to…
Okay, okay…. Of course it's possible to improve upon the Camaro's rear deck speakers. There's no shortage of 6"x9" speakers that will fit perfectly and make the factory units sound like they came out of a wrecked Vega. The problem, quite frankly, is that the installation process is a…challenging, exciting project that builds character and teaches valuable life lessons. Ahem.
Removing deck-mounted speakers from the average coupe or sedan typically involves a bit of work, since it's usually necessary to remove the rear seat back, and maybe some trim panels and/or the lower cushion. It's not easy, but it's totally doable for anyone with some skills, common sense, and a few tools.
There's nothing average about the Camaro. Replacing the rear deck speakers involves an extensive disassembly process in which removing the seat bottom is merely Step One. There are other steps after that – lots of them. Basically, you're taking the entire rear half of the interior apart, replacing two speakers, then putting it all back together again. If you were doing this in a wagon or SUV, it would be tough enough, but doing it in a tightly-packaged coupe with a sloping rear window makes it even tougher.
And that's just for the base stereo. If your Camaro is equipped with the Boston Acoustics system, the rear tweeter is mounted in tandem with the rear woofer, and cannot be removed. These speakers are powered by a factory amplifier (located behind a trunk trim panel on the driver's side), which sends bass and treble to the speakers through separate sets of wires.
If you replace the factory radio with a new receiver, the factory amplifier will work fine with the factory rear speakers. However, if you want to replace the stock speakers, you'll have to replace the factory radio, AND bypass the factory amp by splicing together its input and output wires.
Needless to say, we recommend that you consult a car audio professional for this project. We don't want to quash your interest in do-it-yourself installation, but some cars require more than enthusiasm, a toolbox, and a Crutchfield Advisor on the other end of the phone. This is one of them. That said….
Tools needed: Panel tool, Torx T50 driver, 7mm, 15mm & 18mm sockets, socket wrench and extension, small flat blade screwdriver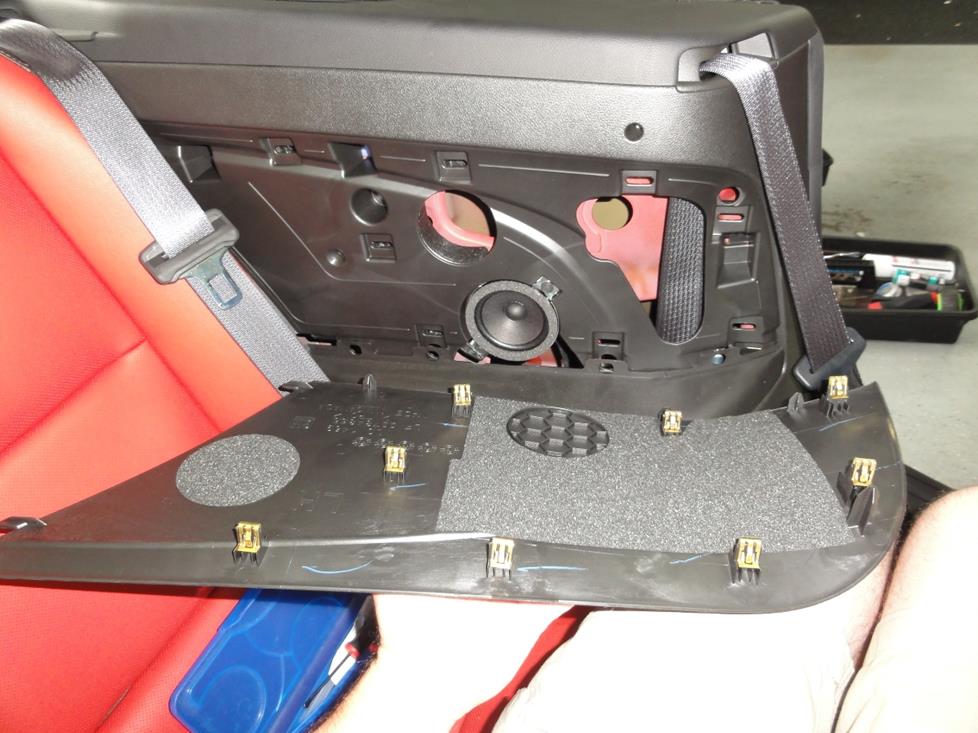 The Camaro convertible's rear side speakers are much easier to deal with (Crutchfield Research Photo)
Rear side panel speakers (convertible)
Camaro convertibles are equipped with 3-1/2", 2-ohm speakers in the rear seat side panels. They're reasonably easy to remove and replace, especially compared to everything else on this car. Starting at the front edge, pry out the rear side panel grille to release eight clips and remove them. Remove the two 7mm screws securing the speaker to the side panel, disconnect the harness and remove the speaker. A wiring harness is not available, so you'll need to splice the vehicle's speaker wires to your new speaker's wires or use a set of PosiProducts wire tap connectors.
Tools needed: Panel tool, 7mm socket, socket wrench and extension
Shop for speakers that fit your Chevrolet Camaro
Bass in your Camaro

The convertible's sub is behind the rear seat (Crutchfield Research Photo)
Factory rear subwoofer (convertible only)
The Boston Acoustics system includes a 10" dual voice coil sub. This sub is located on the trunk wall, facing the back seat. It's not easy to get to, but it's easier than anything on the coupe! You will need to drill new screw holes to mount an aftermarket subwoofer, so be very careful and take all appropriate safety precautions before you start. Or, if you're not comfortable drilling into your prized Camaro, leave this job to a professional installer.
This sub receives only bass frequencies from the amplifier, so if you replace it, the aftermarket speaker will only reproduce bass.
Start by putting the top down, then pry up the rear seatbelt trim panel to release ten clips. Put the panel on the convertible top for safekeeping, then repeat the process on the opposite side. Pry up the upper trim panel in the center of the seat to release eight clips and remove that panel. Push down on the two metal clips securing the top of the rear seat back and fold the seat down. Remove eight Torx T25 screws that secure the subwoofer to the factory bracket, disconnect the harness and remove the subwoofer.
A wiring harness is not available, so you'll need to splice the vehicle's speaker wires to your new sub's connectors or use a set of PosiProducts wire tapping connectors.
Tools needed: Panel tool, Torx T25 driver, drill and 1/8" bit
Coupe
Thanks to the thriving aftermarket that sprang up around the new Camaro almost immediately, there are plenty of parts and pieces out there to make this car look wilder, go faster, and handle better. If you want to add bigger bass to your Camaro, you have some good options there, too.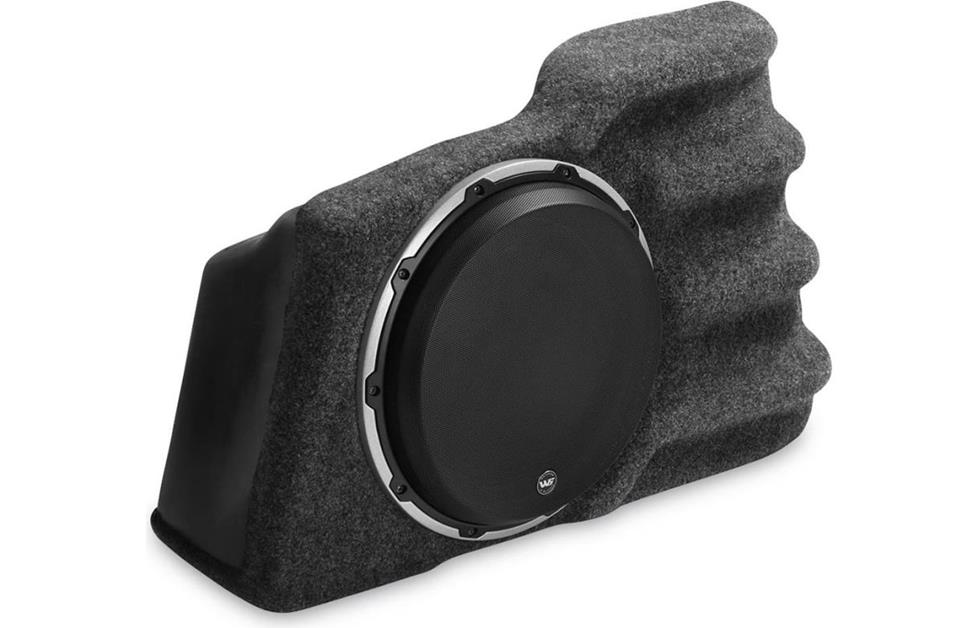 This JL Audio Stealthbox fits the Camaro coupe perfectly (JL Audio photo)
Installing a big sub box and component subwoofers isn't one of them. The Camaro's narrow trunk opening is the biggest impediment, but the internal dimensions are 14" high X 32" wide X 14" deep, so there's not much space anyway. Thankfully, you can still add plenty of bass with a powered subwoofer or you can choose one of the custom enclosures created by the aforementioned thriving aftermarket.
If you're a serious, hardcore bass lover, then consider the JL Audio Stealthbox®. It comes with one W6v2 12" 4-ohm dual voice coil subwoofer from JL Audio. The fiberglass shell offers superior rigidity while allowing more interior volume, so the sub can turn out louder, deeper bass. JL Audio craftsmen then laminate, grind, join, and finish each Stealthbox by hand. The end result: full-bodied, distortion-free bass from an impressively stealthy enclosure.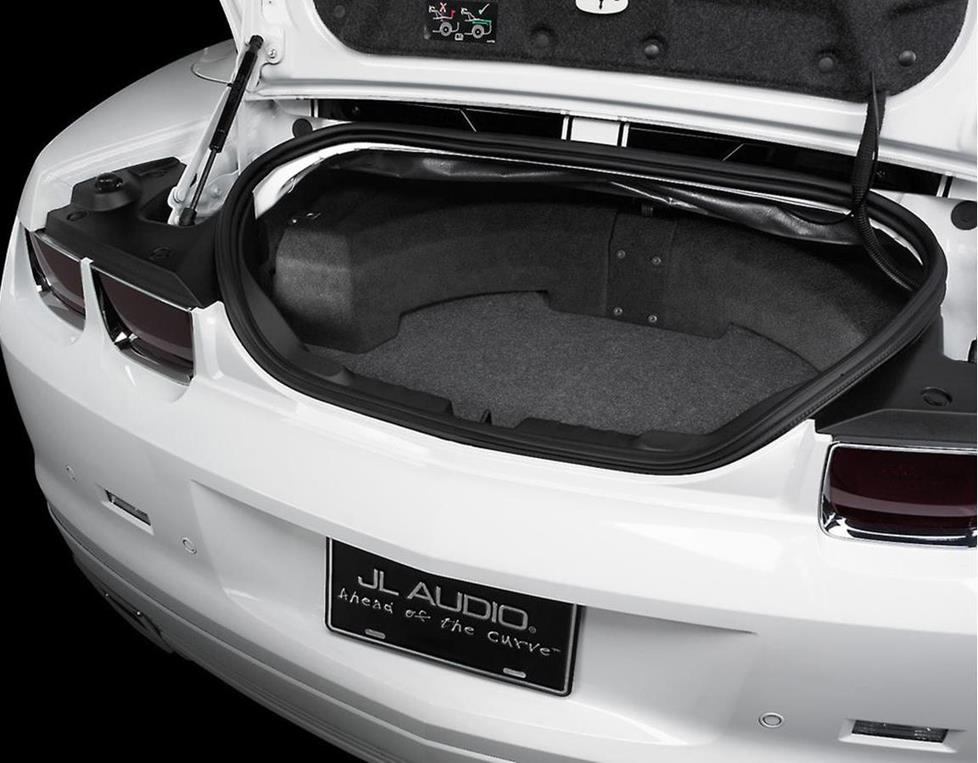 The Camaro convertible's Stealthbox
Convertible
The top has to go somewhere on sunny days, so the Camaro ragtop has even less trunk room than the coupe. The available space is 14"H x 24"W x 10"D, so you'll want to use a powered subwoofer or a custom-designed enclosure from JL Audio.
This JL Audio Stealthbox contains two 10" JL Audio subs in a down-firing sealed enclosure. It mounts in the trunk against the rear seat back and is carpeted to match the trunk trim. Overall impedance is 2 ohms and can handle up to 600 watts RMS.
Shop for vehicle-specific subwoofers for your Chevrolet Camaro
Other options for your Camaro
There are plenty of other ways to improve your Camaro. Here are some of the ways Crutchfield can help.
Dynamat
If you're going to the trouble of replacing the receiver and speakers in your Camaro, you're obviously serious about sound. If you want to get the maximum out of your new stereo, consider a Dynamat 10435 Xtreme Door Kit. This heavy-duty noise damping material really makes a difference. One kit should take care of the Camaro's doors. If you're planning on an all-around stereo replacement involving the rear speakers and a sub, you might want to talk to your installer about lining the floorpan and the trunk lid as well. Might as well do it while you're tearing out the interior anyway, right?
Security systems
Installing a security system in your Camaro isn't easy (security systems rarely are), but it's definitely a good idea. Our Crutchfield Advisors can help figure out what you need to get the job done, but we usually recommend taking your car and new gear to a professional installer.
Shop for car security systems for your Chevrolet Camaro
Find the audio gear that fits your car or truck
Visit our Outfit My Car page and enter your vehicle information to see stereos, speakers, subs, and other audio accessories that will work in your vehicle.