A souped-up 2010 Chevy Camaro gets a massive audio upgrade
A local gearhead installs a dream system in her baby
Stephanie, a friend of mine here in town, recently mentioned that she'd made some major performance upgrades to her beloved 2010 Chevy Camaro, and that now she really wanted to step up its audio game. After seeing the Chevy's exterior upgrades myself, I knew we had a great DIY story on our hands.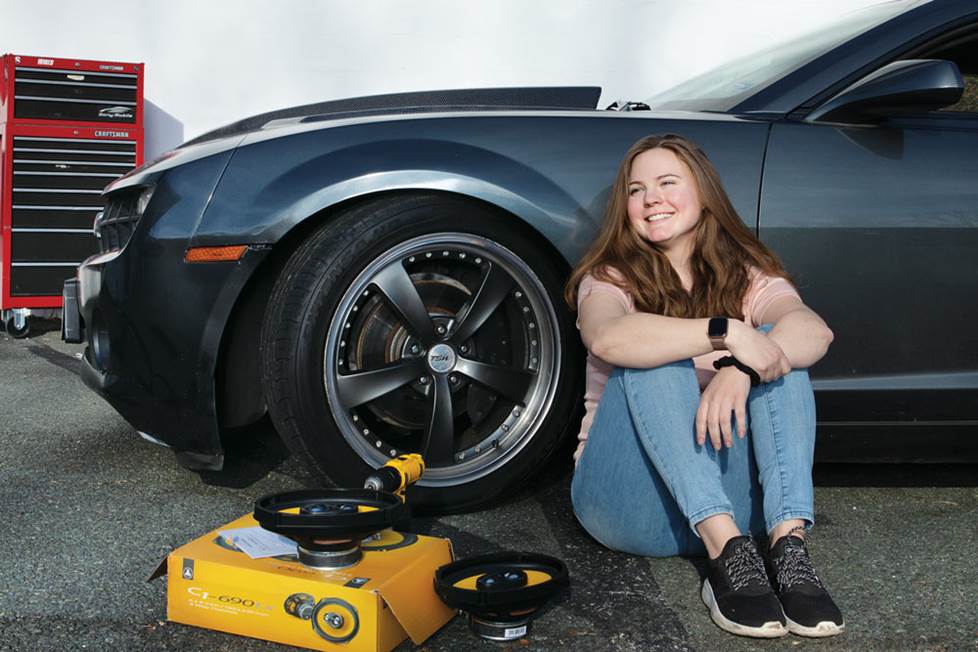 The audio upgrade plan
To set the stage, Stephanie showed me the aftermarket rims, a performance air filter, and a new carbon fiber hood installed on her baby. They were all quite impressive. But when it came to her sound system, Steph told me that her speakers and two subs would occasionally cut out. And when they were working, they just weren't delivering the impact she wanted.
After checking Crutchfield's deep research notes on her Camaro, I told Steph we offered a triple-subwoofer JL Audio Stealthbox designed specifically for the Camaro's trunk. That grabbed her attention bigtime. So we planned out a system to include the Stealthbox, a JL Audio 5-channel amplifier, all new JL Audio speakers, a new Pioneer touchscreen stereo, and all the installation gear she needed.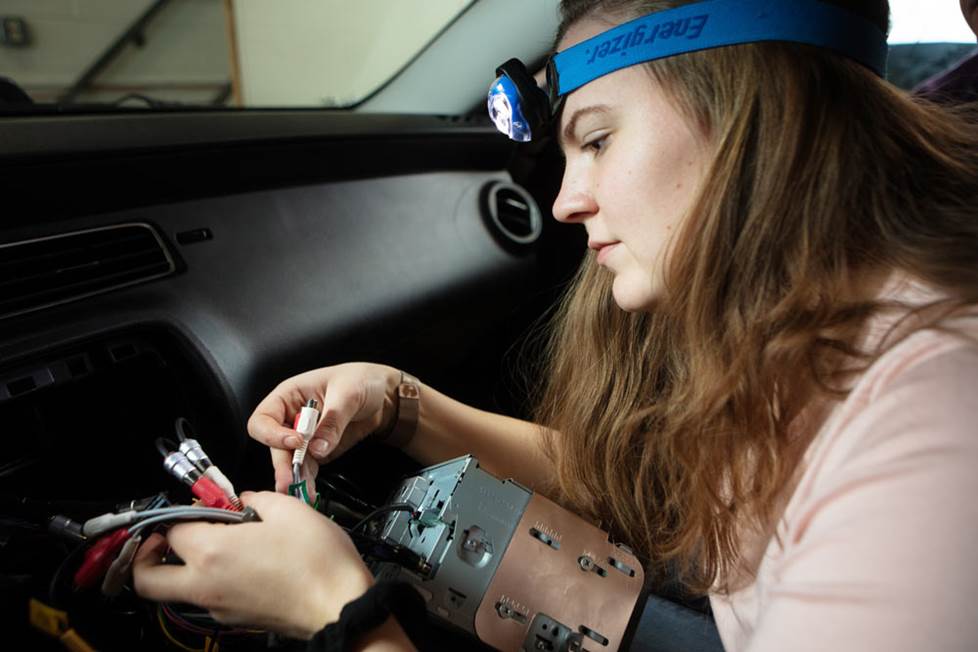 The audio overhaul begins
Talk about being on a mission — Stephanie certainly wasn't shy about taking apart her car (I could tell she'd done it before). We actually had to get her to slow down for our photography crew. She quickly had her old aftermarket stuff out and was ready for the new gear.
She installed her new Pioneer touchscreen receiver, which now gives her wireless Apple CarPlay™ to use with her iPhone.® Paired with an iDatalink dash kit made for the Camaro and a Maestro ADS-MRR interface, flashed with software specific to her Chevy, she now enjoys full access to her climate controls and even some fun vehicle gauges through the car stereo.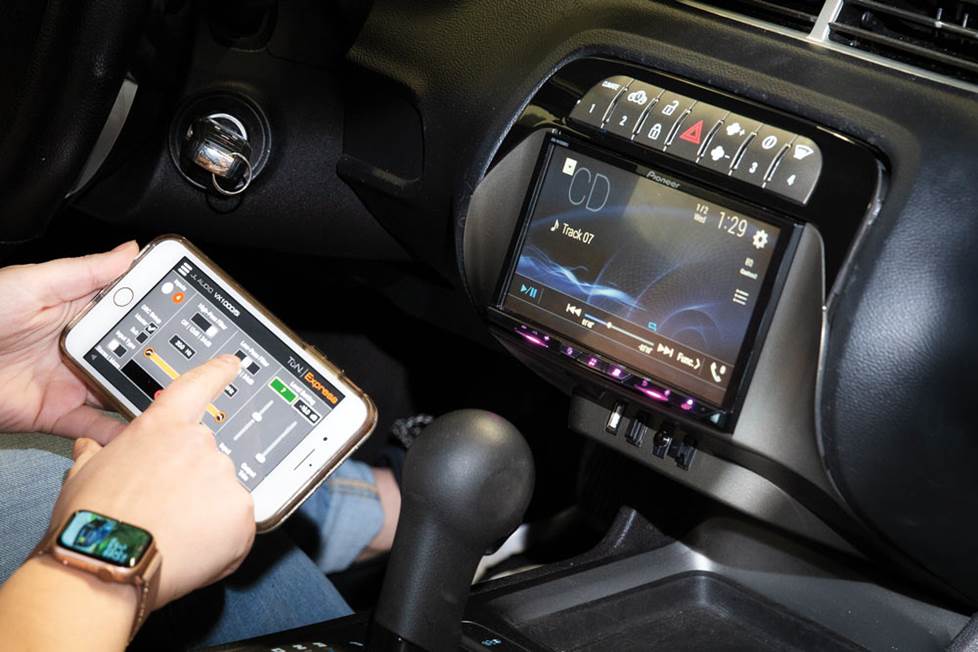 Stephanie was really excited about experimenting with JL Audio's TüN Express app to tweak her sound. The photo above also shows off the feature-laden Pioneer receiver and iDatalink's beautiful dash kit for the Camaro.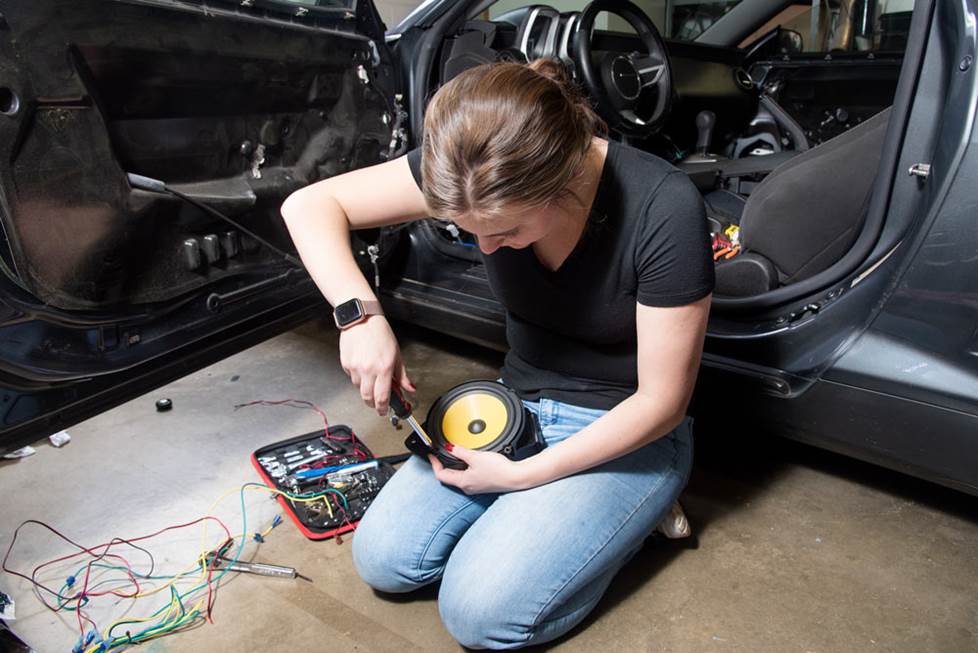 Steph secures the new JL Audio speakers to the brackets, which will then fasten to her door openings.
With the door panels removed and the old speakers out, Steph then worked a set of JL Audio component speakers into her front doors to provide a great soundstage up front. The tweeters fit neatly inside the stock tweeter grilles in the Camaro doors. A pair of JL Audio 6x9 speakers mounted in the rear locations would complement her sound up front.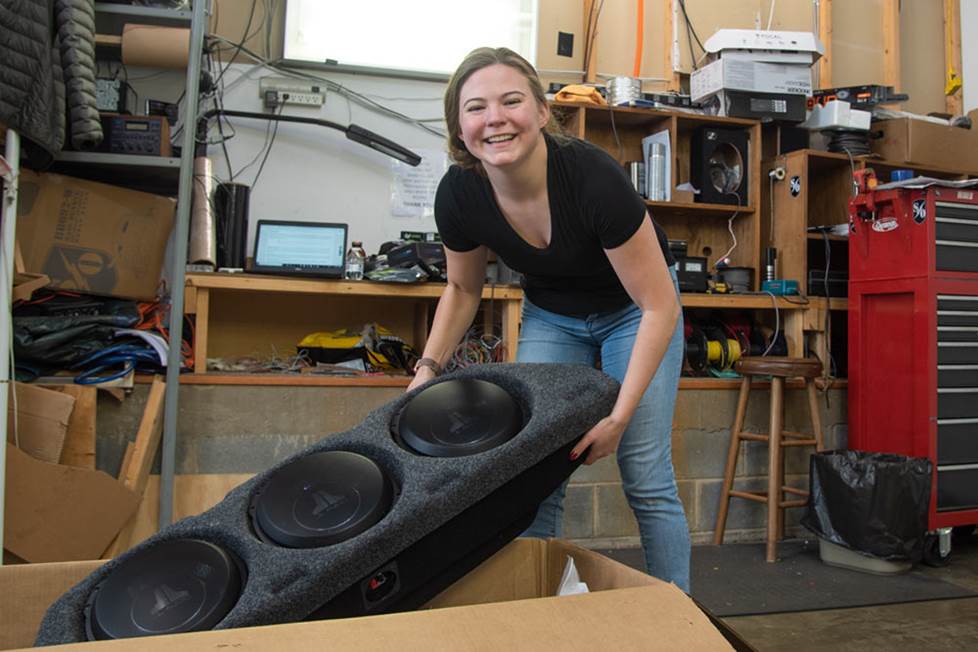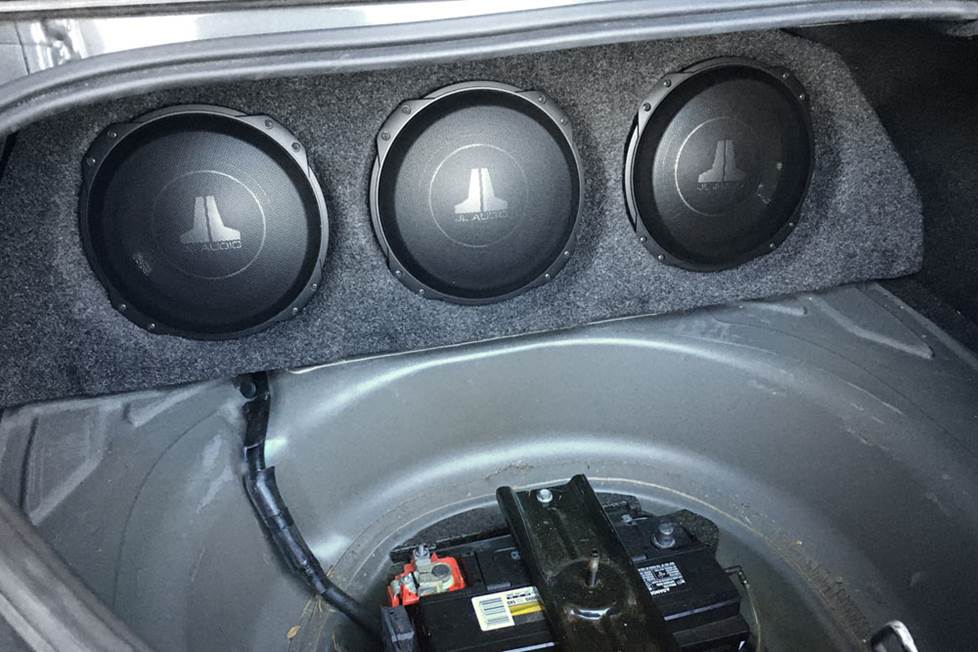 Continuing with the amplifier and subwoofer
As she unpacked the Stealthbox subwoofer box and amplifier, I could see the sparkle in Stephanie's eyes. She had wrestled her old boxy subwoofer box out of the trunk so she could check the fit for her new subs. I could tell immediately that she liked the way it looked in the trunk.
But, she had to get the amp connected before the actual subwoofer experience.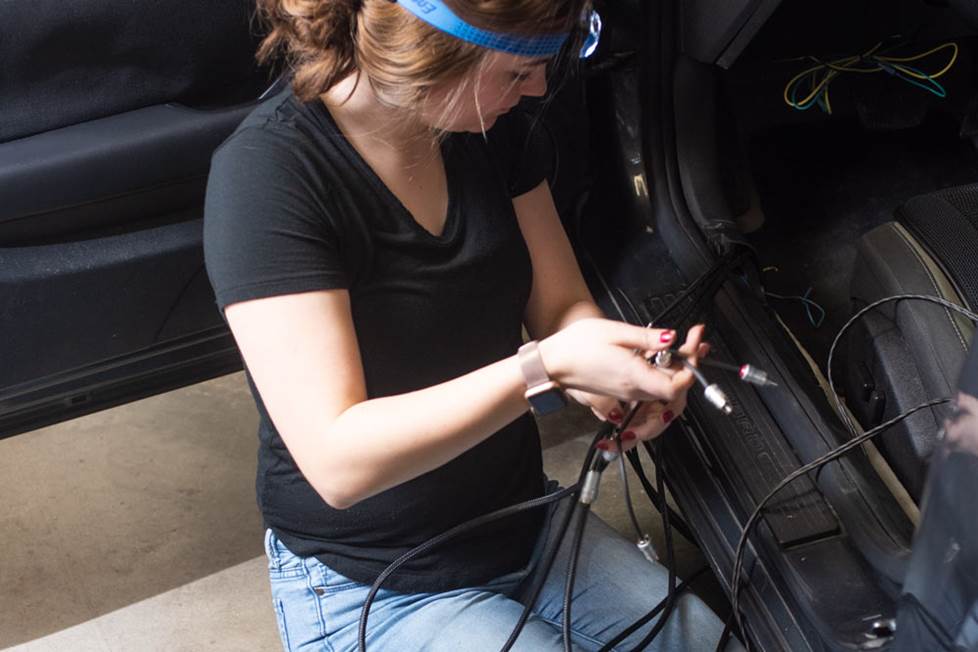 Stephanie runs the RCA cables under a panel near the door.
Steph had left the receiver loosely mounted in the dash, so she could connect the amplifier signal cables and remote turn-on lead during this part of the installation. She carefully ran RCA cables, which handled the audio signal, under the panels and carpet from the trunk to the stereo in the dash. Since she was tapping into the existing Camaro speaker wire to feed power to the speakers, Steph also ran the 9-wire speaker cable that Crutchfield carries to simplify the speaker wire connections at the amp and stereo.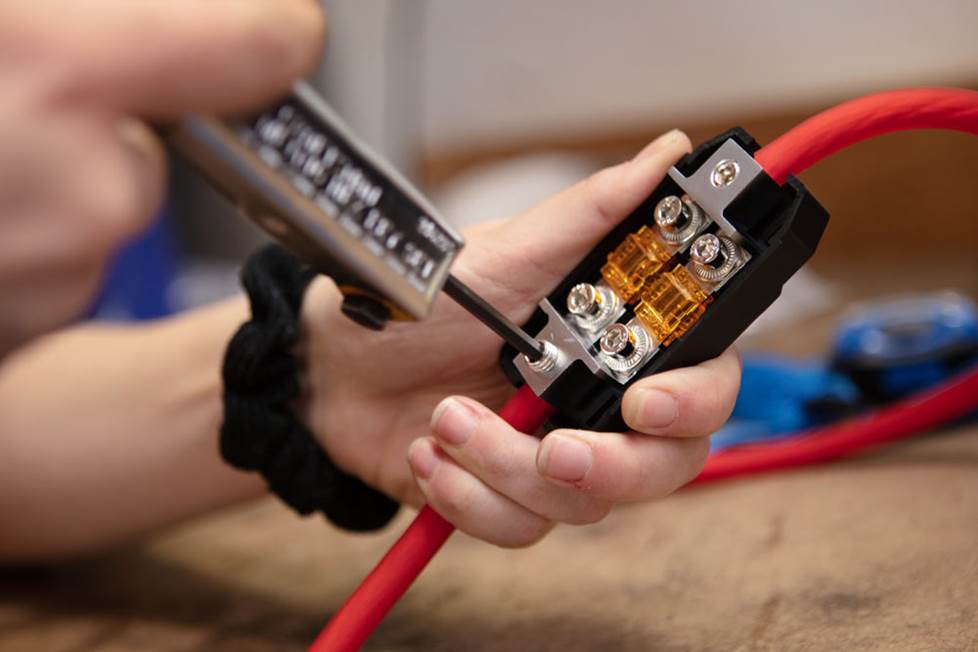 Steph secures the power cable to the fuse holder, which protects her Camaro's electrical system.
Turning to power, the Camaro's battery is under the trunk lining, so wiring for power and ground was a breeze. It all was connected within six feet of the amp location. No running wire through a vehicle's bulkhead. Yay!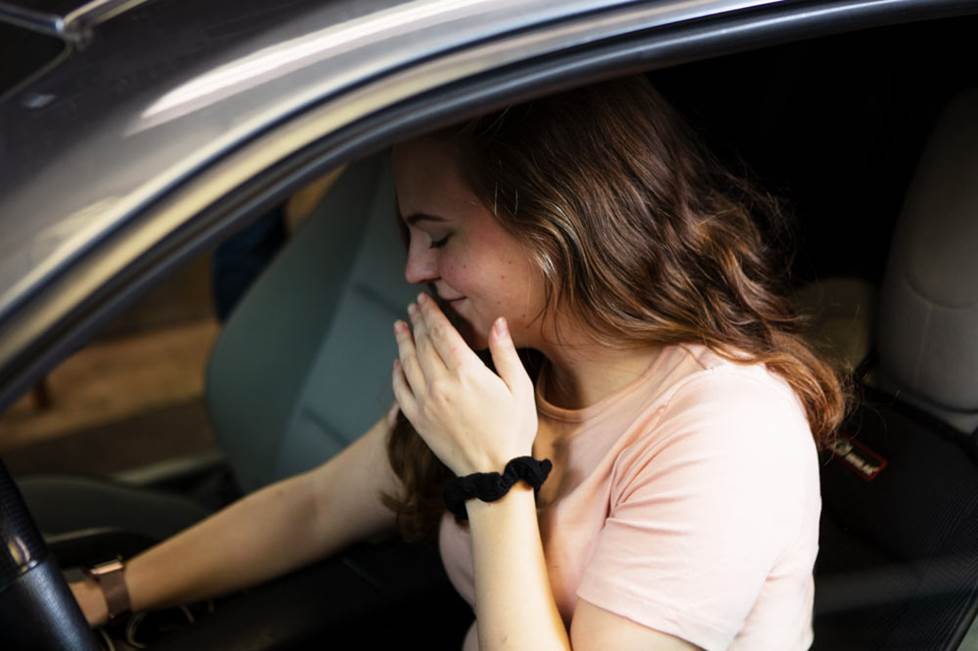 Big smiles — a couple of happy tears
With everything in place, Steph connected the battery and turned her key. I looked over at her as the powerful, clean music start pouring out of her new system. She had some tears of joy streaming down her face as our install bay doors started rattling.
Find the right audio gear for your baby
When you're ready to upgrade your audio system and add features that the factory setup may not offer, contact one of our Advisors by phone, chat, or email. They'll be glad to set up a system that sounds great and safely works with your ride.
Last updated 2/17/2020