2011-2014 Jeep Wrangler and Wrangler Unlimited
Upgrading the stereo system in your Wrangler or Wrangler Unlimited
2011 • 2012 • 2013 • 2014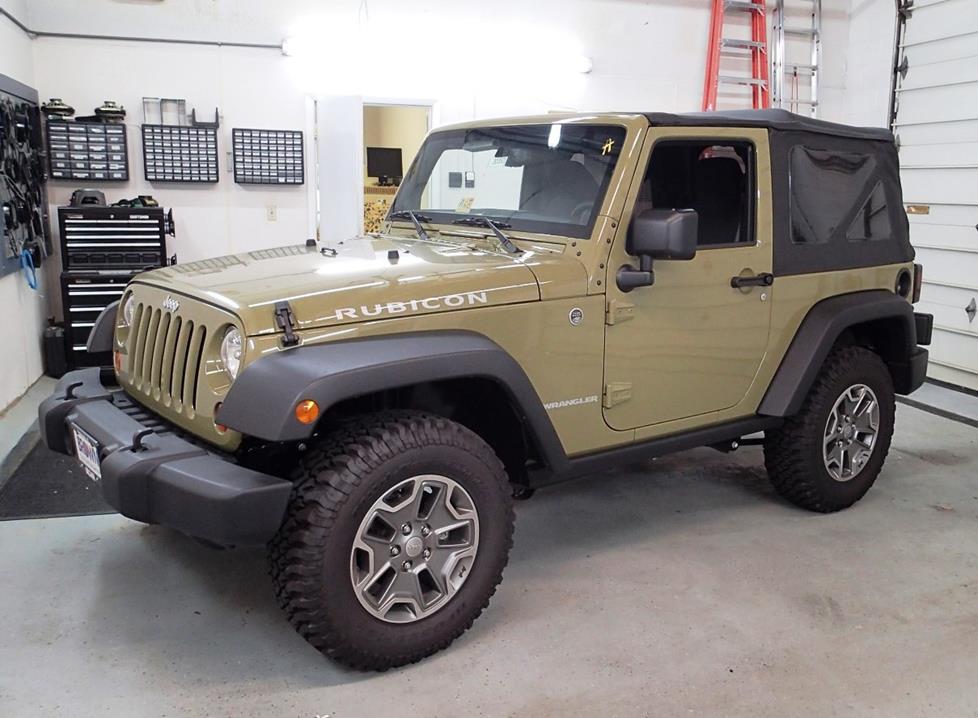 In brief: This Crutchfield Research Garage article gives you an overview of your Jeep's stock stereo system and your aftermarket upgrade options. Use our vehicle selector to find the gear that will fit your Wrangler or Wrangler Unlimited.
Overview of the Jeep Wrangler and Wrangler Unlimited
Once upon a time, driving a Jeep meant bumping along the road with the wind in your hair, bugs in your teeth, and every single road surface imperfection going directly to the base of your spine. In other words, it was very much like driving an old British sports car, except you could climb the side of a mountain and the wiring didn't fry every time it rained.
Oh, how times have changed. The "JK" series, introduced in 2007, proved that it was possible to combine the rugged, go-anywhere capability that hardcore Jeep enthusiasts demand with a level of comfort and refinement that appealed to a more mainstream audience.
The addition of a 4-door model, the Jeep Wrangler Unlimited, raised eyebrows among some purists, but quickly found favor among people who had always wanted a Jeep, but kept settling for a more "practical" SUV.
No matter which Wrangler you drive, if you still want to feel the bugs in your teeth, you can always remove the top, drop the doors, and head for the trail. When it's time to take the kids to soccer practice, put 'em back on. As the ads used to say, "Only in a Jeep."
For 2011, Jeep rolled out some improvements to the Wranglers, revamping the interior and improving the surfaces and switchgear. They also spent time working on the sound insulation, so this Jeep is a great place to install an aftermarket audio system.
Detailed stereo and speaker removal instructions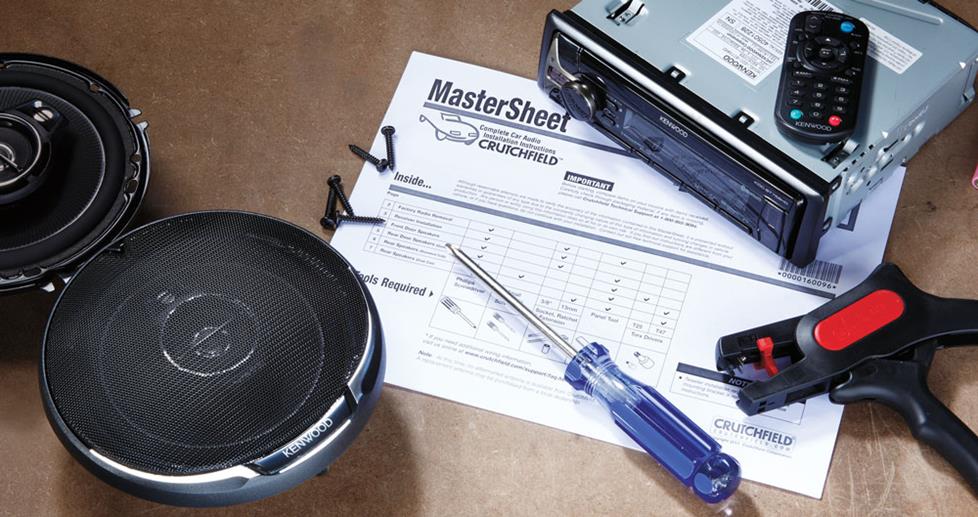 With step-by-step disassembly instructions and plenty of up-close, detailed photos, our exclusive
Crutchfield MasterSheet
™ takes the guesswork out of removing the factory stereo and speakers. It's free with your Crutchfield order, or you can purchase one separately for just $9.99.
Factory stereo system
The standard Wrangler system was a 6-speaker AM/FM/CD/MP3 receiver that included an aux input. The optional Infinity (2011-2012) and Alpine (2013-14) speaker packages (available with both the standard and optional nav receivers) included a subwoofer in the cargo area. Nifty features like Bluetooth hands-free calling, Sirius satellite radio, and USB connectivity were also available.
If you replace the stock receiver, you'll lose the factory nav, satellite radio, and/or aux input. All of those things can be replaced – and improved upon – with an aftermarket stereo. The 2-door and 4-door models are the same in terms of receivers and speakers. There are some different subwoofer packages available, so enter your vehicle information in our Outfit My Car page to see what's available.

The Wrangler's factory radio (Crutchfield Research Photo)
Replacing your factory radio
You can replace the stock radio with a variety of single-DIN (2" tall) or double-DIN (4" tall) receivers. Removing the factory unit involves a fair amount of dash disassembly, but it's nothing that the average do-it-yourselfer can't handle. The difficulty of installing the new one depends on what kind of receiver you choose.
A single-DIN receiver is rather easy to deal with. You'll secure the receiver to a custom mounting bracket, then make the necessary wiring connections. The bracket and the wiring adapter kit are available at a discount when you buy your stereo at Crutchfield.
Installing a double-DIN receiver is a tad more complicated, because you'll have to remove the metal receiver support bracket behind the factory radio. This is actually pretty easy, and only involves the removal of four screws. Next, you'll have to trim the bar at the top of the dash opening to create room for the new receiver. You don't have to trim it very much, just enough to get the receiver in. But it's still a bit of work, and you'll want to proceed carefully.
Note: In some (rare) cases, the double-DIN mounting kit doesn't exactly play well with fold-down face receivers. Those receivers will fit – eventually – but there might be some trial and error involved in making everything look and operate just right. It may require a bit of extra patience, so take a deep, soothing breath before you start.
Tools needed: Panel tool, socket wrench, extension, 7mm socket
To see how to do this installation, watch our stereo and speaker installation video at the end of this article.
Steering wheel audio controls
If you want to continue using the steering wheel controls on your Wrangler, you'll need an adapter to hook everything up to the new receiver. We stock several models that will work, and our website's Outfit My Car feature will match things up for you. If you have questions, a Crutchfield Advisor can help you get the equipment you need.
Shop for car stereos that fit your Jeep Wrangler
Replacing your factory speakers
The Wrangler's speakers are not easy to replace. The job isn't hard, there's just a lot of job to do. The results are worth it, though.

Honestly, the driver's side speaker is really tough to get to (Crutchfield Research Photo)
Front woofers
The Wrangler's doors aren't like the doors on your average vehicle. For one thing, you can take them off if you want to, which is not something you can do on a Honda Accord. As cool as that is, it means the speakers you'd normally find in the doors have to go somewhere else. In the Wrangler's case, the front woofers are mounted to plastic enclosures that are bolted to the sub-dash.
Not surprisingly, replacing them is a little harder than it would be on most vehicles. Removing the enclosure on the driver's side is, to be quite honest, difficult and time consuming. The passenger's side is much easier, but all in all, this job can easily eat an entire afternoon.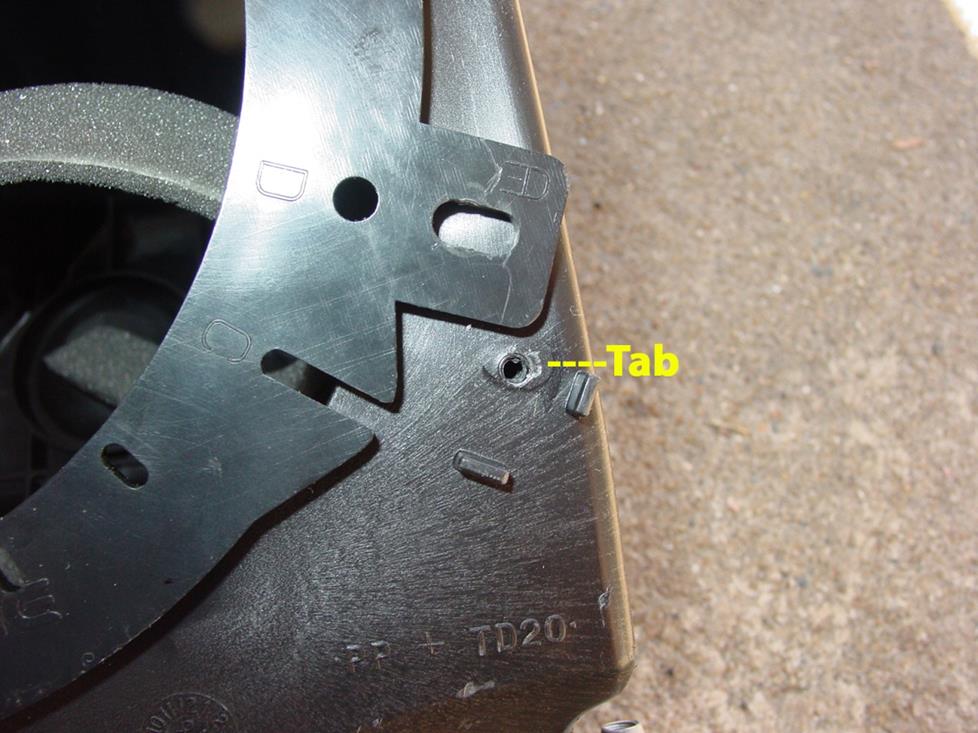 These tabs need to be shaved or filed down in order to attach the new speaker bracket (Crutchfield Research Photo)
There's no single part of the job that's really, really tough, it's just that there are a lot of parts of the job to get through. Be patient, take your time, and be sure to keep all the various parts and screws organized as you're removing them. That'll make it a whole lot easier to put things back together and enjoy the sound of your new speakers. Your Crutchfield MasterSheet will guide you through every step of the process.
The factory front speakers are oversized 6-3/4", 4-ohm GM/Chrysler units. Aftermarket 6-3/4" speakers will fit using the factory bracket, but you'll need to shave the tabs off of the face of the stock enclosure in order for the new speaker to fit flush.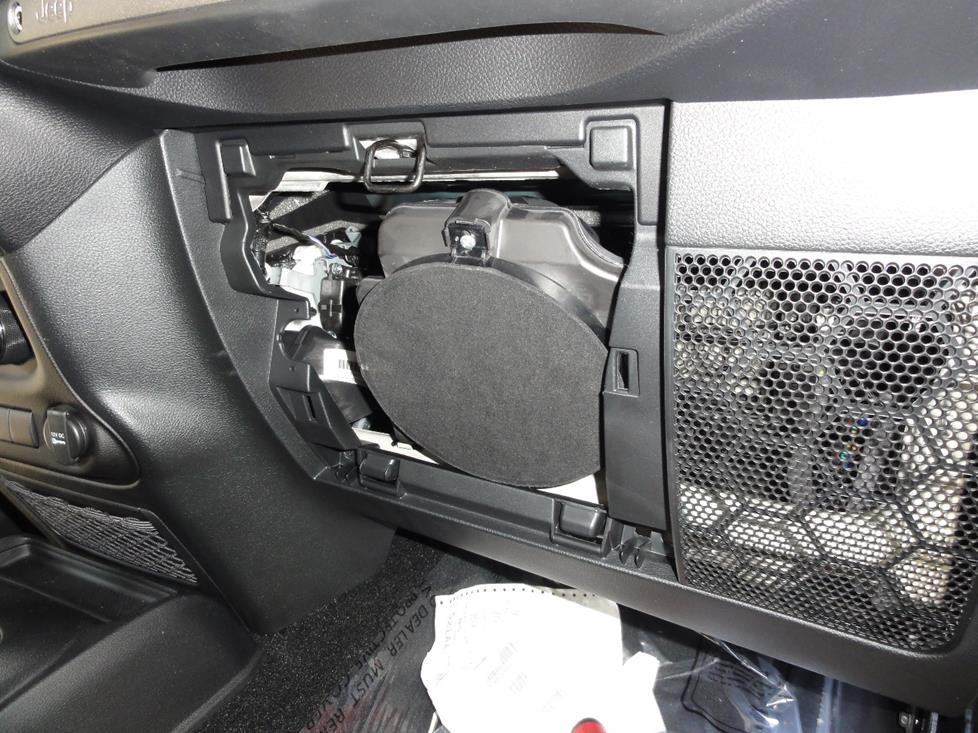 The passenger's side speaker is much easier to work with (Crutchfield Research Photo)
In the case of 6-1/2" or 5-1/4" replacements, a speaker adapter bracket is required, and it's available at a discount with your speaker purchase. Once the speaker and bracket are attached, you'll shave the tabs off of the enclosure to make that combo fit flush.
Tools needed: Panel tool, socket wrench, extension, 7mm, 8mm & 10mm sockets, Torx T-20 driver, file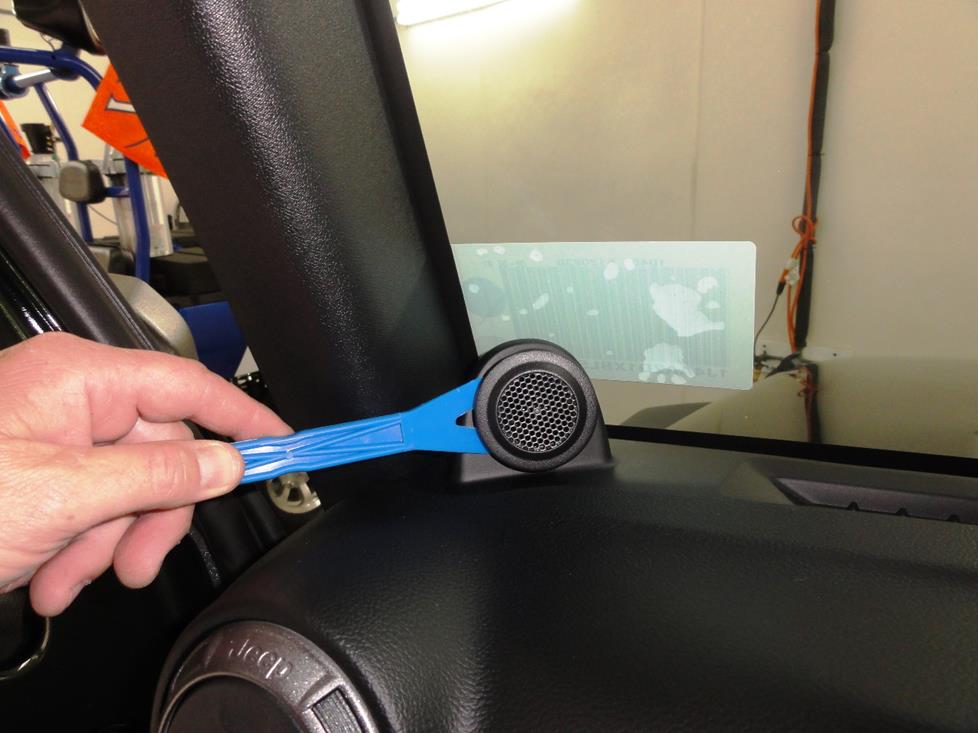 The tweeter is easy to pry out (Crutchfield Research Photo)
Front tweeters
The 7.8-ohm tweeters, which are about an inch deep, are located in pods on the top of the dash. To replace them, you'll need to pry the tweeter out of the pod. Provided the depth and cutout are sufficient, you can flush mount the aftermarket tweeters using the aftermarket hardware.
If this is not possible, remove the tweeter from the grille, fabricate a mounting bracket, and re-use the factory grille. A wiring harness is not available, so you'll make your connections using Posi-Products connectors. This is much easier than soldering, and you get a more secure connection than just twisting and taping the wires. That's a good thing in a vehicle that's going to spend at least some of the time bouncing along backwoods trails.
Tools needed: Panel tool, small flat blade screwdriver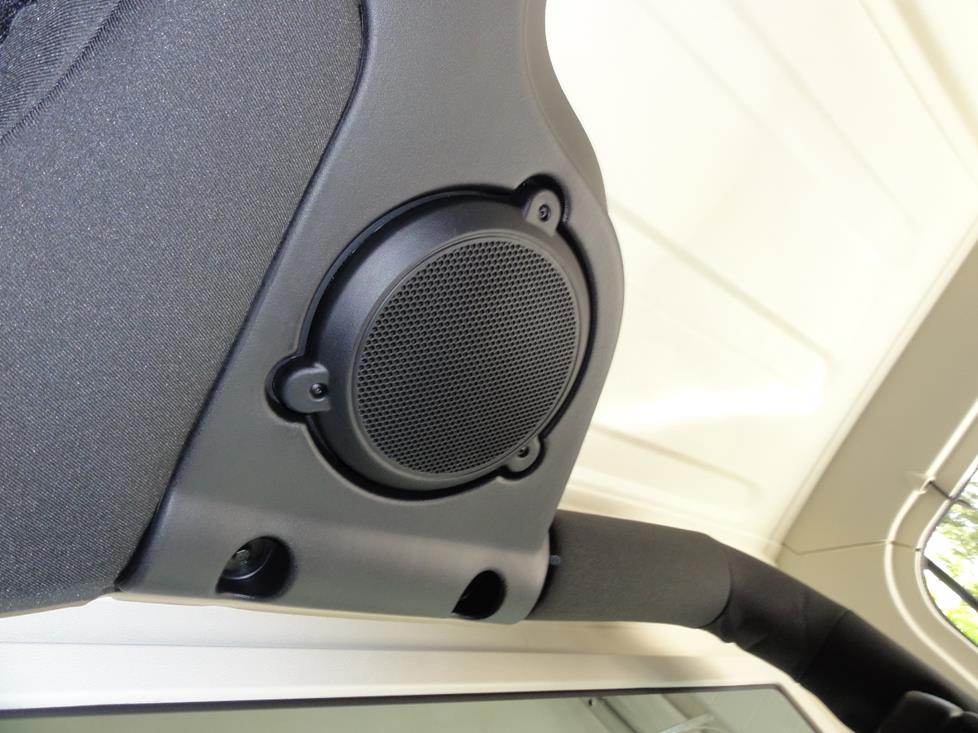 The Wrangler's weatherproof soundbar speaker (Crutchfield Research Photo)
Jeep JK soundbar speakers
The Wrangler has oversized 6-3/4" 4-ohm GM/Chrysler speakers located in the overhead soundbar. The speakers and grilles are held in with the same screws, so they're quite easy to reach and replace.
Due to the rather shallow mounting depth in this location, your replacement options are 6-1/2" or 5-1/4" units. A speaker adapter bracket is required, and it's included at a deep discount with your speaker purchase.
The factory soundbar speakers are weatherproof, but if you do a lot of topless (the Jeep, we mean) off-roading, you should still consider a set of marine-rated speakers. You'll get the same level of power, plus the security of knowing that your speakers will still rock even after you've spent the afternoon splashing through creek beds and mud holes.
Tools needed: Torx T-15 driver
Shop for speakers that fit your Jeep Wrangler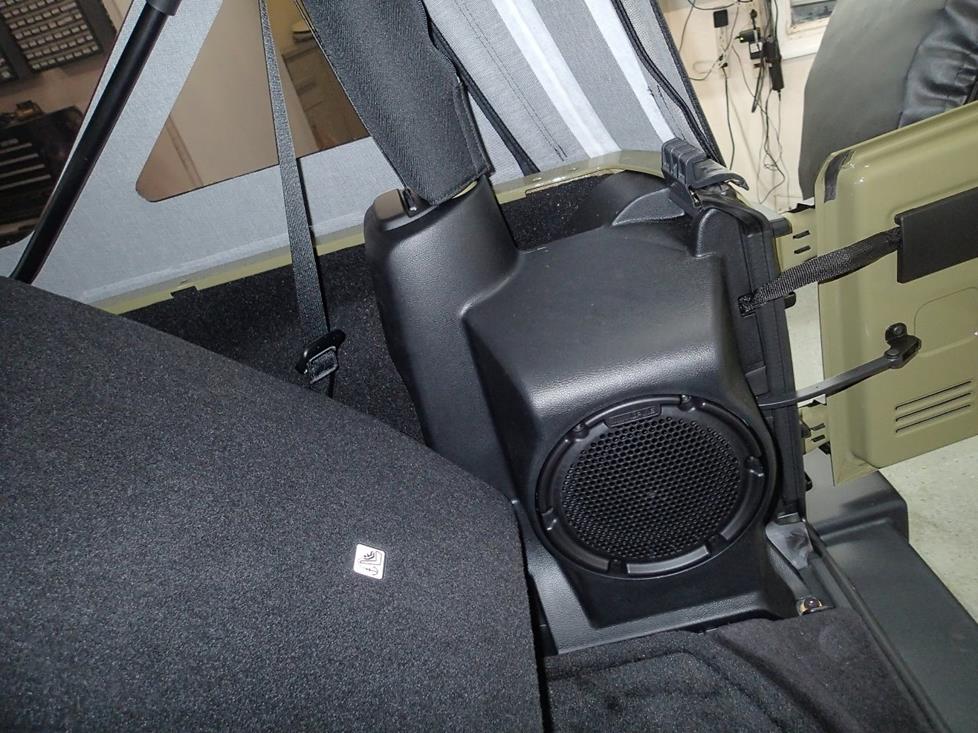 The factory subwoofer (Crutchfield Research Photo)
Bass in your Wrangler
In Wranglers equipped with the Infinity or Alpine sound systems, the factory 8" dual voice coil subwoofer is located in an enclosure on the passenger's side of the cargo area. The subwoofer and grille are both held in with the same screws, so it's easy to remove the old one. You'll have to re-drill the screw holes to mount a new aftermarket subwoofer, though. The factory amplifier isn't terribly impressive, so if you upgrade the sub, you'll want to replace the amp, too (see Other Options, below).
Jeep Wrangler and Wrangler Unlimited upgrades for bass
If your Wrangler doesn't have a factory sub at all, or if a new 8" sub isn't enough bass, you have some interesting options. Several manufacturers offer custom enclosures designed to fit your Jeep perfectly. You can choose from unloaded (pick your own sub) or loaded (comes with a sub installed) models that will add plenty of thump to your driving adventures. Enter your vehicle info to see what's available.
Of course, if you want maximum bass, there's only one way to go: a subwoofer box stuffed with the biggest subs you can cram in there. In the Wrangler's case, if you want to go big, you have a 35" (with factory sub) or 41" (without) W x 12" H x 9"/12" D space to work with. For the Unlimited, the space increases to 13" H x 26"/33" D.
Shop for vehicle-specific subwoofers for your Jeep Wrangler
Other upgrade options for your Wrangler or Wrangler Unlimited
Here are some suggestions on how to make your Wrangler even better.
Marine audio gear
If you spend a lot of time off-road (or just running around with the top off), you should look into marine audio gear for your Jeep.
"Regular" car receivers are great, but they're not built to handle rain or creek water. Marine receivers are sealed to keep out salt and spray, so they can stand up to mud and sand, too. Unfortunately, our Outfit My Car tool won't sort the marine stereos for fit, so we encourage you to give us a call. Our internal database DOES allow our advisors to see which ones will fit your Jeep.
Marine-rated speakers are another trail-ready idea. These speakers aren't water-proof, but they're remarkably water-resistant, and they won't be bothered by storms or splashes.
We also offer marine-rated subwoofers and amplifiers, so you can build a Jeep audio system that's tough enough for extreme off-roading.
Car care
If you're using your Wrangler as intended, it's probably going to get dirty every now and then. Keeping it in great shape really helps retain resale value, so protect your carpets (and your investment) with a set of custom-fit WeatherTech floor liners.
Remote start and security systems
Adding remote start capability to your vehicle lets you warm it up in the winter or cool it down in the summer. The iDatastart system is incredibly convenient and makes it easier than ever to install a remote start system, so we highly recommend it. The module requires a vehicle-specific T-harness (sold separately) to connect with your vehicle's computer, security, and ignition systems, so we ask that you call to order so that we can make sure you get the right harness for your ride.
You can also talk to your Crutchfield Advisor about a security system. They're not as easy to install (we usually suggest letting a professional do the job), but we can help you choose a system that'll work in your vehicle.
Shop for car security systems for your Jeep Wrangler
Watch a professional installation
Now that you have some idea of what's involved in upgrading the audio gear in your Wrangler, watch our installation video. You'll see for yourself that the task isn't that hard.
Watch one of our expert installers show you how to put a new stereo and front speakers in your Jeep. He also shares a lot great tips to save you time and install your new gear like a pro.
Find the audio gear that fits your car or truck
Visit our Outfit My Car page and enter your vehicle information to see stereos, speakers, subs, and other audio accessories that will work in your vehicle.