2011-2016 MINI Countryman
Upgrading the stereo system in your Countryman
2011 • 2012 • 2013 • 2014 • 2015 • 2016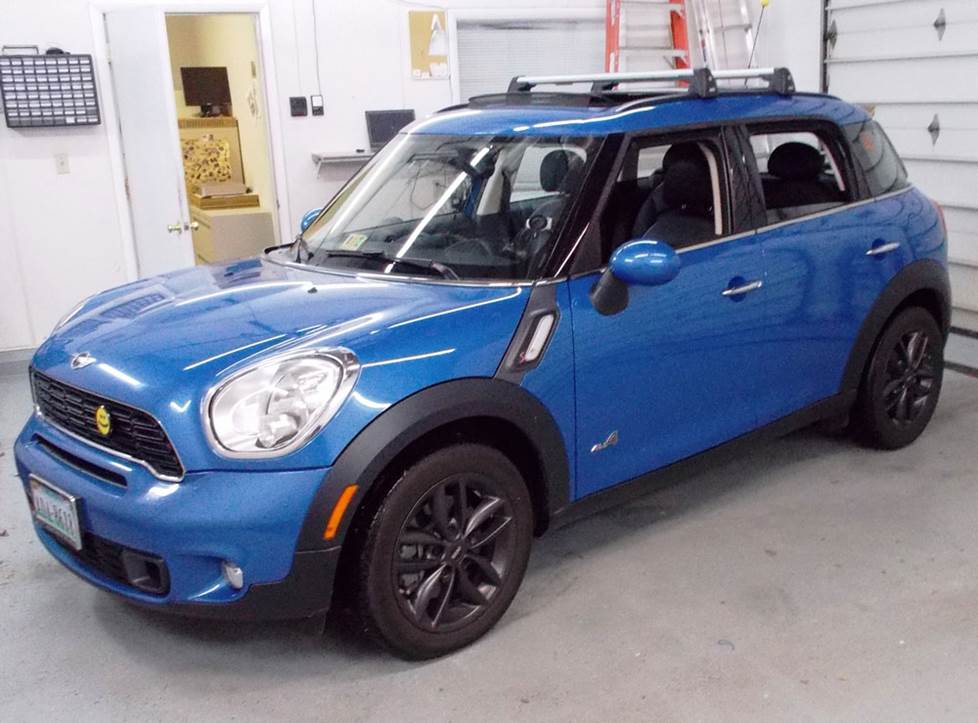 In brief: This Crutchfield Research Garage article gives you an overview of your Countryman's stock stereo system and your aftermarket upgrade options. Use our vehicle selector to find the gear that will fit your car.
Overview of the MINI Countryman
When the Countryman debuted in 2011, the idea of a Mini SUV was somewhat disturbing to brand purists. We're not sure why, because a bigger Mini isn't exactly a new concept. In fact, the "Countryman" name could be found on Mini estate (station) wagons back in the sixties. The old cars are still prized by collectors today, and the new Countryman promptly became the second-most popular model in the modern line-up.
This Countryman is bigger in every way than its diminutive ancestors, of course, plus it's faster, safer, and holds a lot more stuff. Parked next to an Escalade, it still looks tiny, but parked next to an original Countryman, it looks like, well, an Escalade. It's all in the perspective, really, but these are neat cars and they're a great combination of fun and practicality. Which is what many people said about the original Minis.
While there's not much to be done with this car's factory stereo gear, you can still make some healthy improvements to the sound quality. Read on to learn the do's, don'ts, and probably-shouldn'ts of Countryman audio upgrades.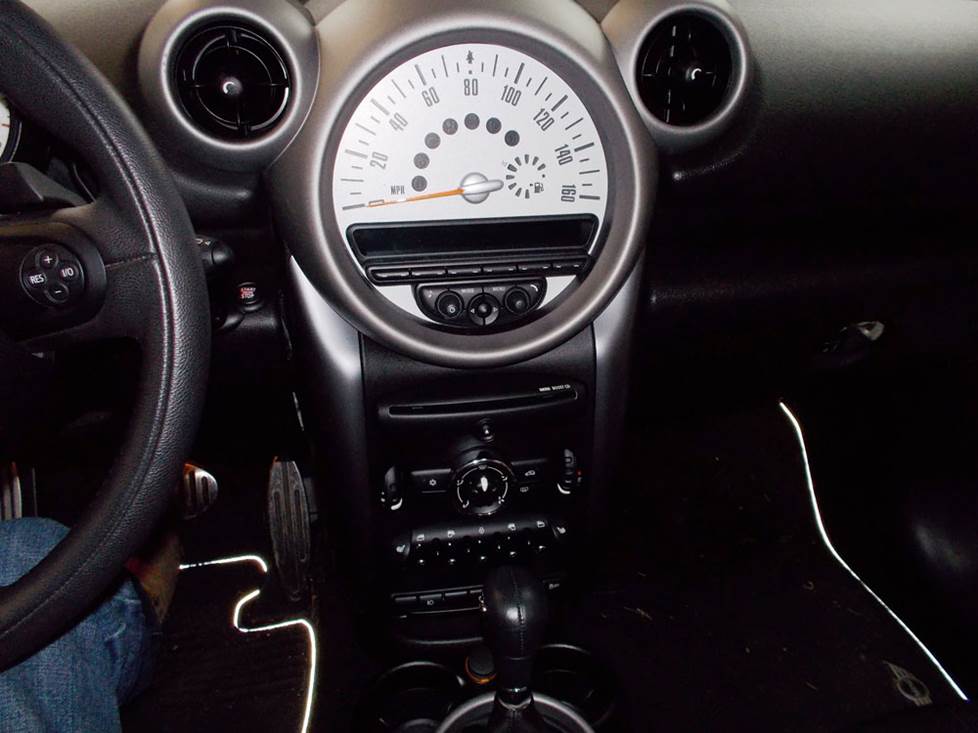 If it's not obvious enough from the photo, the stock radio is pretty much impossible to replace (Crutchfield Research Photo)
The Countryman's factory stereo system
This car's option sheet was a lengthy one, but the stereo systems basically boiled down to a 6-speaker AM/FM/CD with satellite radio, HD radio, and (depending on the year) AUX and/or USB inputs and or a 10-speaker Harman Kardon system with all that and surround sound, too. There was also the MINI Connected system, which added a stereo display to the centrally located speedometer, plus a console-mount controller. Navigation was also available.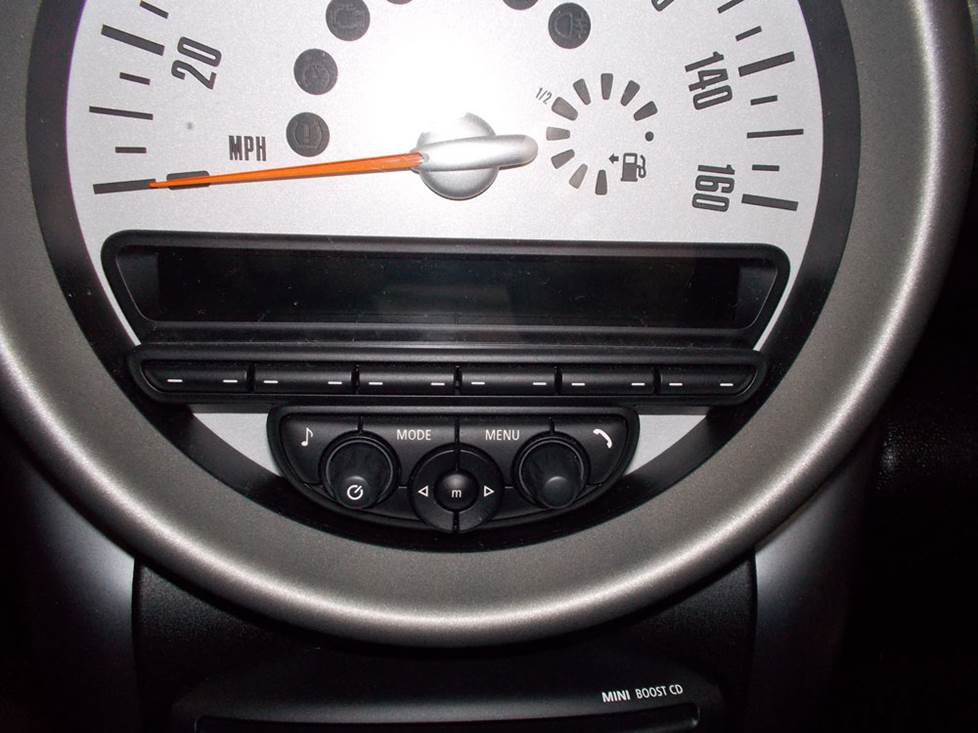 The radio is basically a part of the speedometer. Plus, there's an airbag issue to contend with. (Crutchfield Research Photo)
(Not) Replacing your factory radio
Removing and replacing the Countryman's factory radio isn't impossible, but it's really not advisable.
For one thing, the radio is built into the gigantic speedometer in the center of the dash, so nothing would fit there anyway. For another thing, just getting to the radio is a fiendishly complex process that involves a tedious amount of panel and part removal. This is not a job for the casual weekend DIY-er.
And for yet another thing (the main thing, actually), you'd have to remove the airbag located under the glove box. We do not recommend doing this. Messing around with airbags is incredibly unwise, so just don't.
Besides, the stock radios already do pretty much everything the modern driver would ask. When it comes to performance, functionality, and connectivity, you could do a lot worse. Plus, the stock set-up just looks cool.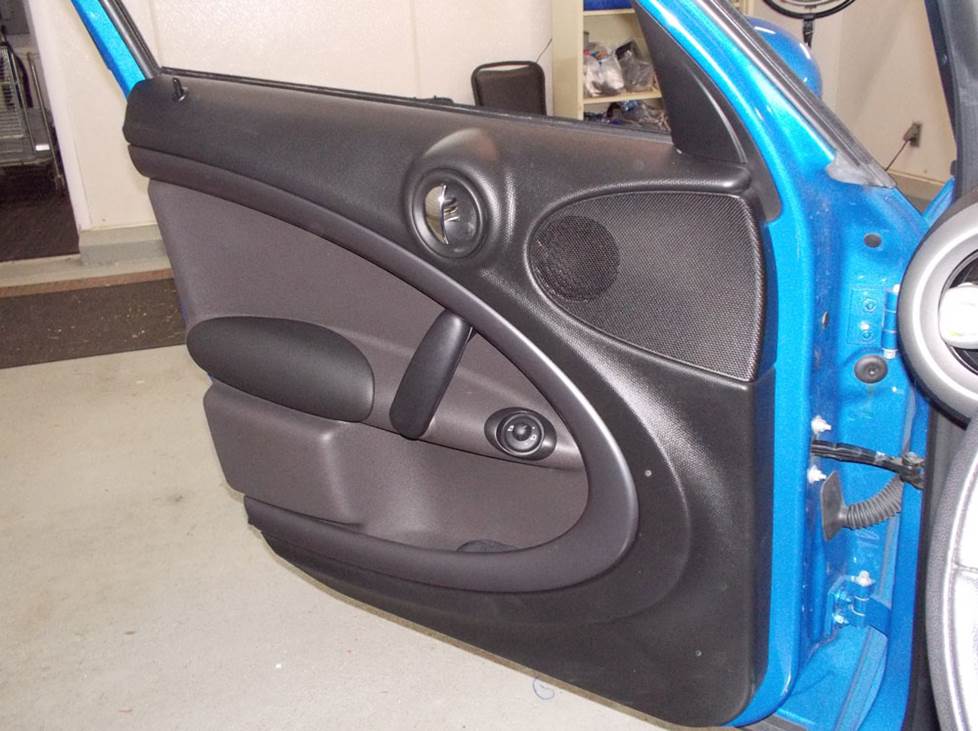 The base model's front doors house 4" full-range speakers (Crutchfield Research Photo)
Replacing your factory speakers
The standard 6-speaker Countryman has 4" speakers in the front and rear doors. They're all pretty easy to get to, though there aren't a ton of aftermarket replacements available at this time. The ones that are out there are a pretty nice, though. Enter your vehicle info to see all the speakers that fit your MINI.
For both the front and rear doors, the process begins with using a panel tool to pry off the door pull's outer cover, starting at bottom edge. That'll expose a pair of Torx T-20 screws, which you'll need to remove. Once that's done, carefully pry out the sides of the door panel to carefully (we mean it) release 17 retaining clips. Disconnect the door release cable and harnesses, then remove the panel.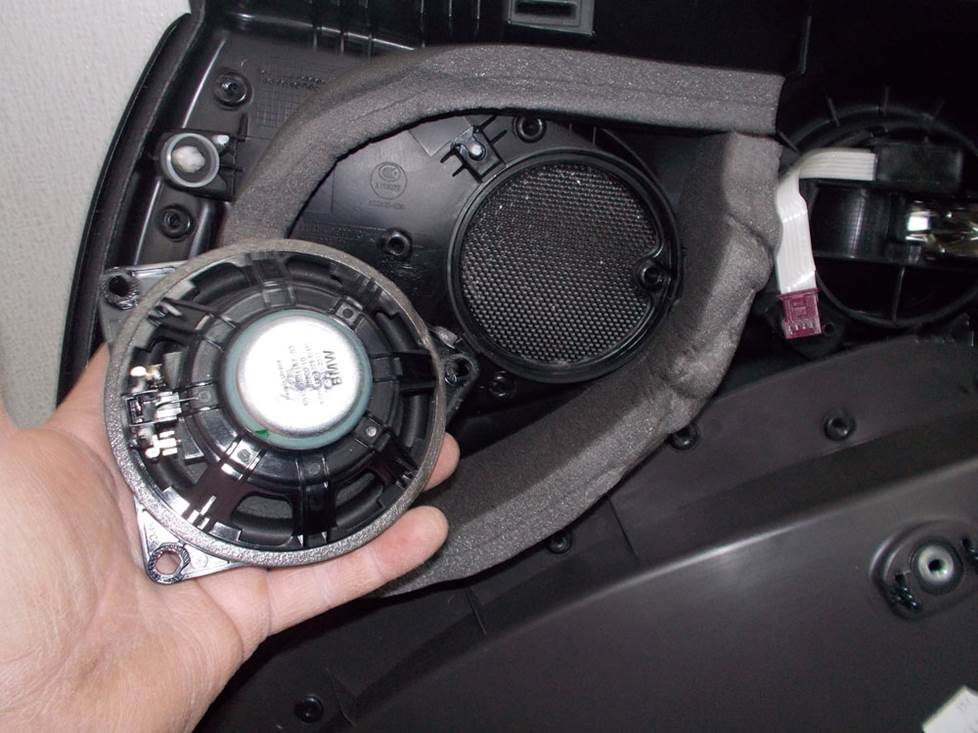 The speakers are attached to the door panels (Crutchfield Research Photo)
Remove the three 8mm nuts securing the speaker to the door panel, then remove the old speaker. You'll need to fabricate your own brackets (or use universal backstraps, hot glue, or silicone) to install your new speakers. There's no wiring harness available, either, so you'll either need to splice into the factory wiring or use Posi-Products speaker connectors to make the necessary connections.
The rear door speaker removal/replacement process is pretty much identical to what you did up front.
Detailed stereo and speaker removal instructions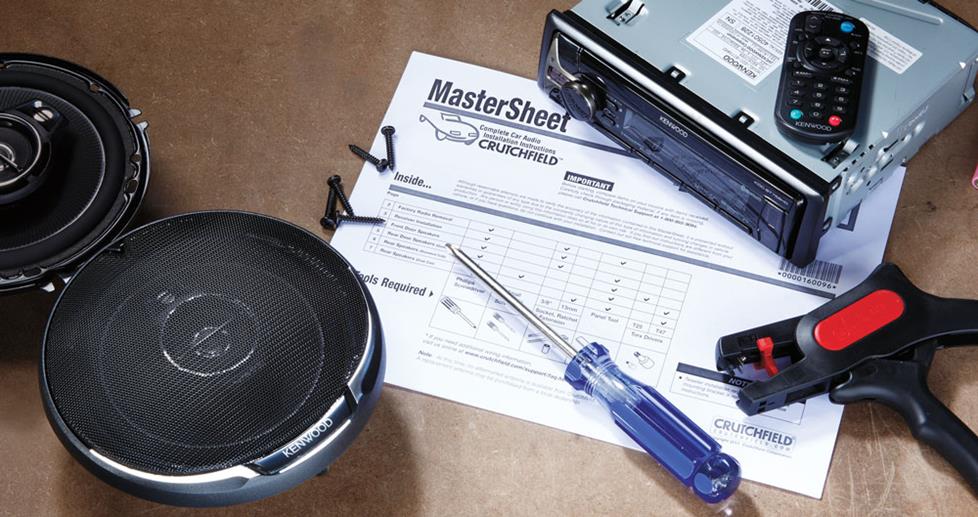 With step-by-step disassembly instructions and plenty of up-close, detailed photos, our exclusive
Crutchfield MasterSheet
™ takes the guesswork out of removing the factory stereo and speakers. It's free with your Crutchfield order, or you can purchase one separately for just $9.99.
Harman Kardon system
Removing the front door speakers from the 10-speaker HK version goes a lot like it does on the standard system. The front speaker array consists of a sail panel tweeter, a mid-range, and a woofer that descend down the door in that order.
The rear speaker set-up is similar to the base model, and all the disassembly details can be found in the illustrated step-by-step instructions included with your Crutchfield speaker purchase.
If you know something we don't, please share it with your fellow enthusiasts in the comments section.
Tools needed: Panel tool, Torx T-20 driver, 8mm socket, ratchet and extension
Shop for speakers that fit your MINI Countryman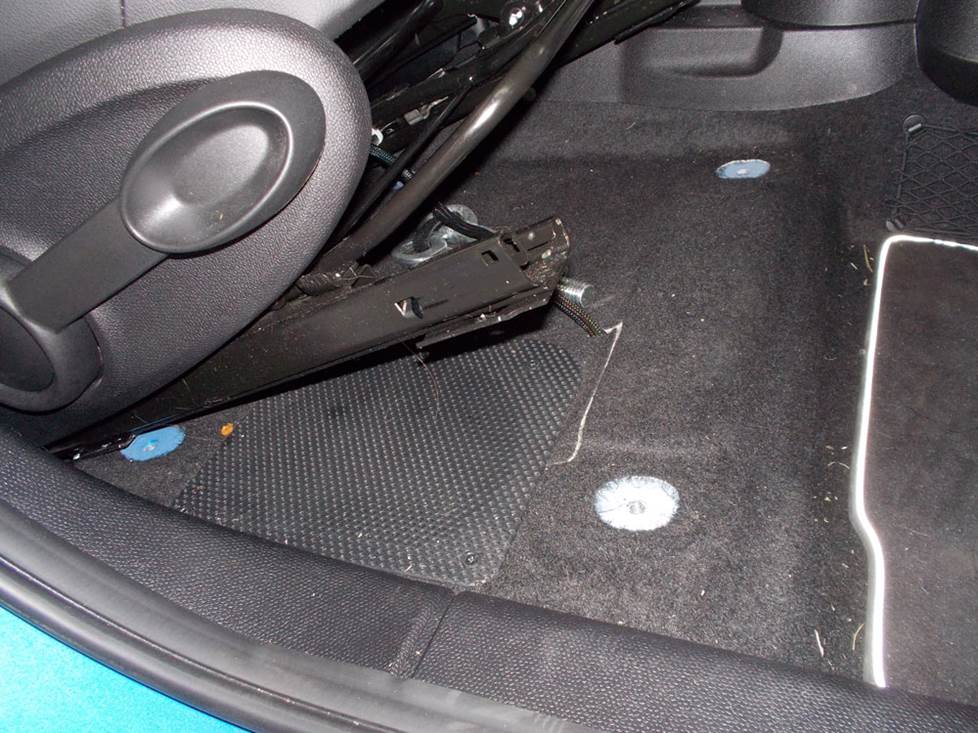 The underseat woofers can be replaced, but it's not easy. (Crutchfield Research Photo)
Rear woofers
The rear woofers are cleverly located under the front seats, and, unless you live for car-quaking bass, they're pretty decent. That's nice, because they're not the easiest things to remove and replace.
Getting to them involves unscrewing the bolts that hold the seat to the floor and tilting the seat forward. Once it's secure, you'll need to remove the four screws that secure the speaker grille. Once the sub is loose, you'll need to cut and remove some of the carpeting around the sub to remove it.
You can totally do this and, heck, you just might. We couldn't, though, because it wasn't our car and the carpet-cutting thing wasn't okay. Since we stopped short of removing and measuring the subs, this is where we have to stop giving advice.
We do know how to do the job, though, and all that info will be included with your vehicle-specific Crutchfield disassembly instructions.
Once the new speakers are in place and you've tested them out, you'll be ready to put the seats back in place. Make absolutely certain that the seats are secured properly.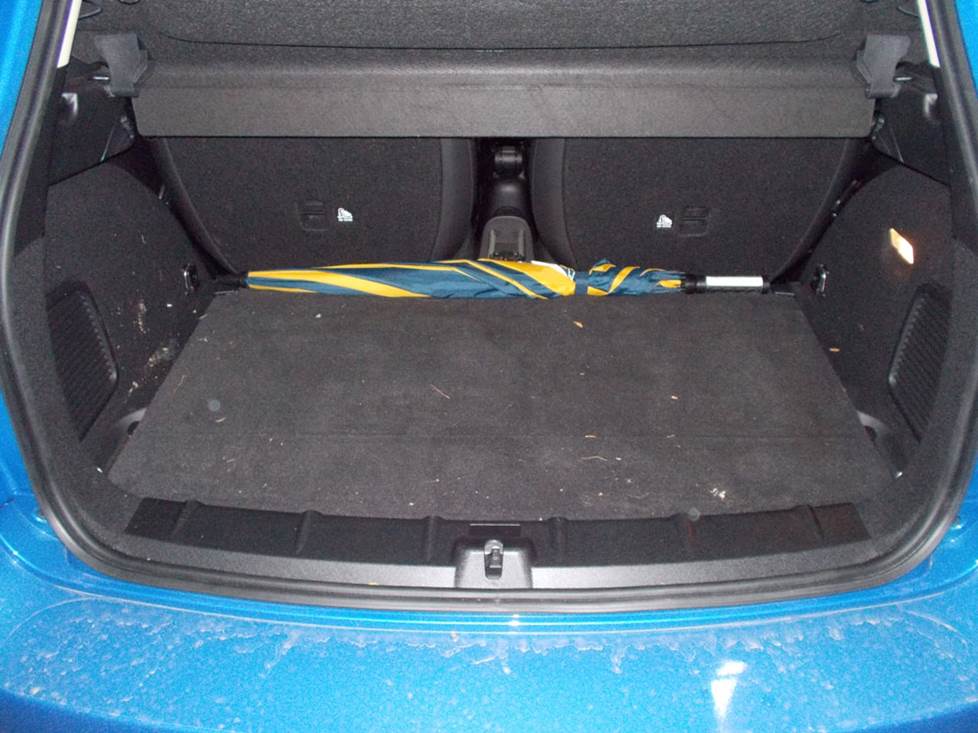 There's a bit of room for bass in the cargo area (Crutchfield Research Photo)
Bass in your Countryman
The Countryman is big for a Mini, but it's still small compared to lots of other vehicles. So, while there is room for a subwoofer enclosure, there's not a ton of it. You have a 43" W x 13" H x 22"/18" D space to work with, so all hope is not lost, but adding big-time bass will involve some big-time creativity on your part.
On the upside, a car this size doesn't need a big subwoofer if you don't. A compact powered subwoofer will give you a much-improved bottom end sound without devouring the entire cargo area.
Of course, you'll have to connect those subs and/or amps to the receiver somehow. There are ways to do this that don't involve messing with the receiver, like tapping into the speaker level inputs. It all depends on your DIY comfort level, of course, but if you're handy, the passionate and knowledgeable online MINI community has some good info on how to add more bass to your Countryman.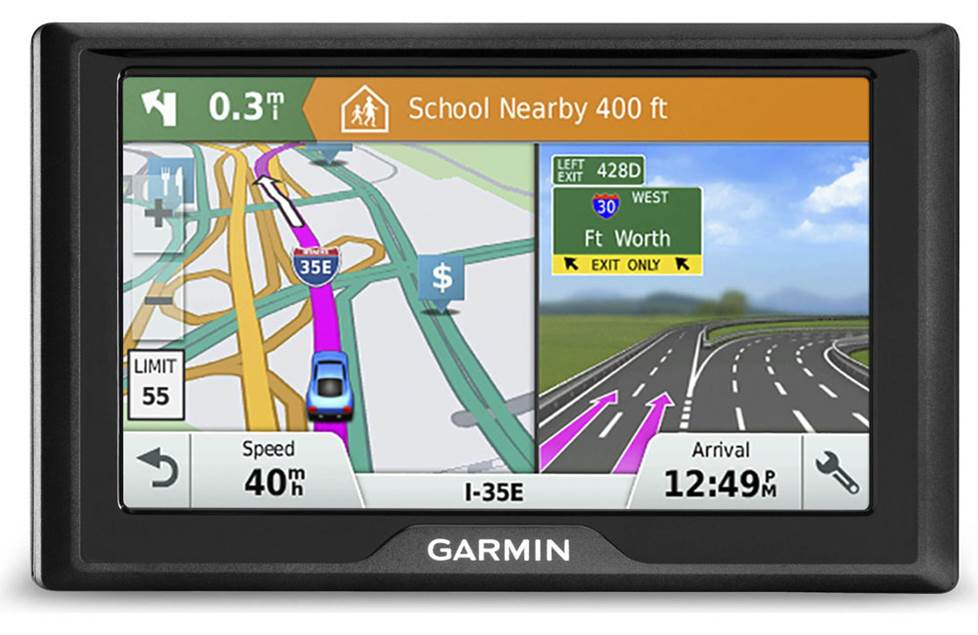 A portable GPS is a great idea for your Mini
Other options for your Countryman
Here are some other upgrade ideas for your Countryman.
Add a GPS
If you don't have factory navigation, you don't have to miss out on driving directions. You're probably used to using your phone around town, but a portable GPS makes sense if you're on the highway a lot. You'll get turn-by-turn directions, traffic updates, and everything you need to make your road trip go smoothly, and you can save your phone for other tasks. Plus, when you get where you're going, you can put the GPS in your pocket and use it to find points of interest around town.
Floor mats
Daily driving can take a toll on your Countryman's carpeting. WeatherTech floor mats and liners will help protect your floors from dirt and damage.
Security
Installing a security system in your Countryman isn't easy (security systems rarely are), but it's definitely a good idea. Our Crutchfield Advisors can help figure out what you need to get the job done, but we usually recommend taking your car and new gear to a professional installer.
Shop for car security systems for your MINI Countryman
Find the audio gear that fits your car or truck
Visit our Outfit My Car page and enter your vehicle information to see stereos, speakers, subs, and other audio accessories that will work in your vehicle.