2011-2017 Nissan Leaf
Upgrading the stereo system in your Leaf
2011 • 2012 • 2013 • 2014 • 2015 • 2016 • 2017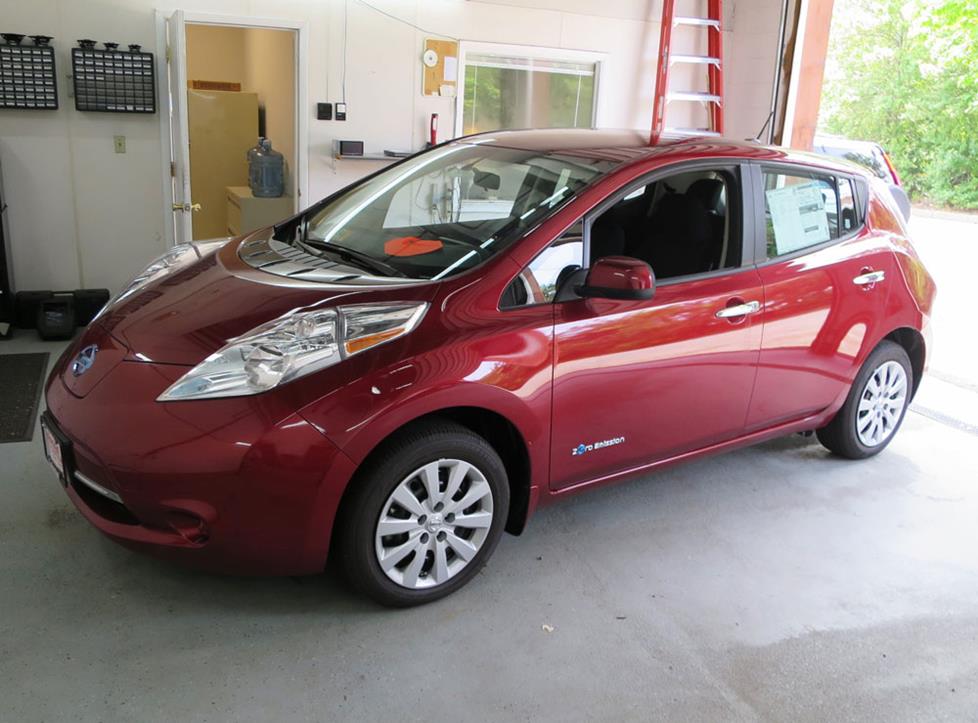 In brief: This Crutchfield Research Garage article gives you an overview of your Leaf's stock stereo system and your aftermarket upgrade options. We'll tell you all about:
Then, use our vehicle selector to find the gear that will fit your Nissan.
Overview of the Nissan Leaf
The future of cars is electric and it's here. Actually, the future is electric and probably controlled by artificial intelligence, but that's another article entirely. This article is about the Nissan Leaf, which, while still controlled by the forever-in-beta-testing humanoid behind the wheel, is a pretty good look at what driving's going to be like in the years to come.
By all accounts, it's a pretty decent car, especially if your daily drive involves mostly short trips around urban/suburban areas. The Leaf is not ideal for high-speed interstate travel, but the abundant torque makes it pretty spry around town. And if you can refrain from approaching every launch as a drag race for pink slips, the Leaf will go about 100 miles or so between plug-ins.
When you consider that the Leaf doesn't cost a ton of money, drives like a regular car, and holds normal-size people in reasonable comfort, it's easy to see why this car is the world's best-selling mass market EV. It's also quiet, of course, so it's a nice place to enjoy music. Granted, this is not the car for a massive, multi-amped mega-stereo, there are some subtle things you can do to really improve the sound.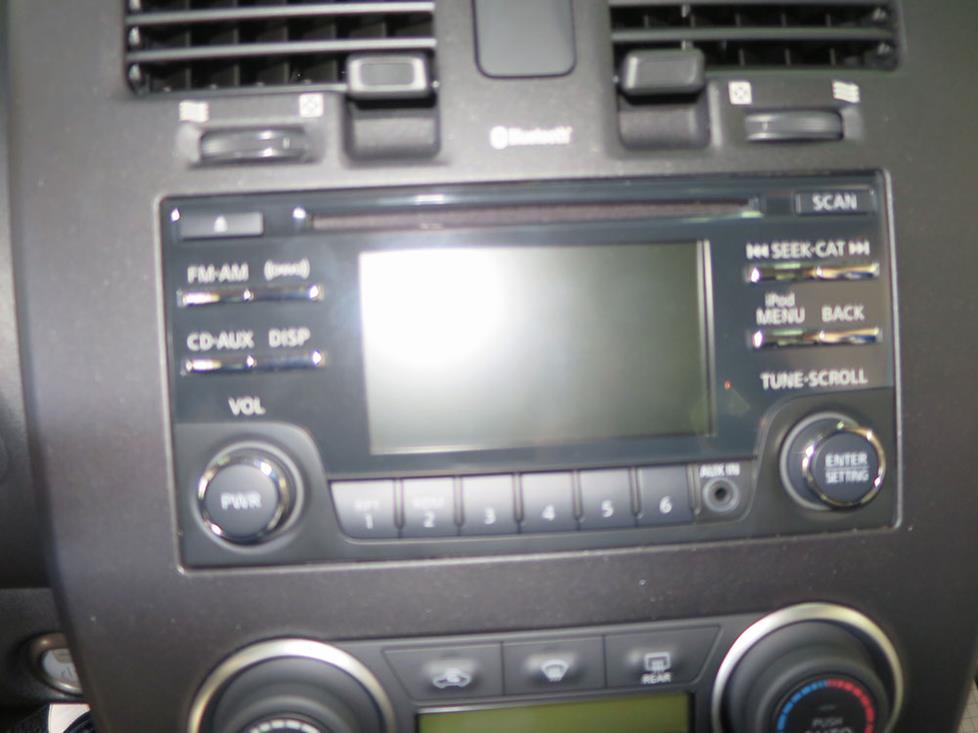 With no dash kit available, replacing the base radio would be exceedingly difficult (Crutchfield Research Photo)
Removing the factory radio
The Leaf's stock stereos aren't bad, which is good, because some of them are pretty much impossible to replace.
The base radio is a standard AM/FM/CD/etc. unit, while the upgrade is a navigation receiver that's available with and without Bose® audio. There are AUX and USB inputs located under panels in the front portion of the center console.
If your car is equipped with the base radio, you can replace it with your choice of a single-DIN (2" tall) or double-DIN (4") aftermarket model. A dash kit is available, so an new stereo will fit right in and look pretty darn good. You'll find all the instructions you need to remove and replace the stock radio in your Crutchfield MasterSheet.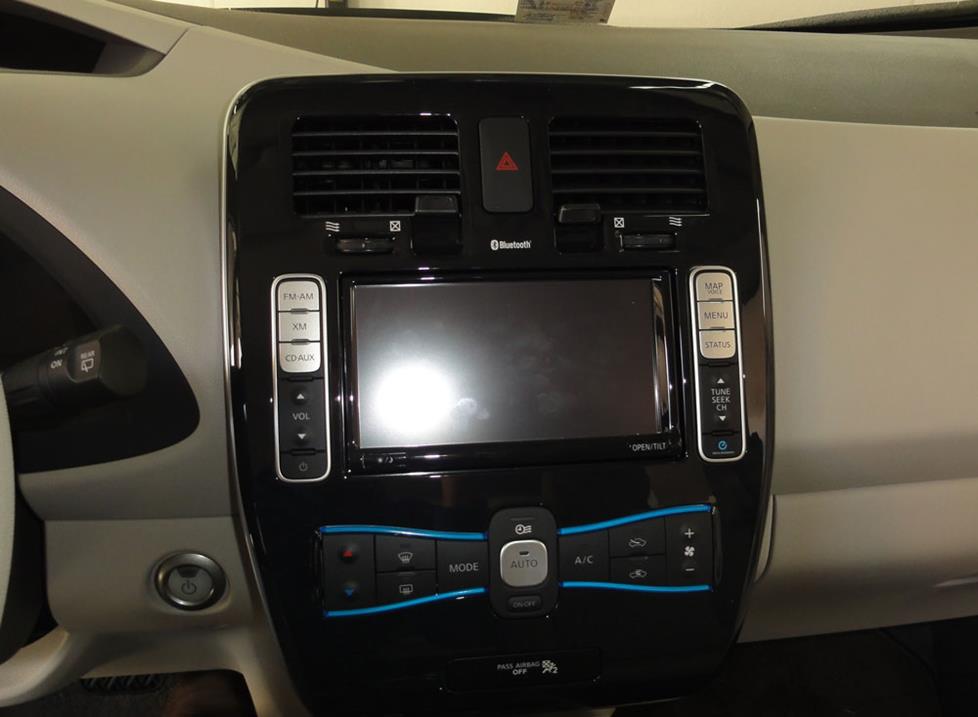 The nav receiver also includes the climate controls and the vehicle info display, so replacement is not recommended. Sorry.... (Crutchfield Research Photo)
The premium system is a navigation receiver that's packaged both with and without Bose audio. We don't recommend messing with this receiver at all, because the climate controls and vehicle information display are incorporated into the stereo itself.
Okay, so you can't replace the receiver in your Leaf. Bummer. Then what can you do? Read on....
EV note
Upgrading the stereo gear in an electric vehicle presents some challenges. Here are a couple of things to keep in mind:
Electric vehicles contain very sensitive electronics. Be sure to only use a multi-meter when testing wires. NEVER test wires in this vehicle with a test light. Doing so could cause serious damage to the vehicle.
An EV is not the car to choose if you want to build a massively powerful audio system. We do not recommend installing any amplifiers in electric vehicles due to the current draw that they will introduce to the system.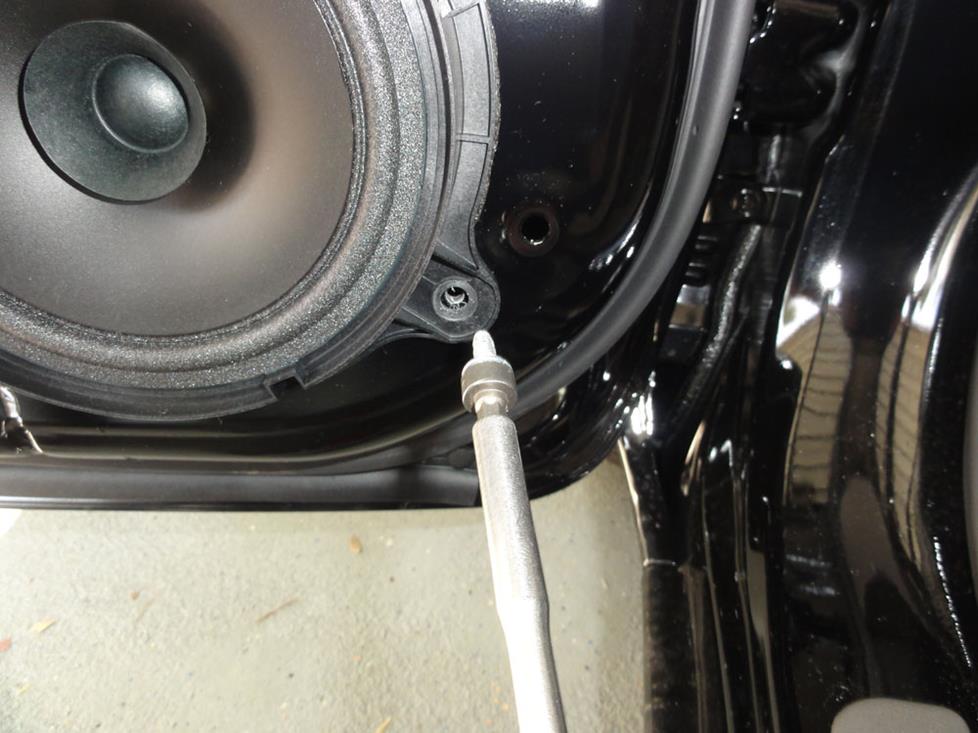 Replacing the speakers is the best way to improve your Leaf's sound quality (Crutchfield Research Photo)
Removing the factory speakers
The Leaf's low-impedance factory speakers can be found in the pillars (higher-end models only) and the front and rear doors. They're all pretty easy to reach and replace, and new speakers will get the most out of the stock stereos.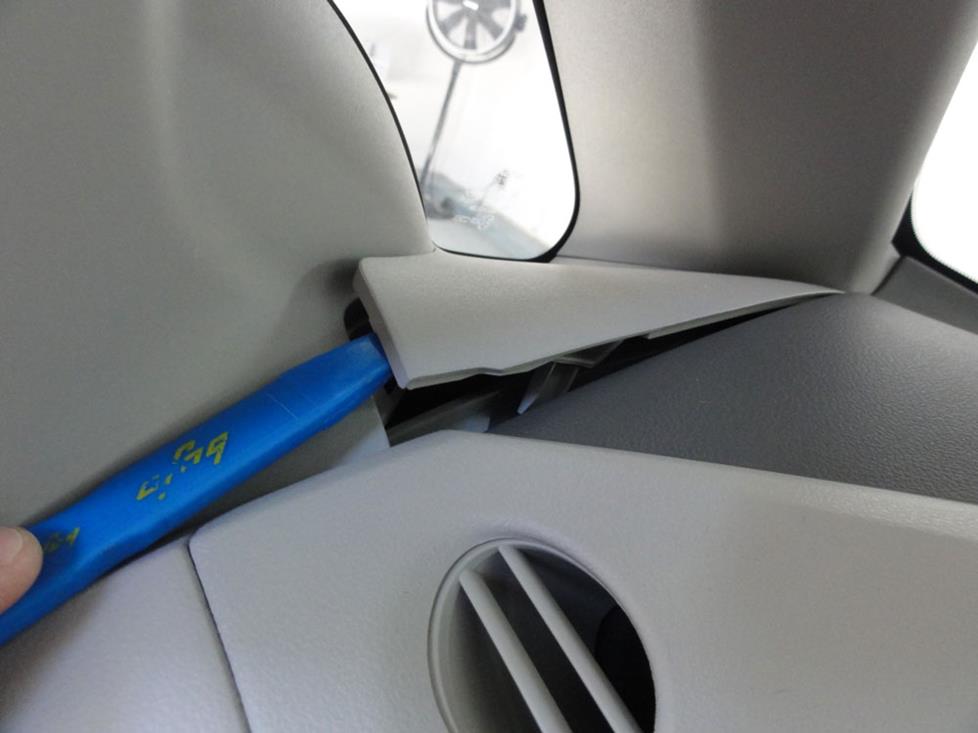 You'll need to remove some panels to get to the pillar tweeters (Crutchfield Research Photo)
Removing the front pillar tweeters (if present)
The Leaf's front pillar tweeters, if present, are wired in parallel with the door speakers and can be replaced by component speaker tweeters smaller than 1" in diameter. Starting at the rear edge, pry up the side dash panel to release the retaining clips, then pull the panel toward the rear of the vehicle and remove it.
Pull the door gasket away from the body along the front pillar. Next, starting at the top edge, pry the pillar trim panel out to release the retaining clips. Rotate the plastic tether 90 degrees to release it, then disconnect the tweeter harness. Lift up and remove the pillar trim panel, then remove the Torx T-20 screw securing the tweeter to the trim panel.
There are a couple of mild challenges here, though. There's no wiring harness available, so you'll need to use a pair of Posi-Products speaker connectors to connect the new tweeters to the car's wiring. You'll also need to use a set of our universal backstraps (or hot glue or silicone) to secure your new tweeters.
Tools Required: Panel tool, long needle-nose pliers, Torx T-20 driver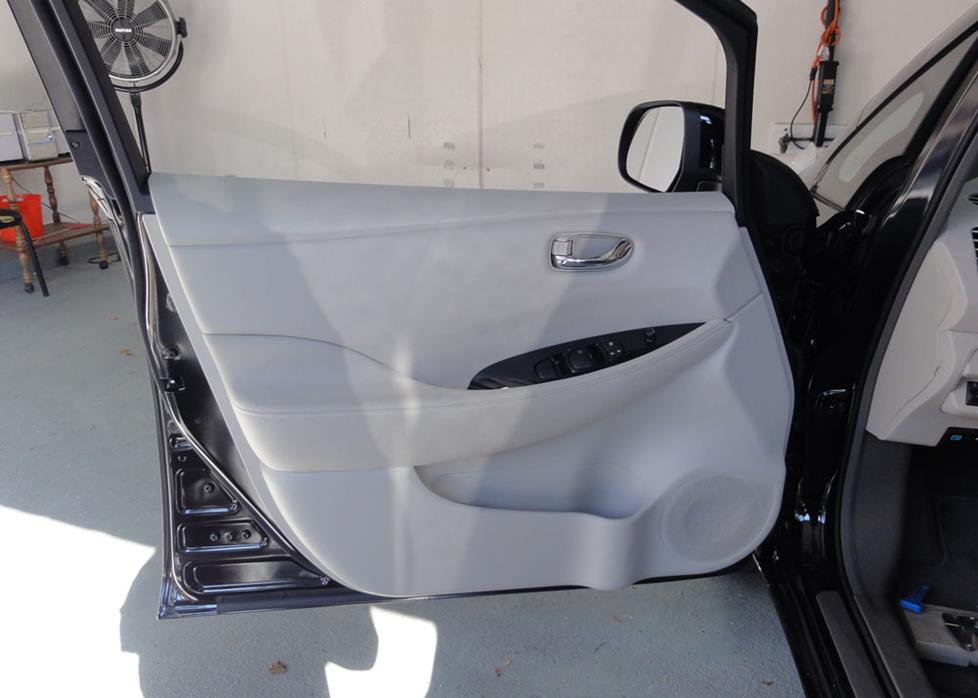 The front door speakers aren't that hard to deal with. Same goes for the rear doors. (Crutchfield Research Photo)
Removing the front door speakers
The Leaf's front door speakers can be replaced by 6-1/2" or 6-3/4" aftermarket models. The job's not that hard, but in some cases, you will need to drill a screwhole to mount the new speaker bracket on the door steel. Drilling a hole isn't the most challenging thing you'll ever do, but you should still work carefully, know what's near where you're drilling, and wear eye protection.
You'll start by using a panel tool to pry out the screw cover behind the door release handle. That'll expose a 10mm screw, which you'll need to remove.
Starting at the rear edge, pry up the power switch panel to release the retaining clips, then disconnect the harnesses and remove the panel. This will expose another 10mm screw, which will need to be removed.
Detailed stereo and speaker removal instructions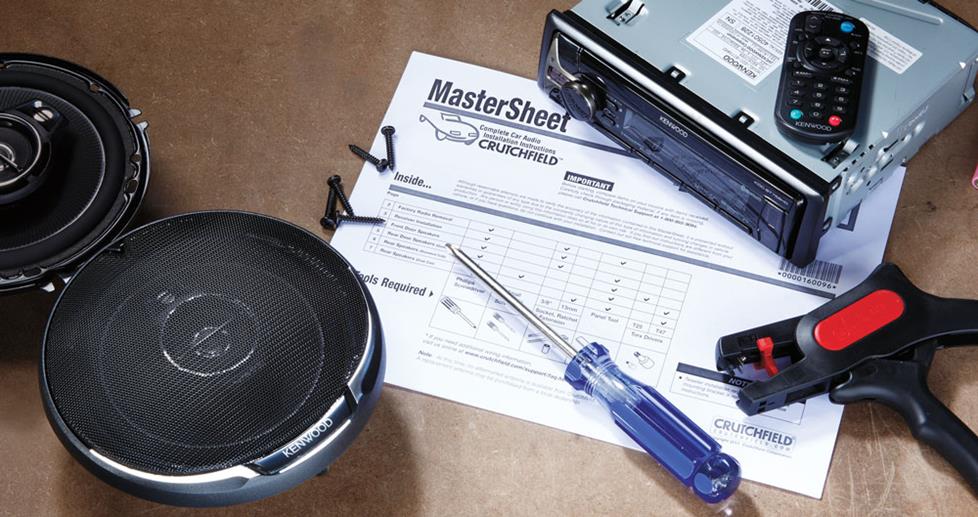 With step-by-step disassembly instructions and plenty of up-close, detailed photos, our exclusive
Crutchfield MasterSheet
™ takes the guesswork out of removing the factory stereo and speakers. It's free with your Crutchfield order, or you can purchase one separately for just $9.99.
Pry out the sides and bottom of the door panel to release nine clips, then disconnect the door lock and release cables and remove the panel. Remove the three (hence the need for a fourth hole) 10mm screws securing the speaker to the door steel, then disconnect the harness. The bracket you'll need for the new speaker will be enclosed with your Crutchfield speaker purchase.
The factory speakers are low-impedance models (1- or 2-ohm), so you should look for low impedance replacements. Installing higher-impedance models will result in lower volume levels, which is no fun.
Tools Required: Panel tool, 10mm socket, ratchet and extension, drill and 1/8" bit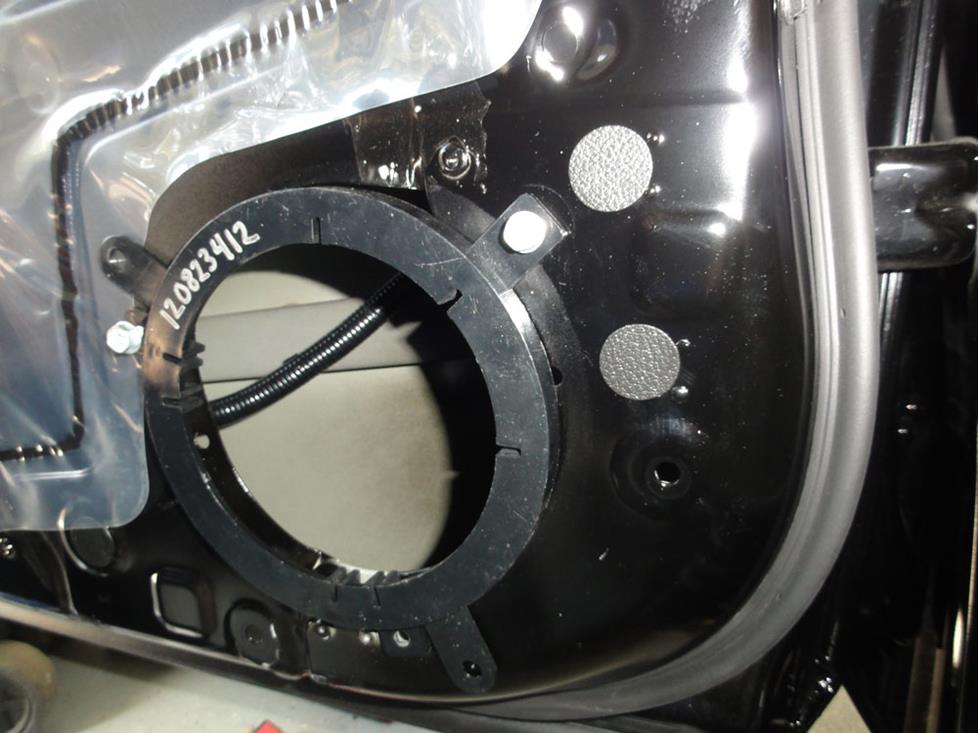 You'll need to drill a fourth mounting hole when you replace the door speakers (Crutchfield Research Photo)
Removing the rear door speakers
The Leaf's rear door speakers are identical to the fronts, and the removal and replacement process is pretty much the same, too. Complete, step-by-step details of both processes can be found in your MasterSheet.
Tools Required: Panel tool, 10mm socket, ratchet and extension, drill and 1/8" bit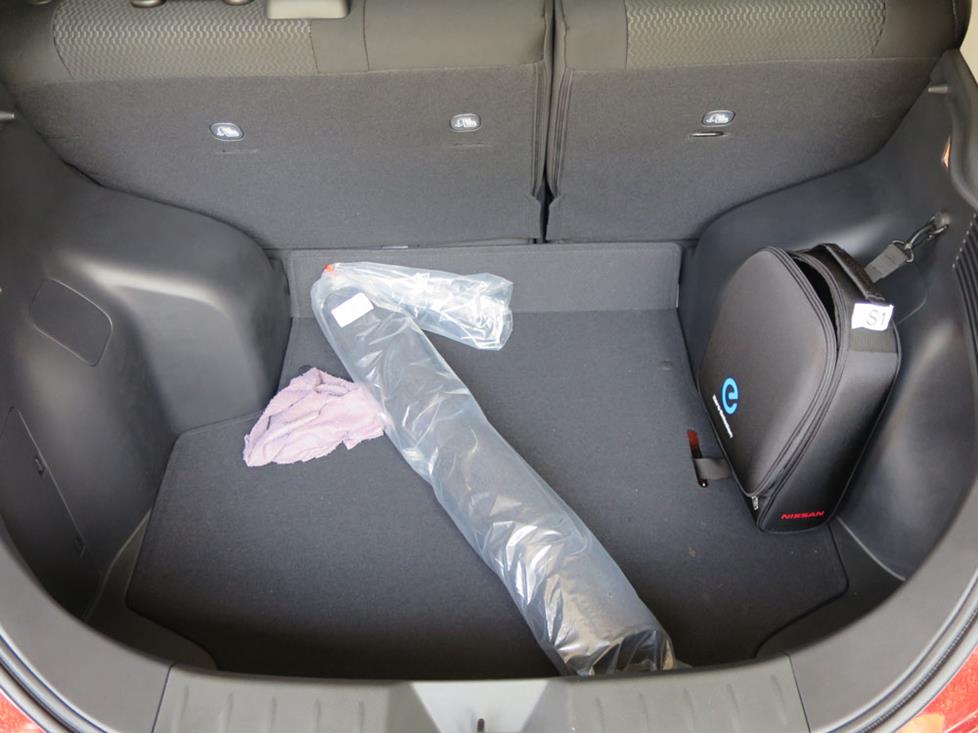 There is some space back here, but you might want to stick with the stock sub. (Crutchfield Research Photo)
Adding bass to your Nissan
Yes, this sensible little electric car was available with a subwoofer. The stock sub, included with the Bose system, is mounted in an enclosure located behind the rear seat. It's a down-firing, single-voice-coil 5-1/4" sub (the Bose amp is behind the trim on the passenger's side), and, like the speakers, it's a low-impedance speaker.
The world is not overrun with 5-1/4" subwoofers, but if you want to replace it, you can. The amp only sends bass to this location, so whatever speaker you install will only play bass.
You may have to do some mild modifications to make an aftermarket woofer fit, but we're really just talking about the screw openings, which is no big deal. Other than that, the replacement process isn't too hard.
Tools Required: 10mm & 1/4" sockets, ratchet and extension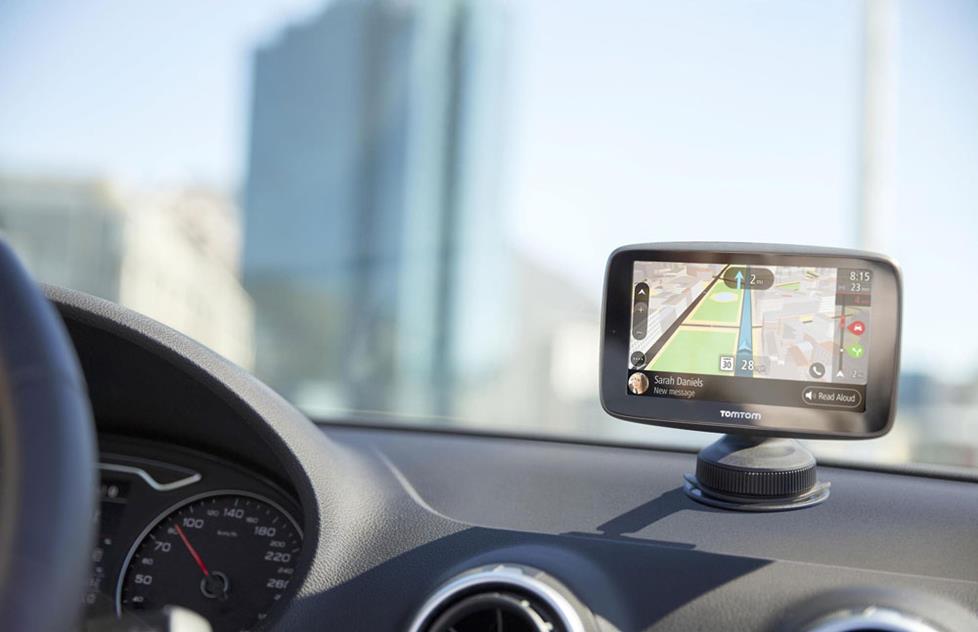 Need nav? A portable GPS is a lot easier to see and use than your smartphone.
Other options for your Leaf
Here are some other ways to improve your Nissan Leaf.
Navigation
Stuck with the stock non-navigation receiver? Relax, you can still bring aftermarket nav functionality to your Leaf without installing a touchscreen nav receiver. A portable GPS will mount on your dash and give you turn-by-turn directions, traffic updates, and everything you need to make your road trip go smoothly. Plus, when you get where you're going, you can put your GPS in your pocket and use it to find points of interest around town.
Security
Installing a security system in your Leaf isn't easy (security systems rarely are), but it's definitely a good idea. Our Crutchfield Advisors can help figure out what you need to get the job done, but we usually recommend taking your car and new gear to a professional installer.
Let's get started!
Ready to shop? Use our vehicle selector to find the gear that will fit your car or truck. If you have questions, give us a shout via phone, chat, or email