2012-2015 Honda CR-V
Upgrading the stereo system in your CR-V
2012 • 2013 • 2014 • 2015 • 2016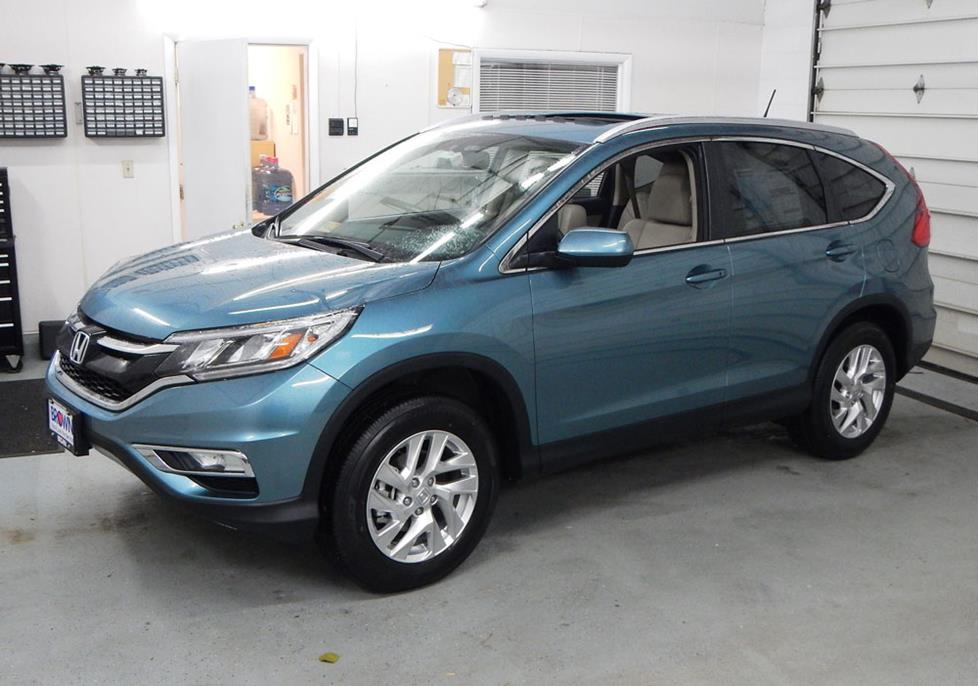 In brief: This Crutchfield Research Garage article gives you an overview of your CR-V's stock stereo system and your aftermarket upgrade options. We'll tell you all about:
Then, use our vehicle selector to find the gear that will fit your Honda.
Overview of the Honda CR-V
One element of the Honda Motor Company's unique genius is that when they hit on something people like, they're smart enough to leave the original concept alone while gradually improving everything else. It worked with the Civic and the Accord, and it's definitely working well with the CR-V. Big enough to haul kids and dogs in comfort, but still small enough to slice through the suburban jungle, this versatile SUV is a great choice for all sorts of drivers.
There are things that the CR-V doesn't do well, but they're probably not things the average CR-V owner would want to do in the first place. If you're thinking about racing up and over a sand dune, this is not the SUV to choose. But if you need to dash over to the home improvement store and pick up some sandpaper and maybe some lumber, it'll be just fine.
The CR-V's factory stereo system is competent, but that's about the best we can say about it. If you care about sound and/or want to add an up-to-date navigation system, you'll definitely want to install some aftermarket upgrades.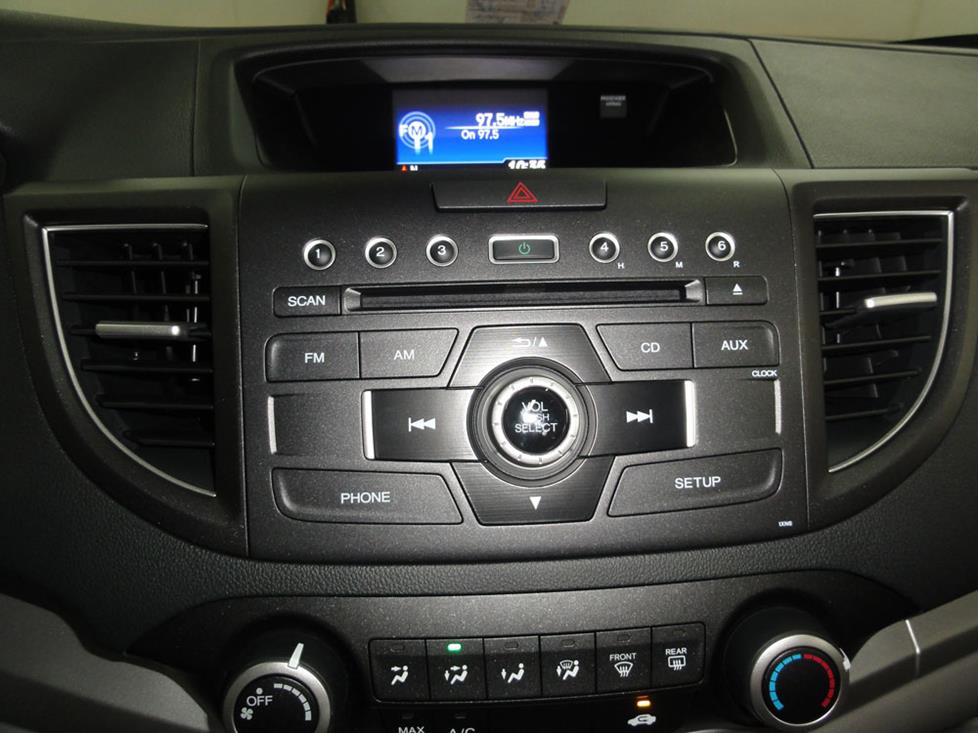 The non-nav receiver is competent, but it's far from outstanding (Crutchfield Research Photo)
The factory stereo system
The CR-V's stock stereo array consists of a 4-speaker base model, a 6-speaker "premium" system and, starting in 2015, a navigation system. Adding the nav system to a dash that already had a driver info center meant that some lucky CR-V drivers got to enjoy two screens at once.
No matter which receiver you have, the removal and replacement process is pretty simple and you have a wide selection of single-DIN (2" tall) and double-DIN (4" tall) aftermarket stereos to choose from. You will lose some of your factory features (satellite radio and navigation, most notably) when you remove the old stereo, but you'll have no trouble finding a new receiver with all those things and more.
Detailed stereo and speaker removal instructions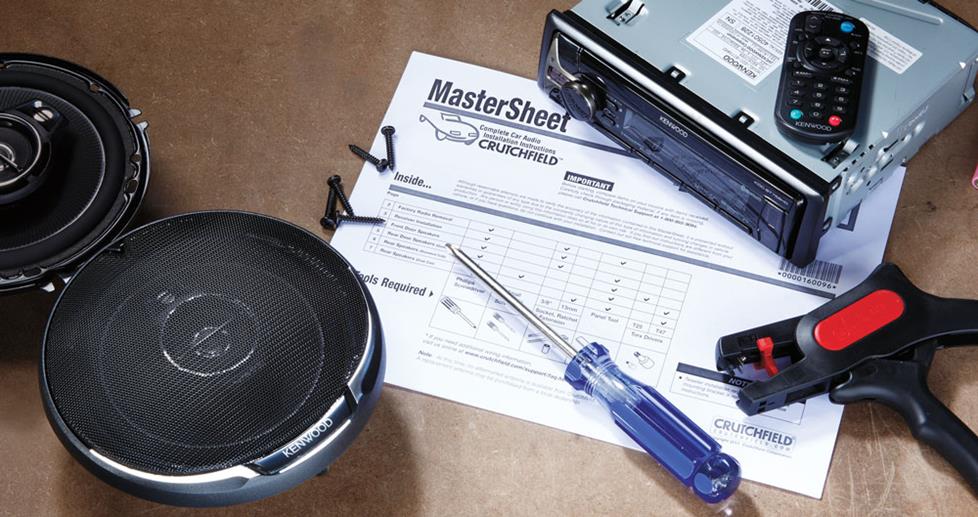 With step-by-step disassembly instructions and plenty of up-close, detailed photos, our exclusive
Crutchfield MasterSheet
™ takes the guesswork out of removing the factory stereo and speakers. It's free with your Crutchfield order, or you can purchase one separately for just $9.99.
If your CR-V has a factory amp, be sure to connect your new stereo's amp remote wire to the amp remote wire in the wiring harness that's included with your Crutchfield stereo purchase. Speaking of that harness, after you plug it into the dash, connect the RCA plug from the harness to the subwoofer output on your new stereo. Make sure you don't connect it to a full range output.
The vehicle info center screen will continue to work after you install a new stereo. The stock rear seat entertainment center and rear-view camera, if present, will also continue to work when you install a new stereo. If you don't have a camera, you can add one to your big-screen receiver — see below.
There are some other radio-specific tidbits to keep in mind while you shop. You'll see them all when you enter your vehicle information into our vehicle selector tool.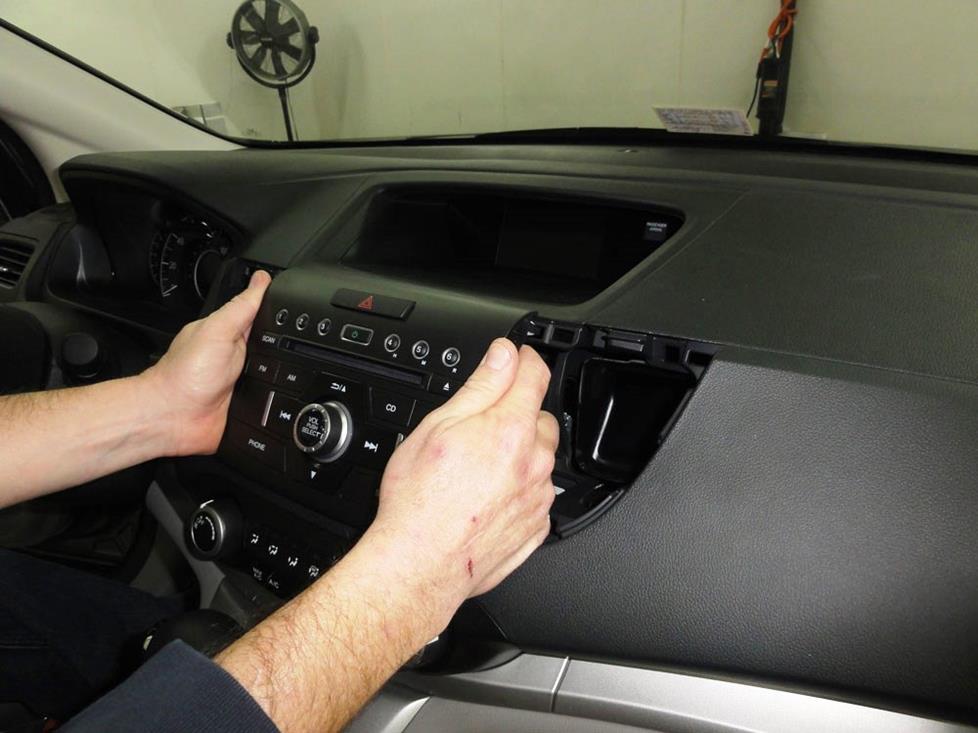 All the CR-V receivers are easy to reach and remove (Crutchfield Research Photo)
Removing the factory radio
The CR-V's radios are generally easy to remove and replace, whether you're dealing with the standard-style radios or the premium navigation models introduced in 2015. This is an excellent project for the first-time car audio DIY-er, so get in there and give it a try.
You'll start at the top edge, prying out both center vents to release five clips on each vent. When you remove the vents, you'll see two screws that also need to be removed. That little bit of work frees the radio from the dash. Pull the receiver toward you to release the retaining clips, then disconnect the old radio and set it aside.
Installing the new receiver is pretty much all that stuff, just backwards. When you shop with us, you also get a deep discount on the mounting kit and wiring harness adapter you need for this car, and both of those come with instructions of their own. You also get free Crutchfield tech support for the life of your gear, so give us a call if you get stuck on something.
Tools needed: Panel tool, paper, 8mm socket, ratchet and extension or Phillips screwdriver
Shop for car stereos that fit your Honda CRV
Steering wheel audio controls
It's relatively easy to retain the steering wheel audio controls when you install a new stereo in your CR-V. When you enter your vehicle information, our database will choose the adapter you need to make your factory steering wheel controls work with your new receiver.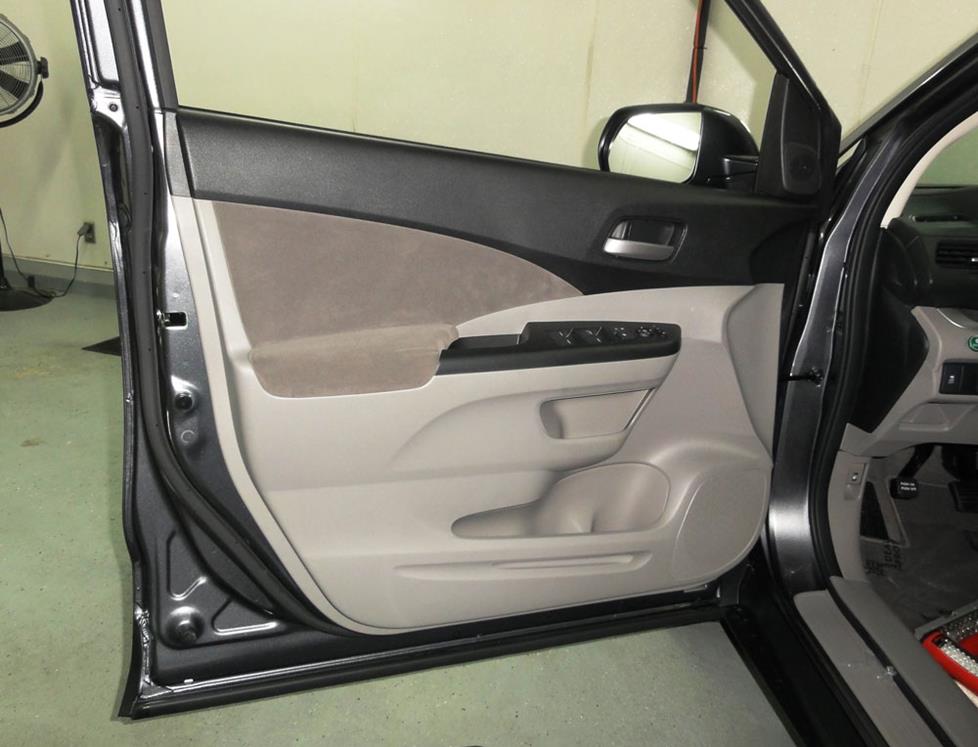 You'll need to remove the door panels to get at the front woofers and tweeters (Crutchfield Research Photo)
Removing the factory speakers
The Honda CR-V has speakers in the front and rear doors. If yours has the premium audio system, there's also a subwoofer underneath the passenger-side front seat.
Front door speakers
The CR-V's front doors contain both woofers and tweeters. You'll need to remove the door panels to get to them, which is a pretty easy process overall. Work carefully, though, because Honda puts together a pretty tight vehicle and you don't want to harm the door panels with excessive enthusiasm.
You can replace the stock woofers with 6-1/2" or 5-1/4" speakers, and the tweeters can be replaced by those found in most any component speaker. Our Outfit My Car tool will tell you what fits and what doesn't.
You'll start by using a panel tool to pry out the sail panel to release two retaining clips. Disconnect the wiring harness and remove the panel.
Moving down, pry out the screw cover behind the door release and remove the two exposed Phillips screws. Next, pry out the screw cover inside the door pull cup and remove one Phillips screw. Next, starting at the front edge, pry up the power options switch panel to release those retaining clips. Disconnect the wiring harnesses and remove the assembly.
Now you're ready to remove the door panel by prying out the sides and bottom of the door panel to release nine retaining clips. Disconnect the door lock and release cables, then remove the panel and find a clean, safe place to store it while you replace the speakers.
The front door tweeters are attached to the sail panels (Crutchfield Research Photo)
Tweeters
The stock sail panel tweeters measure just a bit over 1-1/2" in diameter and they're pretty easy to remove. Just pry the tweeter out of the panel and disconnect it.
Replacing them isn't all that difficult, but there are some things you'll need to do. There's no mounting bracket available, so you'll need to secure the new ones using our universal backstraps, hot glue or silicone. There are no wiring harnesses available, either, so you'll want to use Posi-Products speaker connectors to connect your new tweeters to the factory wiring. They're a ton easier than soldering, plus you'll get a really solid connection that'll stand up to your daily door-slamming.
Tools needed: Panel tool, small flat blade screwdriver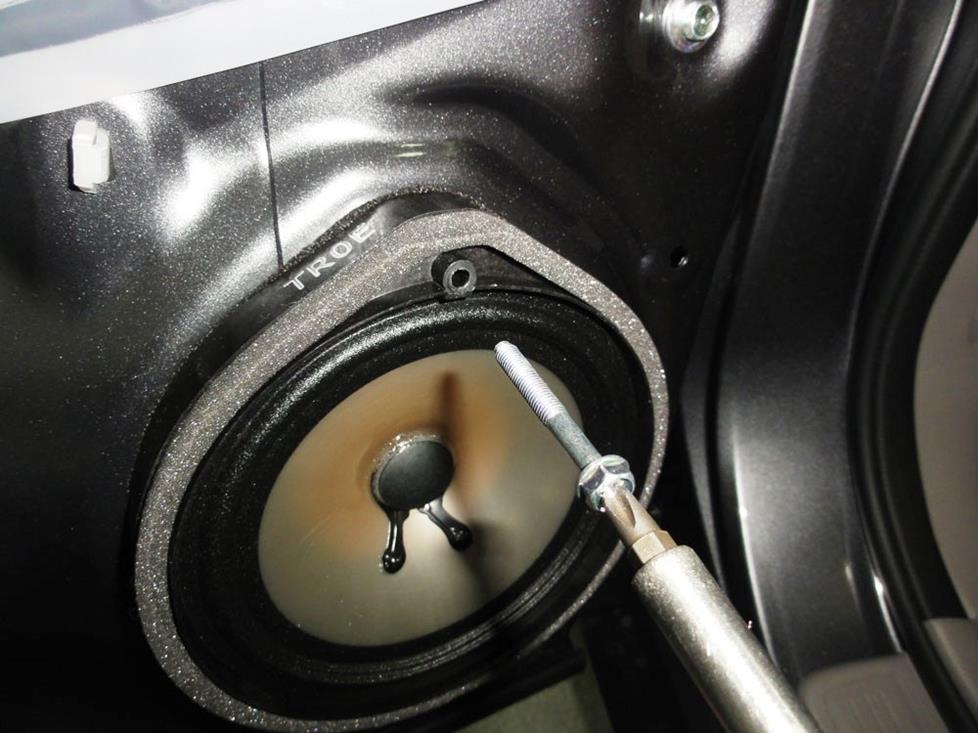 Once you get to the woofers, you'll only have to remove one Phillips screw (Crutchfield Research Photo)
Woofers
Removing the woofers is easy. Once you have the door panel off, remove the Phillips screw securing the top of the woofer, then use your panel tool to pry it out from the top. Disconnect, remove, and start replacing by securing the new speaker to the adapter bracket and connecting the speaker wiring adapter to the vehicle harness. Both the bracket and the adapter are included with your Crutchfield speaker purchase.
You may need to cut off the ring on the back of the speaker grille to create enough space for the speaker/bracket assembly. This isn't hard to do, just work carefully. You can use the screws you removed earlier to secure the new set-up in the cavity.
Before you put the doors back together, test to make sure all the speakers are working properly. If they are — and if the windows and locks are functioning as they should — you're ready to start re-assembly.
Tools needed: Panel tool, Phillips screwdriver, small flat blade screwdriver, utility knife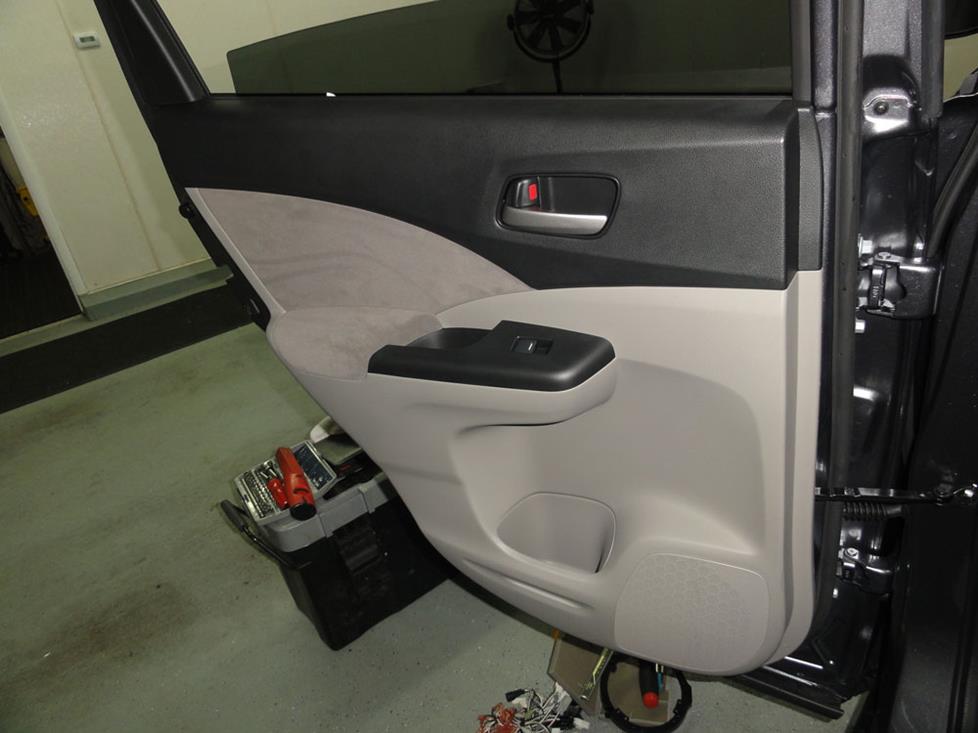 Everything you did on the front woofers will also work on the full-range rear speakers (Crutchfield Research Photo)
Rear door speakers
Pretty much everything we said about the front door speakers applies to the rear doors, too. You'll use the same tools and techniques, and you'll be able to replace these stock speakers with 5-1/4" or 6-1/2" aftermarket full-range speakers.
Tools needed: Panel tool, Phillips screwdriver, small flat blade screwdriver, utility knife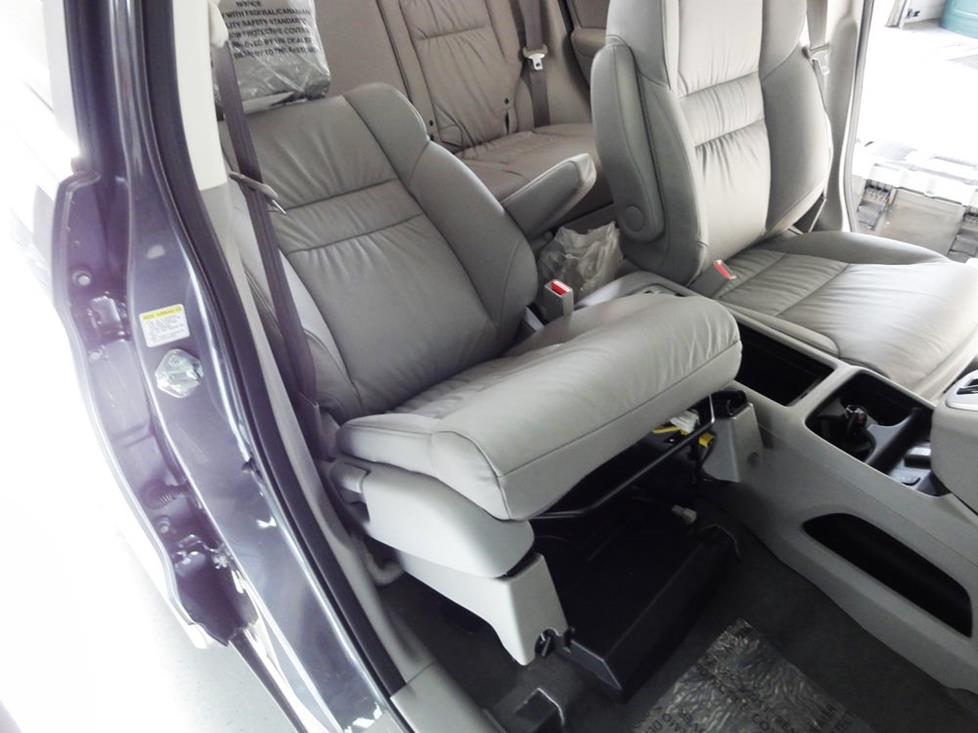 You'll need to unbolt the front seat and lean it back a bit to get to the stock subwoofer (Crutchfield Research Photo)
Under-seat subwoofer
The stock sub, if present, is a 5-1/4" model that's located under the passenger's seat. Replacing it isn't all that hard from a technique standpoint, but there's a fair amount of work to be done. You can do it, but you'll need to be patient and stay organized. You'll be removing a lot of screws when you do this, so we highly recommend setting out some old coffee mugs or plastic bowls or something to keep them straight.
You'll start by prying off the two seat bolt covers on the rear of the passenger's side front seat and removing the 14mm bolts underneath them. You'll then remove the two (uncovered) 14mm bolts on the front side. Drop all four into the 14mm bolt bowl and lean the seat back until it rests comfortably on the back seat. That'll expose the sub, which will allow you to disconnect the subwoofer wiring harness.
Remember what we said about having containers for the various bolts and screws? Good, because that's going to come in handy right about…(wait for it)....now.
Remove four 10mm bolts securing the subwoofer enclosure to the seat frame, then remove the enclosure and set it down outside the vehicle. Remove the twelve (!) Phillips screws holding the enclosure together; then separate the halves. Remove the four Phillips screws securing the subwoofer to the enclosure, then disconnect the wiring harness and remove the speaker.
You'll most likely need to use pliers to break off the alignment tabs on the mounting surface to allow the new sub to fit flush, but that's pretty easy. Once the sub is flush, secure it to the enclosure, put the enclosure back together, and put it back in your CR-V. Connect it, test it, and if you hear the joyous sound of booming bass, you're ready to return the seats to their proper positions. Take special care when securing those seat bolts, of course. Those are important.
Tools needed: Panel tool, Phillips screwdriver, 10mm & 14mm socket, ratchet and extensions
Shop for speakers that fit your Honda CRV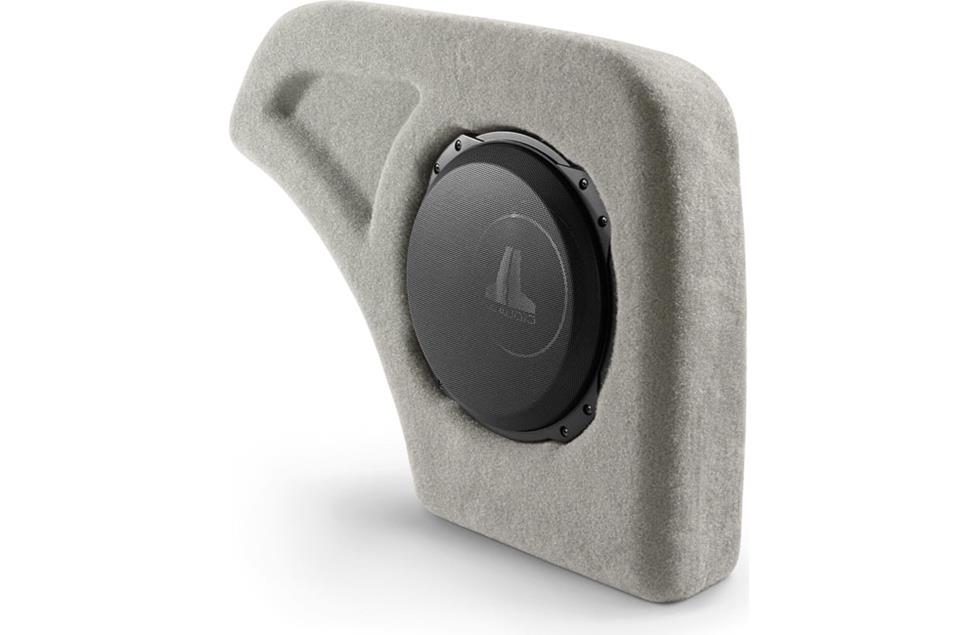 You can choose from three different JL Audio Stealthbox enclosures for your CR-V
Adding bass to your Honda CR-V
Whether you have the factory sub or not, you might want to add bigger, better bass to your CR-V. If so, you have some interesting options.
If you want to add component subs and a sub box in the cargo area, you have a 41" W x 21" H x 27"/24" D space to work with. In other words, plenty. But if you still use the cargo area for things like groceries and gear and other real-life concerns, you can go in a different direction and choose a powered subwoofer.
If you want outstanding bass that fits right into your CR-V and your lifestyle, you have a third option – a JL Audio Stealthbox. This custom piece installs against the passenger's side wheel well and contains a 10" JL Audio sub. This powerful sub enclosure is available in three models to suit your CR-V – unless it's an early 2012 Gen 3 model, in which case it won't fit.
Shop for vehicle-specific subwoofers for your Honda CRV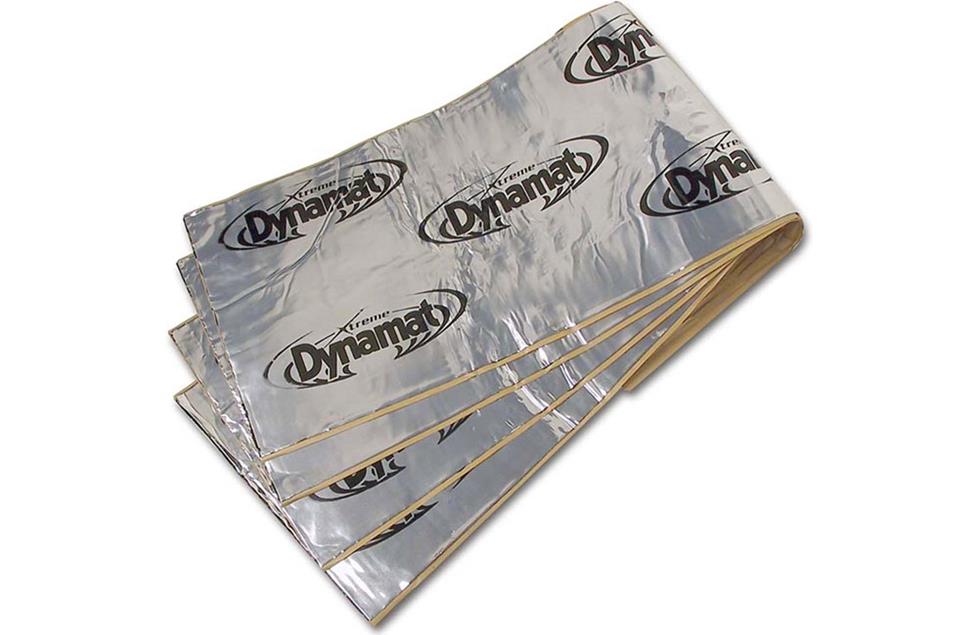 A Dynamat kit will help reduce road noise, so you'll hear more of your music
Other options for your Honda CR-V
There are plenty of other ways to improve the sound, safety, and comfort of your CR-V. Here are some of the ways Crutchfield can help.
Add an amp (or two)
A new 4-channel amplifier will help you get the most out of your new speakers. You'll get cleaner power (and a lot more of it), which will result in much, much better sound. A mono amp can provide the juice you need for your new subwoofer, too.
Rear-view camera
It's important to be aware of your surroundings, and that's not always easy to do when the back of the car is loaded with groceries...or subs. A rear-view camera is a big help when you're backing up in a crowded parking lot.
Dynamat
The CR-V isn't as chunky as some of its competitors, but it still produces a fair amount of wind noise. The Dynamat Xtreme Door Kit is the perfect way to quiet the roar and enjoy your music. This heavy-duty, noise-damping material is easy to install, and it really makes a difference. One kit will take care of both front doors.
Interior protection
If you have an SUV of any size, you're eventually going to haul something somewhere. And even if you don't, the front floor mats will get a lot of abuse. Floor mats and cargo mats from WeatherTech will help protect your floors from dirt and damage. As for the seats, door panels, headliner and other interior surfaces, we recommend WeatherTech's TechCare car care products.
Remote start and security systems
Adding remote start capability to your vehicle lets you warm it up in the winter or cool it down in the summer. The iDatastart system is incredibly convenient and makes it easier than ever to install a remote start system, so we highly recommend it. The module requires a vehicle-specific T-harness (sold separately) to connect with your vehicle's computer, security, and ignition systems, so we ask that you call to order so that we can make sure you get the right harness for your ride.
You can also talk to your Crutchfield Advisor about a security system. They're not as easy to install (we usually suggest letting a professional do the job), but we can help you choose a system that'll work in your vehicle.
Let's get started!
Ready to shop? Use our vehicle selector to find the gear that will fit your car or truck. If you have questions, give us a shout via phone, chat, or email