2012-2016 Subaru Impreza
Upgrading the stereo system in your Impreza
2012 • 2013 • 2014 • 2015 • 2016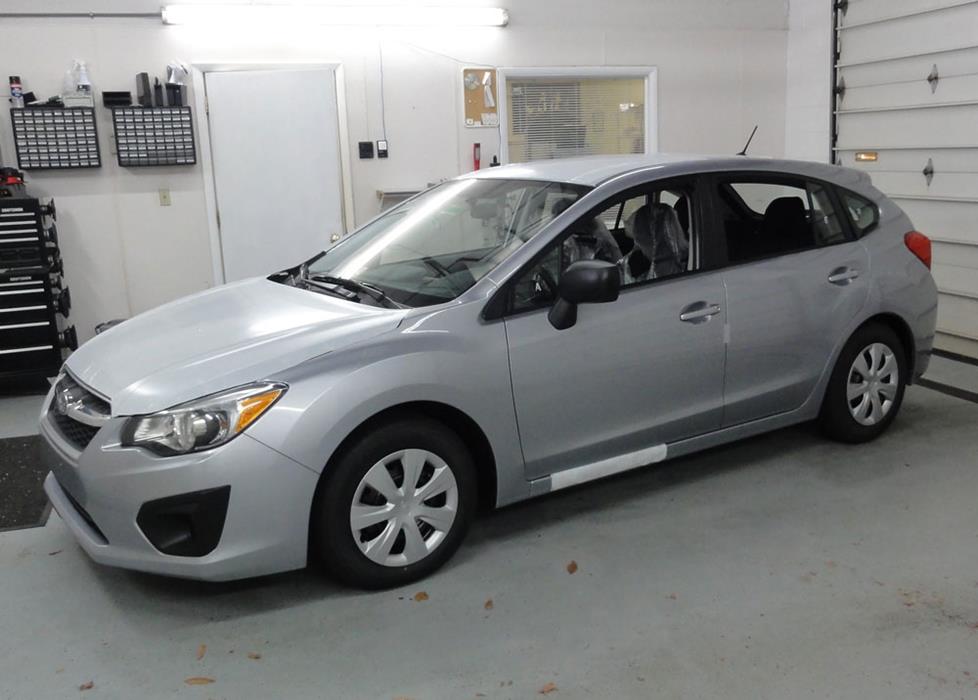 In brief: This Crutchfield Research Garage article gives you an overview of your Impreza's stock stereo system and your aftermarket upgrade options. Use our vehicle selector to find the gear that will fit your Subaru.
Overview of the Subaru Impreza
Available as a smooth-looking sedan or a versatile hatchback, Subaru's Impreza is a practical, economical family car that offers the added bonus of all-wheel drive. This is handy in snow and ice, of course, but it's also nice to have when it's just rainy and crummy out. And it's not bad on dry, curvy roads, either. Honestly, all-wheel drive is just good, period, and we wonder why more cars don't have it.
But the fact they don't just makes Subarus more interesting, and that's good, too. The Impreza isn't flashy or loud, it's just a thoroughly competent car that goes about its business until the weather gets weird, at which point it shrugs and, well, continues to go about its business. Lots of people (around these parts, especially) freak out at the first sight of a snowflake. Subaru owners just get on with it because they know that their car's going to do the same thing.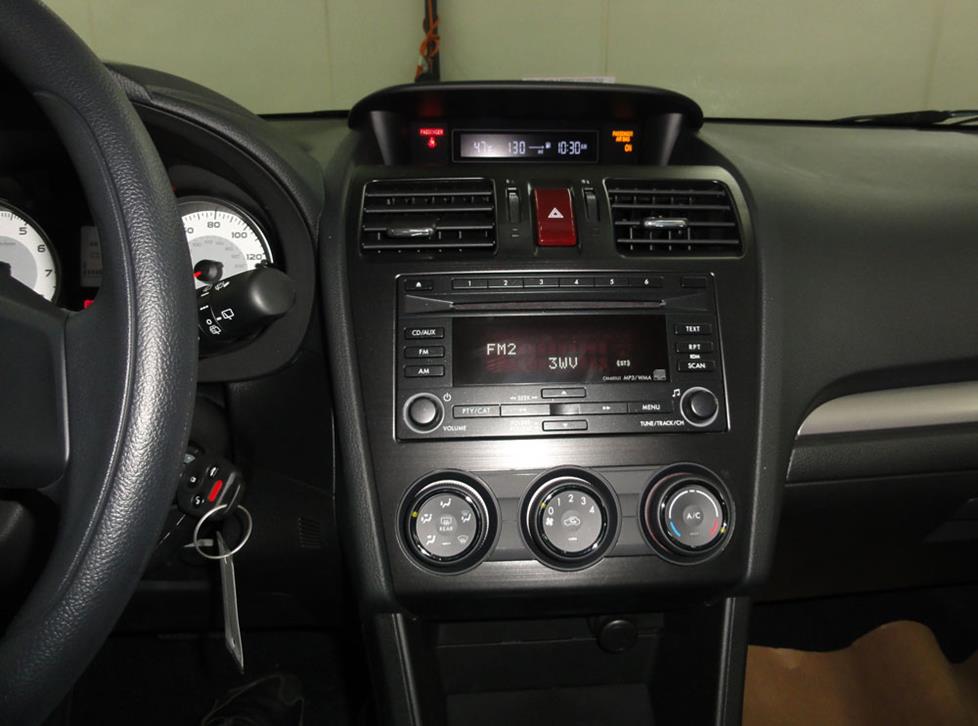 The stock radio isn't terrible, but an aftermarket model will give you a lot more performance (Crutchfield Research Photo)
Factory stereo system
Subaru stereo systems aren't known for their wonderfulness, but the Impreza's stock gear is reasonably okay as these things go. Even the base radio has built-in Bluetooth, and the sound is delivered by four or six speakers. It's not awesome, but it is adequate. You can definitely do better, though.
A variety of single-DIN (2" tall) and double-DIN (4" tall) receivers will fit with the help of the dash kit that's included at a discount (along with a wiring harness) with your Crutchfield stereo purchase.
When you replace the stock receiver, you'll lose some factory functionality, like your satellite radio. If you can't imagine driving without your favorite programming, all you need is the right receiver, a subscription, and a SiriusXM tuner.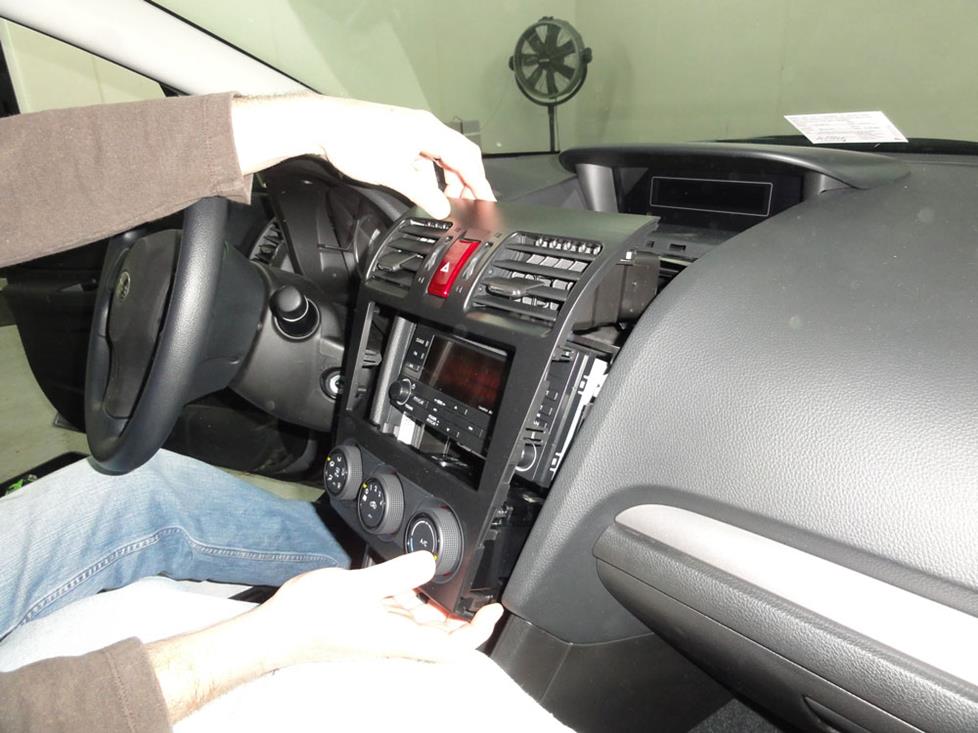 The radio is pretty easy to remove, but pay attention to the climate control connections (Crutchfield Research Photo)
Replacing your factory radio
The Impreza's dash is, for the most part, a pleasantly uncomplicated and functional environment. We like that for lots of reasons, but especially when it comes to receiver replacement. This is not the easiest thing you'll ever do, but it is totally do-able for the average DIY-er.
You'll start by setting the parking brake and disconnecting the negative battery cable to prevent any electrical shorts. Better safe than sorry, as they say. And by "they," we mean "we."
The next thing to do is turn the climate control to "heat." This sounds weird, but stick with us. With this car, instead of removing the heater control cables at the radio location, you have to go under the dash to disconnect the climate control cables from each side of the heater box.
Under the driver's side of the dash, feel around for the tab on the back of the post. Once you find it, press in a little on the tab to release the cable ring and slide the ring off the post. The cable can then come off of its retention clip. You'll do the same stuff on the passenger's side, too, but the control cable on this side is black. This is a somewhat fiddly process, but it's as do-able as it is important.
Detailed stereo and speaker removal instructions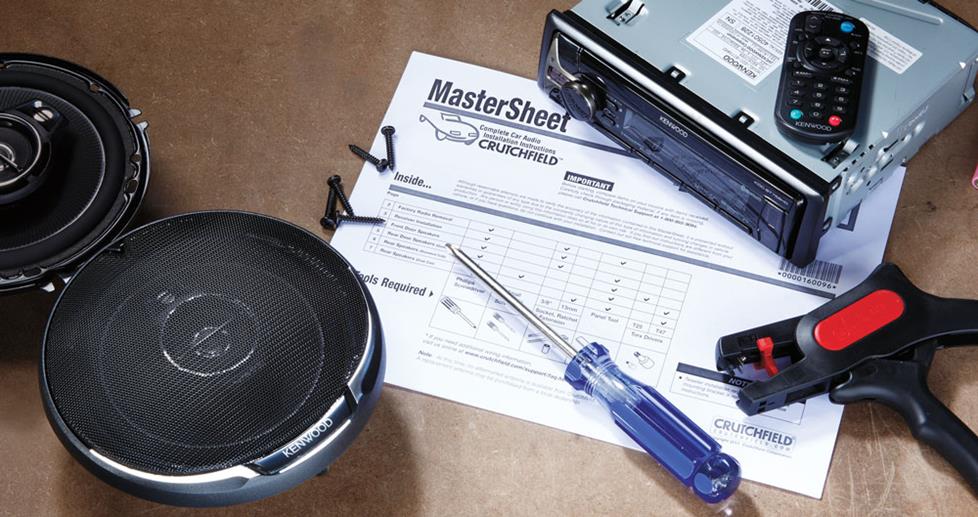 With step-by-step disassembly instructions and plenty of up-close, detailed photos, our exclusive
Crutchfield MasterSheet
™ takes the guesswork out of removing the factory stereo and speakers. It's free with your Crutchfield order, or you can purchase one separately for just $9.99.
Once you've dealt with that stuff, it's time to remove the receiver. Starting at the lower side edges, use a panel tool to pry out the receiver/climate control trim panel and release fifteen retaining clips. Do this carefully, because you don't want to damage the trim panel.
Once the panel is free, disconnect all of the wiring harnesses. Pay close attention to the climate control cable routing, because you'll want to get that right when you reinstall everything. Take some notes, and/or get a couple of pictures with your phone or a digital camera. It'll help, trust us.
Remove the trim panel, then remove the four Phillips screws securing the factory radio. Pull out the old radio, disconnect the wiring harness, and remove it from the vehicle.
To install the new one, follow the instructions included with your dash kit and wiring harness adapter. When that's all straight, slide the receiver into place, secure everything, then get to work on the climate control connections. Be sure to test the radio and the climate controls before buttoning everything up completely.
Tools needed: Panel tool, Phillips screwdriver, small flat blade screwdriver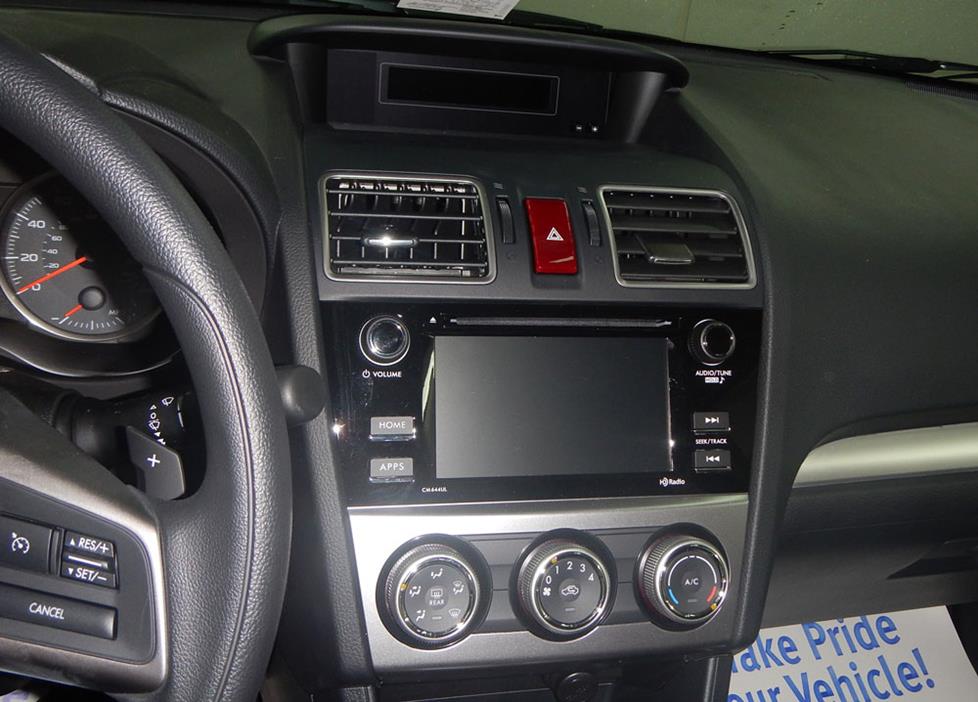 The new-for-2015 nav receiver offers some different replacement issues (Crutchfield Research Photo)
2015-up navigation radio
A newer, bigger, better 6.2" nav screen appeared late in the Impreza's run, and removing this receiver is a bit different. You'll lose some factory features,but all of them can be replaced with the right aftermarket receiver. There's no Mastersheet (yet) for cars equipped with this receiver, so here's a brief rundown of what's involved in the job. Speaker instructions are the same, though.
You'll start by prying out the center dash vent assembly to release seven retaining clips. Disconnect the harness and remove the assembly. That will expose two 10mm screws, which you'll need to remove.
Open the glove box and pinch the end of the retainer shock to release it. Push in the sides of the glove box to clear the stops, then lift the glove box out of its cavity.
Disconnect the temperature control cable and remove one exposed 10mm screw. Remove the Phillips screw at the lower right corner of the driver's knee panel, then pry out the lower right driver's knee panel to release five retaining clips. Remove the panel, then disconnect the climate mode control cable and remove one exposed 10mm screw.
Pry out the receiver/climate control assembly to release the retaining clips, then disconnect the harnesses and remove the assembly. You'll want to take notes and pictures to make sure you get the climate control cable routing right when you're reinstalling everything here, too.
You'll need to use the factory radio's mounting brackets to install your new receiver. If you don't have those brackets for some reason, you can obtain them from your dealership or online.
Tools needed: Panel tool, 10mm socket, ratchet and extension, Phillips screwdriver
Steering wheel audio controls
It's relatively easy to retain your Impreza's steering wheel audio controls when you install a new stereo. When you enter your vehicle information, our database will choose the adapter you need to make your factory steering wheel controls work with your new receiver.
Shop for car stereos that fit your Subaru Impreza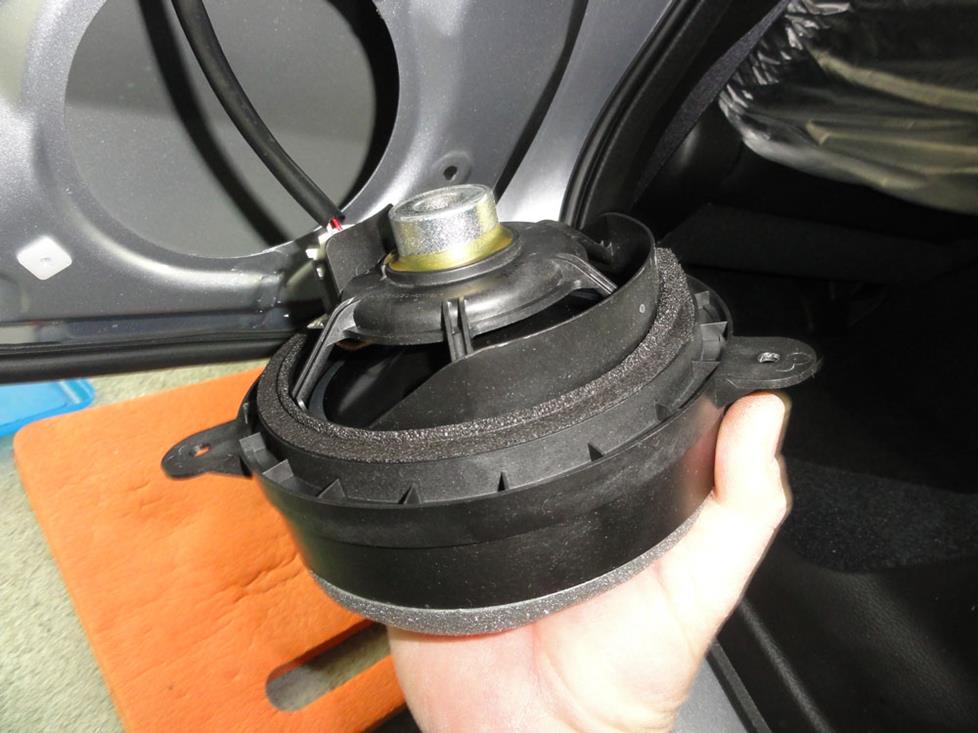 That little tiny magnet is a big reason the stock speakers don't exacly blow people away (Crutchfield Research Photo)
Replacing your factory speakers
Replacing the Impreza's speakers has a couple of challenging elements, but overall, this is a great project for the car audio DIY-er. You'll have to drill some new mounting holes for the aftermarket speakers, but that's not too hard if you work carefully.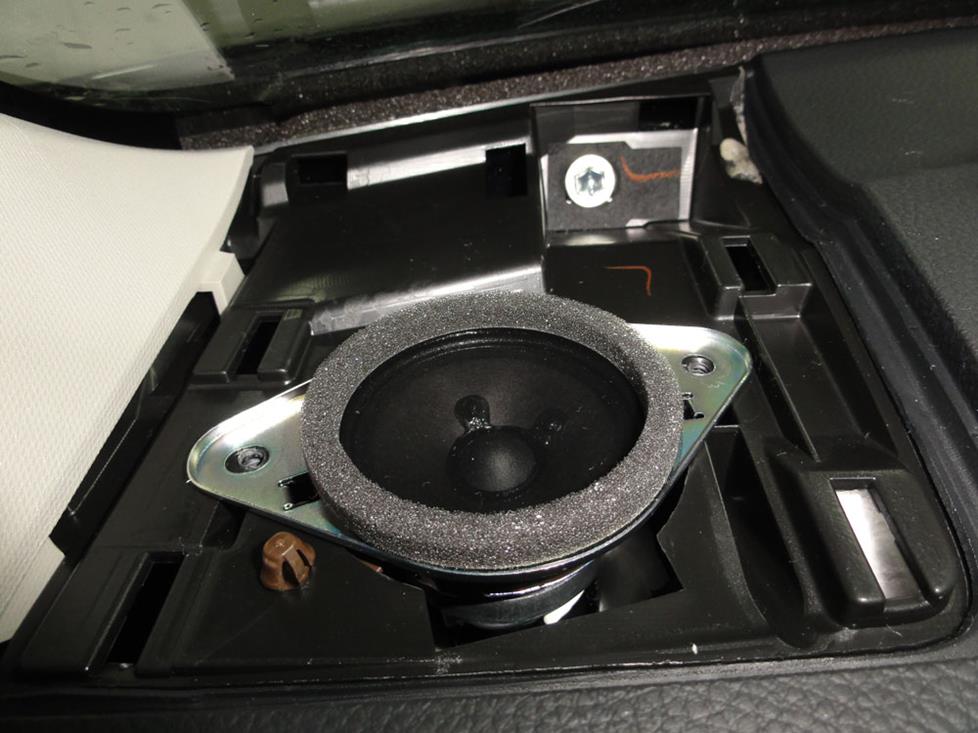 You'll need to use our universal backstraps to secure your replacement tweeters (Crutchfield Research Photo)
Dash tweeters
The corner dash tweeters are wired in parallel with the front door woofers, so a set of aftermarket component speakers is an ideal choice for six-speaker cars.
You'll start the replacement process by prying up the speaker grille to release four retaining clips and removing the grille. Remove the two Phillips screws securing the tweeter, then pull it out, disconnect the harness, and remove the stock tweeter.
There's no mounting bracket available for installing new tweeters, so you'll need our universal backstraps (or hot glue or silicone) to secure the new ones. There's also no wiring harness adapter, so we recommend using Posi-Products speaker connectors to connect the tweeters to the factory wiring. They're a lot easier than soldering, and you'll also get a much more secure connection.
Tools needed: Panel tool, Phillips screwdriver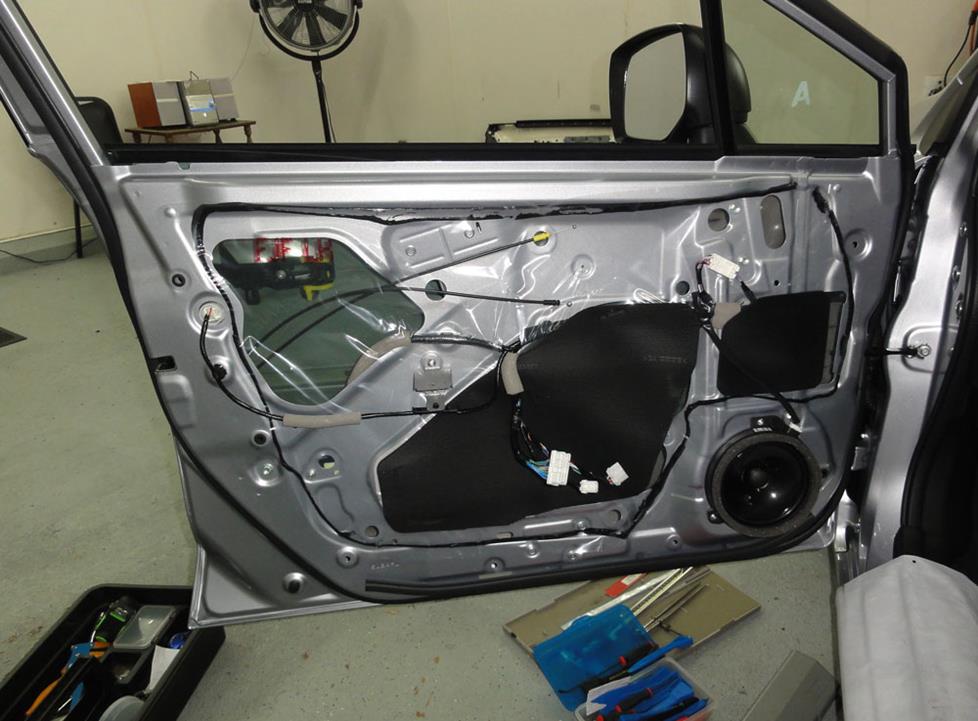 The Impreza's door speakers aren't hard to replace, but you will need to drill new mounting holes (Crutchfield Research Photo)
Front door speakers
The front doors can happily house your choice of 6-1/2" or 6-3/4" aftermarket speakers. The job isn't that hard overall, but you'll need to drill new screw holes to mount the new ones. Drilling a hole is not the most challenging DIY task, obviously, but you are drilling into your car, so work carefully, know what's around and behind the spot your drilling into, and always wear eye protection.
You'll start by prying open the screw cover behind the door release and removing one Phillips screw. Then, you'll pry open the screw cover inside the door pull cup and remove another Phillips screw.
Next comes the removal of the door panels. Pry out the sides and bottom of the door panel to release the retaining clips, then disconnect the wiring harness, door lock and release cables and remove the door panel. That'll expose the speaker, which is secure by three Phillips screws. Remove those, disconnect the harness, and remove the old speaker.
Place the new speaker in the cavity and mark the spots for the new mounting holes. Remove the speaker and drill the holes with a 1/8" bit. From here, just connect the speaker wiring adapter (included with your Crutchfield speaker purchase) to the car's wiring and secure the speaker. BTW, your new speakers might not come with mounting screws, so check the box before you start the job and make your run to the hardware store if needed.
Make sure the speakers are working properly before you put the doors back together. And also check the door lock and window operation, just to be sure there aren't any stray wires gumming up the works.
Tools needed: Panel tool, small flat blade screwdriver, Phillips screwdriver, drill with 1/8" bit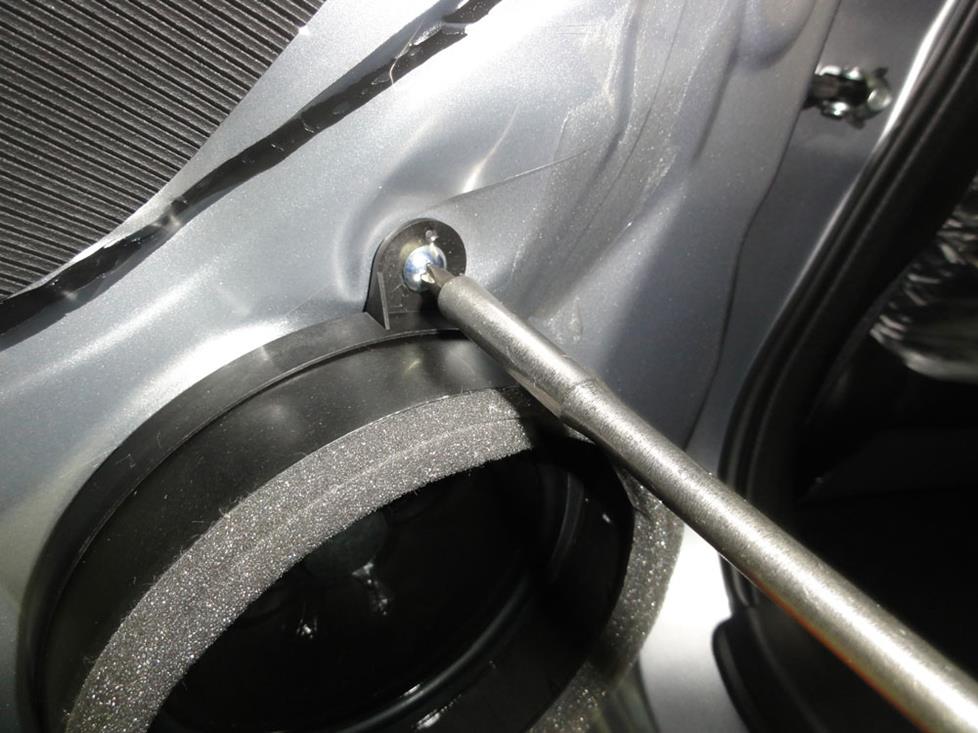 Use a Phillips screwdriver to remove the factory speakers (Crutchfield Research Photo)
Rear door speakers
Replacing the rear doors involves pretty much the same list of activities you enjoyed while working on the Impreza's front speakers. Back here, you can install 5-1/4" or 6-1/2" full-range speakers. For the smaller ones, we recommend adding a set of foam speaker baffles. These inexpensive baffles fill up the space, help fill out the sound, and they'll also protect the speakers from dust and damage.
You'll be drilling into these doors, too, so work carefully and don't forget the eye protection.
Tools needed: Panel tool, small flat blade screwdriver, Phillips screwdriver, drill with 1/8" bit
Shop for speakers that fit your Subaru Impreza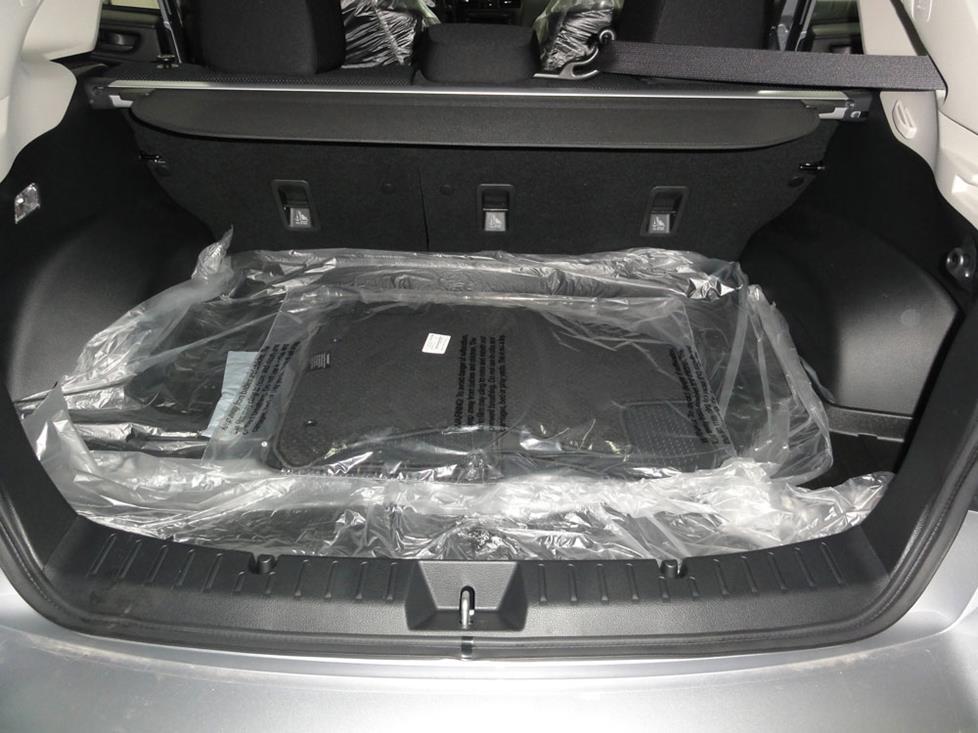 You'll have the same amount of space for bass in the hatchback (shown) or the sedan (Crutchfield Research Photo)
Bass in your Impreza
If you like bass, the Impreza hatchback and sedan both offer a decent amount of space for a sub enclosure if you want to use it. How much bass you add depends on how you use your vehicle, though.
The cargo area (in both models) offers a 42" W x 15" H x 29"/23" D space to work with, so there's room for a decent-sized sub box. If you still use that cargo area for groceries, gear, and dogs, though, you might want to choose a smaller enclosure or even a compact powered subwoofer.
We offer plenty of options, so talk to a Crutchfield advisor if you're having a hard time deciding what's right for you.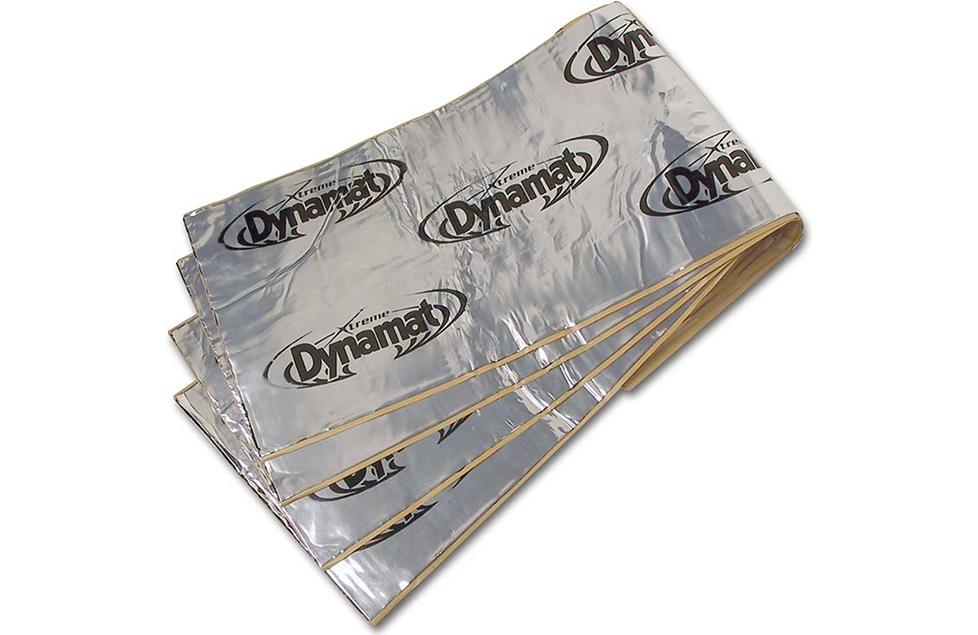 Dynamat Door Kits put up a sonic barrier that keeps noise out and your system's sound in
Other options for your Impreza
Here are some other ideas for your Impreza. If you want to see more, check out our Automotive Accessories section.
Dynamat
The Impreza is a lot of things, but whisper-quiet, it ain't. While Lexus-like silence is probably unattainable, there are some things you can do to hear more music and less wind roar. Lining the doors with sound-deadening Dynamat when you install your new speakers can really help seal in the sounds you want to hear.
Add an amp (or two)
A new 4-channel amplifier will help you get the most out of your new speakers. You'll get cleaner power (and a lot more of it), which will result in much, much better sound. A mono amp can provide the juice you need for your new subwoofer, too.
Floor mats and cargo liners
Quality mats and liners from WeatherTech will help protect your Impreza from dirt, damage, dog hair, and discarded juice boxes.
Security
Installing a security system in your Impreza isn't easy (security systems rarely are), but it's less complicated than it could be. Our Crutchfield Advisors can help figure out what you need to get the job done, but we usually recommend taking your car and new gear to a professional installer.
Shop for car security systems for your Subaru Impreza
Find the audio gear that fits your car or truck
Visit our Outfit My Car page and enter your vehicle information to see stereos, speakers, subs, and other audio accessories that will work in your vehicle.