2012-2019 Fiat 500
Upgrading the stereo system in your 500
2012 • 2013 • 2014 • 2015 • 2016 • 2017 • 2018 • 2019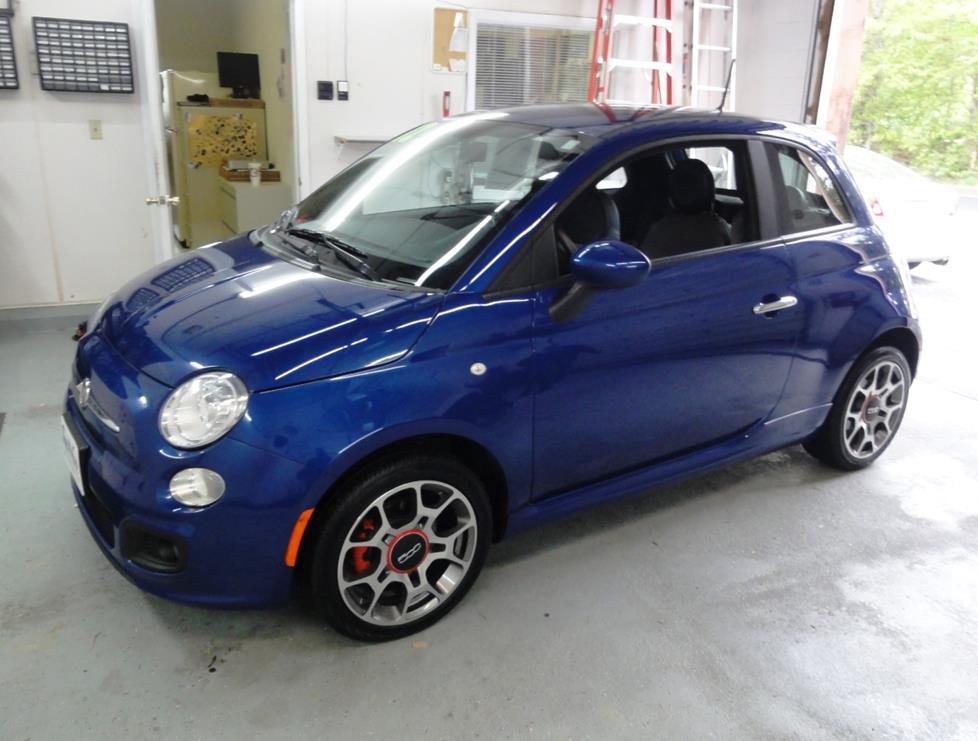 In brief: This Crutchfield Research Garage article gives you an overview of your 500's stock stereo system and your aftermarket upgrade options. Use our vehicle selector to find the gear that will fit your Fiat.
Overview of the Fiat 500
Trucks and SUVs make perfect sense for people who live in the suburbs, because there's always some combination of kids and dogs and stuff that needs to be hauled somewhere. But for city dwellers who don't buy canned goods by the case or mulch by the truckload, that's an awful lot of vehicle to deal with every day.
The Fiat 500, on the other hand, is ideal for the urban lifestyle. It's small, economical, easy to park and a whole lot of fun to drive. No, it's not the car to take to the big box store when it's time to stock up on food, and no, it's probably not ideal for a cross-country drive with four friends. But if you're looking for a (very) small car that's made for living in the city, a 500 hatchback or convertible is a very nifty choice.
In base trim, the 500 (or "Cinquecento") is a fun, practical microcar that's a blast in the cut-and-thrust of city driving. If you choose the hot-rodded Abarth model, you'll have a legitimate pocket rocket that can embarrass a lot of so-called "muscle cars" at stoplights. The 500 offers plenty of trim variations between those two extremes, but all of them could stand a bit of a boost in the stereo department.
Factory stereo system
The 500's standard stereo is an iPod-friendly AM/FM/CD unit with an aux input and six speakers. The optional Bose system adds upgraded speakers, a USB port, hands-free connectivity, an amp in the rear cargo area and a subwoofer under the passenger's seat. Alpine and Beats systems appeared on the options sheet later on.
Upgrading the receiver and speakers isn't especially difficult in the 500, but there are some differences between the 2012-15 and 2016-19 models. Wiring harnesses are not available for the speakers in 2012-15 cars, so you'll either have to splice into the factory wiring or hook up your new speakers using Posi-Products connectors. Speaker harnesses are available for select locations in the later 500s.

The Fiat 500's factory radio (Crutchfield Research Photo)
Replacing your factory radio
A variety of receivers are available for the 500, but the choices vary depending on model year. In 20012-15 cars, you're restricted to single-DIN (2" tall) models, but 2016-19 cars can also hold double-DIN (4" tall) aftermarket receivers. You'll need a receiver mounting kit for all receivers, and it's available at a big discount with your Crutchfield stereo purchase.
The 500's factory sound system requires a special wiring adapter to install a new car stereo. We strongly recommend that you purchase one of these adapters along with your new receiver. The adapter isn't free, but you'll save big when you buy it with any car stereo from Crutchfield. Which adapter you choose depends on how your car is equipped and what kind of receiver you're installing. Our database will help you select the right one for your installation.
Detailed stereo and speaker removal instructions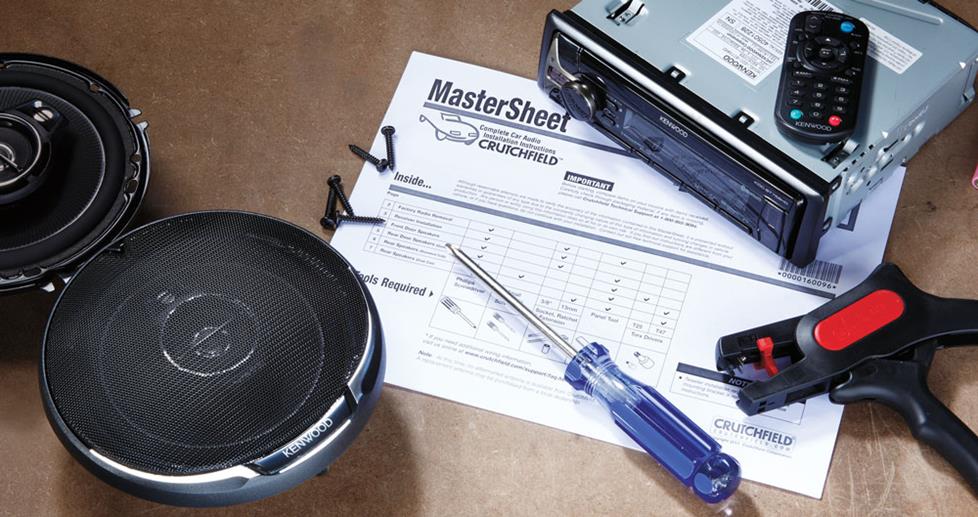 With step-by-step disassembly instructions and plenty of up-close, detailed photos, our exclusive
Crutchfield MasterSheet
™ takes the guesswork out of removing the factory stereo and speakers. It's free with your Crutchfield order, or you can purchase one separately for just $9.99.
When you replace the factory radio, you'll lose your Sirius satellite radio functionality (if present), but you can add SiriusXM to a wide variety of new receivers and get access to the great satellite radio programming you enjoy.
Removing and replacing the factory unit isn't hard in the 500, but as noted above, the process depends on your car. When you order your new receiver and/or speakers from Crutchfield, you'll get our illustrated, vehicle-specific instructions, which will be a big help with your DIY project.
Tools needed (2012-15): Small flat blade screwdriver, DIN removal tools, Phillips screwdriver, 10mm socket, ratchet, and extension
Tools needed (2016-19): Panel tool, Torx T-25 driver, hacksaw blade
Steering wheel audio controls
It's relatively easy to retain the steering wheel audio controls when you install a new stereo in your 500. When you enter your vehicle information, our database will choose the adapter you need to make your factory steering wheel controls work with your new receiver.
Shop for car stereos that fit your Fiat 500
Replacing your factory speakers
Factory speakers are located in the doors and the rear side panels. There are also tweeters up front in the A-pillars.

The 500's stock component woofers (Crutchfield Research Photo)
Front door woofers
The 500's doors are home to a pair of 6-3/4" woofers that can be replaced by either 6-1/2" or 5-1/4" aftermarket models. Removing the factory units isn't all that hard, but you will need to drill out the rivets that secure the factory speakers to the door.
Pry out the door release trim ring, then, starting at the top edge, pry off the screw cover in the door pull cup. Remove the two exposed 10mm screws. Next, pry off two screw covers on the rear edge of the door panel, then remove one exposed Phillips screw in each cavity.
With that taken care of, use your panel tool to pry out the sides and bottom of the door panel to release nine clips, disconnect the door release rod, remove the door panel, and roll up the window (the power switch is, of course, located on the dash).
Now, you'll need to drill out three rivets securing the speaker to the door steel. As any home handyman knows, drilling isn't tough, but we'll gently remind you to be careful, wear eye protection, and pay attention to wiring and safety devices. Check your drilling depth and location to avoid damaging your car.
Once you've removed the rivets, disconnect the harness and remove the speaker. You can install your new speakers with help from the mounting brackets included with your Crutchfield speaker purchase. If your speakers come with mounting hardware, you can use that. Some do, some don't, though, so check the box before you start and make that run to the hardware store before you take your doors apart.
As with all the speakers on the 2012-15 cars, you'll need to either splice into the factory wires or use Posi-Products connectors to hook everything up.
For the newer models, a wiring harness adapter is available for the door and side panel locations. We'll make sure you get what you need when you order.
Tools needed: Panel tool, Phillips screwdriver, 10mm socket, ratchet, and extension, small flat blade screwdriver, drill and drill bits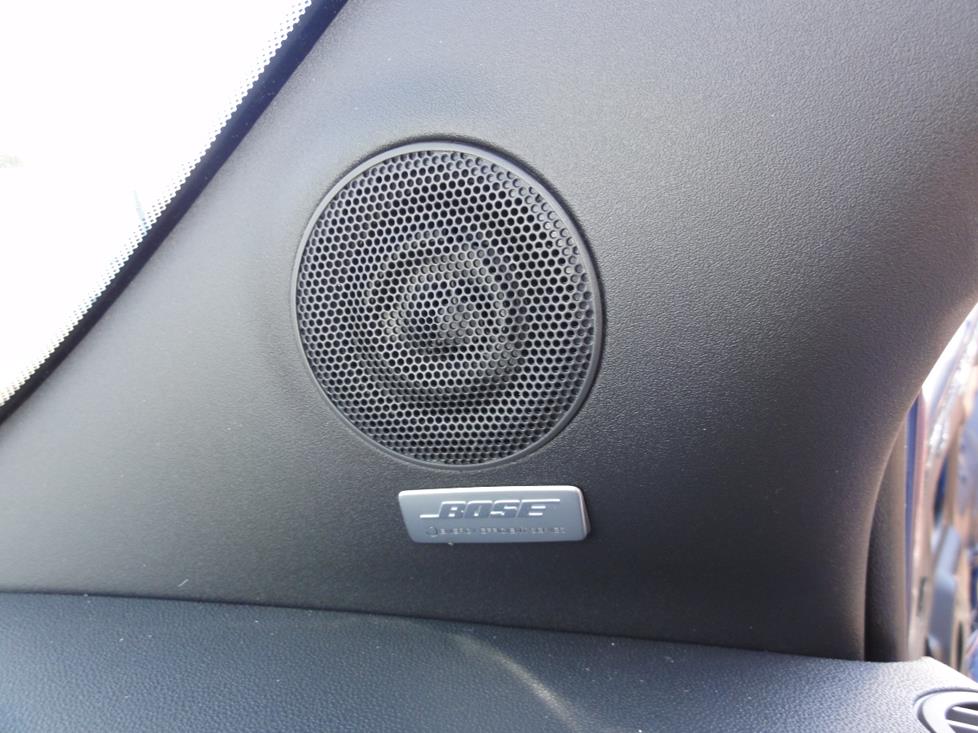 The tweeters are mounted in the A-pillars (Crutchfield Research Photo)
Tweeters
You'll be able to choose from a variety of component systems with tweeters that fit in this space, but installing them takes a bit of work. The factory tweeters, which are bottom-mounted to the back of the A-pillar trim panels, measure roughly 1-1/2". They're reasonably easy to get to, but, as mentioned above, a wiring harness is not available so you'll need to use Posi-Products connectors to hook them up. There's no mounting bracket available, but our universal backing straps are a smart, economical way to secure your replacement tweeters.
To get to the tweeters, start by pulling the door gasket away from the body along the front pillar. Next, you'll need to carefully pry out the pillar trim panel to release a retaining clip and separate the panel from the headliner. You'll see a tether attached to the trim piece, so you'll need to push down on the end to release it; then push up to remove the trim piece. Lean the pillar trim toward the center of the dash, then pry the tweeter out of the retaining clips, disconnect the harness and remove the tweeter.
Tools needed: Panel tool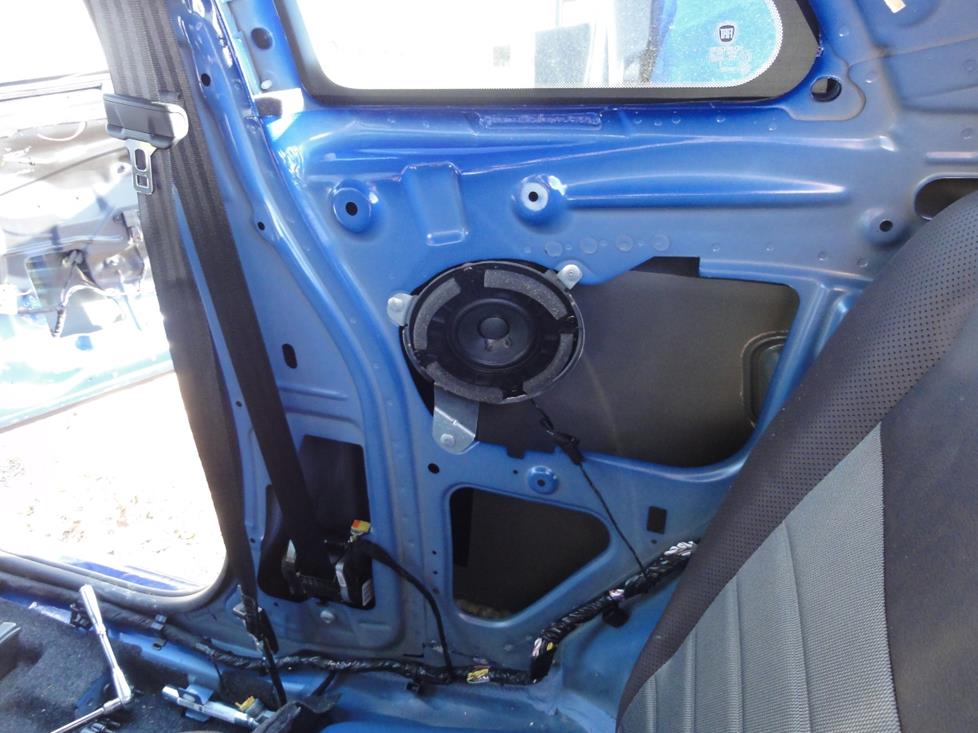 Replacing the rear side speakers takes a bit of work (Crutchfield Research Photo)
Rear speakers
The rear side panels house 6-3/4" woofers that can be replaced by same-size models or 6-1/2" and 5-1/4" aftermarket models using your free mounting brackets. Though this isn't necessarily hard work, there are a lot of steps involved and you will need to drill out some more rivets to remove the factory speakers.
The step-by-step disassembly instructions in your MasterSheet will be a big help, of course, but so will staying organized, being patient, and using care when you're prying out the various plastic panels you'll need to remove to reach the factory speakers.
Tools needed: Panel tool, 16mm socket, ratchet, and extension, Phillips screwdriver, Torx T-15 and T-50 drivers, drill with bits, two small flat blade screwdrivers
Shop for speakers that fit your Fiat 500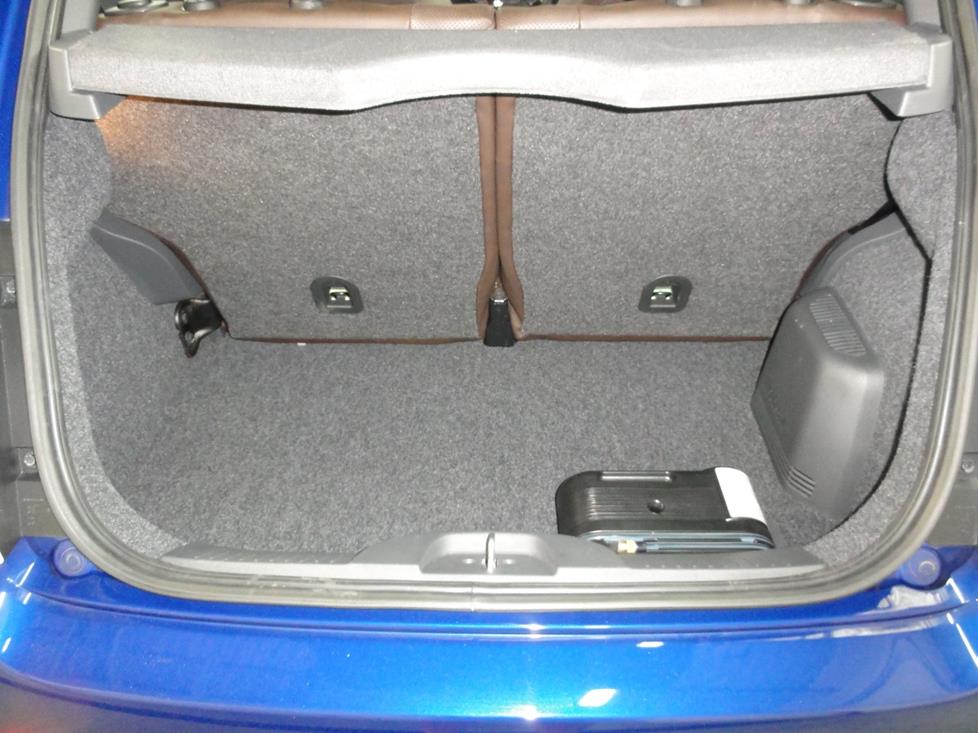 There's room for a subwoofer back here, but not much. The factory Bose amp is on the right. (Crutchfield Research Photo)
Bass in your Fiat 500
The Bose system includes a rather tiny 5-1/4", 1/2-ohm subwoofer that's located under the front passenger's seat. There aren't a lot of 5-1/4" subs out there (the enclosure is too snug for a 6-1/2" woofer to fit) and none of them will sound good in place of that 1/2-ohm sub. If you do want to replace this one with an aftermarket version, plan on adding a new amp to give it the power it'll need.
You'll need to unbolt the passenger's seat from the floor and lean it back toward the rear seat in order to get to the subwoofer enclosure.
If you're serious about bass, you might want to leave this sub alone and focus on adding a new amp and sub elsewhere in the car. If you're thinking about a component sub system, you have a 21"H x 34"W x 19"/9"D space to work with in the hatchback's cargo area. That's not much, but then again, there's not much cargo area in the 500 to begin with.
The ragtop is similarly snug. You'll have a 19"H (top to bottom), 36"W (side to side) , 20"/17" D space for a sub enclosure in this model.
Your best bet might be a compact powered sub, which will leave you some storage room while also producing more than enough bass to make this microcar move.
Tools needed: Panel tool, 1/4" & 15mm socket, ratchet, and extension, 6mm hex driver
Other options for your Fiat 500
There are plenty of other ways to improve your Fiat 500. Here are some of the ways Crutchfield can help.
Portable navigation
A big screen nav receiver isn't going to fit into the 500's dash, but that doesn't mean you have to be directionless. We offer a wide array of portable GPS models that will fit nicely on the dash when you need them and store easily in a purse or go-bag when you don't. That's kind of a handy thing when you're parking on the street or in unattended garages.
Speaker baffles
The 500 can be a tad noisy when it's being thrashed around, so you'll want to give your new speakers every chance to cut through the road roar. A set of foam speaker baffles behind the door and side panel speakers is an inexpensive way to make a big difference in sound quality.
Security
Installing a security system in your 500 isn't easy (security systems rarely are), but it's definitely a good idea. Our Crutchfield Advisors can help figure out what you need to get the job done, but we usually recommend taking your car and new gear to a professional installer.
Shop for car security systems for your Fiat 500
Find the audio gear that fits your car or truck
Visit our Outfit My Car page and enter your vehicle information to see stereos, speakers, subs, and other audio accessories that will work in your vehicle.
Last updated 3/28/2022