2014-2018 Kia Forte sedan
Upgrading the stereo system in your Forte sedan
2014 • 2015 • 2016 • 2017 • 2018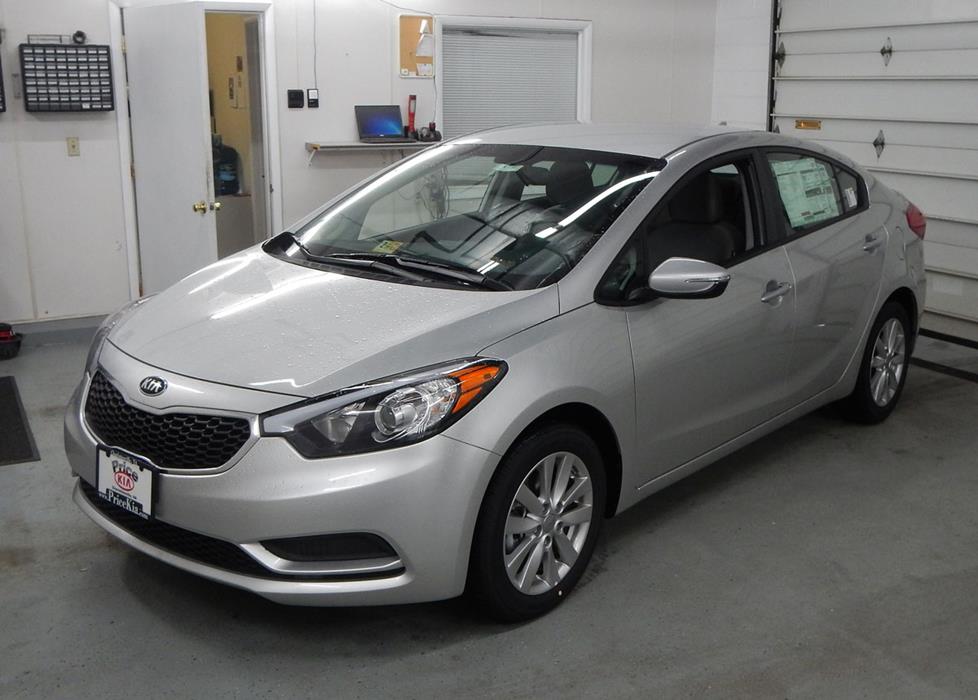 In brief: This Crutchfield Research Garage article gives you an overview of your Forte's stock stereo system and your aftermarket upgrade options. Use our vehicle selector to find the gear that will fit your Kia.
Overview of the Kia Forte sedan
Remember when small, value-priced sedans were frumpy, pinched little things that looked like little girls tottering around in mom's clothes? Okay, you probably don't, but we do, and trust us, it wasn't a pleasant time in the history of the automobile.
The Kia Forte sedan is anything but frumpy. This feature-filled compact is dressed to impress, with sleek, expensive-looking styling and a spacious, well-appointed cabin that offers pretty much everything you'd expect in a car costing a lot more.
The Forte proves that "value-priced" doesn't have to mean "cheap." It's a pretty sweet ride that should give you years of driving enjoyment. Upgrading the stereo will make this very nice car even better.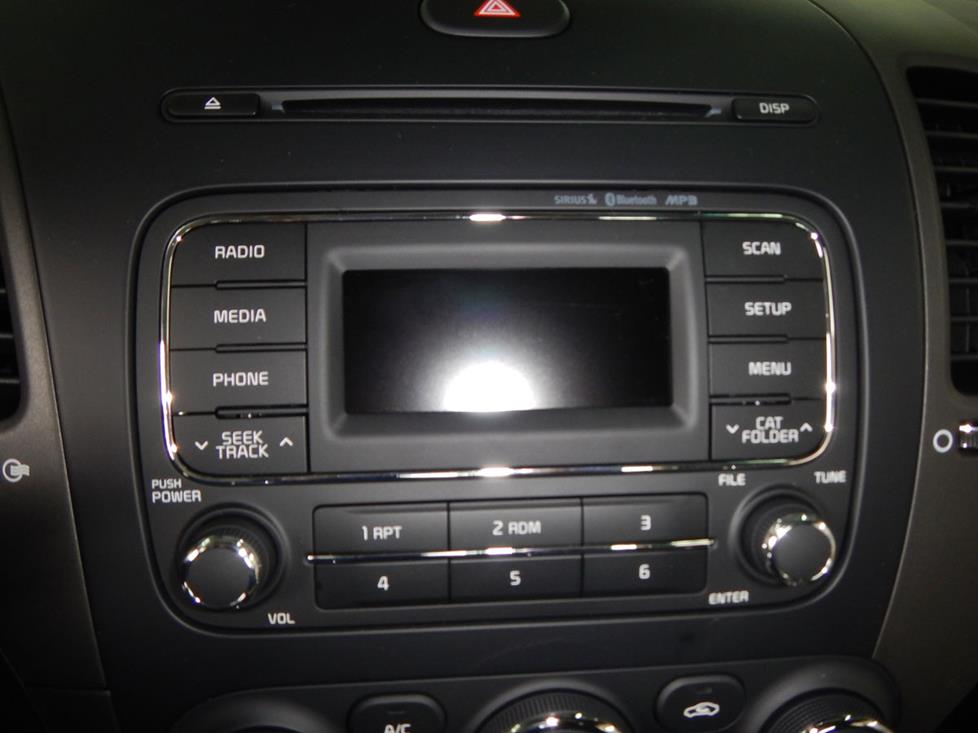 Here's a close-up look at the Forte's non-nav radio (Crutchfield Research Photo)
Factory stereo system
Forte buyers could choose between a 4-speaker base system and a 6-speaker deluxe system. Both are thoroughly reasonable for what they are, but obviously, you're going to get a lot more performance from aftermarket stereo gear.
Replacing the receiver means losing the factory AUX and USB inputs, along with satellite radio and the factory navigation system (if present). This is not as sad as it seems, because you can replace any and all of those functions with the right aftermarket receiver. Same goes for Android Auto and Apple CarPlay™, both of which appear in later cars.
The instructions here are for the sedan. We haven't researched a Forte coupe or hatchback yet, but the radio replacement instructions should be good for those models, too. As for the speakers in those other models, you probably know more than we do at this point, but we're thinking the speaker instructions should be pretty much the same for the 4-door hatchback.
We're not going to speculate on the coupe ("Koup"), but feel free to share your knowledge in the Comments section below this article. It'll help us and your fellow Forte owners, too.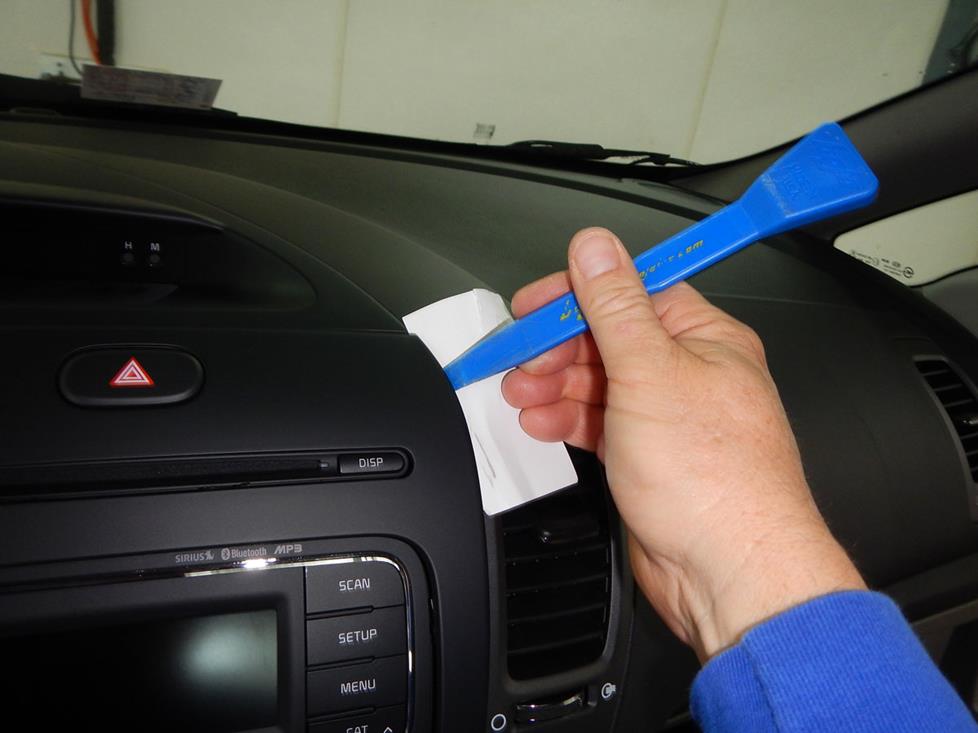 We highly suggest sliding a piece of paper between your panel tool and the dash panel. (Crutchfield Research Photo)
Replacing your factory radio
Whether you have a nav receiver or the non-nav model, swapping out the stereo is pretty simple in this car. Even if you're new to car audio DIY, this is a very do-able project and you'll learn a lot by doing it.
Starting on driver's side, use a panel tool to pry out the lower dash trim strip below the climate control panel. This will release five retaining clips, and you'll be able to remove the trim strip, then remove the Phillips screw that's exposed when you do so.
Prying off the receiver trim panel is a delicate process, but if you're patient, you'll be fine. There are 12 retaining clips involved and, even though panel tools are designed for this stuff, it's still a good idea to wedge a sheet of paper between the panel tool and the panel itself while you're working.
Detailed stereo and speaker removal instructions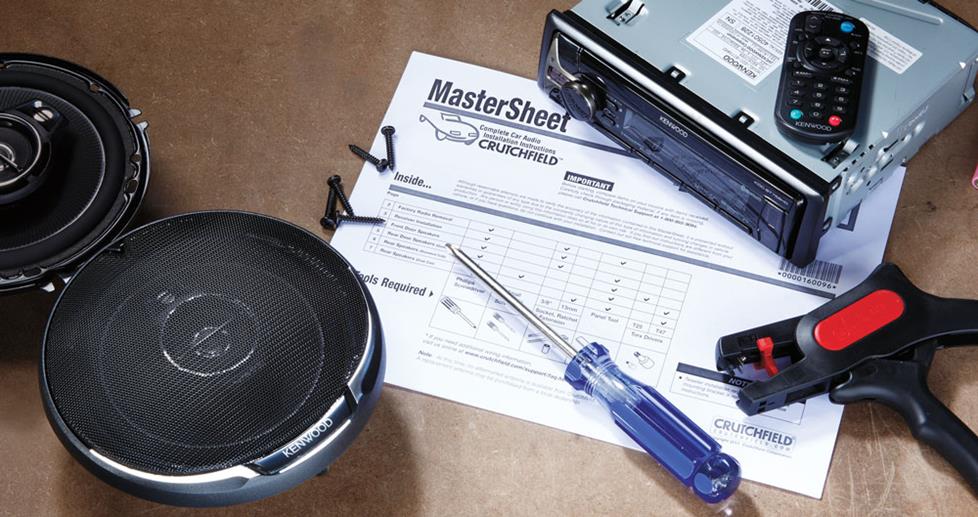 With step-by-step disassembly instructions and plenty of up-close, detailed photos, our exclusive
Crutchfield MasterSheet
™ takes the guesswork out of removing the factory stereo and speakers. It's free with your Crutchfield order, or you can purchase one separately for just $9.99.
Once the panel's loose, disconnect the wire harness that you'll find attached to it, and remove the panel. Remove the four Phillips screws securing the receiver to the dash, then disconnect the harnesses and remove the receiver.
To install the new one, simply follow the instructions for the dash kit and wiring harness adapter that are included at a deep discount with your Crutchfield stereo purchase.
Tools needed: Panel tool, Phillips screwdriver, paper
Steering wheel audio controls
It's relatively easy to retain your Forte's steering wheel audio controls when you install a new stereo. When you enter your vehicle information, our database will choose the adapter you need to make your factory steering wheel controls work with your new receiver.
Shop for car stereos that fit your Kia Forte
Replacing your factory speakers
The Forte sedan has speakers in the dash and doors. While there are some mildly challenging bits, this is a great project for the first-time car audio do-it-yourselfer.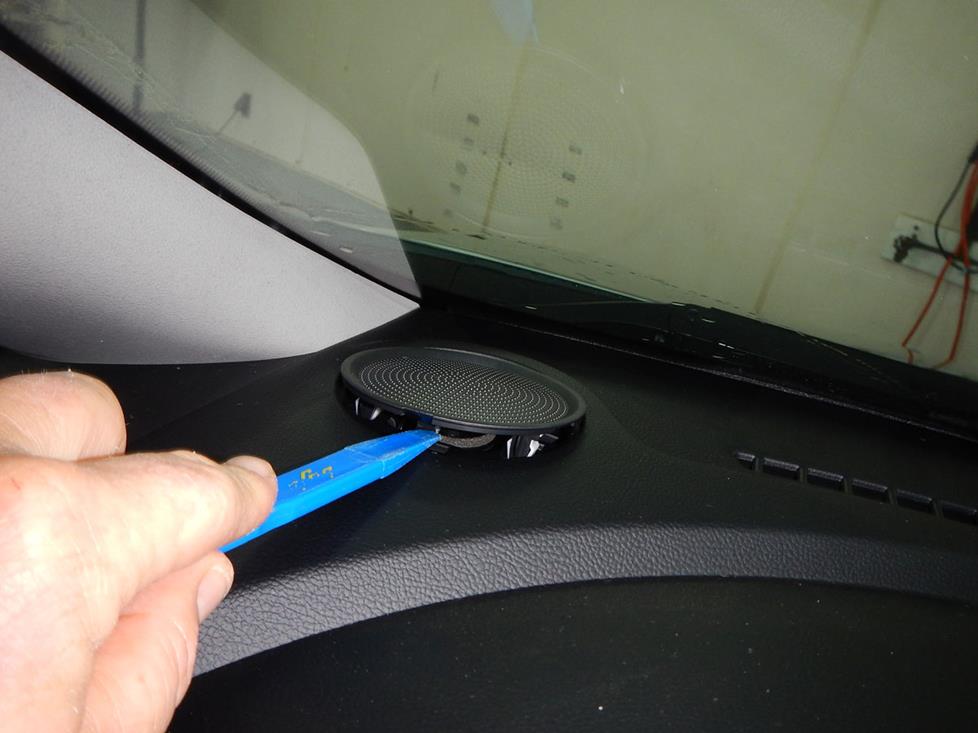 The Forte's dash tweeters are easy to work with, but you'll need connectors and mounting brackets to install new ones. (Crutchfield Research Photo)
Removing the dash tweeters
The dash tweeters, found in the 6-speaker system, are really easy to work with, and they're a great excuse to step up to a component speaker system.
Using your panel tool, pry up on the dash grille to release three clips. Remove the grille, then remove two Phillips screws securing the speaker to the dash, then disconnect the harness and remove the speaker.
There are some mildly challenging parts, though. Speaker wiring adapters and mounting brackets are not available, so you'll need Posi-Products speaker connectors to connect the speakers to the car's wiring, plus universal backstraps (or hot glue or silicone) to mount the speakers. These inexpensive solutions really work, and they really are easy to use.
Tools needed: Panel tool or small flat blade screwdriver, stubby Phillips screwdriver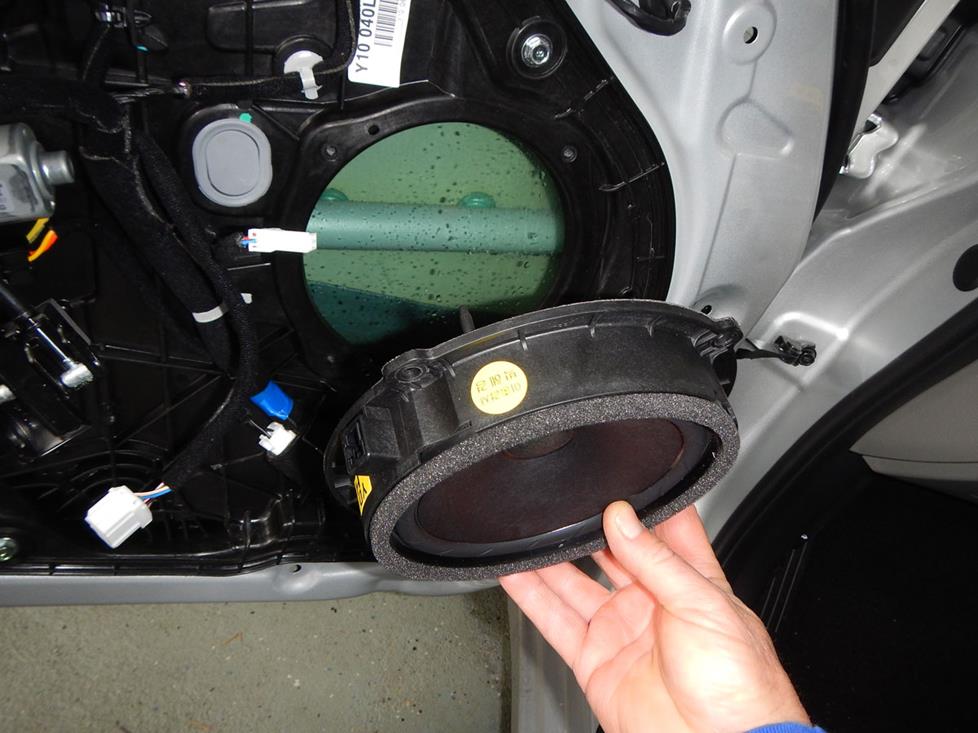 There are lots of great replacement options for the front door speakers. (Crutchfield Research Photo)
Removing the front door speakers
The front door speakers are 6-3/4" models, and there are plenty of same-size or 6-1/2" aftermarket replacements available. The actual speaker removal process is pretty simple, but you'll need to remove the door panels. Not hard, just be careful.
You'll start by prying out the screw cover behind the door release and removing the exposed Phillips screw. Then, pry up the rubber mat inside the door pull cup and remove an exposed Phillips screw form that location.
To remove the door panel, pry out the sides and bottom of the panel to release nine retaining clips. Disconnect the door lock assembly and the wiring harnesses, then remove the panel and lean it up against a wall where it'll be protected from dust and damage.
Remove four Phillips screws securing the speaker, then pull it out and disconnect it. Secure the new speaker to the adapter bracket (included at a discount with your Crutchfield speaker purchase) and use more of those Posi-Products speaker connectors to connect the new speakers to the factory wiring.
Secure the speaker, test it out, and if it works, start putting the door back together. Make sure the locks are working and the speaker wires aren't interfering with the windows.
Your new speakers might come with mounting screws, but many don't these days. Check the box before you start and hit the hardware store if you need to.
Tools needed: Small flat blade screwdriver, stubby Phillips screwdriver
Removing the rear door speakers is basically the same as removing the ones up front. (Crutchfield Research Photo)
Removing the rear door speakers
The rear speakers are also 6-3/4" models that can be replaced by same-size or 6-1/2" speakers. The removal process back here is essentially the same as it is up front, and all the step-by-step details can be found in your Crutchfield MasterSheet.
There aren't any wiring adapters for this location, either, so you'll need to use more Posi-Products connectors to connect to the factory wiring.
Shop for speakers that fit your Kia Forte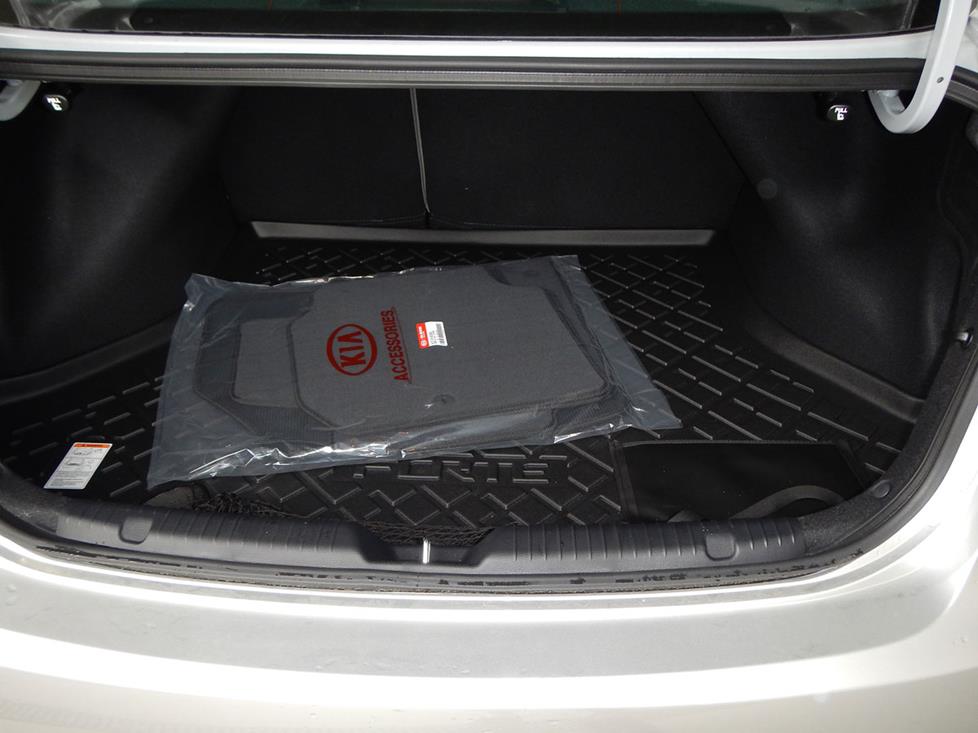 There's plenty of room for junk in this trunk. Subwoofer enclosures, too. (Crutchfield Research Photo)
Bass in your Forte
If you're big on bass performance and want to add a subwoofer box loaded with a couple of component subs, the trunk offers a surprising (for a compact car, anyway) amount of room to work with. There's a 16" H x 41" W x 39"/32" D space available, but that won't leave much room for everyday things like groceries and luggage and whatnot.
If you want more bass, but don't want to sacrifice practicality, a powered subwoofer might be a better choice in this car.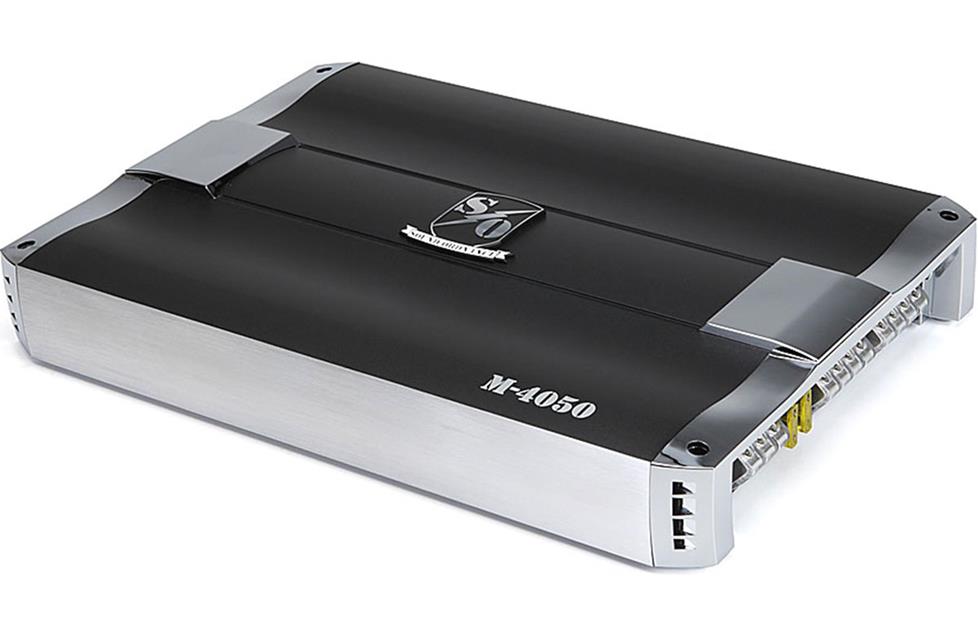 To get the most out of new aftermarket speakers, add an amplifier to your system
Other options for your Kia Forte
There are plenty of ways to improve the sound and functionality of your Forte. Here are some of our favorite upgrades.
Adding an amp to boost the sound
An amplifier is a must if you want the best possible sound from your Kia's new speakers. Just how much sound is up to you, but a good place to start is added power for your front speakers. If you're adding a subwoofer, you'll also need a way to power that, so look at multichannel amps that can handle your door speakers and the subwoofer, too.
Noise damping
Slick aerodynamics and a stiff structure helps make the Forte a reasonably quiet car on the road, but installing Dynamat in the front and rear doors can really help seal out noise and seal in sound. If you drop a big sub enclosure into the trunk, you should line the trunk lid, as well.
Satellite radio
If you find yourself on the road a lot, you need satellite radio. Many receivers have the ability to add and control a SiriusXM tuner, or you can pick up a portable satellite radio that you can transfer between vehicles.
Car security systems
Installing a security system in your Forte isn't easy (security systems rarely are), but it's definitely a good idea. Our Crutchfield Advisors can help figure out what you need to get the job done, but we usually recommend visiting a professional installer.
Shop for car security systems for your Kia Forte
Find the audio gear that fits your car or truck
Visit our Outfit My Car page and enter your vehicle information to see stereos, speakers, subs, and other audio accessories that will work in your vehicle.