2016-2019 Buick Cascada
Upgrading the stereo system in your Cascada
2016 • 2017 • 2018 • 2019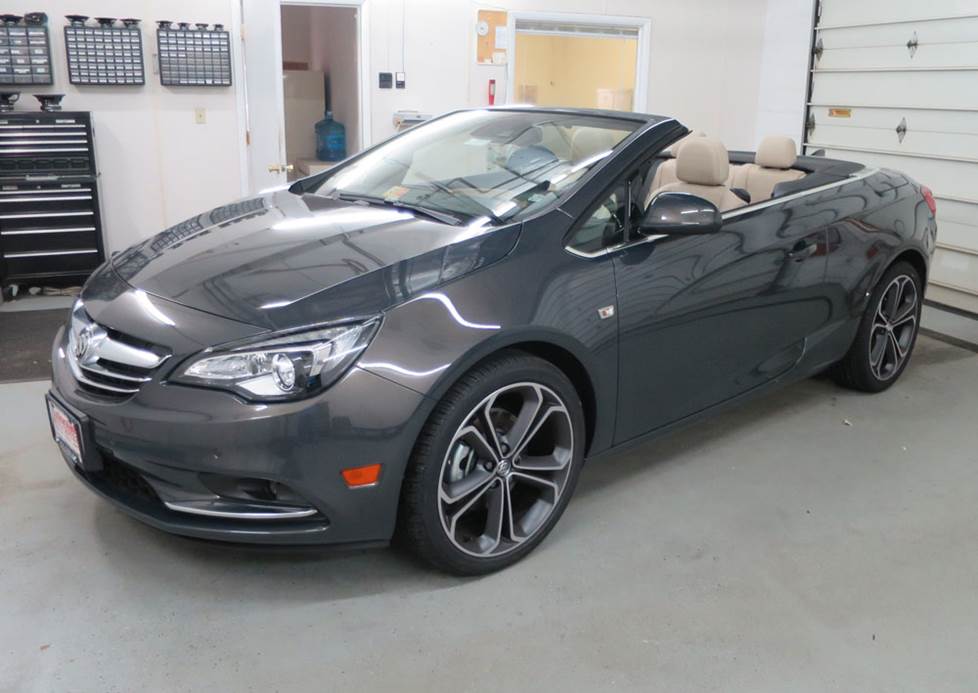 In brief: This Crutchfield Research Garage article gives you an overview of your Cascada's stock stereo system and your aftermarket upgrade options. Use our vehicle selector to find the gear that will fit your Buick.
Overview of the Buick Cascada
The Cascada is the kind of car that makes one long for a nice, sunny day with temps in the seventies, a light breeze, and nothing better to do than go for a long drive in the country. After all, what's the point of dreaming of a sunny day's drive if you're not driving a ragtop? And as long as you're driving a ragtop, why not make sure it has an awesome sound system?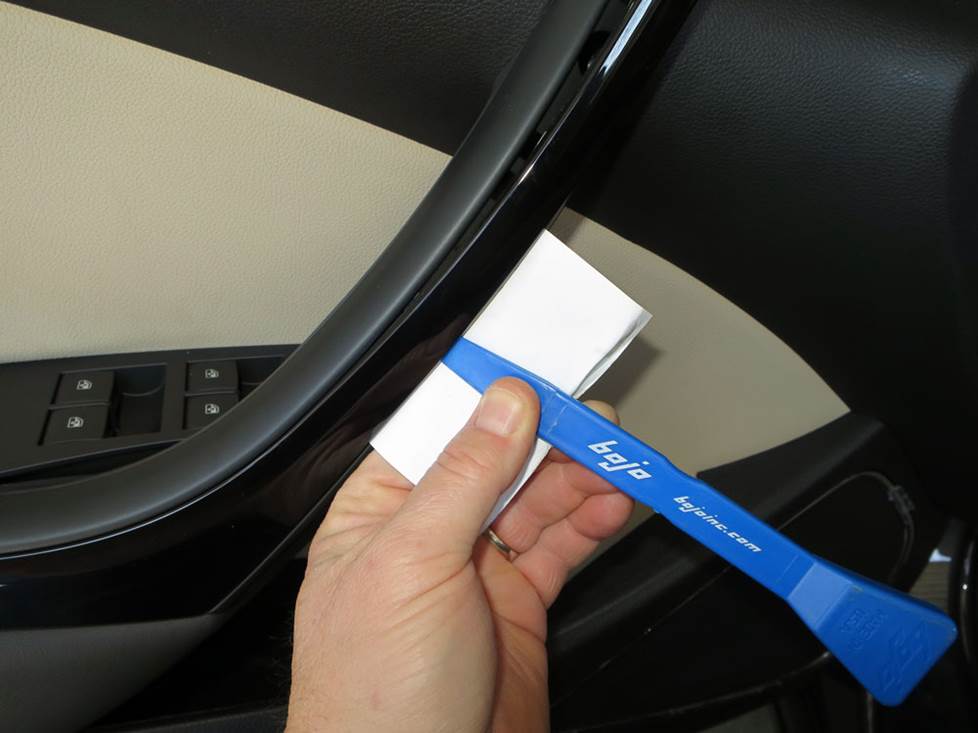 Slip a piece of paper between your panel tool and the door trim to prevent scratches (Crutchfield Research Photo)
The Buick Cascada's factory stereo system
The Cascada's stock 7-speaker stereo system has pretty much everything you'd expect from a luxury brand these days. That's good, because it's the only system available and it's pretty much impossible to replace without major custom work.
The receiver is an AM/FM/CD/MP3 stereo with navigation, Bluetooth® capability, and built-in SiriusXM satellite radio. The 7" touchscreen display controls all sorts of things through Buick's fun-to-say Intellilink interface, and you also get OnStar and built-in Wi-Fi. If you want to connect a device, you'll find USB and AUX inputs at the bottom of the center stack.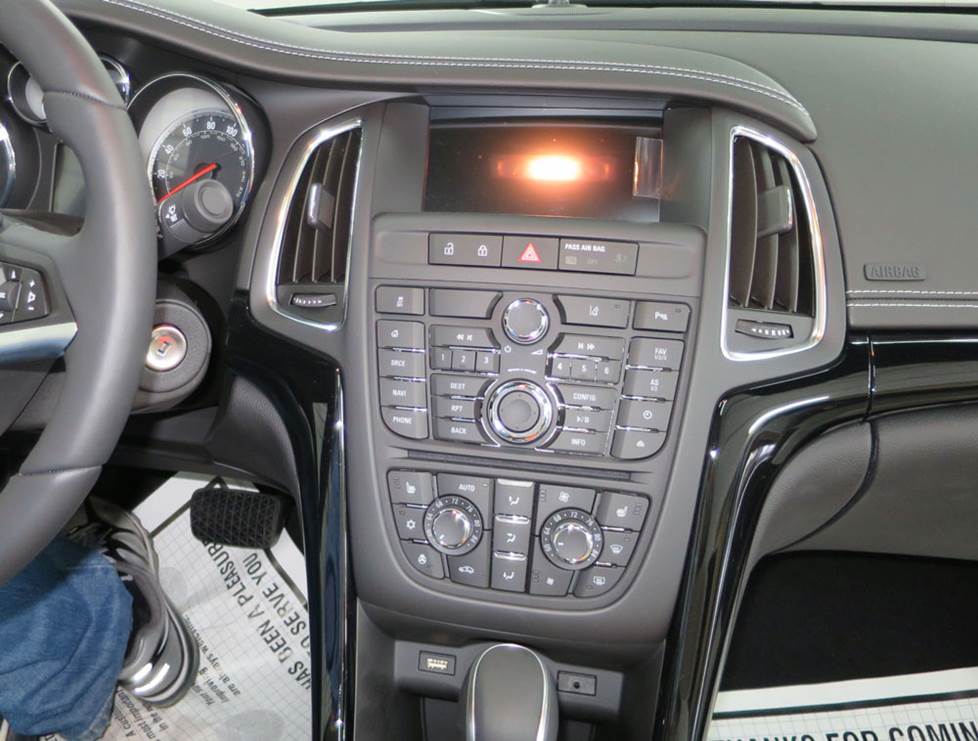 Removing the radio is easy. Replacing it is almost impossible. (Crutchfield Research Photo)
Replacing the Cascada's factory radio
When it comes to removing the stock receiver, you could totally do the job yourself. And we could totally tell you how to do it. But like we said, replacing it is a truly massive undertaking.
This is not a job for a DIY-er, it's a job for a car audio shop with some seriously skilled fabricators and technicians on staff. And even then, since the climate controls are thoroughly integrated into the receiver, you're getting into some pretty deep water and, as ancient maps used to say, "There be dragons there." So don't go there.
The good news is that this receiver can do pretty much anything anyone needs a receiver to do these days, plus it looks very nice in the dash. There are plenty of ways to improve your sound without replacing it, and we'll focus on those.
One great solution is to add an amplifier and install a sound processor to send a clear, clean signal to it. Sound processors remove any limitations on the signal imposed by the factory radio. The better the signal, the better the sound, right? A new amp and a sound processor will make a big difference in your Cascada's audio performance. Read our article explaining factory sound processors to learn more.
Now, let's turn our attention to the speakers.
Replacing the Cascada's factory speakers
Since you can't replace the Cascada's factory stereo, replacing the speakers is the place to start upgrading your sound system. The 7-speaker system is (mostly) easy to get to and replace. Here's what you need to know.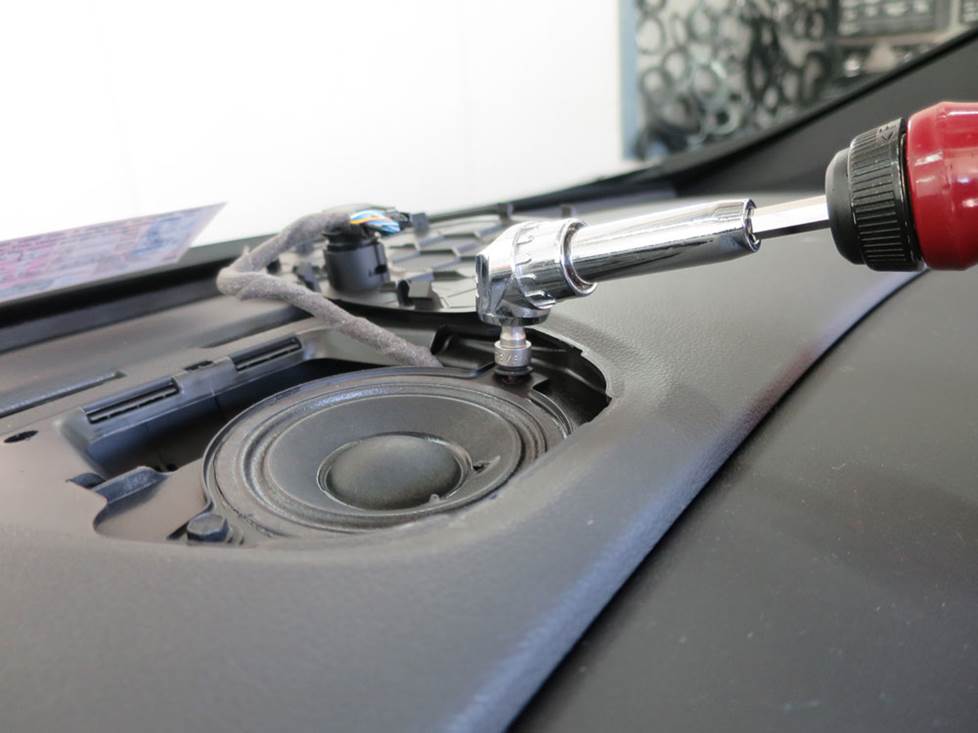 The center dash speaker is easy to remove and replace (Crutchfield Research Photo)
Removing the center dash speaker
The stock center dash speaker is a very shallow 3-1/2" model that's reasonably easy to deal with. Starting at the rear edge, use a panel tool to pry up the center dash grille and release six retaining clips. Leave the grille connected to the sensor harness and set it aside, then remove the two 7mm screws that secure the speaker to the dash. Disconnect the speaker and set it aside.
Theoretically, you could modify the cavity to create the space needed for an aftermarket 3-1/2" speaker. Or, you could just leave this one where it is and focus your attention on the rest of the system, where speaker replacement will do a lot more good.
Tools needed: Panel tool, 7mm socket, ratchet and extension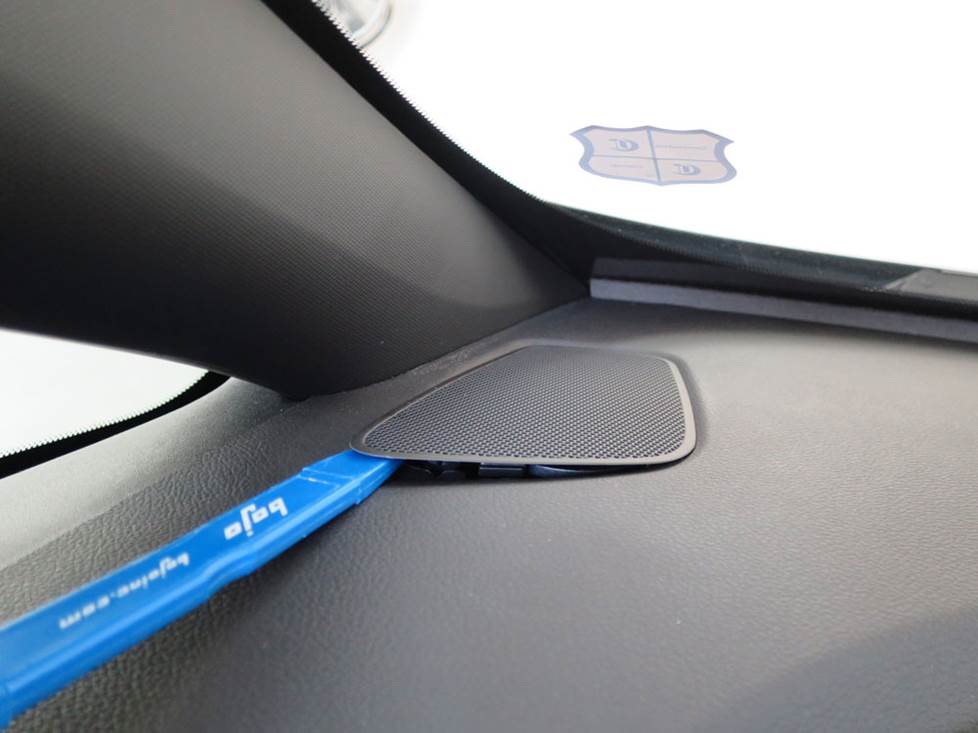 The tweeters are also easy to get to, and also easy to replace (Crutchfield Research Photo)
Removing the corner dash tweeters
The corner dash speakers are tweeters measuring just a bit over 1-1/2" in diameter. If you're thinking, "Hey, I could get a set of components and put the tweeters here," you're thinking right along with us.
Starting at the rear edge, pry up the corner dash grille to release the retaining clips, then remove the grille. From there, just remove the 7mm screw securing the tweeter assembly to dash, lift it up, disconnect the harness, and remove it. Pry the tweeter out of the housing and remove it, and you're all done.
You will need to use our universal backstraps (or hot glue or silicone) to mount your new tweeters. Any of those methods are cheaper and easier than going to the trouble of fabricating your own, so they're highly recommended. You'll also need a set of Posi-Products speaker connectors for these speakers.
Tools needed: Panel tool, 7mm socket, ratchet and extension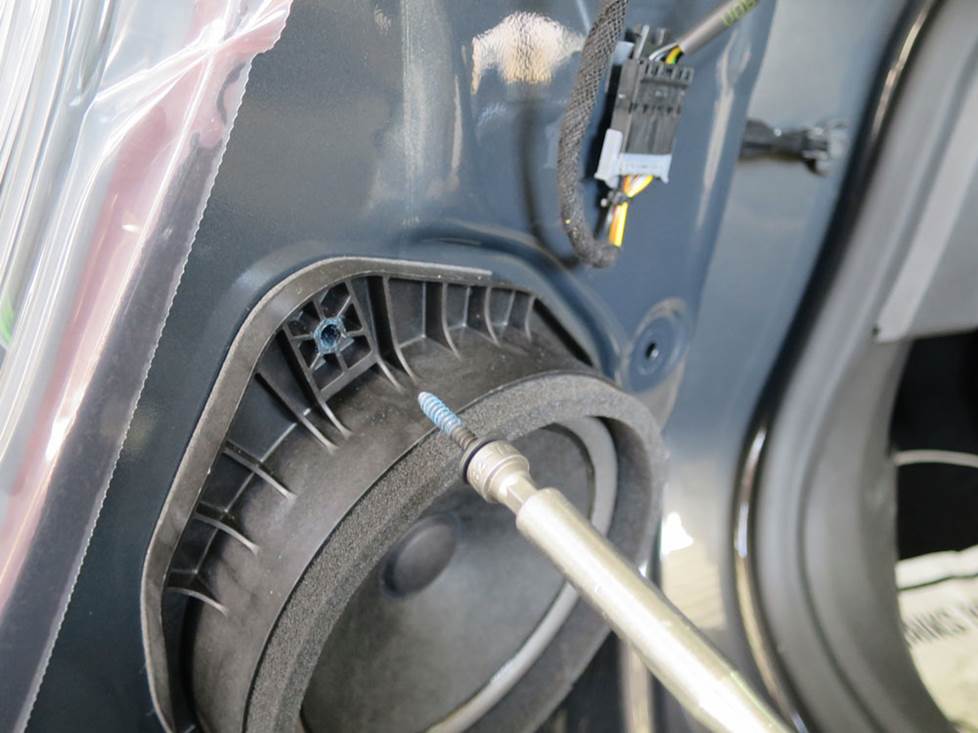 The woofers can be replaced with a nice variety of aftermarket models (Crutchfield Research Photo)
Removing the door woofers
The door woofers are GM's standard 6-3/4" models, and you can replace them with same-size or 6-1/2" aftermarket models. The job's not hard, but we do encourage you to be careful when removing the scratch-prone trim pieces. The panel tools we sell are very gentle on surfaces, but with glossy bits like these, it's still wise to slide a piece of paper in between, just to be sure.
Starting at the top/front corner, pry out the screw cover behind the door release handle and remove one exposed Torx T-20 screw. Next, start at the top edge and carefully (paper, please) pry out the outer door pull trim strip to release the retaining clips.
Moving on, remove the one Torx T-20 screw securing the power switch panel, then, starting at the front edge, pry up the power switch panel to release two clips. Pull the switch panel toward the front of the car, then disconnect the harness and remove the whole panel. That will expose to two Torx T-20 screws, which you'll also need to remove.
Detailed stereo and speaker removal instructions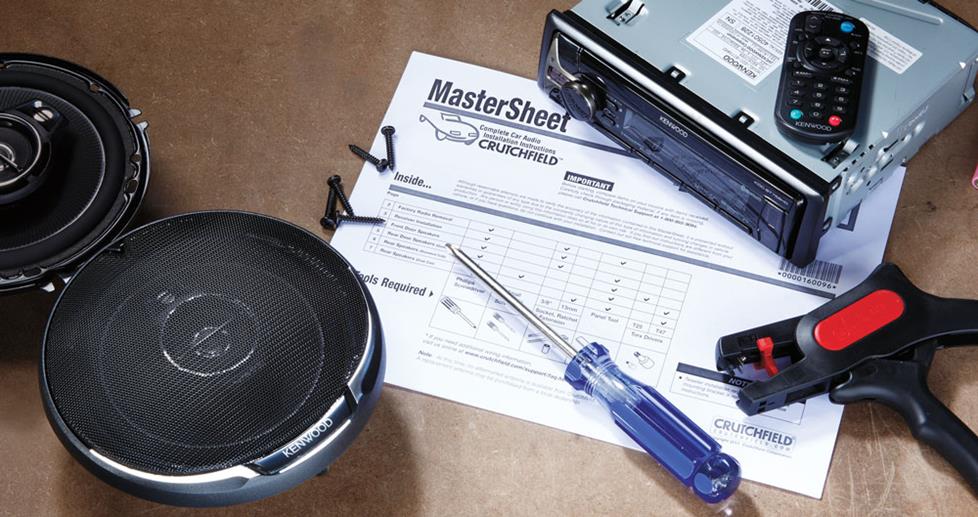 With step-by-step disassembly instructions and plenty of up-close, detailed photos, our exclusive
Crutchfield MasterSheet
™ takes the guesswork out of removing the factory stereo and speakers. It's free with your Crutchfield order, or you can purchase one separately for just $9.99.
Now you're ready to deal with the door panel. Pry out the sides and bottom of the panel to release nine retaining clips, then disconnect the harnesses and the door release cable before removing the panel. Remove one 7mm screw securing the speaker, pry it out at the screw point, then disconnect the harness and remove the speaker.
After you install the new speakers, be sure to test them out and make sure they're working before you put the doors back together. It's not that hard a job, but you still don't want to do it twice in the same afternoon.
Tools needed: Panel tool, small flat blade screwdriver, Torx T-20 driver, 7mm socket, ratchet and extension, paper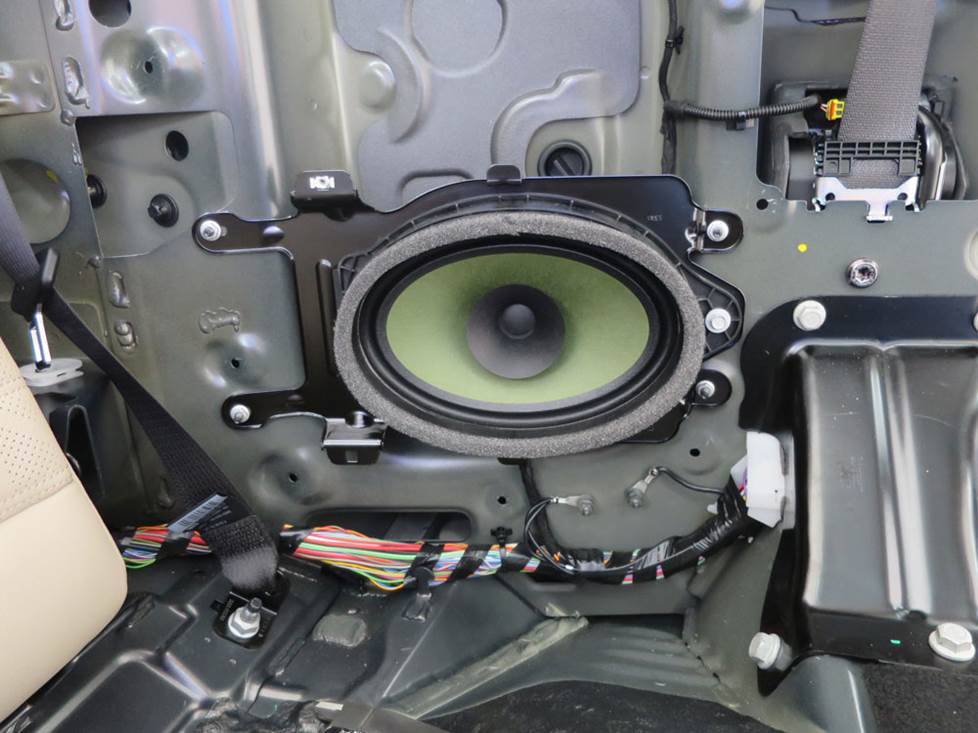 "Getting there is half the fun," said no one ever after replacing these speakers. The sound improvement is worth it, though. (Crutchfield Research Photo)
Removing the rear side panel speakers
Removing and replacing the rear side panel speakers actually is a hard job. Well, kind of. It's nothing the reasonably skilled DIY-er can't do, it's just that there's a fair amount of stuff to be done. Planning, preparation, and patience will serve you well as you undertake this project.
You can replace the stock 6"x9" speakers with same-size, 6-3/4", or 6-1/2" aftermarket speakers and once they're in there, you'll no doubt be impressed with the results.
The first thing to do is pull up the front edge of the rear seat's bottom cushion to release two latches. Push the cushion toward rear of the car to free the cushion, then remove it and store it in a safe place while you're working.
Next, pry off the rear side panel trim strip to release four retaining clips. Remove the trim strip, then remove the three 7mm screws you'll see when it's out of the way. Pry out the top edge of the rear side armrest panel to release four more clips, then remove that panel. Close the convertible top, open the trunk, fold down the rear seat backs, then open the top again.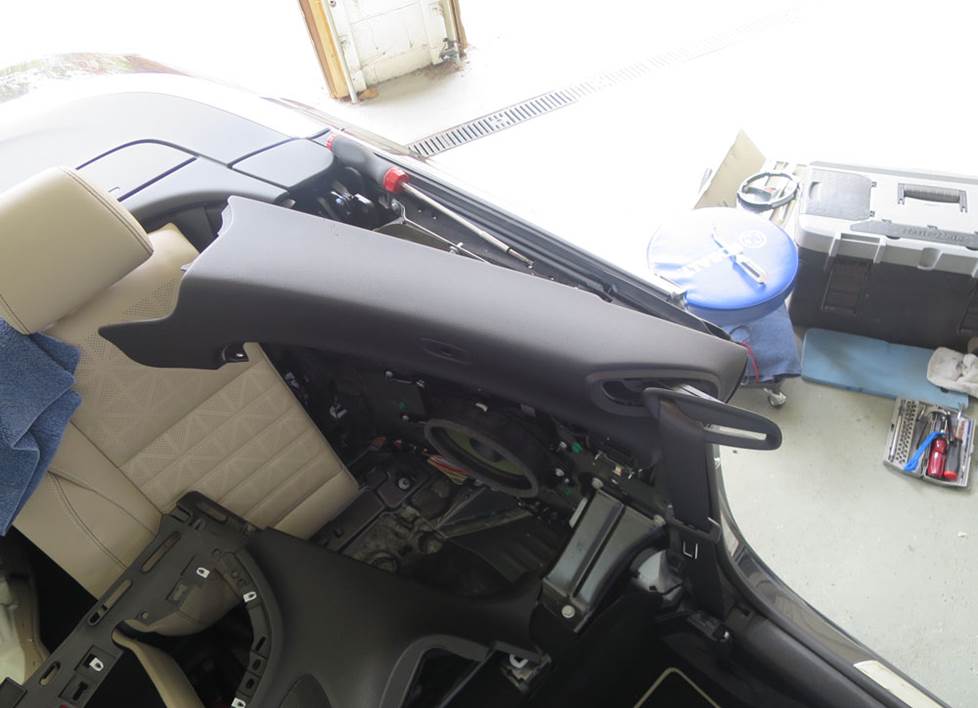 This will take some time, so plan your afternoon accordingly (Crutchfield Research Photo)
Pry off the screw cover at the top of the rear seat side bolster and remove one exposed Torx T-30 screw, then pull the bolster up to release the latch that holds the bolster in place. With that done, pry up the top section of the rear seat side panel to release the clips and move it enough to access and remove two more Torx T-30 screws.
From here, you'll pry out the lower section of the rear seat side panel to release ten retaining clips and remove the trim panel. That'll expose the speaker, which will allow you to remove the 10mm screw that secures it to the factory bracket. Disconnect harness, remove the speaker, then do all this again on the other side of the car.
It probably goes without saying that you'll want to test the new speakers before you put everything back together here, right? Thought so!
Tools needed: Panel tool, 7mm & 10mm socket, ratchet and extension, Torx T-30 driver
Shop for speakers that fit your Buick Cascada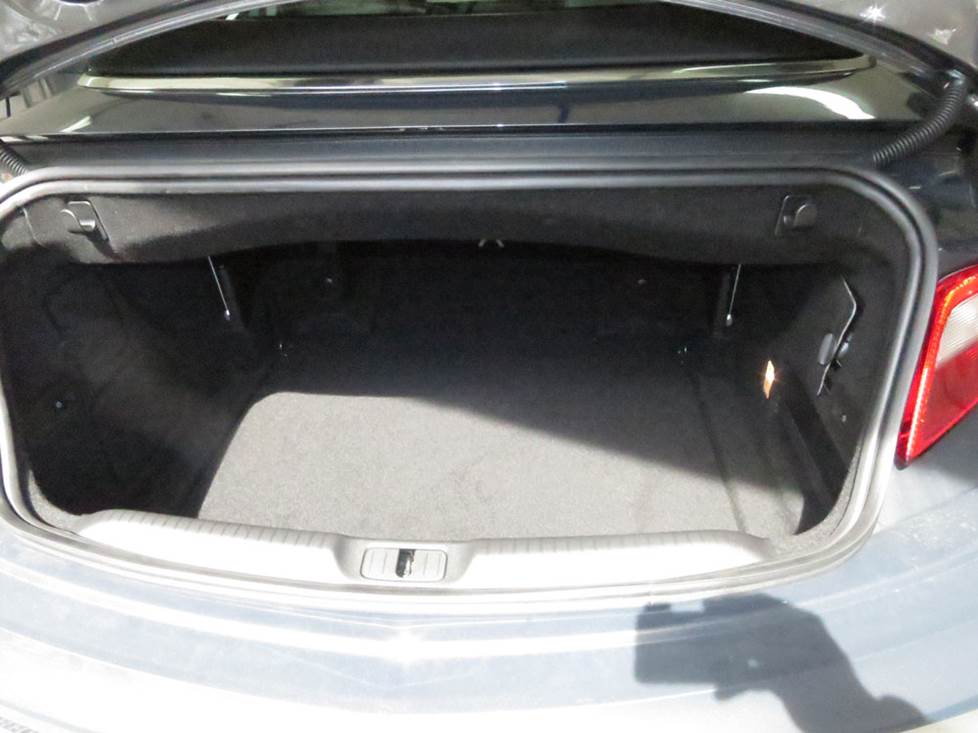 When the top goes down, there's not much room for a subwoofer box back here (Crutchfield Research Photo)
Bass in your Cascada
Any time you're dealing with a convertible, it's important to remember that the top has to go someplace when it goes down. That place would be the trunk, which means the Cascada doesn't offer much space for a sub box.
If you're a serious basshead, that might be disappointing, but if you just want to add a pleasing amount of bottom-end bump to your music, a powered subwoofer will be a very nice addition to your stereo system.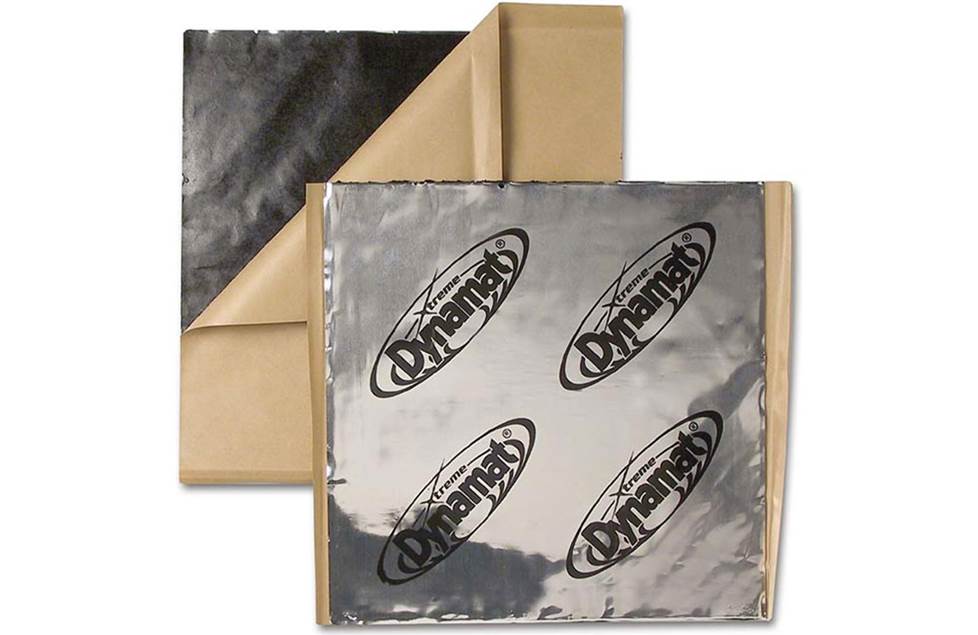 Adding Dynamat turns your car doors into solid, non-resonant baffles.
Other options for your Cascada
Here are some other ideas that will make your Buick even better.
Sound deadening to block road noise
One good way to get the most out of your Cascada's sound system is to keep more of the sound in the car. This is especially important in a ragtop, obviously. The Dynamat Xtreme Door Kit is the perfect way to seal out road noise and really hear your music. This heavy-duty insulating material is easy to install, and it's a great thing to do while you're installing new speakers. Hey, why take things apart twice if you don't have to? One kit will take care of the front doors, and if you're adding a powered subwoofer, purchase some extra Dynamat and line the trunk lid, too.
Add an amp (or two) for better sound
A new 4-channel amplifier will help you get the most out of your new speakers and give you the biggest improvement to your car's sound system. You'll get cleaner power (and a lot more of it), which will result in much better sound. Since you can't replace the radio, look for an amplifier with a built-in DSP (digital sound processor) to give you total control over your sound.
Security
To really enjoy the "convertible lifestyle," a security system is a must, especially after you've installed all this new audio gear. Installing a security system in your Cascada isn't easy (security systems rarely are). Our Crutchfield Advisors can help figure out what you need to get the job done, but we usually recommend taking your car and new gear to a professional installer.
Shop for car security systems for your Buick Cascada
Find the audio gear that fits your car or truck
Visit our Outfit My Car page and enter your vehicle information to see stereos, speakers, subs, and other audio accessories that will work in your vehicle.
Last updated 7/20/2021