2018 Capital Audiofest highlights
Show report from the Crutchfield crew
Heads up!
Welcome to this article from the Crutchfield archives. Have fun reading it, but be aware that the information may be outdated and links may be broken.
A crew of Crutchfield hi-fi enthusiasts recently took a short road trip to Rockville, Maryland for the 2018 Capital Audiofest, an event billed as the "East Coast's Premier Audio Show."
Our golden-eared posse auditioned glorious gear from familiar brands, such as KEF, Quad, and Dynaudio. They savored the opportunity to hear some classic 20th Century hardware. And they had their minds blown by some exotic items that are not exactly in Crutchfield's orbit.
Here are some of the show highlights…
In through the out door
Co-workers Kramer, Archer, and I got our first taste of a high-end audio show as we attended Day 2 of the annual 3-day Capital Audiofest.
We literally started off on the wrong foot, accidentally entering through a door that bypassed the registration table in the Hilton lobby. Instead, we immediately found ourselves in the thick of the show's action.
A wall of vintage audio gear greeted us — TEAC and Sony reel-to-reel decks stacked on top of golden-era Marantz, McIntosh, and Pioneer receivers. The path was lined with silver knobs and switches, with meters lighting the way in '70s-era green and blue hues.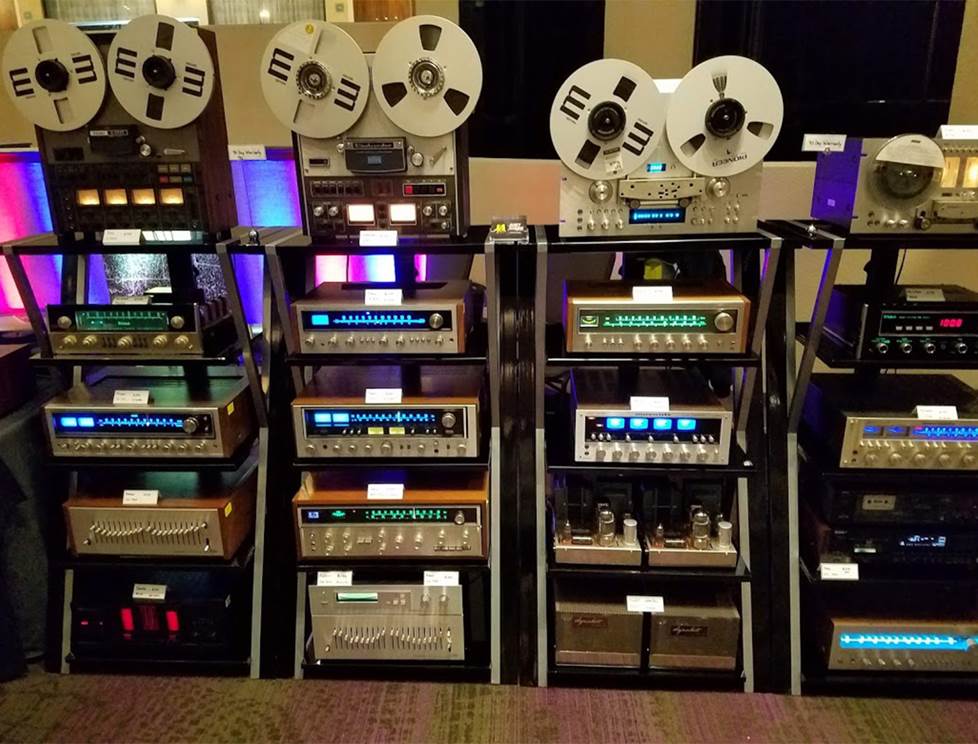 This stack of vintage reel-to-reel tape decks, stereo receivers, and equalizers brought back fond memories.
Turning around, we were drawn to the crates of vinyl for sale, and the show attendees digging into them. They thumbed through albums that had been sorted into categories with signs describing their chief sonic characteristics, like "dynamics," or "female vocals." Clearly we were among our people!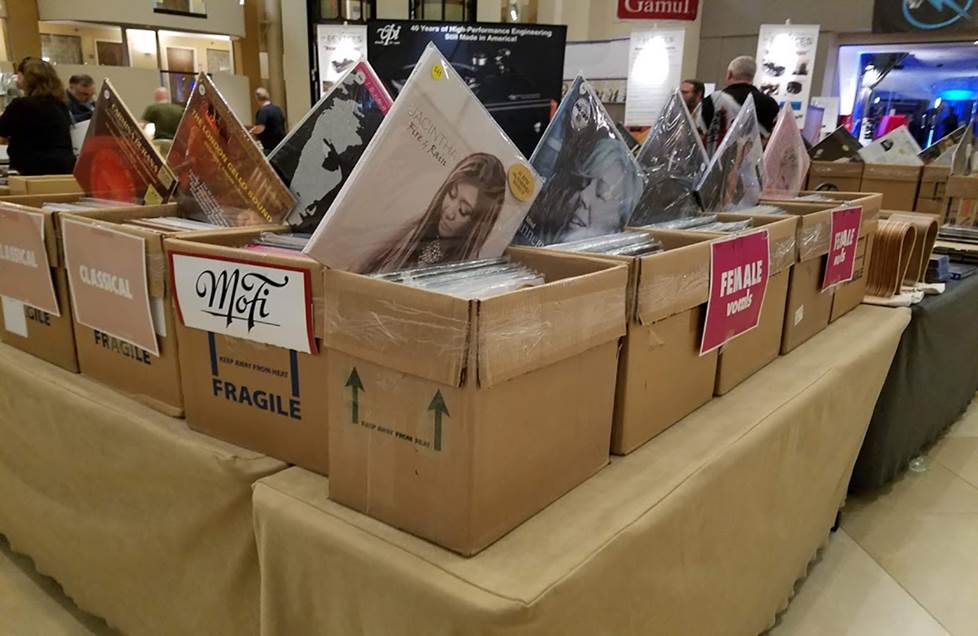 One of the busiest areas at audio shows is the merchandise section, which is typically dominated by audiophile-approved recordings on CD, SACD, and, especially, vinyl.
Old friends and new experiences
In the lobby, we ran into Crutchfield legend Dave Bar — a former writer and Product Advisor who has forgotten more about home audio than most people will ever know. You'd be hard-pressed to find a better tour guide.
He helped us wend our way through dozens of hotel rooms, ballrooms, and meeting spaces that had been repurposed as listening areas for some of the world's highest performing (and highest priced!) gear.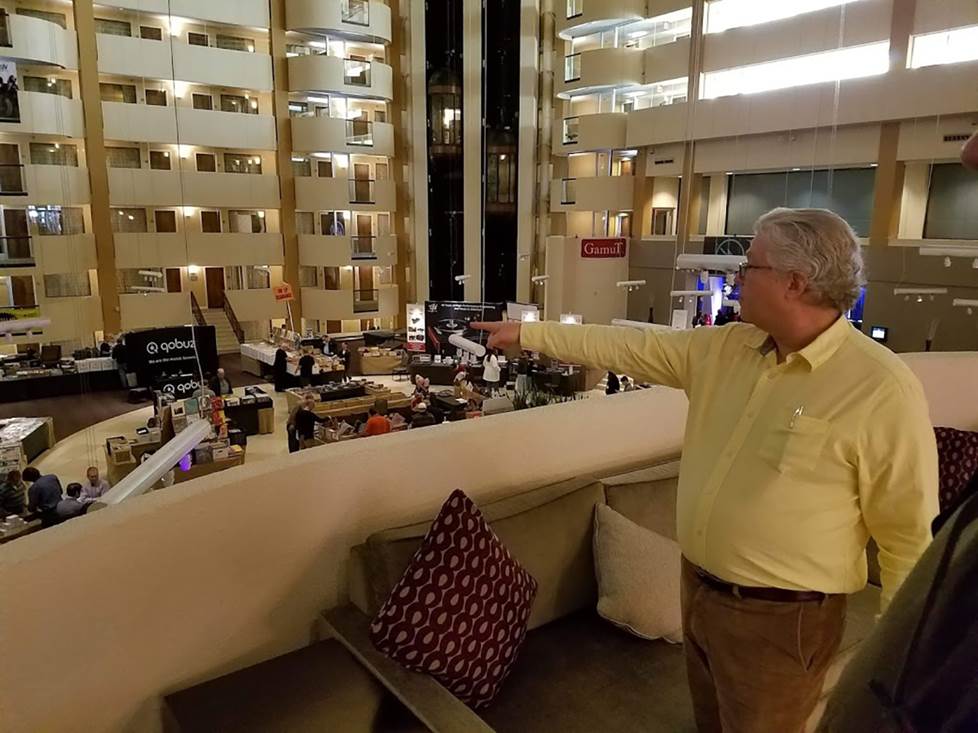 Super-knowledgeable former Crutchfielder Dave Bar provided expert commentary as we checked out dozens of exhibit rooms spread out over three floors.
Some of the brands were familiar — we're fortunate at Crutchfield to get to hear some excellent audio components on a daily basis. But mostly we were listening to rare and exclusive gear that will probably never make its way to our listening labs.
Some of these exotic marvels of "unobtania" played side-by-side with gear found in our own extensive product selection. Audio Technica, Music Hall, Mobile Fidelity, and Pro-Ject turntables had a huge presence.
Our lineup of stereo preamps and power amps is almost entirely solid state. So it was fun to check out the wide array of gear featuring glowing vacuum tubes of various shapes and sizes.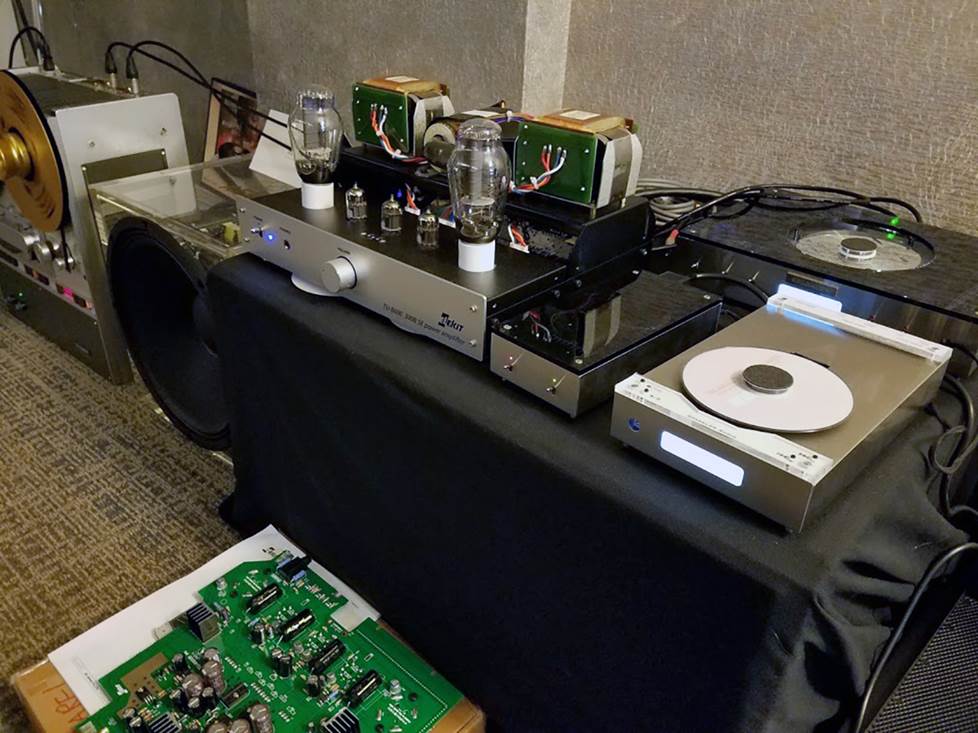 We saw plenty of high-priced tube gear. But if you're not afraid of a little soldering, the Elekit TU-8600 tube power amp is available as a kit starting around $1200 (tubes not included). Its 9 watts/channel output pairs best with high-sensitivity speakers.
Speakers
Crutchfield actually offers the horn-loaded Klipsch La Scala II floor-standing speakers on our website, but due to their large size we don't store them in our warehouse. So we jumped at the chance to check out this living piece of audio history in person.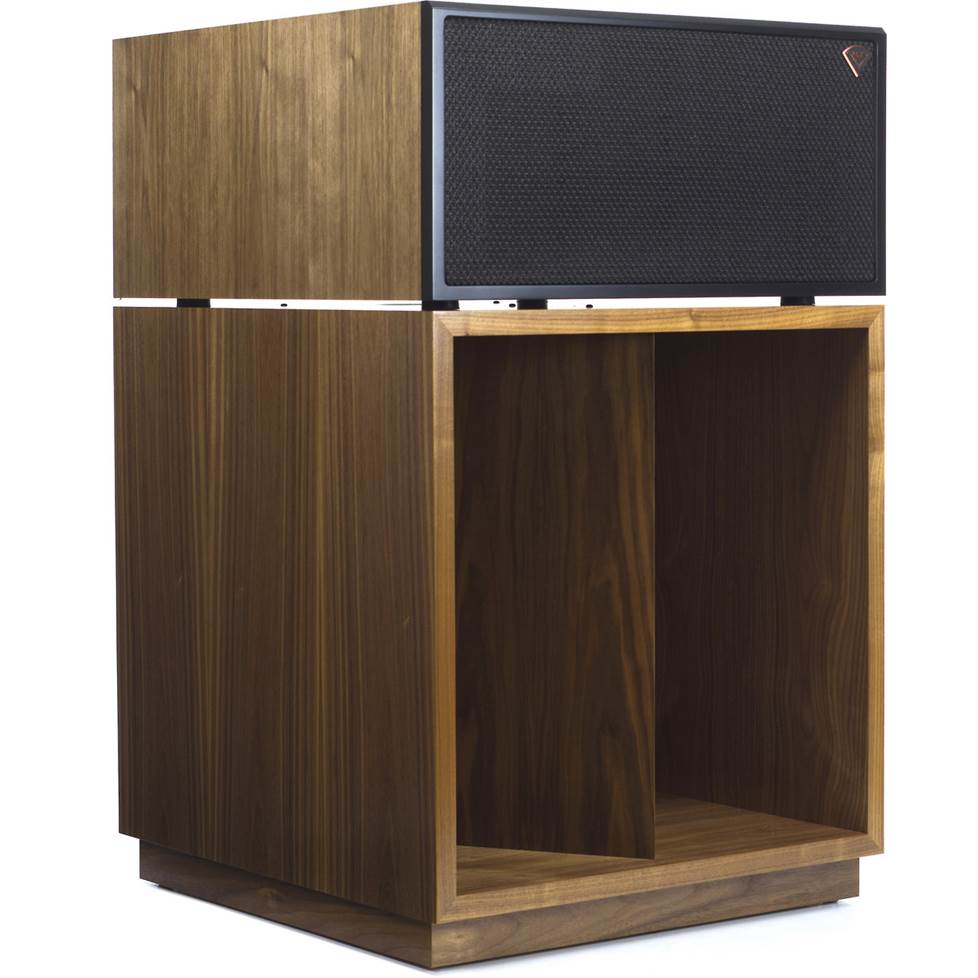 Klipsch's La Scala has been in production since 1963!
Moving from room to room we heard speakers ranging in size from compact stand-mounted models to huge towers over 8 feet tall. More than a few speaker systems were priced in the 6-figure range.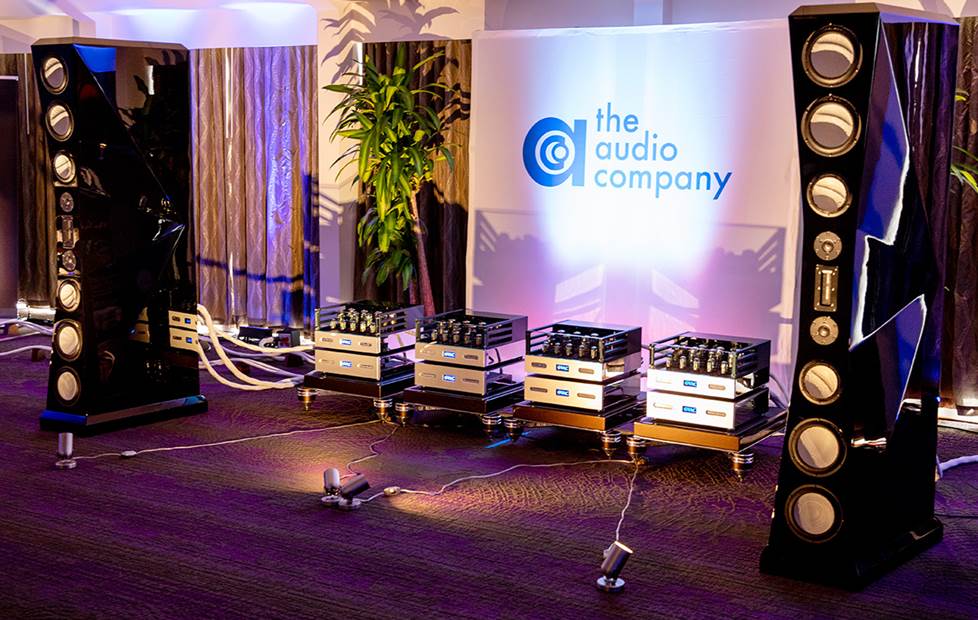 What does a million-dollar stereo system sound like? Pretty huge! The Von Schweikert Ultra 11 speakers cost $300,000/pair. The entire system came in at over $1,000,000!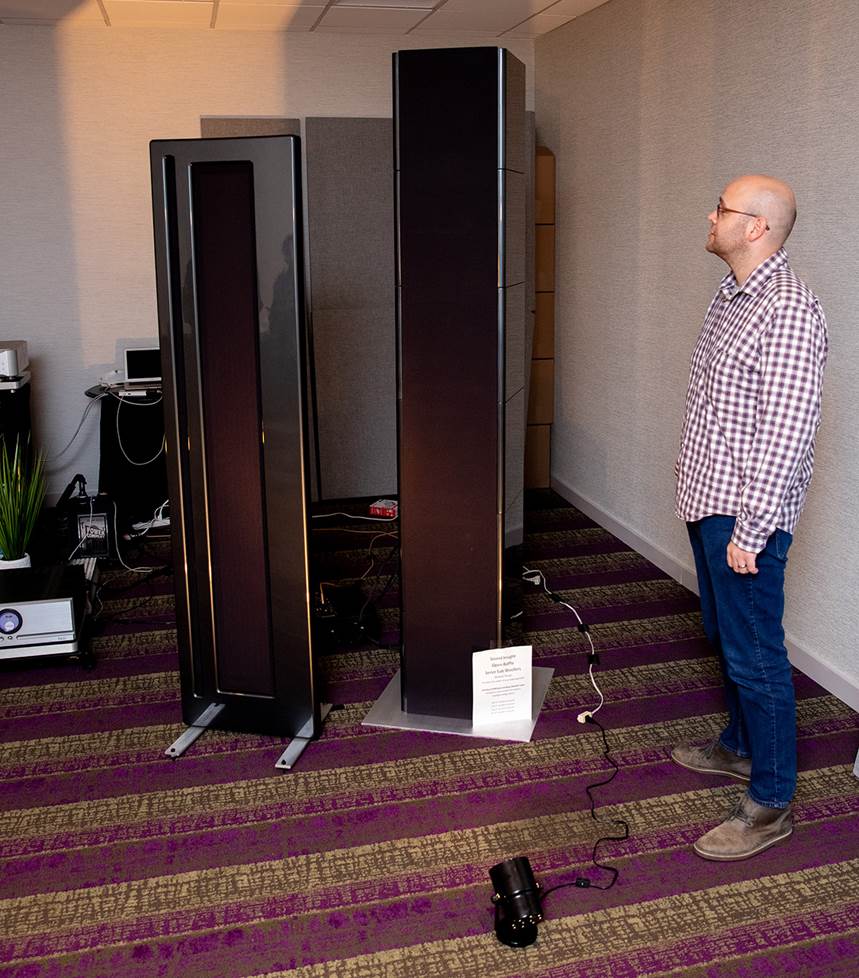 That's me, gazing at the GT Audio GTA3R planar/ribbon speakers with matching Sound Insight SI600 subwoofers, which looked and sounded gorgeous.
And some of the best-sounding speakers we heard all day came from brands that Crutchfield carries, like Dynaudio, KEF, and Wharfedale.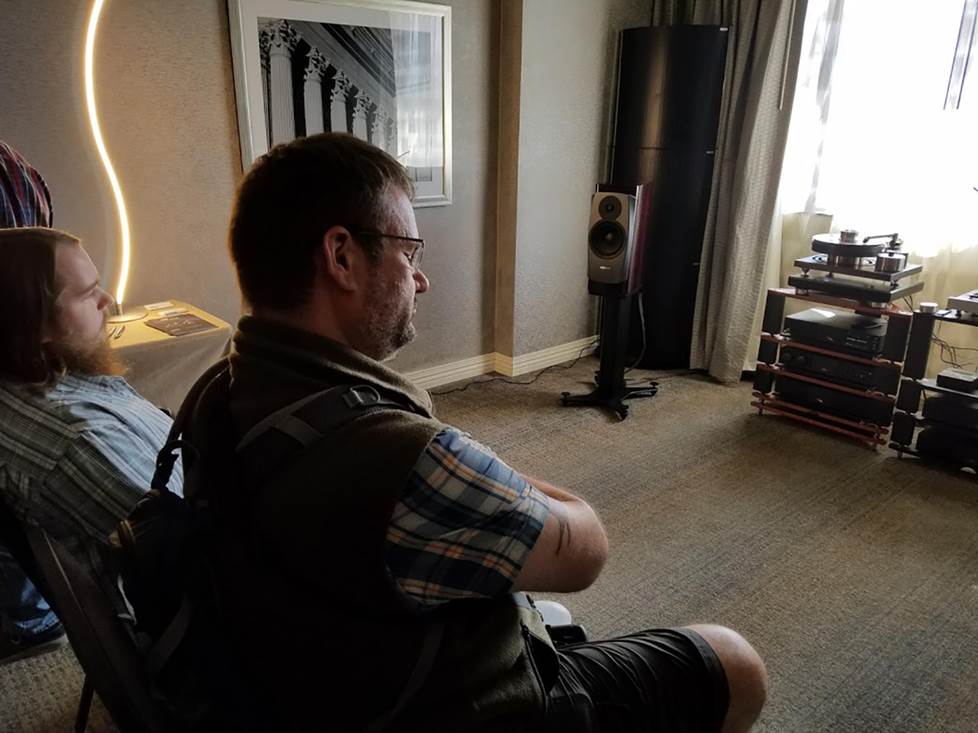 Archer and our speaker guru Kramer soak in the 3D soundstage created by Dynaudio's upcoming Confidence 20 speakers. This was one of the best-sounding rooms we heard.
Headphones
While there wasn't a dedicated area for headphones at this show, over-ear cans were definitely on display throughout the hotel. As Crutchfield's resident "headphone guy," I was definitely on the lookout for personal audio goodies.
I listened to one of my all-time favorite headphones, the Sennheiser HD 800 S, driven by a powerful tube amp. A heavy-duty turntable spun The King James Version by trumpeter Harry James and His Big Band. Somehow, the headphones sounded even more spacious than usual, with the soundstage spread out way around my head.
Sennheiser's HD 800 S headphones delivered incredible imaging.
Archer — a fellow headphone fanatic — gravitated toward a pair of Audeze LCD-3s, fed by the same listening rig. He owns the LCD-2s, and calls the LCD-4z the best he's ever heard. He felt the LCD-3s are a worthwhile addition to the series, and was particularly struck by their dynamics and clarity.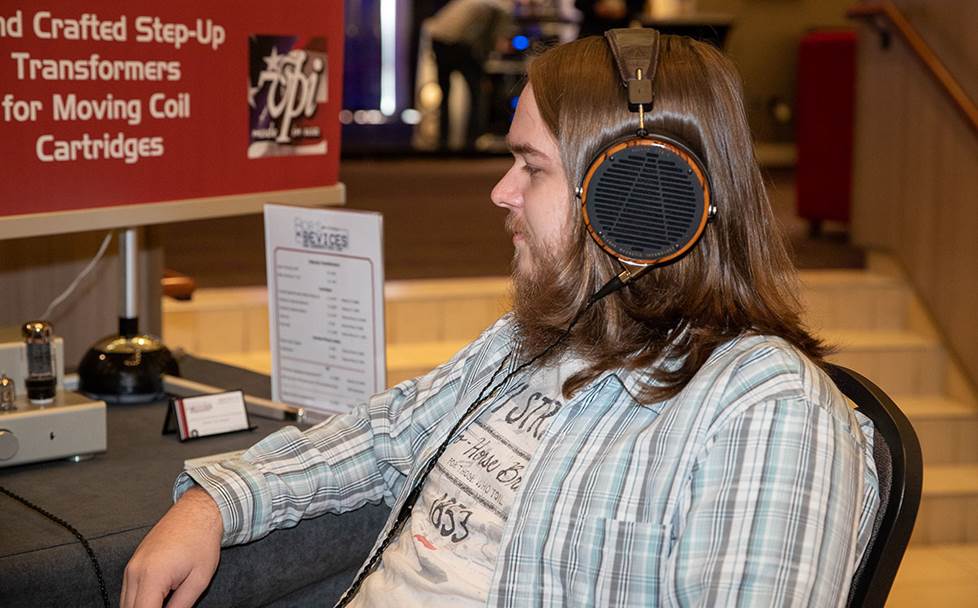 Archer enjoyed his time with the Audeze LCD-3 headphones.
I saw the distinct teardrop-shaped earcups of the MrSpeakers Aeon Flow Closed-back at several different setups. I'll always take the time to listen to these terrific 'phones — especially to compare how they sound through different headphone amps.
The Meze 99 Classics sound strong even connected directly to a phone. So imagine how they sounded when driven by the muscle-car power of a '70s Marantz amp. They had a classic soul track going that I didn't immediately recognize, but it played well to the headphones' tight, punchy bass and rockin' midrange.
Archer got a chance to try out the new Focal Elegia — their first high-end closed-back headphones. He said he's always been a fan of Focal's fast-attacking, high-precision sound. "The sound is so focused and detailed," he said. "I'm going to have to add these to my collection."
Archer and I both rarely get a chance to hear old-school electrostatic headphones, so it was really exciting when we found a Stax model tucked away at the end of a table. We were actually on our way to a scheduled session at the time. But we both decided we could squeeze in some extra listening time. Funny how that works!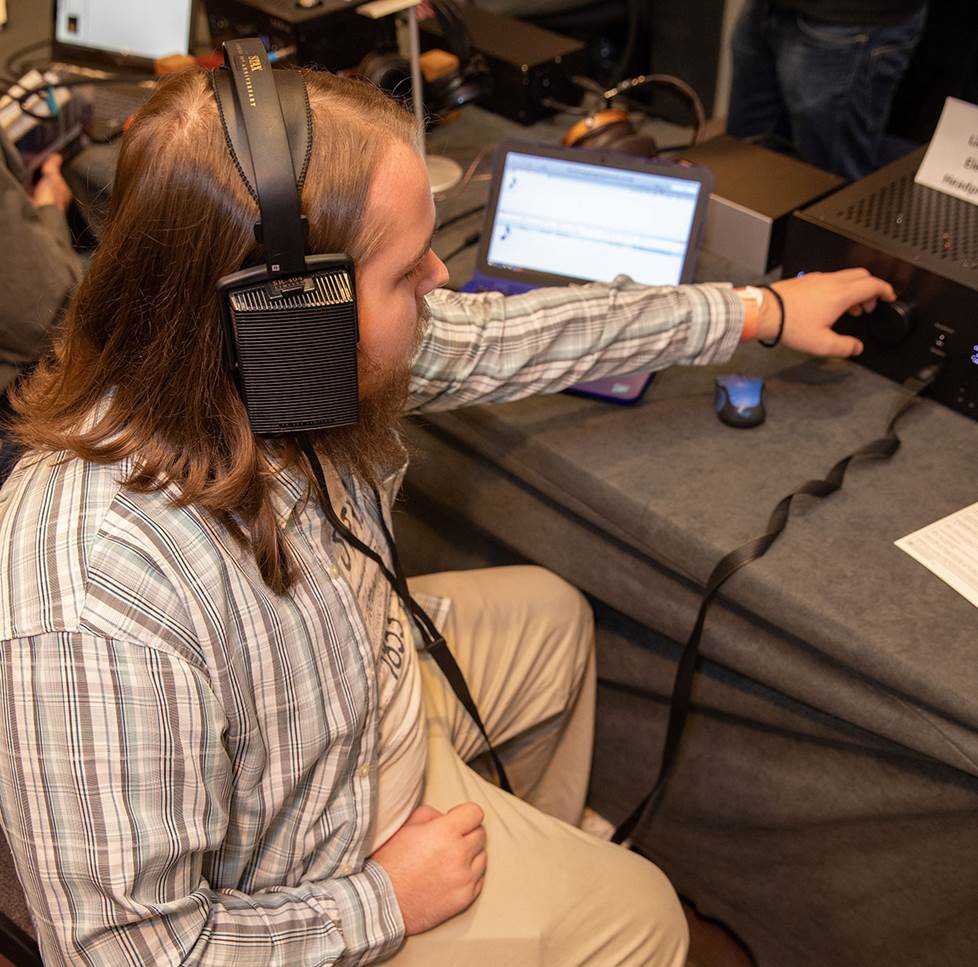 Taking advantage of a rare opportunity to listen to Stax electrostatic 'phones.
This could only happen at an audio show
So, we're standing in a hallway, and former Crutchfield writer Dave Bar is holding court. He's giving us a crash course on field coil electromagnets — an older style of magnetic structure used to move speaker diaphragms in the early 1900's.
He's breaking down the physics, and I'm trying to soak it all in, reaching frantically for my recorder. I barely notice the unassuming guy in a black t-shirt, filling a bucket with ice over at the machine. He hears Dave, and walks over.
"Sorry to jump into your conversation, but I'm hearing field coil talk, and I'm really into that." This is the kind of thing you'll only hear at Capital Audio Fest! He followed it up with, "In room 528, I've got a phono cartridge powered by a moving coil — that I built!"
Turns out we were talking to another Dave. Dave Slagle of Emia Labs, who has gained some renown rebuilding vintage audio gear. He takes great care in preserving the original concept and has a knack for improving performance.
When we entered his room, it was completely filled with retro gear that he had built himself. He walked us past two pairs of Quad ESL 57s he had "reimagined." These are classic electrostatic speakers from Britain that look like a cross between a large cabinet and a folding screen. Talk about room-filling sound!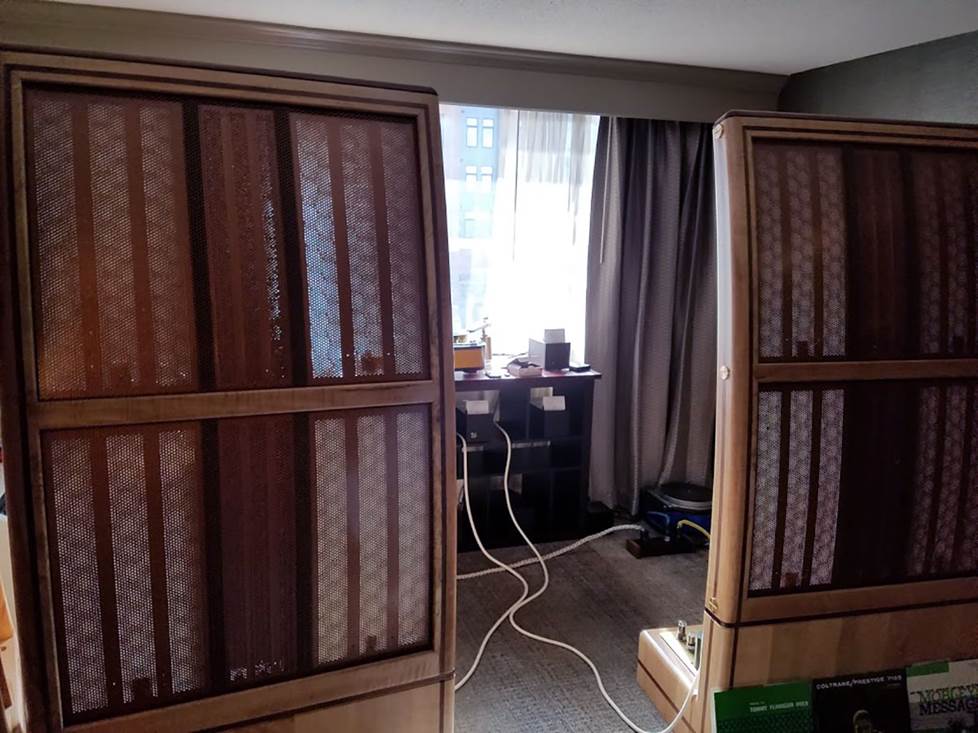 Dave Slagle's "re-imagined" Quad ESL 57s.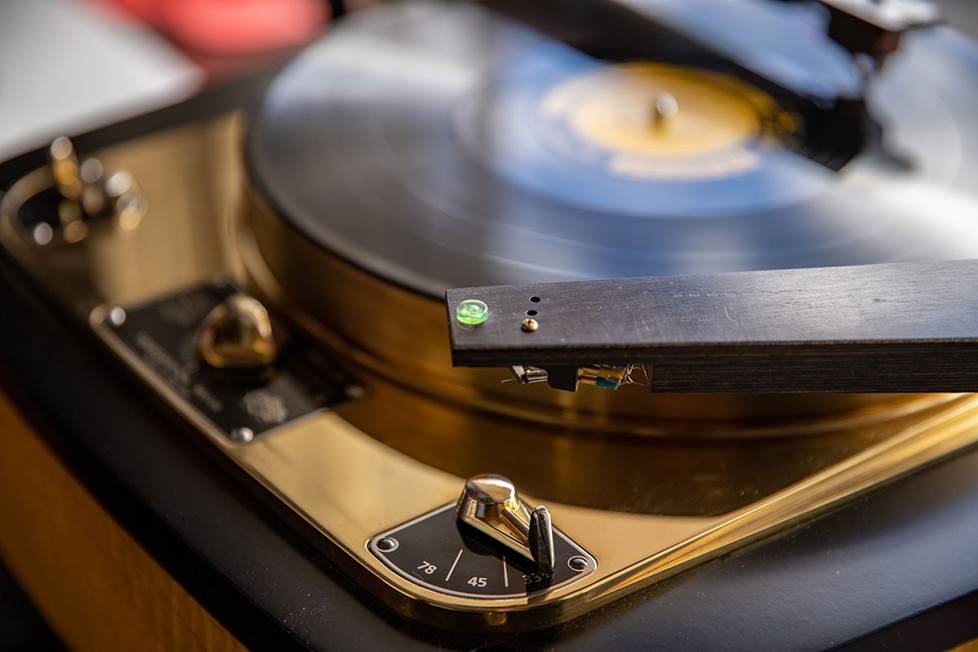 Dave Slagle's rebuilt Garrard turntable — he even built the tonearm and cartridge!
And circling all the way back to our hallway conversation: the phono cartridge uses a field-coil electromagnet, and was powered by a very large tube power supply.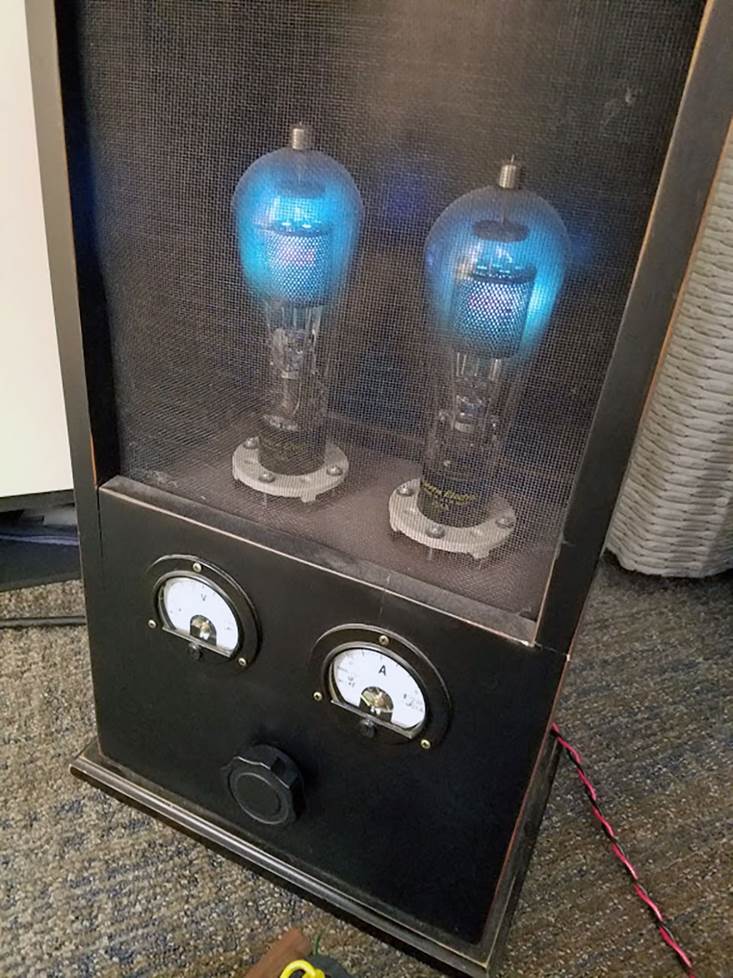 The tube-fueled power supply.
"At this point," Slagle told us, "I've built everything in this room from the cartridge to the speaker — except the panels." This was just one example of how interesting, crazy, and fun the Capital Audiofest was.
Slagle added, "If you want to see it complete, you'll have to come back next year."
I sure plan on it!