2019-up Toyota Corolla hatchback
How to upgrade the stereo system in your Corolla
In brief: This Crutchfield Research Garage article gives you an overview of your Corolla's stock stereo system and your aftermarket upgrade options. We'll tell you all about:
Then, use our vehicle selector to find the gear that will fit your Corolla.
Overview of the Toyota Corolla hatchback
Toyota's added some pretty nifty cars to the lineup in recent years, including the GR86 and GR Supra. Heck, even the Sienna minivan gets an XSE model with nifty black wheels and a sportier suspension. The Corolla hatchback is pretty nifty, too, with plenty of pep, a well-appointed interior, up-to-the-minute tech, and the usual rock-solid Toyota reliability.
It also offers the usual Toyota range of options and packages, so you can create the Corolla you want just by checking the right boxes. And if the Corolla you want happens to be a fire-breathing "hot hatch," there's the GR Corolla, which coaxes a ridiculous amount of power out of a turbocharged 3-cylinder engine and also handles like a waterbug on a pond.
The stock stereos produce about the power you'd expect from factory gear, which is to say not a ton. If you want to turbocharge your sound, an upgrade is in order. In this article, we'll show you what you can do and give you some tips on how to do it.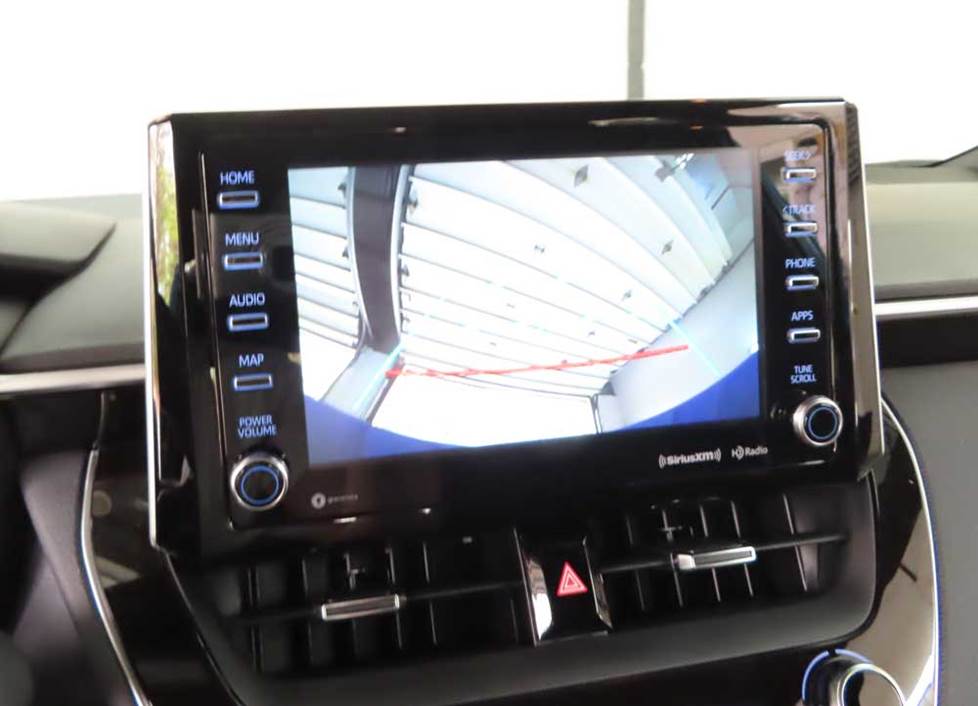 Yes, you can replace the Corolla's stock radio. Frankly, we were surprised, too. (Crutchfield Research Photo)
The factory stereo system
Both the base 6-speaker system and the optional JBL system are decent enough for factory stereos, but if you're really into your music, you'll need to go aftermarket. The radio and the speakers can all be replaced, but when you replace the radio (see below) you'll lose the factory satellite radio capability. That's easy enough to get back with the right aftermarket stereo, though.
Before you start your audio upgrade project, you'll need to set the parking brake and disconnect the negative battery cable to prevent any electrical short. You can refer to your Corolla's owner's manual for information on how to disconnect the battery.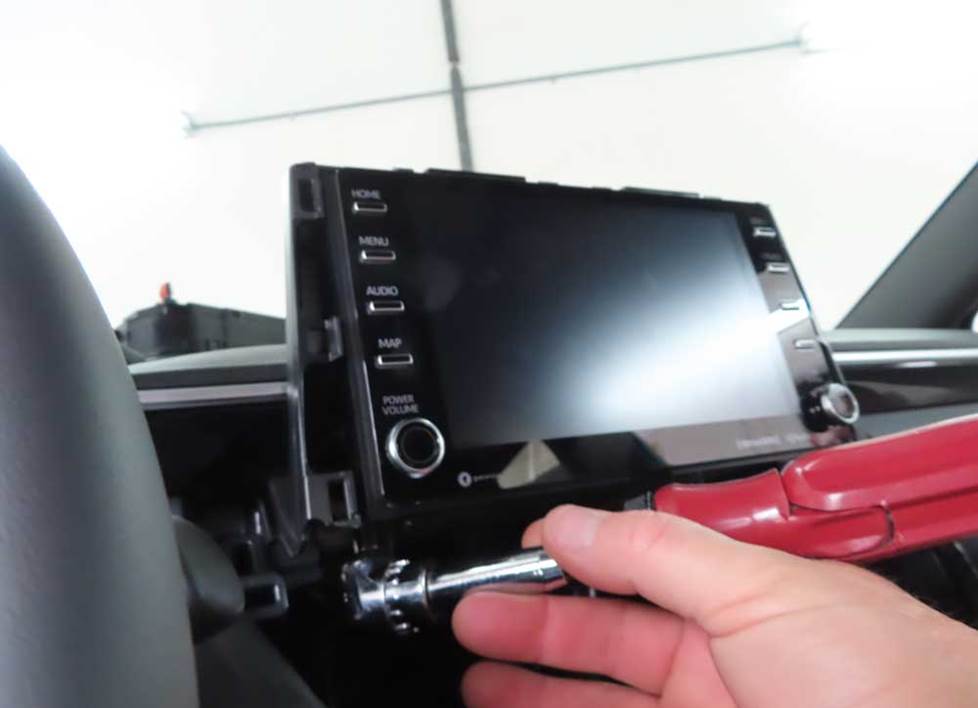 Removing and replacing the stock radio really isn't that hard in this Corolla (Crutchfield Research Photo)
Removing the factory radio
At first glance, this 8" touchscreen looks like one of those receivers that can't be replaced due to a variety of fit or functionality reasons. Thankfully, it's not. There are kits, there are wiring harness adapters, and there are receivers that will work here.
Detailed stereo and speaker removal instructions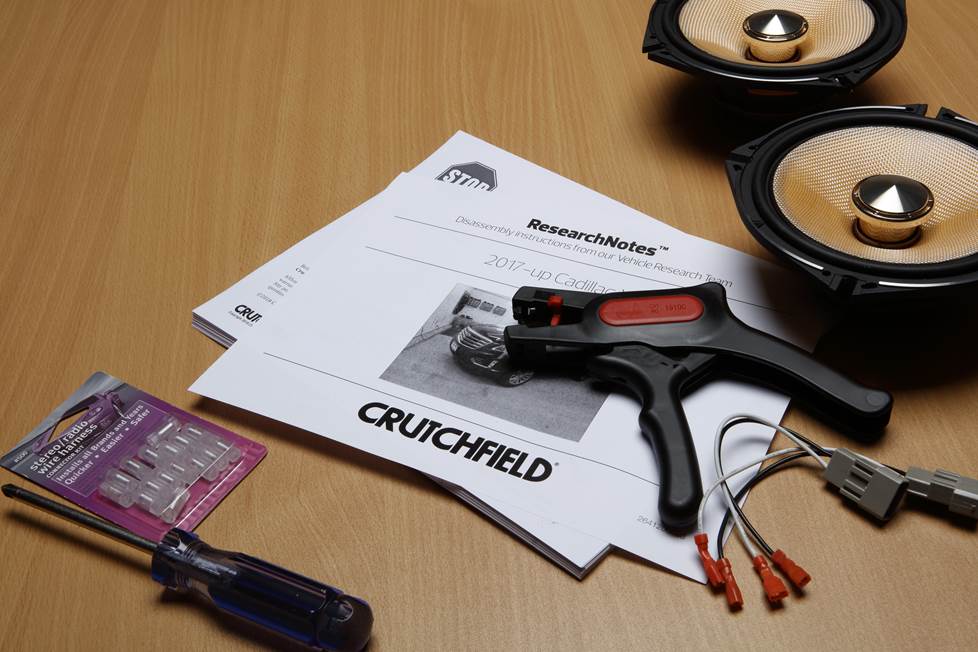 With step-by-step disassembly instructions and plenty of up-close, detailed photos, our exclusive
Crutchfield ResearchNotes
™ takes the guesswork out of removing the factory stereo and speakers. It's free with your Crutchfield order, or you can purchase one separately for just $9.99.
Removing the old stereo starts with using a panel tool to pry off the receiver trim ring. Pry out the climate control panel to release five clips, then disconnect the harness and remove the control panel.
Next, pull the center vent assembly toward the rear of the vehicle to release five clips, then disconnect the harness and remove the assembly. Remove the now-exposed four 10mm screws exposed, pull out the receiver to release the retaining clips, then disconnect and remove the factory receiver. Complete, illustrated removal instructions are included free with your Crutchfield purchase.
To install the new one, follow the instructions included with the dash kit and the wiring harness adapter you'll get at a discount with your Crutchfield stereo purchase.
Tools needed: Panel tool, 10mm socket, ratchet and extension
Shop for car stereos that fit your Toyota Corolla
Steering wheel audio controls
It's relatively easy to retain your Corolla's steering wheel audio controls when you install a new stereo. When you enter your vehicle information, our database will choose the adapter you need to make your factory steering wheel controls work with your new receiver.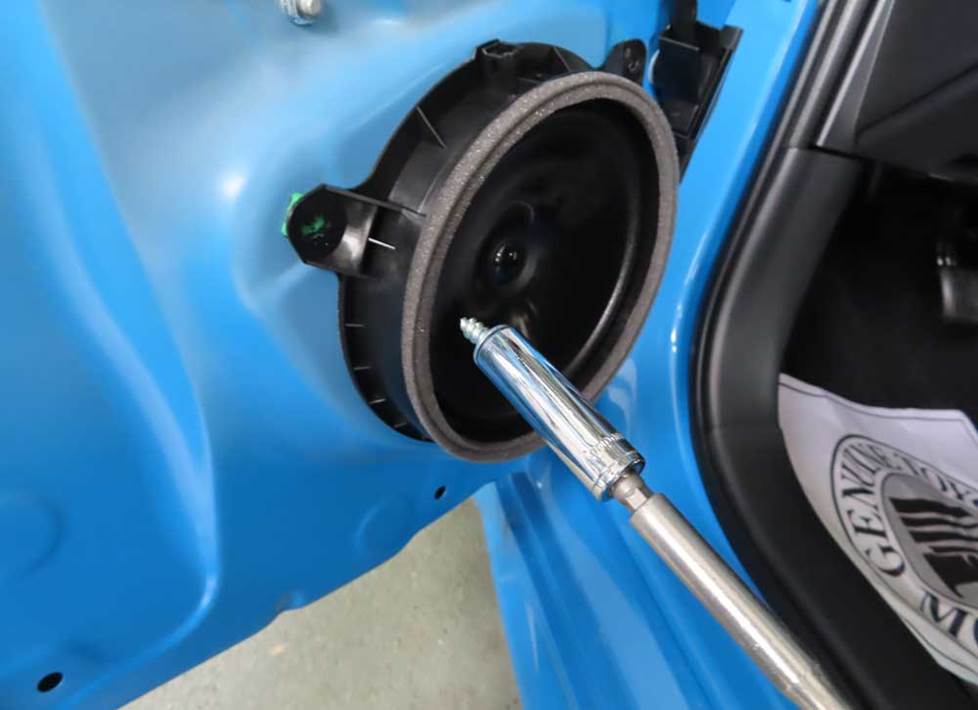 Upgrading the speakers will make a big difference in how your music sounds when you're on the road (Crutchfield Research Photo)
Removing the factory speakers
Even if you want to keep the stock receiver, it's still possible to dramatically improve your car's sound with new aftermarket speakers. The job's not too hard and the results will be worth it.
Removing the front pillar speakers
We haven't yet had an opportunity to research the Corolla's front pillar speakers, but we're hoping to see that system soon. In the meantime, you might be able to help us (and your fellow Corolla hatchback owners) learn more about what we imagine is a reasonably simple process.
If your Corolla has speakers in this location, read about our "crowdsourced" vehicle research process. If you send us some quality speaker removal info, we'll reward you for your efforts. In addition to a very cool (and very exclusive) Crutchfield Research Team cap, you can earn a gift card to put towards your next purchase. If that sounds like something you'd want to do, contact us via the email addy in the article.
Tools needed: Probably a panel tool, but beyond that, you tell us….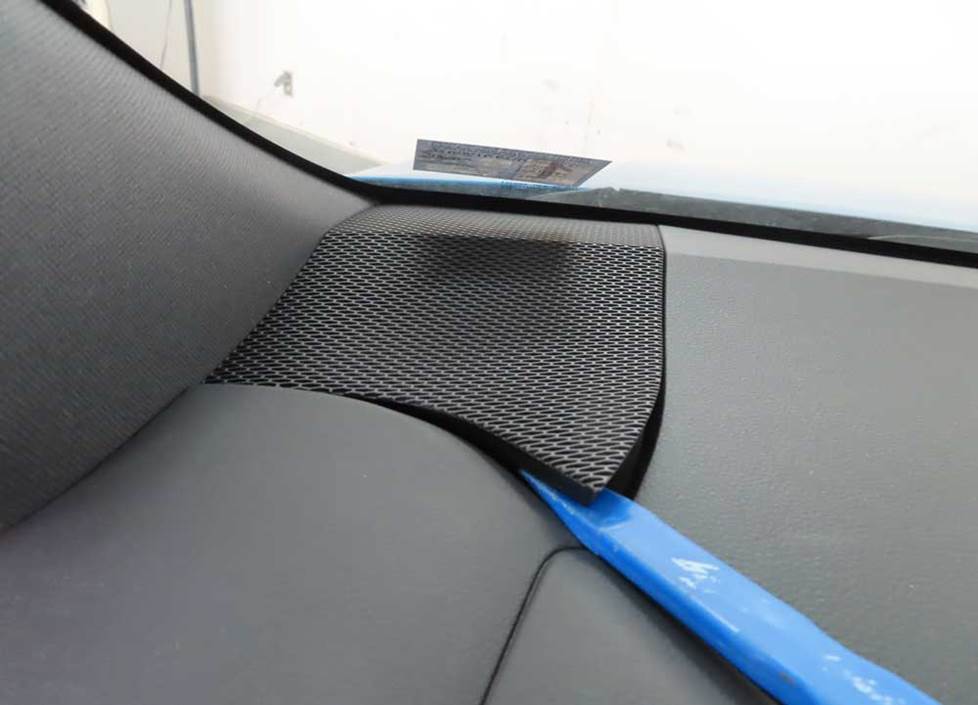 The dash corner speakers are located underneath easy-to-remove grilles (Crutchfield Research Photo)
Removing the corner dash tweeters
These speakers are quite easy to reach and remove. Basically, all you'll need to do is pry up the grilles and remove the speakers. As for replacing them, that's not hard either, but there are a few things you'll need to know before you order.
In Corollas equipped with the factory JBL audio system, a wiring harness adapter is not available, so you'll need to splice, solder, or use Posi-Products speaker connectors to connect your new aftermarket tweeters. You'll also need to use hot glue, silicone, or our universal backstraps to secure them in the speaker cavities.
And finally, these tweeters and the door woofers are wired together at each tweeter location. If you replace the tweeters, you'll have to splice the input and output wires together to keep the woofers working.
Tools needed: Panel tool, small flat blade screwdriver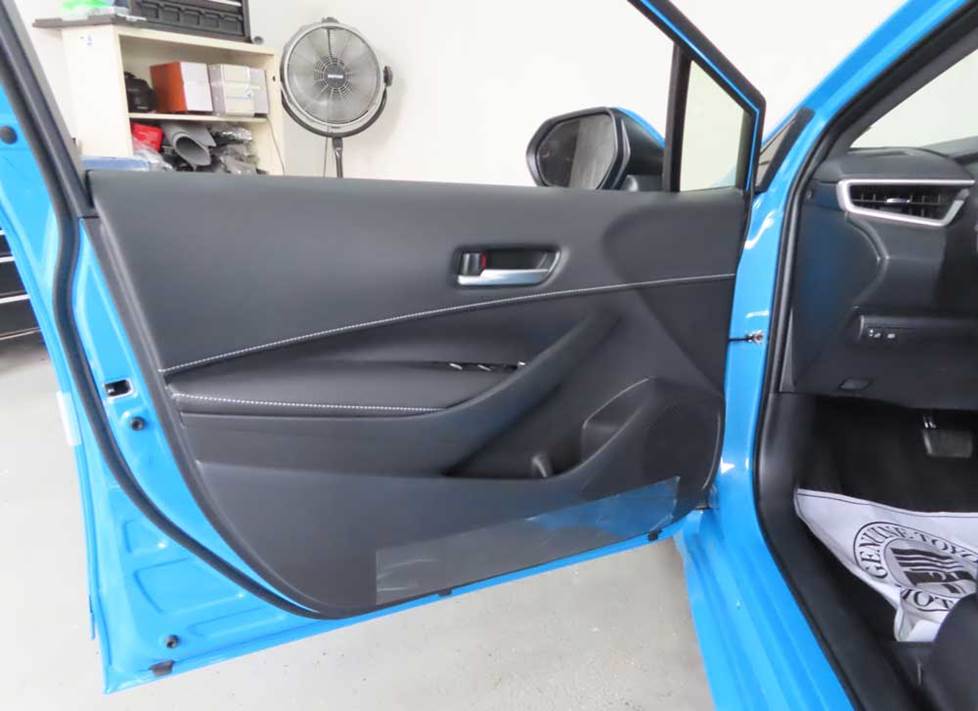 You'll need to remove the door panels to access the factory door speakers (Crutchfield Research Photo)
Removing the door speakers
The Corolla's front and rear doors each contain 6-3/4" speakers. In the base system, they're all full-range speakers, while in JBL-equipped cars, the door woofers and dash tweeters are wired in parallel.
There's no shortage of 6-3/4" and 6-1/2" aftermarket speakers that'll work in the Corolla's doors, and we'll show them to you when you enter your vehicle information. You'll need speaker brackets to install your new speakers, and we'll include them with your Crutchfield speaker purchase. To install 6-3/4" speakers, you'll need to remove the inner tabs on the aftermarket speaker brackets, so work carefully.
To get to these speakers, you'll need to remove the door panels. That's a reasonably simple task in these cars, thankfully, and it's pretty much the same for both sets of doors. Work carefully, stay organized, and follow the instructions in your Crutchfield ResearchNotes™.
If you have questions about this or any other aspect of your installation, remember that your Crutchfield purchase includes free tech support for the life of your gear. Our tech experts are right here in Virginia and they're available to take your call seven days a week.
Tools needed: Panel tool, Phillips screwdriver, small flat blade screwdriver, 10mm socket, ratchet and extension
Shop for speakers that fit your Toyota Corolla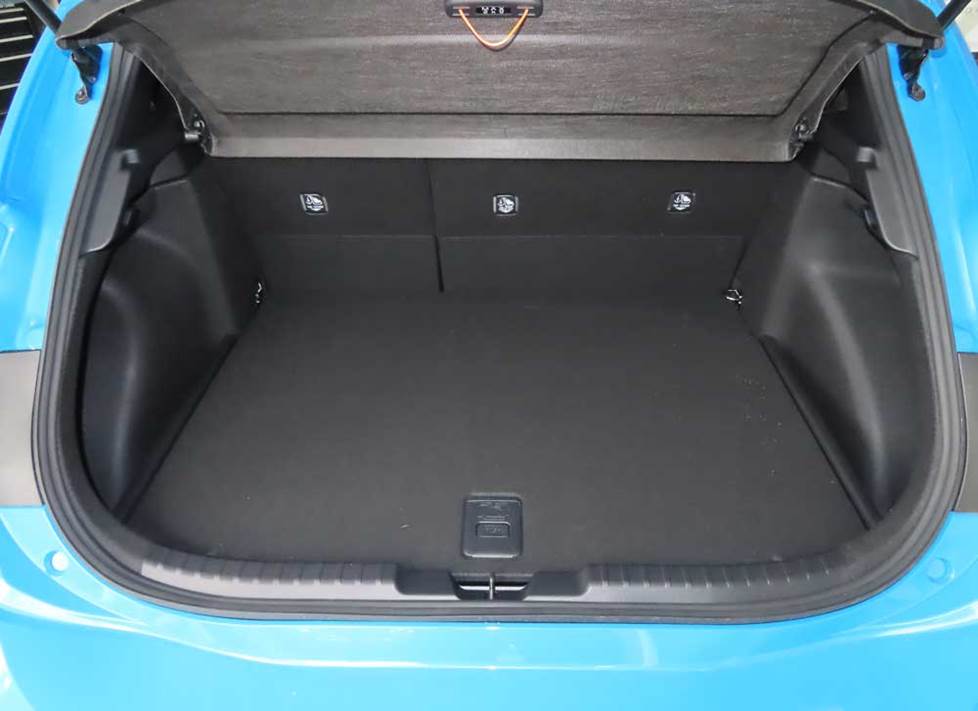 If you're into big-time bass, the Corolla hatchback gives you ample room for a sub box (Crutchfield Research Photo)
More bass in your Corolla hatchback
With a hatchback, cargo space and accessibility are two of the big selling points. True to form, the Corolla gives you plenty of room to work with. If you're thinking about going big on bass, the area below the cargo cover offers a 12"H (top to bottom) x 37"W (side to side) x 26"D (bottom), 22"D (top) space, so you can add subwoofer box for an 8" or 10" subwoofer back here.
If that cargo space is just as valuable as thumping bass performance, you might want to consider a more compact powered subwoofer. You'll get plenty of bass in a more versatile package that'll work with the realities of your busy lifestyle.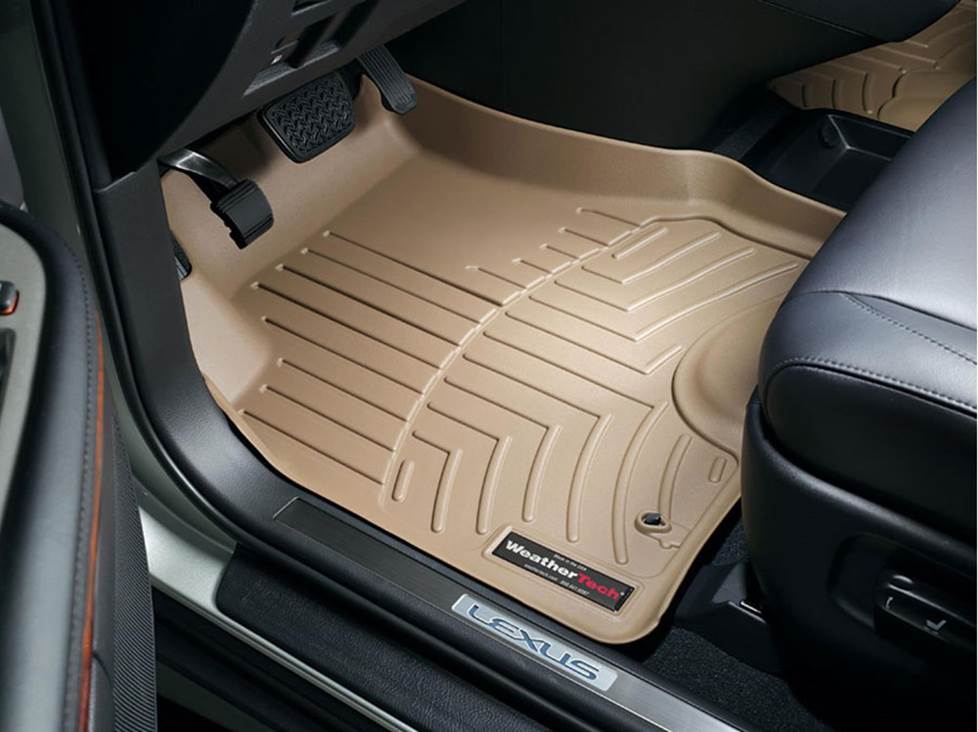 Keep your Corolla's carpeting looking sharp with a set of custom-fit WeatherTech floor liners
Other options for your Corolla
Here are a few other ways to improve the comfort, convenience, and safety of your Toyota Corolla.
Protect the carpets with WeatherTech floor liners
It's easier than you think to mess up your Corolla's interior while you're going about your daily business. Floor mats and liners from WeatherTech will help protect your car's carpeting from dirt and damage.
Dynamat
The Dynamat 10435 Xtreme Door Kit is the perfect way to seal in sound. This heavy-duty insulating material is easy to install, and it really makes a difference. One kit will take care of the front doors.
Protect your stuff with a security system
Installing a security system in your Corolla isn't easy (security systems rarely are), but it's less complicated than it could be. Our Crutchfield Advisors can help figure out what you need to get the job done, but we usually recommend taking your car and new gear to a professional security system installer.
Let's get started!
Ready to shop? Use our vehicle selector to find the gear that will fit your car or truck. If you have questions, give us a shout via phone or chat.
Last updated 11/29/2022