AKG K 495 NC headphones review
You don't have to travel to enjoy these
Heads up!
Welcome to this article from the Crutchfield archives. Have fun reading it, but be aware that the information may be outdated and links may be broken.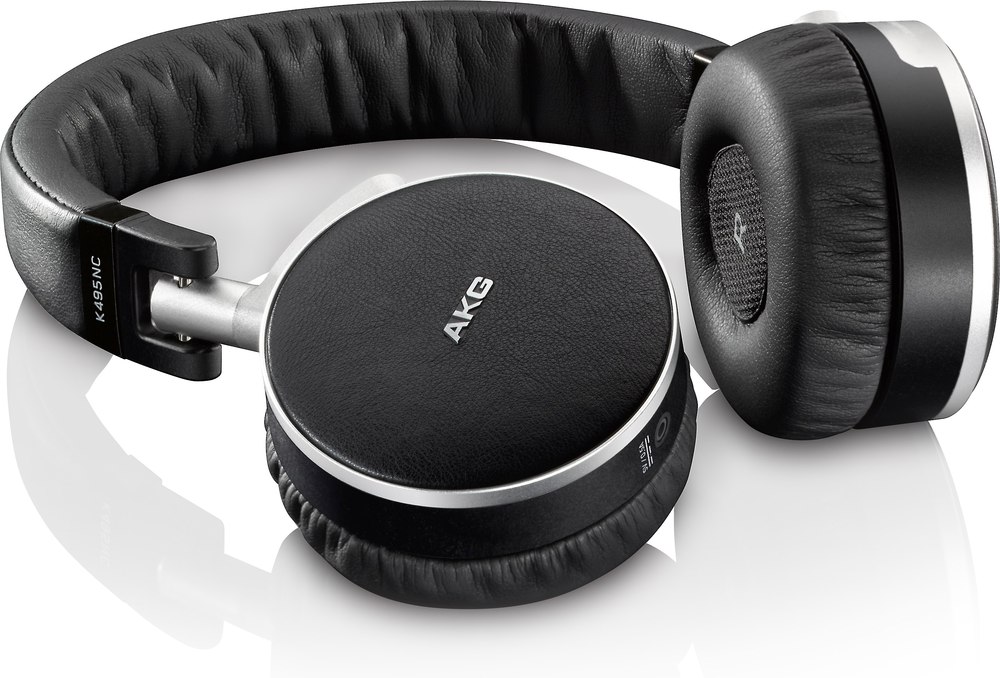 The AKG K 495 NC headphones are elegant, solidly-built, and compact
All right. I have a confession to make. I didn't try the AKG K 495 NC noise-canceling headphones on a plane flight, bus ride, or noisy gym. I didn't try them outside when the cicadas were out. No, I tried them the way most of you will use them, day-to-day: at work and at home, in a relatively quiet environment. Surprisingly, it's still not a bad place in which to experience their noise-cancelling properties. I'll explain, but first let me set the scene.
Clean lines, plush comfort
The AKG K 495 NC's are elegant, solidly-built on-ear headphones. I must admit to enjoying AKG's somewhat minimalist, no-nonsense design. The clean lines show off the finely-machined, brushed metal earpieces, sliding power switch, and swiveling mounting gimbals. The pleather earpads, thoughtfully marked with a large "L" and "R" right on the surface of the earpad's fabric cover, are luxurious to the touch and sat very comfortably on my ears for the duration of my evaluation.
Every base covered
These 'phones come with some welcome accessories. There's an AC charger with multiple adapter plugs for the international road warrior. The cable which plugs into the charger terminates in a USB connection, so you can charge the headphones from your computer's USB jack as well. At the other end, the cable sports a male 2.5mm TRS (tip, ring, sleeve) minijack, and plugs into a receiving jack on the 'phones for charging. The same jack hosts two provided detachable headphone cords, one approximately 4 feet long and the other weighing in at approximately 6-1/2 feet.
There's a handsome pleatherette case with a magnetic closure as well, that holds the headphones/cables when the earcups are swiveled 90 degrees into a flat position for easy storage. And there's an included airline power adapter, for charging the headset while in transit.
I never ran out of power for the noise cancellation function off of a single charge, but even if you do, the K 495 NC's still deliver sound without any coloration change when the noise cancellation is switched off, so you're not out of luck when the power runs dry. The flush-mounted ring switch on the left earcup that turns on this feature is a bit stiff on a new unit, but it probably loosens up a bit with regular use.
Now you hear it, now you don't
Okay. Enough about physical things. Let's sum it up with the statement that they look great, and feel great over a long haul while on the ears. But does the sound quality match the sophisticated presentation?
I initially tried the K 495 NC's at my cubicle while working. The moment I slipped them on my head and engaged the noise cancellation switch, all the noisy whoosh of our office's robust air handler melted away. In fact, you can use these headphones as stand-alone noise reducers — detach the cord and you've got a compact noise cancellation system that won't cramp your ability to move about.
Note: noise reduction works best on steady, constant broadband noises like humming machinery. While loud voices, music, or street noises like jackhammers will be blunted significantly, they won't be eliminated completely. But you'll undoubtedly be impressed by what you don't hear.
Putting them to the test
A quick word about my listening sources: I evaluated these headphones with lossless compressed files and 256Kbps AAC files, streaming from an iPhone® 4 through a Nuforce Icon iDo™ digital-to-analog converter (DAC) / headphone amplifier.
The first music I tried out on these cans was the Dixie Dregs' Punk Sandwich. Yes, I have a weakness for the prog rock of 30 years past, I won't apologize. While it might not be everyone's "cuppa tea," it's a nice, well-engineered, wide-spectrum tune with a tight soundstage that I find useful as a starter. And the 'K 495 NC's delivered a very listenable experience, with a full, rounded bass and an even, slightly restrained upper midrange and treble. If anything, I would call these headphones — polite. They really didn't get throaty in the mids until I had them cranked a bit.
I decided to give them a bit more an an acoustic workout. Stéphane Sanseverino's raucous gypsy swing chart Swing du nul made these 'phones spring to life, with a lively, engaging mid-range and a still slightly-covered treble, like a light layer of gauze riding atop the waveform.
A profile built for the long haul
Now, this might not sound ideal, until you think for a while about how you might use these headphones day-to-day. These cans are designed for long-term listening — on a flight, on a commuter train, working at the office — and this profile makes them ideal for low ear fatigue. While I still recommend taking a break every hour or so, just as a matter of overall ear protection, I think the K 495 NC's are perfect for when you're settling in to a long listening session — the way you would on a trans-continental voyage.
Travel without leaving your chair
Between the padded, easily adjustable headband, the plush and comfortable earpieces, and the balanced, bass-forward yet restrained presentation you have a recipe for a headphone that's primed for the long haul, no matter where you find yourself. There are other ways of traveling besides public transportation, and the AKG K 495 NC's are waiting to take you there.