Are Alpine Restyle dash kits and receivers worth it?
Transform your dash and keep the factory feel
Heads up!
Welcome to this article from the Crutchfield archives. Have fun reading it, but be aware that the information may be outdated and links may be broken.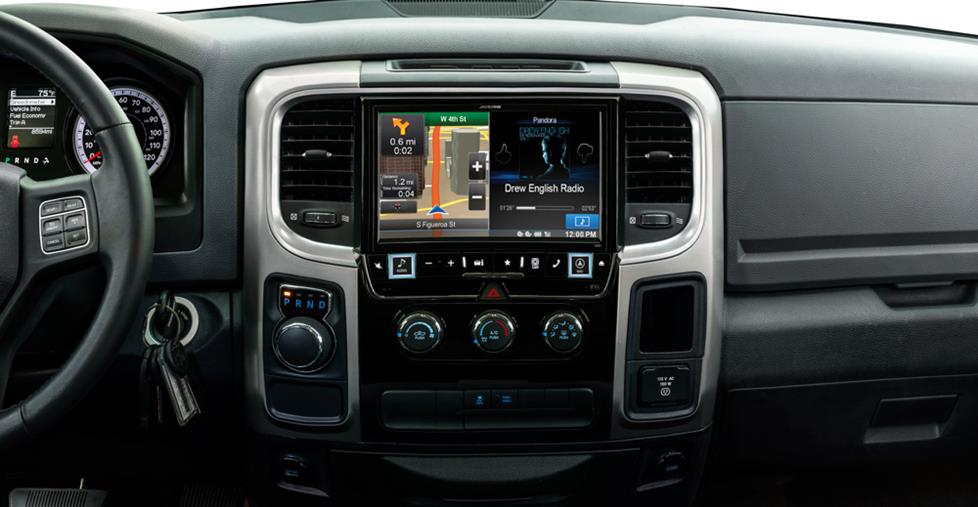 This Alpine Restyle System for 2013-up RAM trucks is a 9" multimedia marvel that doesn't clash with the surrounding dash
Alpine's been in the car audio business for a long time, and they know how to anticipate trends. So when Alpine saw a demand for car stereos which go beyond the standard 7" display, they rushed to satisfy it with their Restyle line (originally known as Alpine Perfect F.I.T. solutions).
The Restyle series of 8", 9", and 10" receivers are custom-fit stereos and dash kits for specific vehicles — mostly trucks and SUVs, but also some Jeep models. Additionally, Alpine offers a few "universal fit" receivers and bezels that can work in some other dashes with a bit of modification.
Either way, a Restyle solution offers great sound, GPS navigation (in most cases), and touchscreen control through a massive display that'll make everyone on the block just a little bit jealous.
Alpine Restyle receivers are big and beautiful
Restyle navigation receivers offer a bevy of road-friendly features, regardless of their screen size. Here's what you can look forward to:
Accurate guidance, including traffic reports (except in some Jeep models)
Bluetooth® connectivity
an easy-to-follow touchscreen interface
SiriusXM satellite radio compatibility and a built-in HD Radio™ tuner
iPhone® and iPad® control
Pandora app control for iPhone® and Android™ devices
And with most Restyle kits, an external Bluetooth microphone comes in the box.
Plenty of connections other devices
The on-board connections include an HDMI input, a rear USB input, a front auxiliary input, and a rear digital optical output. These receivers will even have connections for one or two cameras for added safety. Trademark Alpine-quality audio and sound-shaping tools come standard as well.
Included iDatalink Maestro extras
Each vehicle-specific Restyle stereo also includes an iDatalink Maestro module. This module lets you keep many of the factory extras that you love, like Ford SYNC and steering wheel controls. Depending on the vehicle, iDatalink also offers a nice set of "bonus" features. From the stereo's touchscreen, you'll get:
parking sensor integration
tire pressure display
read and reset "check engine" codes
customizable on-screen vehicle information including gauges for speed, RPM, boost, engine temperature, and more
Factory fit and feel for Silverado, Sierra, and more
Alpine Restyle dash kits don't replicate factory dashes exactly, because of their larger screen sizes. But they do come as close as possible. In most cases, they retain the factory climate controls and other features, or they make them available through the touchscreen. A finished installation will look seamless and attract attention for how awesome the screen looks.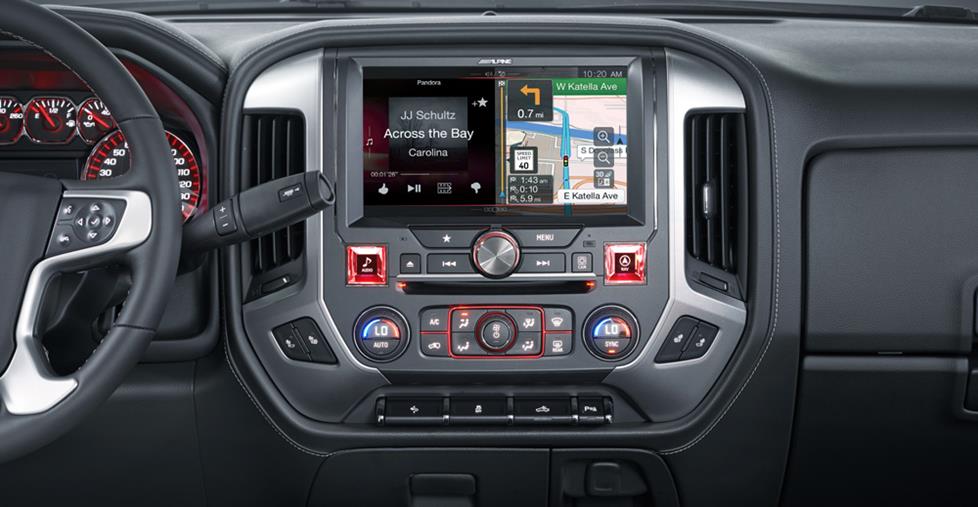 The Alpine X110-SRA Restyle System for 2014-up GMC Sierra trucks offers a 10" display and keeps the factory climate controls
Restyle dash kits feature bezels with large physical buttons which run either along the bottom or the sides of the receiver. These buttons include controls for volume, Bluetooth calling, audio source selection, and track forward/back.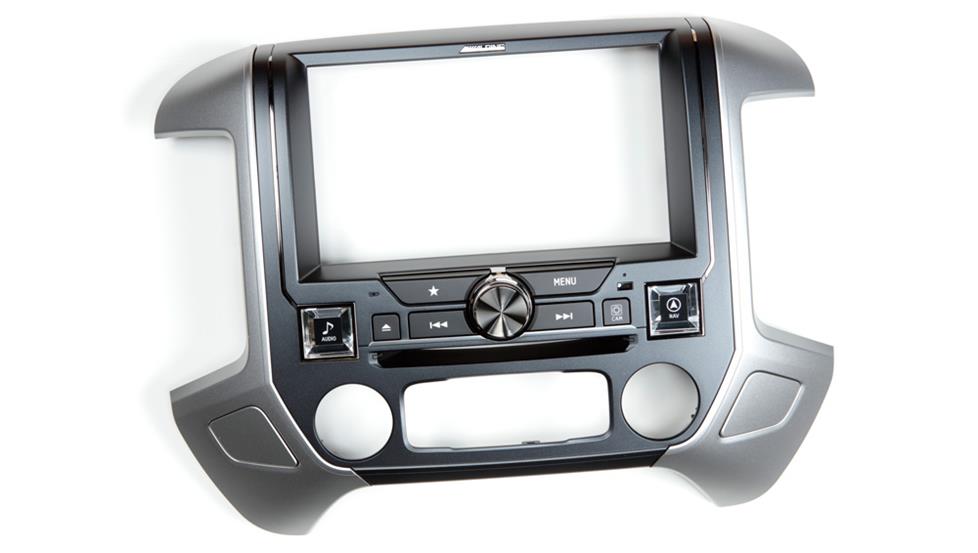 The bezel for the X110-SRA Restyle System fits perfectly in the Sierra's dash for a factory look. The buttons between the disc slot and the screen offer quick access to music, navigation, and user favorites.
Pull up your favorite functions quickly
The most useful button might be the "Favorites" button. Use it to store your most-used destinations, radio stations, phone contacts, sound settings, and much more for quick access.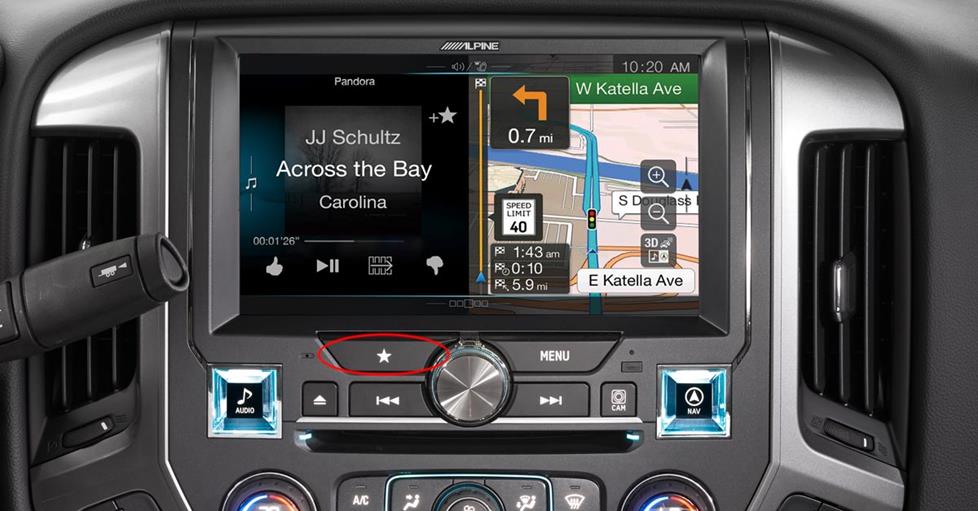 The "Favorites" button is always in a prominent position on every Restyle kit.
Basically anything you can access through the stereo can be stored as a favorite. The stereo remembers each user's list of favorites through their phone's Bluetooth profile. Multiple drivers can maintain separate favorites in the same vehicle and have them come up automatically when their phones are paired.
Plug-and-play installation…
Alpine designed the Restyle kits to be plug-and-play. In most cases the challenges of wiring are eliminated by pre-wired vehicle, stereo, and interface harnesses. They take the guesswork out of the process. They've even pre-wired the navigation outputs (speed sensor, brakes, and reverse light).
…with some exceptions
Most Restyle kits with 10" screens don't need any modifications to the dash. Most of the 9" Restyle kits do require a small amount of dash modification to make the stereos fit properly. The exception is the kit for the Ford MyPlay replacement. In most cases, a cutting tool will be necessary, so a professional installation might be a good idea for that one.
Alpine also provides video tutorials for installing each Restyle model. Check them out to see if you're up to the task — I bet you are.
Restyle kits are available in 8" configurations for select 2007-up GMC/Chevrolet, Cadillac, RAM, and Toyota trucks, plus a few Toyota car and crossover models. Owners of select Ford, RAM, GMC/Chevrolet, and Toyota trucks and plus Jeep Wranglers should be able to add a 9" Restyle kit.
Right now, the only vehicles compatible with the 10" Restyle stereos are select 2014-up GMC Sierra and Chevy Silverado pickups, but more should be coming soon. See below for more info about Jeep Wrangler Restyle kits.

This X009-GM2 Restyle System transforms the dash of a 2007-up Chevy/GMC truck from ho-hum factory (left) to attention-grabbing aftermarket (right) by adding a beautiful 9" color touchscreen with navigation.
Alpine Restyle Jeep Wrangler solutions
Alpine offers a handful of Restyle kits for Jeep Wrangler enthusiasts, with a few twists upon the standard receiver capabilities. The X009-WRA Restyle system is similar to the packages mentioned in above, in that it has a navigation receiver and a 9" screen.
The other Wrangler models feature Apple CarPlay™ and Android Auto™ compatibility, but they don't all include a disc player or built-in navigation. Be sure to check each model's feature set.
Like to drive with the top down? The newer Wrangler Restyle kits are protected against water and dirt. You can hit the trail without fear of losing your favorite tunes or worse. Each Jeep Wrangler Restyle kit does require a small bit of dash modification for installation.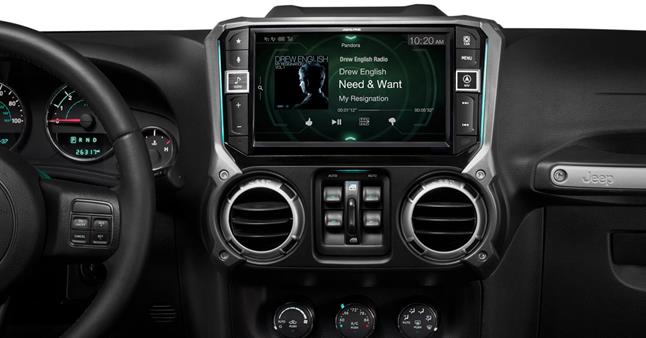 Alpine's i209-WRA Restyle System for Jeep Wranglers adds a weather-resistant 9" touch display with Apple CarPlay and Android Auto capability to your toy's dash. There's no CD player but you still have plenty of audio options.
---
For more information on which Alpine Restyle stereos might fit your vehicle, use our Outfit My Car tool or contact an Advisor via phone, chat, or email.