The anatomy of an amazing form-fitting subwoofer
What goes into making a JL Audio Stealthbox®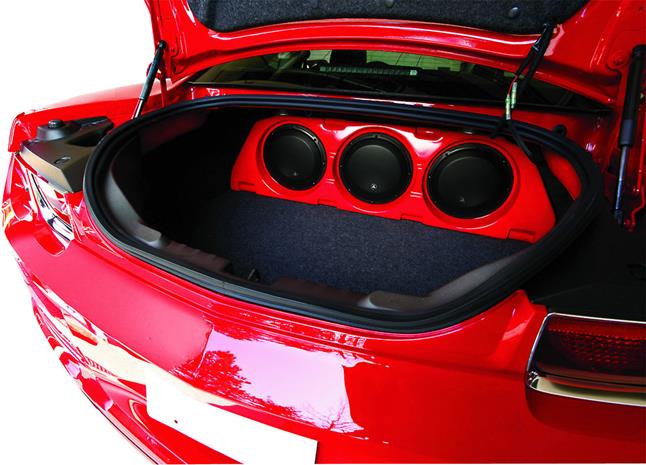 Stealthbox for 2010-up Chevy Camaro
Stealthboxes® are among the best subwoofer systems you'll ever encounter. JL Audio works magic with the design, fitting each box in the best possible space-saving location in a specific vehicle (some even "disappear" entirely), and with the sound quality, which often blows away the sound from top-rated conventional subs. Here's an inside look at what JL Audio puts into researching, designing, and manufacturing each Stealthbox®.
Perfect location for perfect sound
JL Audio techs start by studying a vehicle's acoustics and determining the best location for the Stealthbox®. For the Camaro, it took three months to finalize the best design and stealthiest location — three rear-facing subs in the trunk's pass-through. You can't crawl between the trunk and the backseat anymore, but that won't matter, when you've got bass like this.
Here's the story straight from JL Audio:
"The design of the triple-woofer Stealthbox® for the Camaro took 90 days. It began with a careful analysis of the car's acoustics using test enclosures. Next, the development team took a series of physical measurements to determine enclosure boundaries, taking into account the function of the space, mounting provisions and the installation of the complete enclosure into the trunk compartment. Based on these measurements, a rough prototype was created and refined over a series of listening and measurement sessions.
Once the sound had been optimized, the enclosure's final shape is sculpted and cosmetically detailed in SolidWorks (3D modeling software). Further listening sessions validated the final enclosure design and mounting points were documented as well as the mounting hardware. Once the design was finalized and approved, the production department created production molds and a detailed bill of materials. Detailed, step-by-step, illustrated instructions were then created as the product was readied for market release."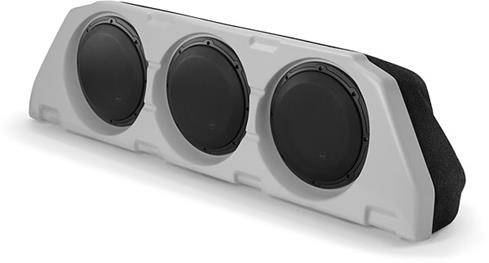 Comes in primered gray, ready to paint.
Enough power to fill the car with bass
JL Audio packs the Camaro Stealthbox® with a trio of 10" W3v3 subwoofers wired to hit hard, and able to put out up to 1,500 watts RMS of thump. The extensive motor assembly of each sub ensures smooth, precise cone movement at any power level, not just loud.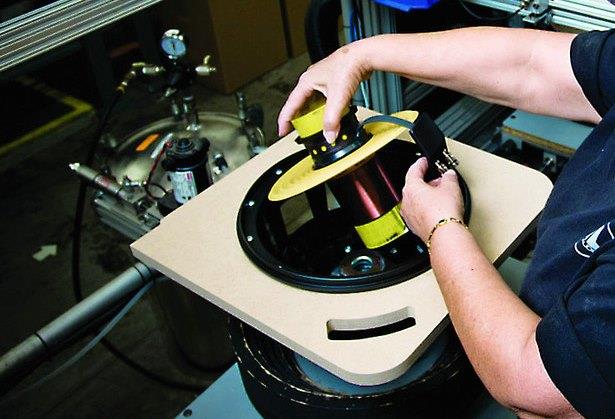 Hand-crafting a JL Audio subwoofer
High-tech guts
JL Audio uses a patented Floating Cone Attachment Method to ensure their subwoofers reliably deliver perfect, distortion-free bass. A Vented Reinforcement Collar (shown to the left, under the assembler's right thumb) strengthens that attachment and provides stress relief during extreme play.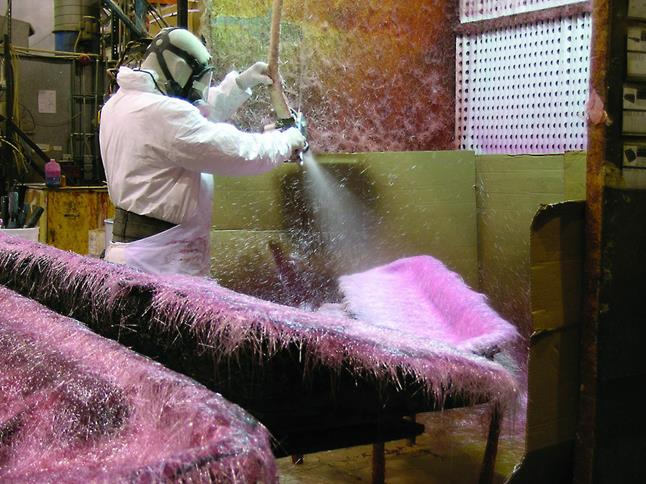 Spraying multiple layers of fiberglass
Every enclosure is hand made
It doesn't start off looking very pretty, but the results are amazing. Multiple layers of fiberglass applied to hand­crafted molds give each box the custom shape and rigidity necessary to deliver clean, full bass. Workers hand-finish each box and ship it carpet-covered or primered and ready for paint.
Extensive testing pays off
After studying the acoustics of a vehicle and evaluating potential sub locations, JL Audio technicians build test prototypes and tweak the designs. This way, they can find the best combination of components that maximizes bass performance, and minimizes any loss of space.
Is there a Stealthbox for your car?
Find out if there's a Stealthbox or other type of vehicle-specific subwoofer enclosure made to fit your vehicle. First, enter your vehicle into our vehicle selector. When you get to the vehicle results page, click on the "Subwoofers" category. The first two subcategories are for vehicle-specific enclosures.