Shopping for Electronics: Then and Now
Heads up!
Welcome to this article from the Crutchfield archives. Have fun reading it, but be aware that the information may be outdated and links may be broken.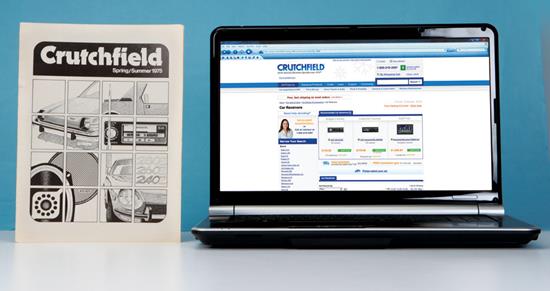 How we shop for electronics has changed enormously over the last few decades.
When I founded Crutchfield in 1974, the world of electronics was a remarkably different place. There were just a few types of products to keep track of, and a limited number of specifications to understand.
Even then, though, newcomers sometimes found those technologies intimidating. To solve that problem, I devoted six pages of the 1975 Crutchfield Catalog to helping my readers learn how to evaluate and install the products I sold.
Today, we live in an electronics wonderland, surrounded by clever gadgets that can do just about anything. The tricky part lies in knowing how to sort through all the choices, and how to understand the pros and cons of each item.
With that in mind, I recently took a fresh look at the article I wrote back in 1975. I found it fascinating to see how much of what I wrote was still true — and how some things had changed.
Following, you'll find excerpts from the original guide, along with updates for today. No matter where you tend to shop for electronics or what your expertise level, this information should make it easier for you to shop with confidence and choose audio and video gear that will do exactly what you need it to do.
In 1975...
"The most difficult part ... is to make the wisest choice from an almost bewildering selection of components."
Now...
This problem is magnified times ten for today's shoppers. Not only are there simply more products to choose from, living in the Internet age means that we are bombarded with nearly every option out there when we start to browse. It's not an ideal scenario for those who aren't already aficionados.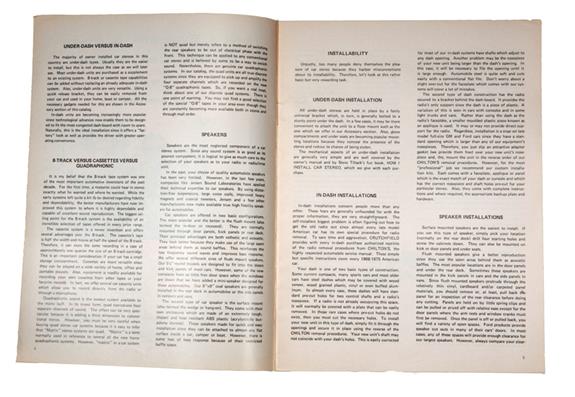 The 6-page guide in the 1975 Crutchfield Catalog was a vast compendium of information by the standards of the day, even though it mainly covered speakers, under-dash stereos, and 8-track players. We've posted the full PDF of our 1975 catalog online.
In 1975...
There was info to be had, if only you knew where to look.
Above, you can see part of that 1975 guide. To reduce that feeling of being overwhelmed, I gave readers a crash course on the basic types of stereo, so they could make an informed decision.
Now...
There's even more information out there these days. The Web is full of buying guides for electronics. For example, Crutchfield is still creating comprehensive articles to explain audio and video and to answer common questions. I guess old habits die hard.
The best solution is still to start by reading up on these technologies. Even basic information may help you know what features you need and which you can skip. And being able to narrow down your choices is essential for shopping these days.
Once you've learned the basics, it's good to check in with an expert. That expert may be a family member, co-worker or neighbor. Or it may be someone at an electronics store. Read on for more details ..
In 1975...
"If you experience a special problem, there is always plenty of help available to you."
Now...
I wish every one of today's shoppers had an expert to help them. Unfortunately, many of today's shoppers make their purchases with a faith that the store they use will support them if there's a problem — only to find out that it's just not so.
The good news is that it's easy to avoid this dilemma entirely. When my friends ask me what they should keep an eye out for, I tell them to make sure they're buying from a store that can promise the following:
There are knowledgeable experts you can discuss your choice with.

(Too many websites make it hard to telephone anyone at all for help.)

The store offers free technical support.

This one's pretty rare, but I feel strongly about it; even knowledgeable people sometimes need help.

The store is an authorized retailer for that brand.

That way, people can count on the warranty being honored by the manufacturer. Otherwise, they could be left in the lurch.

There is a reasonable return policy.

This is one to look at closely; some stores offer thirty days, but only if the equipment has never been taken out of the box and used!