Astell&Kern USB-C Dual DAC Cable review
Hands-on with Astell&Kern's newest portable digital-to-analog converter
Heads up!
Welcome to this article from the Crutchfield archives. Have fun reading it, but be aware that the information may be outdated and links may be broken.
I got really excited when I heard Astell&Kern were dipping their toes into the world of digital-to-analog converters. The company has been making digital audio players since its founding in 2013. In that time, A&K's engineers have created a detailed, accurate signature sound that can be found across all their offerings, including this one.
I found the USB-C Dual DAC Cable to be a portable powerhouse that made me feel like I was listening to some tracks for the first time again. My music became more engaging, replete with lots of subtle details I was missing out on before (even with some other DACs.) It looked pretty sweet, too.
The Dual DAC Cable makes a high-res experience truly portable. It can tie into any device that uses a USB-C connection. Most Android™ smartphones have them nowadays, so if you're an Android user, you can take this DAC with you anywhere you go. If you'd rather use it as more of a stationary piece, you can plug it into your USB-C equipped Windows® or Mac® computer and have it handle the audio conversion before it reaches your headphone rig or your stereo system.
A potent and portable audio companion
This compact DAC features powerful 32-bit digital-to-analog converter chips, custom-made cables and electronics, and a clean, powerful headphone amplifier.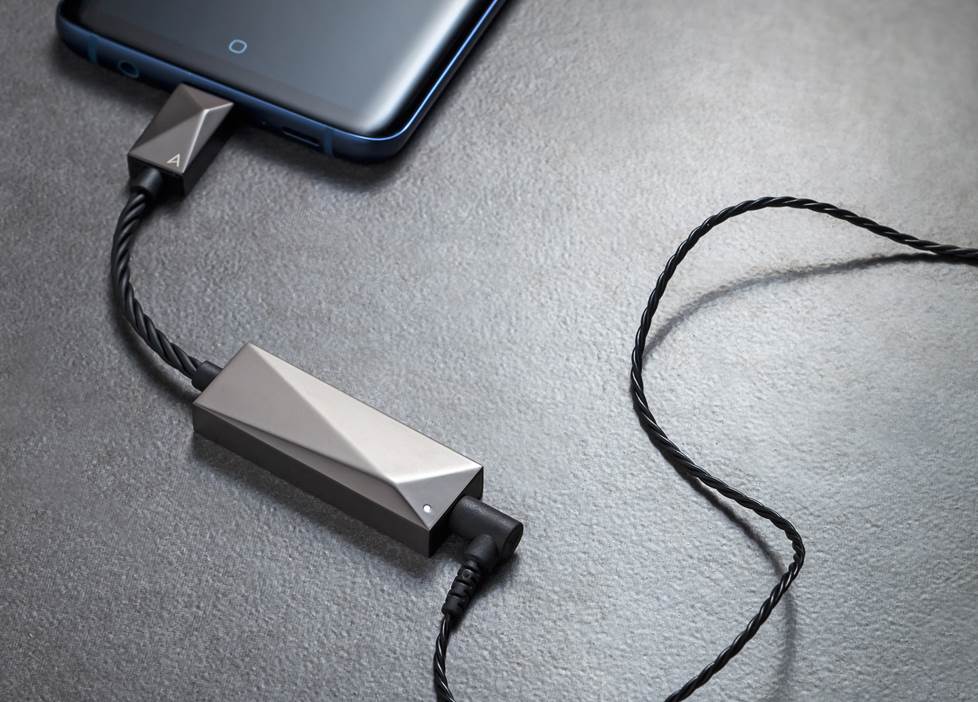 The USB-C Dual DAC Cable is an eye-catcher — it uses the same "light and shadow" design concept as Astell&Kern's portable high-res music players, with striking, smooth edges and a polished finish.
The twin Cirrus Logic CS43198 DAC chips inside are real workhorses. They independently process the left and right channels to keep the soundstage spacious and detailed. Astell&Kern chose them because they deliver an efficient audiophile-grade sound, meaning they don't sacrifice a lot of your phone's battery life for performance.
The chips have a warm sound that helps to give life and energy to the music pumping through them. A&K's engineers also tweaked the chips' digital-interpolation filters to get the sound just right.
A deeper look at what's inside
Astell&Kern is a master of circuit design. You'll not only find the two DAC chips I mentioned on the small, six-layer PCB (printed circuit board), but also proprietary micro resistors and tantalum capacitors. Those help to optimize the audio circuit and suppress power fluctuations, giving you stable operation and superb sonic performance.
A durable, noise-killing cable
A DAC like this is only as good as its cable. A&K ran with that idea and made this DAC's cable top-shelf. The custom-made, durable, four-core cable was built to block out noise.

A closer look inside the four-core cable.
The cable is made by wrapping thicker-than-usual silver-plated copper wire and regular copper wire around a Technora Aramid fiber center core. Afterwards, a separate shielding treatment is applied to the cable. Both of those steps keep the noise floor excitingly low while providing a rich sound.
Listening impressions
I did some in-depth testing with the USB-C Dual DAC Cable. I wanted to get a good performance baseline before I ever hooked the Astell&Kern up, so I brought out a couple of other USB DACs I own.
I pulled up my "audiophile listening" playlist on TIDAL, which consists of songs that are extremely well-recorded, and got to work. I started by listening to my Focal Elegias just plugged into my phone. I then moved onto the other two DACs I had before satisfyingly plugging the Astell&Kern in for the final test.
The first track I played on the Astell&Kern was "Bloodshot" by Albin Lee Meldau. The realistic sound I heard put a smile on my face. The subtle resonance of the guitar's body and the little string buzzes and slides that were interwoven with Meldau's soulful voice gave the track a new life. I could tell I was hearing details that my other DACs didn't bring out.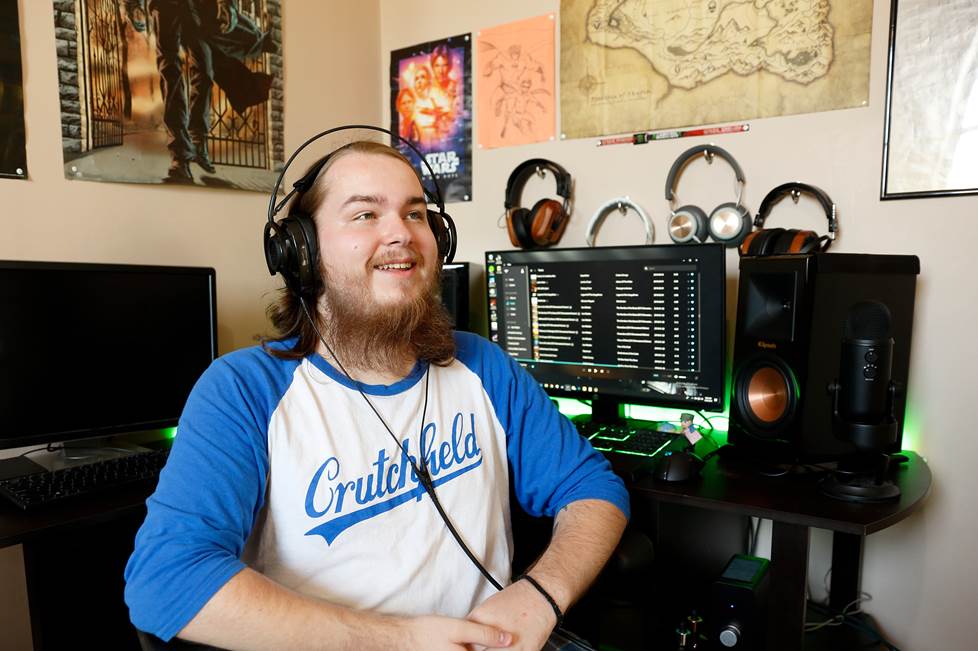 Me in my home office enjoying some tunes on TIDAL.
Impressively enough, the soundstage was also wider than I was expecting, considering my Elegias are closed-back headphones. I had to hear more.
The next song on the list was "Ready or Not" by Fugees. It's a classic hip-hop track with female vocal harmonies, crisp snare hits, and some punchy bass. The Astell&Kern helped make the vocals come through more clearly and coherently, and sit better in the mix. There was a great deal of separation across the board, especially in the harmonies. The bass had some extra kick to it, too — it was clean, precise, and helped give the music some extra momentum.
Finishing things off, I played Devin Townsend's live rendition of "Deadhead." On the USB-C Dual DAC, it was one of the most captivating performances I'd ever heard. His acoustic/electric guitar sounded fantastic, especially considering all the odd chords Devin likes to play. I got a good sense of how large of a venue he was playing in, and I could feel the crowd's energy reverberating through it.
The thing that impressed me the most is how textured Devin's voice was, particularly in his higher register. There was so much emotion and pent-up angst, which my other DACs didn't quite manage to get across. The Astell&Kern made me feel like I was listening to the song for the first time all over again (goosebumps included).
Product highlights
twin Cirrus Logic CS43198 MasterHIFI™ 32-bit digital-to-analog converter chips
supports any headphones or earbuds with a 3.5mm connector
uses Astell&Kern-specific micro resistors and tantalum capacitors to suppress power fluctuations
works with most USB-C devices, including Android smartphones and Windows and Mac computers
custom 4-core cable helps to block out external noise
frequency response: 20-20,000 Hz
signal-to-noise ratio: 118dB
total harmonic distortion: 0.0004% @ 1kHz
output impedance: 2 ohms
warranty: 1 year
Any questions? Reach out to us
If you'd like to know more about DACs and how to pick out the right one, check out the DAC buying guide my buddy Jeff wrote. Also, don't hesitate to reach out to any of our advisors. They're extremely knowledgeable and get hands-on with a lot of the gear we carry.