Audiofrog: Materials and design that make a difference
Audiofrog knows that if you're spending a lot of time, energy and money to redesign the sound in your car, you want that system to last. That's why each Audiofrog component is made to their exact specifications. Even the capacitors in their passive crossovers bear their name. Because of such high standards, you'll find the handsome look and heft of Audiofrog components nearly as satisfying as their performance.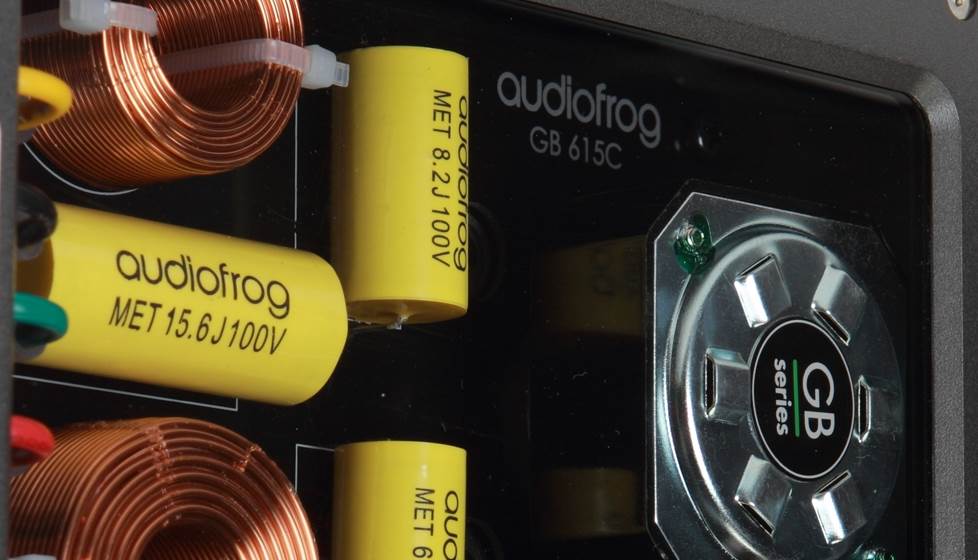 A close up look at the GB615C crossover
Tweeters
With their sturdy cast zinc housing and versatile mounting gear, Audiofrog tweeters are equipped for installation nearly anywhere you can fit them. Why does Audiofrog put so much focus on speaker installation? It's because they want the high range in your car to live up to the full potential of their tweeters. By mounting the GB10's or GB15's as close to your ears as possible, their soft-dome design will work more effectively in tandem with GB Series midrange drivers to create a satisfyingly smooth transition through the upper range.
Midrange drivers
Each GB midrange driver, the 2-1/2" GB25, the 4" GB40 and the 6-3/4" GB60, benefits from Audiofrog's extensive real-world testing. Time after time, these speakers performed impressively under duress thanks to a honed design and resilient materials. And Audiofrog makes efficiency a priority, ensuring that every piece of a GB midrange driver plays an essential role in delivering an exceptional sonic experience: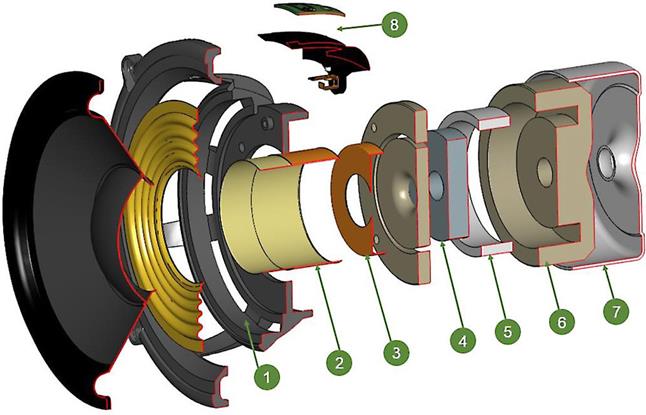 A closer look at what goes into an Audiofrog midrange speaker
Vented cast aluminum basket for extended durability and heat dispersion
2" diameter copper voice coil (GB60), 1" diameter voice coil (GB40 and GB25)
Copper pole piece cap for better high-frequency extension
Neodymium magnet for strong, consistent movement over a long life
Aluminum shorting ring for ultra-low distortion when the speaker is working its hardest (GB60)
Steel "U"-yoke provides increased heat sink for higher power handling
Polished and plated magnet cover
Custom screw terminals accept up to 12-gauge speaker cable
Crossover networks
Audiofrog's crossover networks are no afterthought, they're an investment in excellent sound. Polypropylene capacitors and air core inductors provide high power handling. The polished look of the all-aluminum casing and incorporated window to admire the circuitry inside give you good reason to show them off. By mounting them flush with your car's trim panels, you'll definitely make an impression with anyone ogling your car's interior.
Our favorite feature of these components is the tweeter attenuator dial which allows you to balance your sound with 1/4-dB adjustments. If you're investing this much in the ultimate system, Audiofrog thinks you should be able to make it perfect.
Subwoofers
Audiofrog's 10" and 12" subwoofers deliver serious boom in either sealed or vented enclosures and come in dual 2-ohm and dual 4-ohm configurations. Like their mid- and high-range counterparts, their performance is the result of Audiofrog experts' years of accumulated hands-on experience: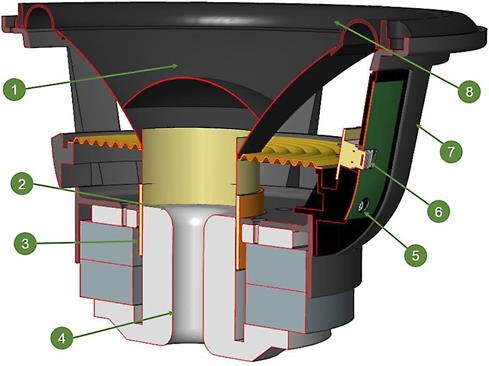 Treated paper cone and dust cap for sensitive performance and endurance
Copper ring for superior midbass impact and reduced distortion
3" diameter copper voice coil wound on a fiberglass former
Extended pole piece and back plate for reduced mechanical noise and magnetic symmetry above and below the gap
Screw terminals that accept up to 12-gauge speaker wire
Impedance selection switch
Cast-aluminum, vented basket for superior cooling and reduced mechanical noise
Rubber surround and front gasket
A no-skimp approach
Because they use such high-quality materials and superior designs in their components, Audiofrog products aren't cheap, but the company stands by their commitment to be the best with this credo: "Exceptional is a worth a little extra." We agree. When it comes to hi-fi audio, quality makes a difference.
Learn more about Audiofrog
For more information on Audiofrog's car audio products, just give us a call. Meanwhile, take a look at our other Audiofrog articles: