Automatic Car Adapter review
Track your driving data and decode the "Check Engine" light
Heads up!
Welcome to this article from the Crutchfield archives. Have fun reading it, but be aware that the information may be outdated and links may be broken.
Editor's note: The Automatic is no longer available, but you can see similar products in our full list of car diagnostic monitors.
Maximizing your fuel efficiency is always a good thing. So I typically try to do anything I can do to hit the efficiency sweet spot. Enter the Automatic Car Adapter. It's a cool module that you plug into your car's OBD (on-board diagnostic) port that...well, it does a ton. I plugged it into my car for my summer baseball road trips, and...I learned a few things.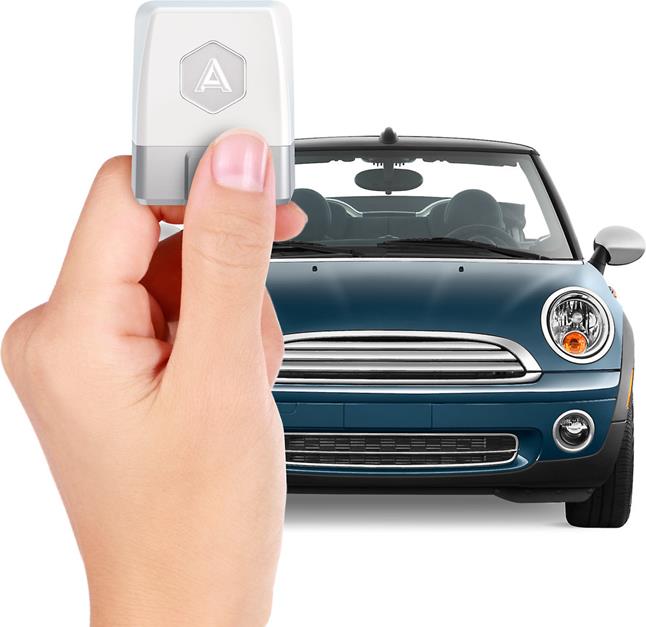 The Automatic Car Adapter monitors and analyzes your driving habits, including speed, hard braking, and hard accelerating (you can even set it to generate audible alerts if you go too fast, brake too hard or accelerate too quickly), to give you a score that helps you determine how efficiently you're driving. The module then uses Bluetooth® and a free app to send the analysis and score to your smartphone. The closer to 100 you score, the more efficiently you're driving, and the less gas you're using. And I have to admit, after using the module for only a few days, I became completely hooked.
Let me say this right off the bat: the Automatic Car Adapter is a tough grader. My first few trips in town were flawless. Good speed, no hard braking and no hard accelerating. I was sitting pretty at 100 points. Then came the Interstate.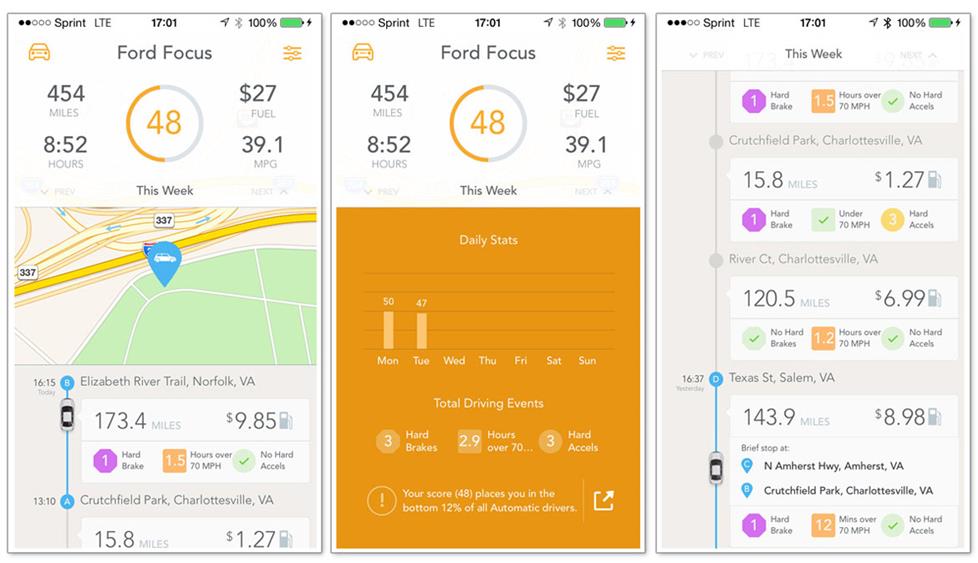 The free Automatic app shows you a detailed analysis of your driving habits. Here are three screenshots from the app; from left to right: the current trip (including car location, which taps into your nav app to help you find where you parked, which is very cool), your weekly results with day-by-day breakdown, and the list of trips you've made.
On stretches of Interstate I traveled to make my baseball rounds, the speed limit is generally 70. And I might have bumped the ol' cruise control just a bit above 70 (and only a bit, I swear). But that was enough to dock me some serious points. Studies have shown that generally speaking, you take a big efficiency hit when you drive above 70. With Automatic, the longer I stayed above 70, the more points I lost. I could've adjusted the speed threshold in the app, but I decided to trust their data and stick with the default setting. To be honest, it was a fascinating thing to keep track of, and made me strongly consider the tradeoffs. Is gaining a few minutes on a trip worth the hit to fuel efficiency?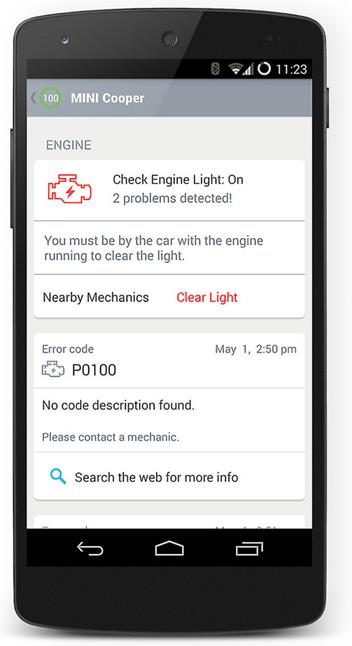 The Automatic Car Adapter also offers other cool features, including a diagnostic code reader. If your check engine light comes on, the module will send the code and what it means to your smartphone app. Then, you can fix the problem yourself, if it's minor, and use the Automatic to reset the code. If you choose to take the car to a mechanic, the app helpfully lets you access a list of nearby shops.
Automatic also offers a Crash Alert feature that will call for help if the module detects that you've been in a crash. You can also assign a phone number from your contact list to be called in the event of an accident. Luckily, I didn't have to try out these features (though I did take a gander at the list of local shops).
The module and app also feature tutorials for teenage drivers, to help inculcate responsible and efficient driving habits, which is certainly a helpful thing for parents. And the most amazing part – all of this is free when you buy the module. That's almost unheard of.
Topping it all off, you can log onto Automatic's website and check out your personal Dashboard, where you can further analyze how you've been driving, and see a detailed map of where you've been (including the gas mileage you've gotten on any given trip). For anyone into informational analysis like this, it's tons of fun.
For more information about what the Automatic Car Adapter can do for you, check out our Connected Car article. If you have any questions about it, contact our advisors via phone, email, or chat.