Best Blu-ray players for 2021
See our expert's top picks
In this article: Our list of best Blu-ray players ...
... with links to hundreds of customer reviews. We wrap things up with our Blu-ray player buying tips.
Blu-ray players are back in demand. The reason why? Well, after our customers purchase a 4K TV or projector, they tell us they want to see what their new TV can really do. And 4K Ultra HD Blu-ray players offer the best possible picture available.
Plus, standard Blu-ray players are more affordable than ever. If you want to play your old DVDs, CDs, or Blu-ray discs — or you rent often from Redbox — they're well worth the price.
Our top picks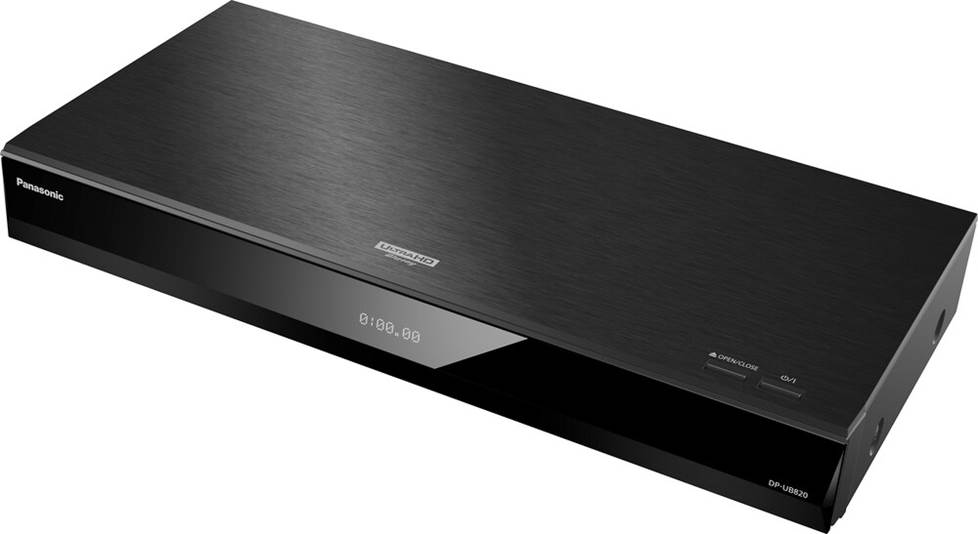 Panasonic DP-UB820 — Best high-end 4K Blu-ray player
Let me address the elephant in the room: Oppo left a huge void in this category when they stopped making their stellar UDP-203 4K Blu-ray player — our "best high-end player" for 2018. For a while, we struggled to fill this top spot with a replacement.
Then we got our hands on the Panasonic DP-UB820 4K Ultra HD Blu-ray player. It has arguably the best video processor ever available. That's right, some reviewers prefer the picture quality over the legendary Oppo!
We recently set this up this player in our vendor training room and can see why. It was was early July, so we watched Jaws on standard (non-4K) Blu-ray.
You'll find some beautiful cinematography in Jaws — those iconic, sweeping ocean and beach shots. "But I've never thought of this vintage film as the 'gold standard' for picture quality," said our TV expert Steve Kindig, "I have to say, watching on the DP-UB820, I saw a sharpness and richness that I hadn't seen before."

Panasonic's DP-UB820 delivers first-rate audio, too. It features a premium built-in DAC and several analog and digital outputs for connecting to a receiver, preamp, or amplifier.
Here's Steve to explain Panasonic's special tone-mapping technology, and other advanced features. These help their players provide the best picture for Ultra-HD Blu-ray with high-dynamic range (HDR) — no matter what 4K TV or projector you use:

Sony UBP-X700 — Best budget 4K Blu-ray player
The Sony UBP-X700 isn't quite as loaded as the Panasonic, but for the money there's a lot of value here. In fact, this is the player I actually own. It was an impulse buy — I couldn't pass it up for the price!
And on movie nights, I'm more than happy with my purchase. The UBP-X700 player delivers an excellent 4K picture and serves up the vivid color array that make Sony 4K TVs pop. It even offers up the two most popular HDR formats, both HDR-10 and Dolby Vision.
This player also has dual-band Wi-Fi and can stream Netflix and Amazon Prime video in 4K.

Sony BDP-S3700 — Best budget-priced standard player
Haven't gone 4K yet? Still want a great picture for your HDTV?
The Sony BDP-S3700 provides a great 1080p picture. It will even play – and upconvert – your old DVD collection. It also costs about the same as our cheapest Roku video streamer and offers access to Netflix.
This player is much more compact than the others on this list – Sony didn't even include a front-panel display. Also, the plastic disc tray is not nearly as sturdy as the higher-end players. But you do get a lot of bang for your buck.

Panasonic DP-UB9000 — Best 4K Blu-ray player for audiophiles
Panasonic's top-of-the-line DP-UB9000 player includes the same video processor as their DP-UB820. But it takes the sonic features up another level.
Want the best of the best for audio? Look inside: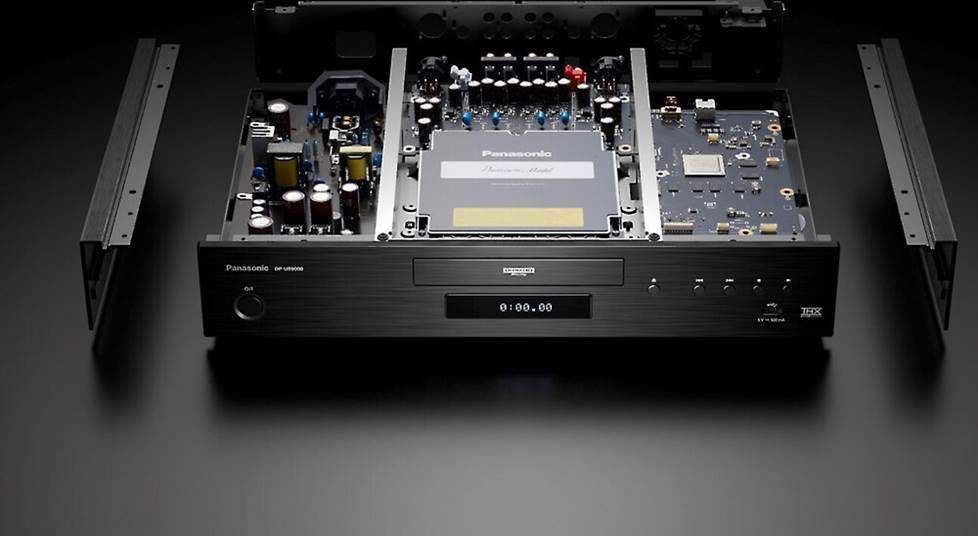 This is one of the very few Blu-ray players you'll find with a vibration-reducing metal chassis, and the disc drive is rock solid. Panasonic's engineers separated the power for the audio DAC and analog output circuit, greatly reducing noise generated by the optical drive and video signal processing.
When it comes to music, the player delivers rich, detailed sound for your CDs, and its high-performance DAC can handle high-res PCM and DSD audio files. "To be fair, the DP-UB9000 doesn't match the flexibility of the Oppo players." said Steve, "But as a Blu-ray player, it is currently without peer."
Blu-ray player buying tips
Do you have a 4K or OLED TV? You DEFINITELY want a 4K Blu-ray player – as I said, it gives you the best picture.
Planning on getting one soon? It is worth purchasing a 4K player now. A 4K player can display DVD and standard Blu-ray discs on a 1080p screen.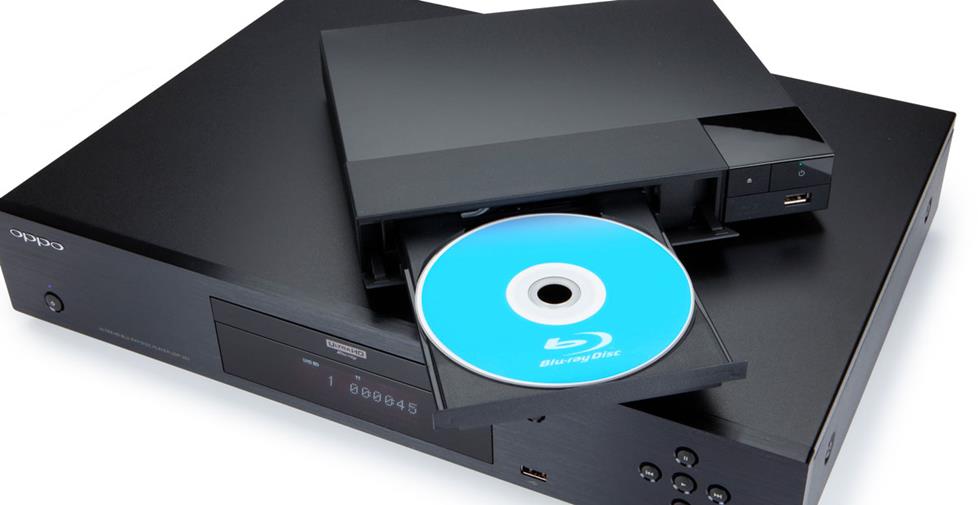 The compact Sony BDP-S3700 player shown on top of a full-size player.
Form factor
Larger players work well in serious home theater setups, but there are also extremely compact Blu-ray players. They can fit neatly into tight places, like a bedroom or smaller TV setup.
Want to stream movies, shows, and music?
You can play Netflix or Amazon Prime video on most new TVs. But if you need a way to stream to your projector (or older TV), many Blu-ray players will do the trick.
Some players require a wired Ethernet connection, while others work over Wi-Fi®. The streaming services vary. Check the product descriptions for details.
Connections
All Blu-ray players have an HDMI output to connect the player to your TV or receiver. But if you're going to connect it to an audio system without HDMI connections, look for a player with dedicated audio outputs.

The Panasonic UB-9000 offers both digital and analog audio outputs for connecting to high-performance or professional audio gear.
We can help you choose
For more shopping tips, see our complete Blu-ray players buying guide.
Have questions? Contact us today.
Our expert Advisors know the gear inside and out. Your Advisor can send specific Crutchfield pages to your screen, saving you a lot of browsing time. You'll get a shopping cart loaded up with everything you need for your new home theater.
Free lifetime tech support is included with your Crutchfield purchase.