Best earbuds for small ears in 2022
Six earbuds that stay put and feel great
Heads up!
Welcome to this article from the Crutchfield archives. Have fun reading it, but be aware that the information may be outdated and links may be broken.
In this article: Our top earbud picks for people with small ears, based on hands-on research and feedback from Crutchfield customers...
... plus, some advice on fit, comfort, and how to find the right in-ear headphones for you.
Here's a secret I've learned from years of auditioning earbuds: they are only as good as their fit. And I often hear from people with smaller ears who tell me that most in-ear headphones just aren't for them. They find earbuds are too bulky and uncomfortable.
Crutchfield's social media director Alexis is in this camp. She's tried out several different models of earbuds before she found ones that fit her ears. "Sometimes I just can't keep them in place," she said, "and other times they'll stay put for a while, but eventually fall out — or they just hurt."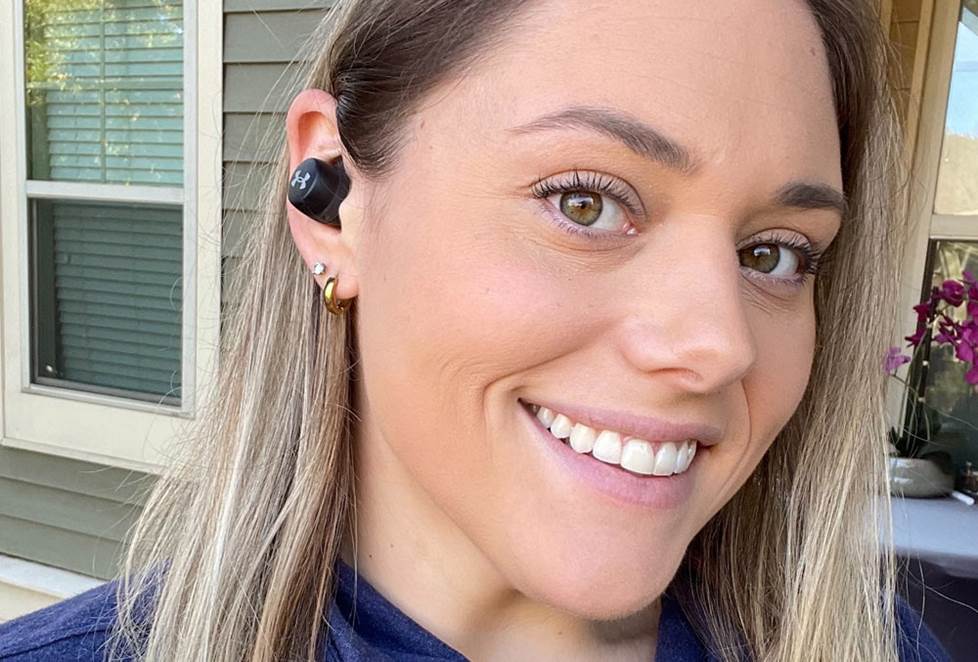 Our social media director Alexis found that the ultra-compact JBL Under Armour Streak earbuds stayed in place better than most she had tried.
There's no such thing as "one size fits all"
Headphones — like ears — come in all shapes and sizes. And when we did our deep dive on over-ear headphone comfort, we learned that there's no one-size-fits-all solution. Even the headphones we named "most comfortable" had their detractors.
It's the same with earbuds. Alexis said she tried many in-ear headphones that are almost universally praised for their comfort and they just don't fit her ears well. But the reverse is also true — just because you've tried some earbuds that don't fit, you shouldn't give up your search!
Ear tips — a good place to start
Pay attention to the number of ear tips included. Some earbuds come with a generous offering of ear tips, including some small and extra-small sizes.

Most earbuds include at least three sizes of ear tips — and sometimes you'll find more.
Just remember, not all ear tips are the same. They are made with all types of materials, that can be more or less malleable, or better avoid pressure points. Plus, just because you get different sizes of ear tips, doesn't mean you get the right size.
And true wireless earbuds — our most popular and convenient in-ear 'phones — have to pack all their wireless technology, drivers, and acoustic circuitry into a tiny space. Sometimes that increases the overall size of the earbuds. Other times, manufacturers will distribute some of those "working parts" into the space closer to your ear. And in that case, the ear tips can only be so small or flexible.
Good news! True wireless earbuds have quickly evolved and improved since they hit the scene. There are more options for more specific purposes. And forward-thinking companies like Klipsch and JBL have been studying in-ear fit and comfort for decades.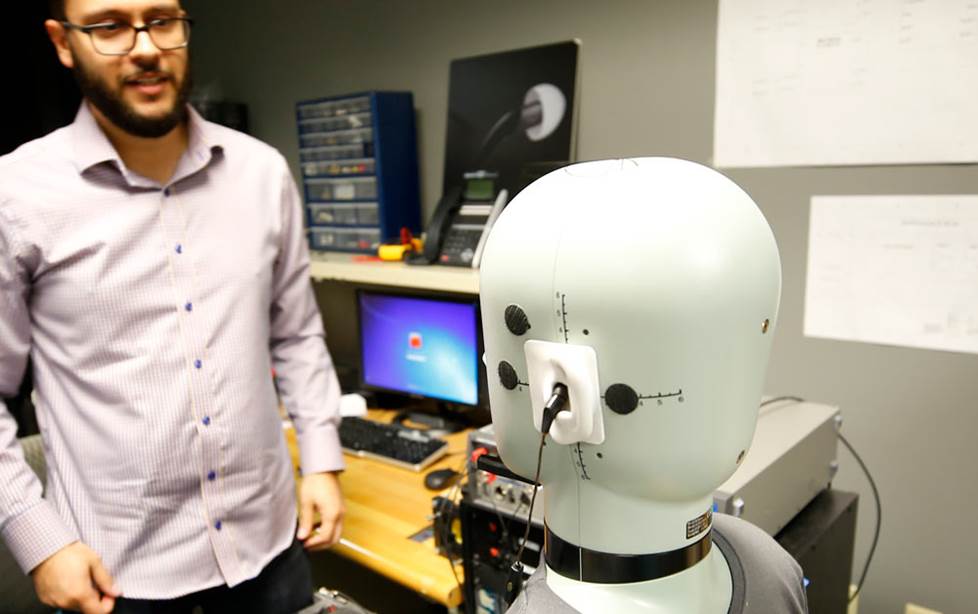 A few years back, I toured Klipsch's headphone lab in Indianapolis, where they study in-ear fit and how it relates to comfort and audio performance.
Our top picks
Through research and feedback from customers, family members, and Crutchfield co-workers like Alexis, I've identified some of the best earbuds available for smaller ears.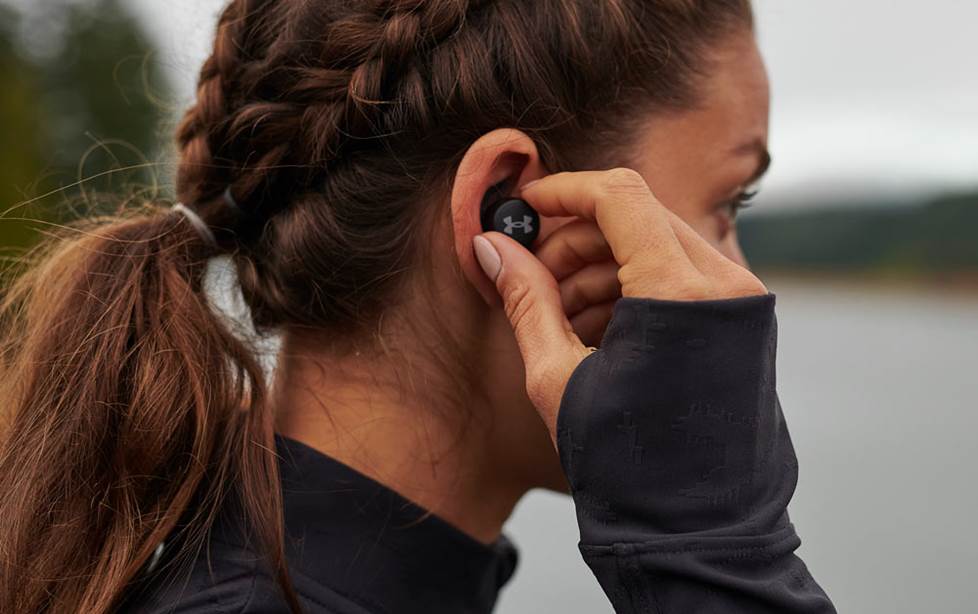 Best for workouts — JBL Under Armour Streak ultra-compact sports earbuds
The streamlined JBL Under Armour Streak earbuds are the first headphones I've seen that are designed specifically for small ears. So of course I had to get a pair for Alexis to try.
They include three small sizes of ear tips, along with optional ear fins to further secure the fit for exercise. And they're made from high-grade Under Armour materials that are durable and IPX7-rated waterproof.
"I put these earbuds to the test for about an hour with an at-home workout," said Alexis. "I never felt like they needed to be adjusted — even when I got deep into cardio."
That's crucial for comfort, for sure, but it also helps sonically. You want to have a nice seal with the drivers properly aligned. The seal helps them deliver JBL's crowd-pleasing sound — Alexis noted the sound was well-rounded and powerful with a nice punch of bass.
That's not by accident. JBL always does a great job of sound-tuning for sports earbuds. Through years of industry-leading headphone research, they've developed an in-house sound profile that's been proven to satisfy most listeners.
Details
100% wire-free sports headphones designed for smaller ears
Bluetooth 5.0 for wireless music listening and calls
IPX7-rated waterproof design made of premium, reflective Under Armour materials
includes 3 smaller sizes of ear tips for a customized fit: XS, S, and M
3 sizes of winged ear fins to help keep earbuds in place
5.8mm dynamic drivers tuned for energetic sound with deep bass
6 hours of battery life (carrying case banks up to 12 hours of power)
weight: 0.45 ounces (both earbuds)
Best for iPhone — Apple AirPods
Meet Alexis' everyday headphones. That's right, after trying several true wireless earbuds, Alexis' search ended where many people begin — the Apple AirPods. Alexis uses the second generation AirPods for work and when she's on the go.
They rest in the ear, rather than going in too deep, so they're less obtrusive. And they work incredibly seamlessly with her iPhone for music and calls. She did point out that she didn't use them often for working out — the more secure-fit JBL UA Streak earbuds work better for that.
But if you haven't tried the AirPods, for most tasks they stay in place better than you might think. My wife Meghan (who also finds a lot of earbuds too bulky) was pleased with their fit. "When I see people wearing AirPods out in public, they look like they might fall out," she said. "But they actually stay in pretty nicely, and don't wiggle around at all when I move my head."
For the new, even smaller third-generation AirPods, Apple has even tweaked their Adaptive EQ to account for any sound that leaks in. Their special processing can sense how the AirPods fit in your ear and adjust the midrange and bass accordingly.
Details (2nd generation)
built-in Bluetooth for wireless music listening and phone calls
Apple's H1 chip provides seamless, reliable wireless connection with iPhone and other Apple devices
dual beam-forming microphones with voice recognition for calls and Siri control
control music, volume, and Siri by tapping either AirPod
AirPods can be used one at a time or as a pair
rest inside the ear when worn
5 hours of battery life (carrying case banks up to 24 hours of power)
AirPod weight: 0.14 ounces (each)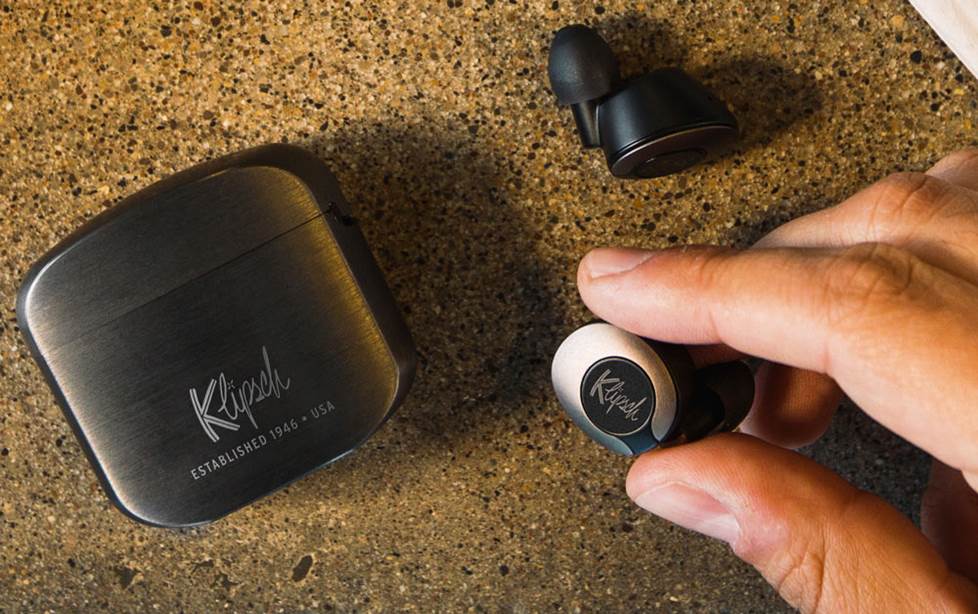 Most comfortable — Klipsch T5 II True Wireless
You'll find the latest and greatest iteration of Klipsch's patented oval ear tips in their T5 II true wireless earbuds (and all of their T5 II-series headphones). A few years back, I got a chance to see firsthand the time and research Klipsch has put into developing these soft, cylinder-shaped silicone ear tips. I visited their Indianapolis headquarters and spent some time in their headphone lab.
Vlad Grodzinskiy, Klipsch's director of product development, showed me several tackleboxes full of rubber-ish molds of actual ear canals. He told me they were from studies going back decades — where they captured the shape of over 1,000 peoples' ear canals. "We were looking for a common similarity among all different ear types," he said.
They noticed an oval cross-section in each mold — no matter the size. So that dictated the shape of their famous tips.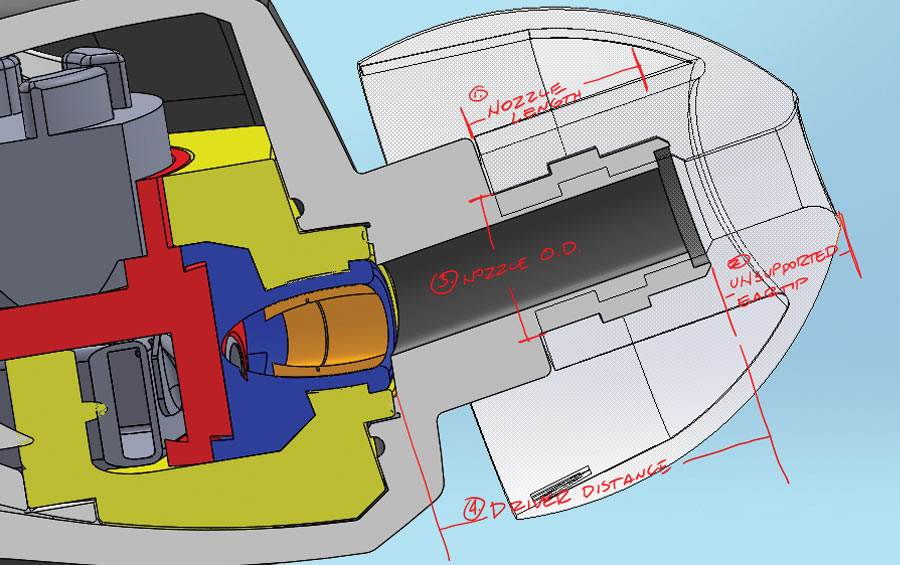 This early design sketch of the Klipsch T5 II shows how carefully they considered the in-ear size and fit. Illustration by Klipsch's Tony Martin.
But perhaps more importantly, they set strict size parameters for the part of the earbud that you insert inside your ear canal. "So what normally happens is you have your nozzle and then over the top of that you have an ear tip," said Vlad. "And the size of both together shouldn't exceed 6mm."
For the T5 II earbuds, they engineered a thinner nozzle so that the oval tips could better conform to the ear, avoid pressure points, and create a noise-isolating seal. Klipsch's renowned industrial designer Tony Martin sent along some early drawings to illustrate how important the dimensions were to comfort.
"We also meticulously tracked the overall weight," Tony said.
Details
Bluetooth 5.0 with aptX® and AAC decoding for high-quality music streaming
includes 6 sizes of patented Klipsch oval ear tips for a secure, noise-isolating fit
fits natural shape of ear canal and offers up to 22dB of noise attenuation
IP67 waterproof design
5mm dynamic drivers voiced similarly to Klipsch speakers for forward, full-range sound
8 hours of battery life (carrying case banks up to 24 hours of power)
weight: 0.4 ounces (both earbuds)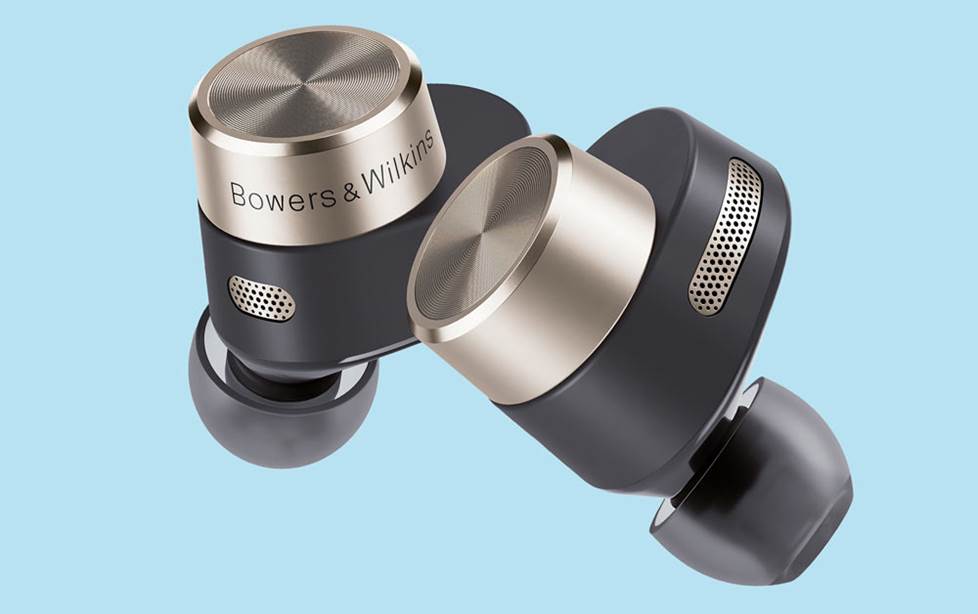 Best noise cancellation — Bowers & Wilkins PI7
These noise-canceling earbuds from the legendary British audio company Bowers & Wilkins sport a sleek, designer look. In fact, the B&W PI7 true wireless earbuds have the overall smallest physical design on this list. But they offer a level of performance that might leave you asking, "how did they fit that all in there?"
They deliver premium sound and among the best noise cancellation you can get from a set of in-ears. They cancel noise as well as some over-ear headphones, which is impressive, and they even passed my lawnmower test. The engine noise was quieted down to where I could listen to podcasts at a low volume.
That's the obvious reason they're so great for air travel, knocking out that plane engine rumble. But their demure size also makes them less cumbersome when you're leaning on a pillow or napping. And here's a clever travel hack — the charging case can double as a wireless audio transmitter. You can connect it to in-flight entertainment systems or a laptop and send audio wirelessly to the earbuds.
Details
Bluetooth 5.0 with multi-point connection for pairing to two devices at once
six-mic system helps monitor external sound and automatically adjust noise cancellation
includes 3 sizes of silicone ear tips to keep earbuds secure
streamlined, IP54 waterproof design from premium materials (aluminum housings with satin finish)
hybrid dual-driver system (9.2mm dynamic driver and balanced armature) inside each earpiece
4 hours of battery life with noise cancellation (carrying case banks up to 16 hours of power)
weight: 0.55 ounces (both earbuds)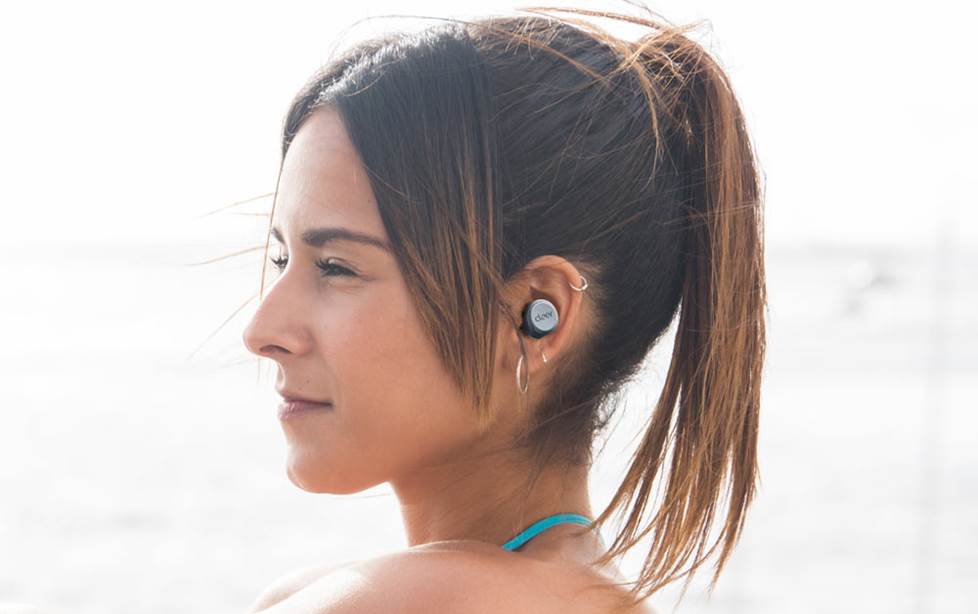 Best value — Cleer Ally Plus II
The Cleer Ally Plus II earbuds boast a premium feature set at a competitive price. That includes active noise cancellation and the longest battery life I've seen in a set of true wireless earbuds. Cleer also uses 10mm drivers that are physically larger than you find in most earbuds. But they're housed in the area that sits outside the ear and the weight is well-distributed.
My wife Meghan tried them and pointed out that they sit flush with the ear, so they don't feel or look unwieldly. And Cleer has honed their soft-gel silicone ear tips over the years to ensure they create a more secure seal.
Cleer includes eight pairs of ear tips — three sizes of angled tips and five sizes of rounded tips. The latter includes an "extra-small" option, and the "small" size that Meghan preferred. She told me she never had to adjust them or put them back in place through long-distance walks and runs. And the larger earbud housings didn't cause any extra strain.
Cleer includes easy access to their "ambient" mode for when you're out and about. You can toggle the noise cancellation off by tapping either earbud. Ambient mode will use the built-in mics to pick up external sounds.
Details
Bluetooth 5.2 with aptX® Adaptive automatically adjusts to prioritize audio quality or low latency
adaptable noise cancellation and ambient mode
includes 8 pairs of silicone ear tips (5 sizes of rounded tips, 3 sizes of oval tips)
large 10mm dynamic drivers tuned for clear vocals and deep, punchy bass
built-in rechargeable batteries offers 11 hours of listening with noise canceling off (case banks 22 hours of power)
sweat-proof design with touch controls over music and calls
weight: 0.48 ounces (both earbuds)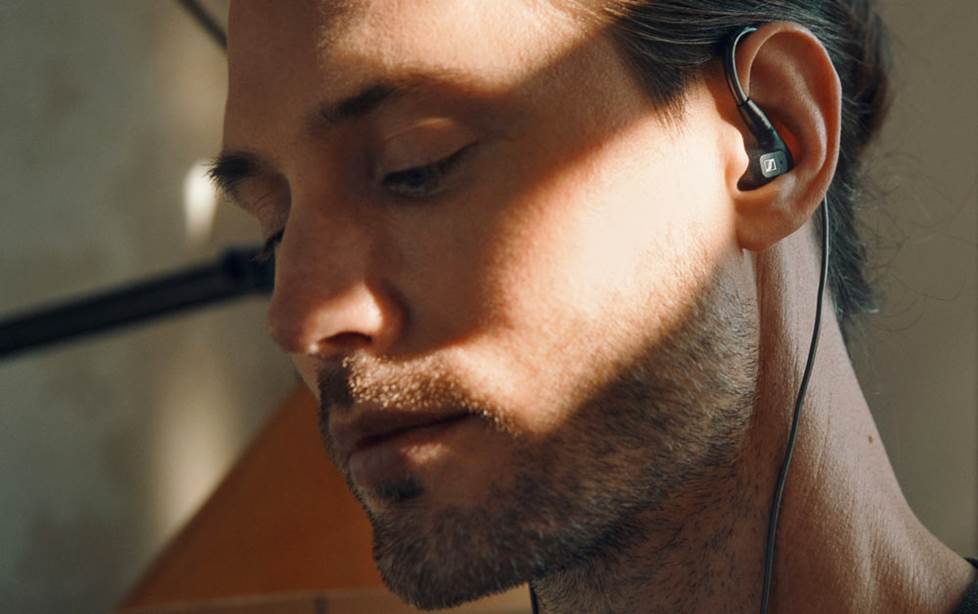 Best wired earbuds — Sennheiser IE 300
While you can't beat the convenience of true wireless earbuds, I find that you'll still get the absolute best sound from old-fashioned wired headphones connected to a headphone amp. Take the premium Sennheiser IE 300 in-ear headphones. When paired with a portable AudioQuest DragonFly amp they deliver an "outside-the-head" sound that's cohesive, detailed, and layered.
Plus, they have a distinct streamlined design that contours to the ear, with a wraparound cable that secures them into place. Sennheiser includes three sizes of silicone tips and three sizes made of foam. The foam tips squeeze into place, then expand to create a noise-isolating seal.
Details
high-performance wired in-ear headphones
sound and fit inspired by professional in-ear monitors (IEMs)
includes 6 pairs of ear tips for a customized, comfortable fit (3 sizes of silicone tips and 3 sizes foam tips)
lightweight, streamlined earbud housings for a comfortable fit
over-the-ear cord routing system keeps headphones secure
detachable 48" cable with 3.5mm stereo miniplug
Still have questions?
Get in touch with one of our Advisors for personalized shopping help. They can help you find the right headphones for your ears and listening habits.
Popular questions customers ask
Over half of the true wireless earbuds we carry support single-earbud operation. Most of those models offer music and call controls with just one earbud in.
Many of the true wireless headphones we carry offer some form of protection against water. Some models are IPX4 rated and can survive light splashes of water and sweat. Other models are IPX5 or even IP67 for extra protection.
The earbuds themselves normally have anywhere from 6 to 10 hours of playback time before they need to be recharged. The charging case that comes with the earbuds banks anywhere from 14 to 30 hours of power.
Earbuds offer good passive noise cancelation on their own, but some models have built-in active noise cancelation circuitry to make your world even quieter. The level of noise cancelation can be adjusted either on the earbuds themselves, through an app, or a combination of both.
Some true wireless headphones have voice assistant support built in. You can access Google Assistant or Alexa by using the controls built into one of the earbuds.