Best gaming headsets for 2022
Four headsets that help you make the most of your gaming experience
In this article: I'll hook up a few key gaming headphone recommendations, based on common gaming scenarios.
Best for surround sound — Audeze Mobius
Best for Xbox and PlayStation — Audeze Penrose
Best for pro gamers — Astro A50
Best value — JBL Quantum 300
As we start our journey, I'll discuss some of the many benefits of a quality pair of gaming headphones.
A lot of people ask us if a gaming headset is really worth the expense. "Can't I just stick to my TV or computer audio? How much of a difference could it make? It's just beeps, boops, and pows anyway, right?" Oof. Be still, my breaking heart. Few things could be further from the truth.
If you're looking for the best experience possible, you need to think about your sound too. Video games are about way more than just the visuals, and they've come a long way as a form of media. A game can be a fully-fledged piece of interactive art that challenges our perceptions or a competitive sporting event watched by thousands of people at a time. In all of these cases, sound fulfills a fundamental role for our gaming experience.
A rocking pair of gaming headphones is a budget-friendly way to get a hold of high-quality, audio and keep up with the competition. The audio feedback you get from a game is a big deal. Sound cues inform reaction speed, timing, and situational awareness in-game. Our ability to react to auditory stimuli is actually faster than our ability to do the same with visuals. In other words, you're able to respond to what you hear before what you see.
A lot of games these days also have banging soundtracks that match the emotional content of the story. This draws you in further and invests you in the fate of the characters (I'm looking at you, Witcher 3.) A good gaming headset can give you the full experience of both the game world and the joy of music.
So, how do I find the right pair of gaming headphones? Let's get specific.
How to choose a gaming headset
We aim to provide all the information you need to make an informed decision on our product pages. As you're looking over these details, you'll want to think about how you plan to use your gaming headphones.
Are you looking for an immersive single player experience or digging into competitive multiplayer? Do you play casually, maybe an hour or two a day, or are video games a full-time hobby? Let's chat about some key the elements of a good gaming headset to help you pick out the right one for you.
Comfort
It's not uncommon for gamers to play for hours at a time. Little details like weight, clamping force, and earcup material become more important the longer you wear your gaming headphones at a time.
Softer, plushier materials on both the earcups and headband tend to be better for gaming, as well as lighter clamp. You want your headset to be secure, but if it's too tight it'll wear on you and quickly become distracting.
Surround sound
A full surround sound system can be expensive and often means filling your room with speakers. Headphones with virtual surround sound can provide a similar experience at a fraction of the cost.
Surround sound is a big consideration for immersive single player games. Few things put you right into the middle of the action like the feeling of sound enveloping you from all sides. If you're playing Resident Evil 2, hearing a zombie shamble towards you from behind will send a shiver straight up your spine.
Detailed environment cues are vital to keeping your competitive edge sharp, too. When I play The Hunt: Showdown, every gentle tap of a nearby enemy's footsteps or crinkle over broken glass can tip us off to a hidden attacker. Being able to pinpoint a gunshot echoing in the distance also tells us where to go hunting, so we can creep up and lay down our own ambush.
Noise isolation
A good pair of gaming headphones will provide noise isolation, cutting ambient sound out of the picture. You'll want to hear the game's soundtrack, not the air conditioning kicking on. Cutting out distracting noise helps you maintain immersion for single player games and help you catch audio cues like footsteps when you're playing competitively.
Over-the-ear gaming headphones tend to provide the best noise isolation, creating a physical barrier between your ears and other sounds in the environment.
Microphone
Team communication is vital to competitive gaming and absolutely requires a gaming headset with a microphone. Team-based games like an FPS (first-person shooter) or MOBA (multiplayer online battle arena) benefit the most from a good built-in or attachable microphone.
Coordinated teamwork beats a disorganized group of individuals. Your team needs to be able to hear you over the game track or any environmental noises around you. In a close game, split-second decisions can end up giving you the win or leaving you feeling salty.
The best headsets have a mic that isolates your voice from other sounds in your environment. This both makes it easier for your friends to hear you and prevents distracting noises from leaking into your game chat. It's hard to focus on the game if all you can hear is the rustling of your teammate's bag of chips.
Wired vs wireless
Wired gaming headphones offer a secure, reliable connection. They also tend to be budget-friendly, netting you a sound upgrade without putting too much strain on your wallet. Most wired headsets connect directly to your controller, but some might require an additional cable connected directly to your PC or console. Whenever that's the case, you need to consider how far away you plan on sitting.
On the flipside, wireless headphones give you a greater range of freedom, letting you move around without worrying about unplugging yourself accidentally. This helpful especially between matches or when the game is paused. You can set down your controller and take a break without taking your headphones off. Bluetooth headphones have become the go-to solution for many gamers because of how easy and flexible they are to use.
Our top gaming headphones for 2022
We carry a solid range of gaming headsets. I've highlighted a few of our best below, separated by the features that help them stand out of the crowd. This should help guide your search so you can pinpoint a headset that will fit your application.
Best for an immersive experience — Audeze Mobius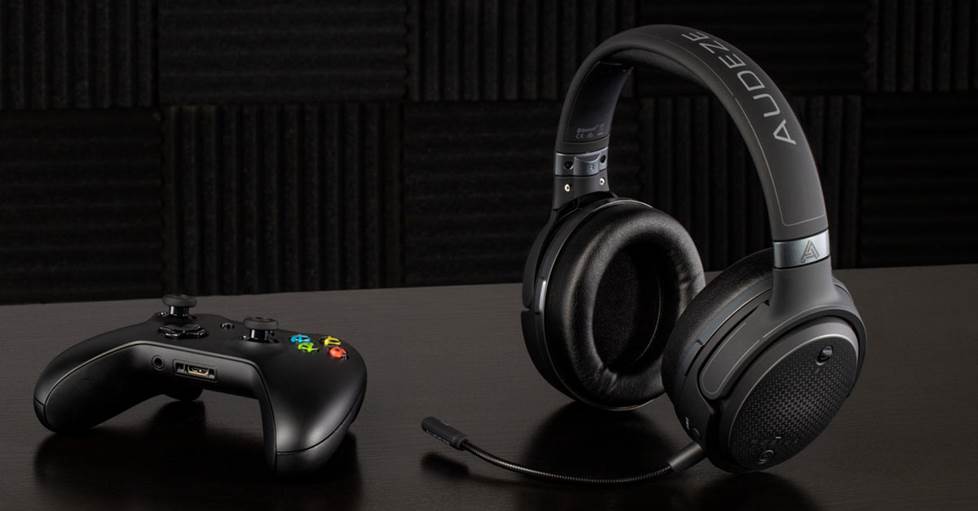 The Audeze Mobius caused a bit of stir with the gamers here at Crutchfield. Several of us were pretty impressed, and our headphone guru Jeff Miller covered these awesome headphones in an in-depth review. Jenny, one of our IT specialists, breaks it down like this:
"I've always been impressed by the soundscape of Destiny 2. There are all of these little nuances and subtleties that drop you into the world. Through the Mobius headphones, the sound was as enchanting as the graphics and the gameplay. I felt like I was in the middle of the game. Especially when an explosion or surprise attack would come from one direction or another, and bring on that ping of panic in my chest."
The Audeze Mobius blanket you in impactful 3D audio. They bring out details you didn't know existed and really help the game world feel alive. With advanced head-tracking technology, sound cues maintain position when you turn your head, creating a more immediate soundscape. If you're looking for a truly immersive experience to suck you in to the game and not let go, the Mobius are for you.
Details
100mm planar magnetic drivers provide detailed, dynamic sound
full surround sound decoding up to 7.1 (with digital connection)
Bluetooth 4.1 connectivity with LDAC High-fidelity streaming with compatible sources
frequency response: 10-50,000 Hz
Best for consoles — Audeze Penrose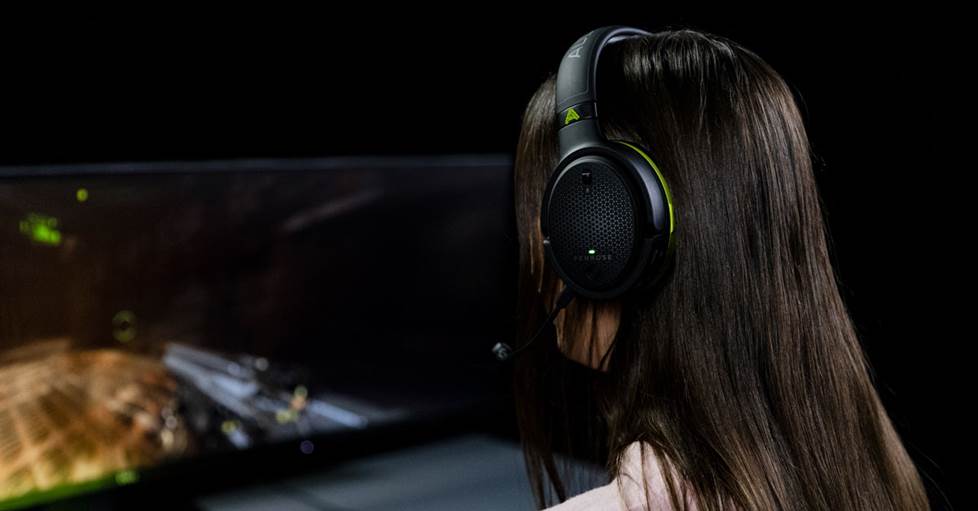 The Audeze Penrose over-ear gaming headphones use the same powerful planar magnetic drivers as the Mobius for controlled, powerful sound. While they don't have the same surround sound processing, directional cues are clear and easy to place, making the Penrose a solid choice for competitive games like Fortnite or Call of Duty: Warzone.
The detachable boom mic was also designed in partnership with Shure, experts in sound recording technology. With a built-in filter for noise reduction, you can be sure your teammates will hear you clear as a bell, but not the dog barking down street.
The Penrose gaming headset comes in two varieties that support major current and next-gen consoles: one for PlayStation and the other for Xbox. The former works with both the PS4 and the PS5, while the latter works with the Xbox One and Xbox Series X. Both versions can be used with a PC or a Mac as well. If you haven't upgraded to next-gen yet, these headphones are a smart investment. You can use them now and they'll still be just as useful when you pull the trigger on a new console later.
The headphones use a transmitter to hook up wirelessly to your device of choice. You can also go old-school and wire up with the 3.5mm jack on most controllers instead. This lets you use the Penrose with a wide variety of Nintendo Switch controllers as well. This is great for people like me. I'm a PlayStation adopter, but the Switch was too cool to pass on, so I've got both in the house.
Details
100mm planar magnetic drivers provide detailed, dynamic sound
uses 2.4 GHz low-latency wireless transmitter
Bluetooth 5.0 connectivity (can be used with wireless transmitter at the same time)
frequency response: 10-50,000 Hz
Last updated 3/29/2021