How to choose headphones for running
Power your workouts with music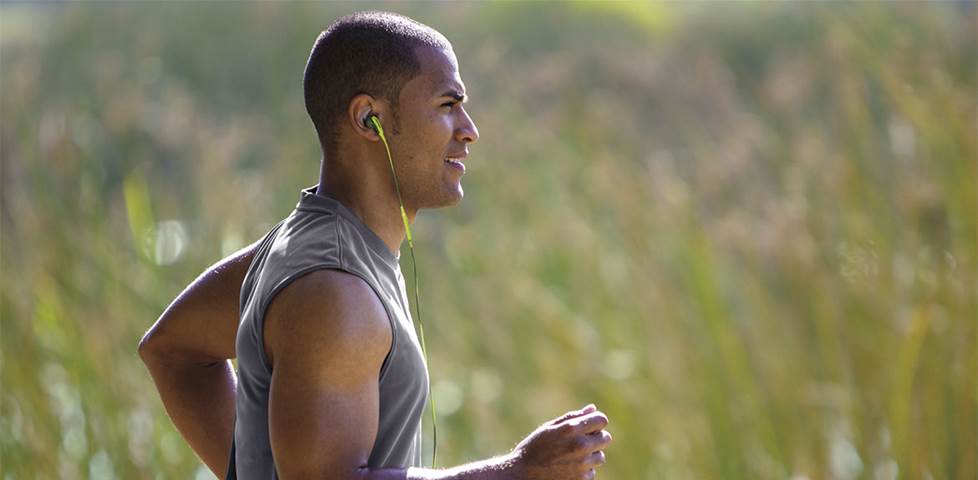 Research shows that music can motivate you to power through tough workouts and to have fun in the process. With music moving you along, you're less likely to focus on physical strain. So you'll push yourself harder and exercise longer.
As a runner, you're going to need comfortable headphones that stay in place and out of your way. Here are some tips on how to find the best sports headphones.
Safety first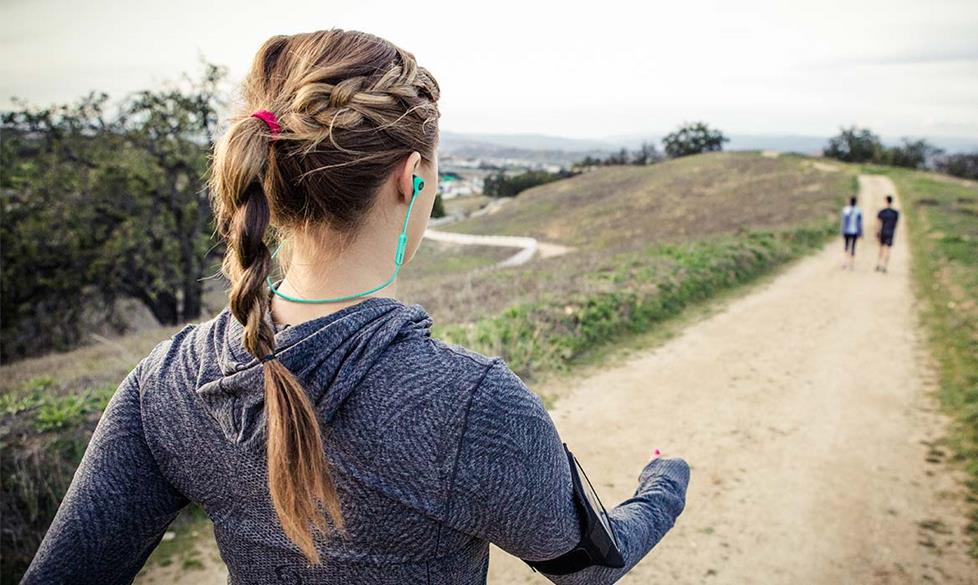 Headphones in bright colors with reflective accents increase your visibility.
When you're running with headphones, it's important to be aware of what's going on around you. Sports headphones with an open design let in ambient sounds to keep you tuned in to your environment.
They have to be tough
Built to endure rigorous workouts, sports headphones are moisture-resistant so they won't be damaged by sweat or rain.
As you shop, you'll see weatherproof rating numbers like IPX6 or IPX7. Read our article about IP weatherproof ratings to understand what those numbers mean.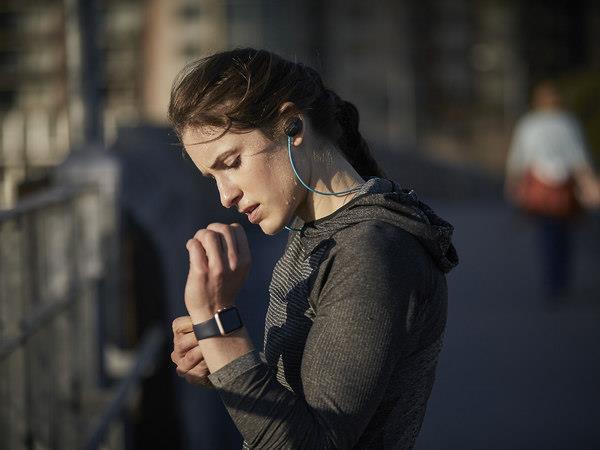 Moisture-resistant sports headphones are built to withstand your active lifestyle.
Comfort and fit are key
Earbuds are the best style of headphones for working out, because they don't add extra weight. But regular earbuds tend to fall out of your ears if you run or move around a lot.
Sports headphones are specially designed to stay in your ears. They come with soft silicone tips in different sizes to ensure a secure, comfortable fit in nearly anyone's ears.

Some sports headphones, like the Bose SoundSport, have tips with extensions that brace the earbuds against your outer ear to keep them in place.
Stay in control
When you're on a roll with your workout, the last thing you want to do is stop in the middle of what you're doing and pull out your device to skip a track or adjust volume. Most sports headphones have in-line remote controls. If you need to take important calls, make sure to get a pair with an in-line microphone that works with your phone.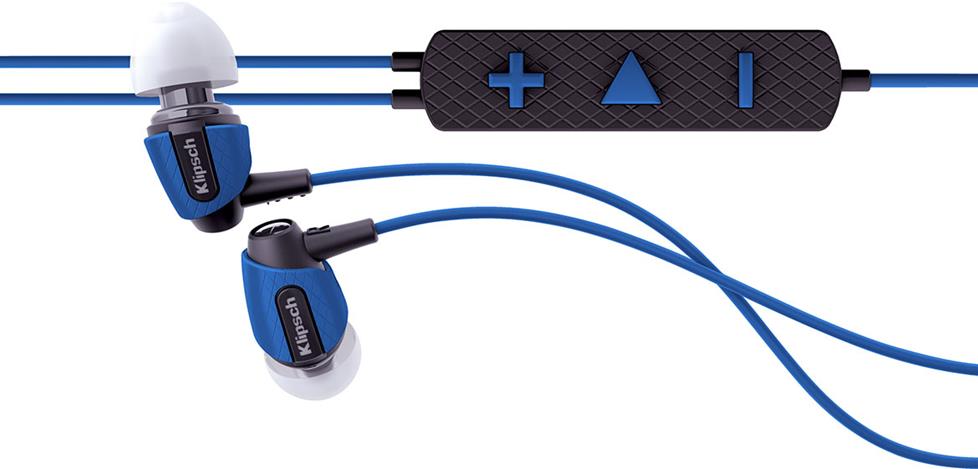 In-line remote controls help you can stay focused on your workout when you need to skip a track.
Avoid cord entanglements
Sports headphone cables are extra-durable and have a flat, tangle-free design, so you can toss them into a gym bag without worrying about damaging them. You'll also find them to be a more manageable length than regular earbud cords. Some sports headphones even come with a shorter cable you can use if you wear your device on an armband.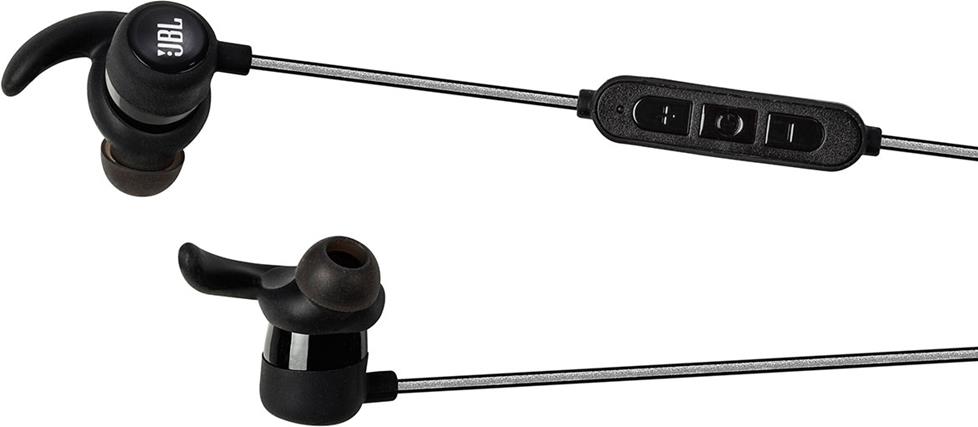 Flat cords keep tangles to a minimum.
Tired of dealing with cords altogether? Try a wireless pair
Wireless sports headphones have built-in Bluetooth® for wireless music streaming. A short cable connecting the earbuds runs behind your head, with an in-line remote on one side, positioned near your ear.
Keep in mind that Bluetooth headphones won't work if their built-in batteries aren't charged. You'll need to plan ahead to keep the tunes pumping throughout your run.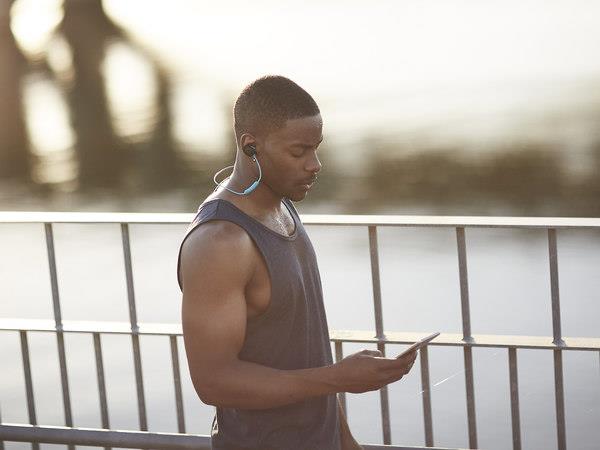 Bose SoundSport Wireless headphones play music wirelessly from your phone via Bluetooth.
Don't forget about good sound
A lot of design considerations go into making a pair of headphones suitable for running and other tough activity. Of course, it's just as important they sound good enough to keep you motivated.
Brands like Klipsch, Bose®, JBL, and Beats by Dr. Dre® all have a solid reputation for good sound. If you're not sure, check customer reviews before you settle on a pair, to see what others have to say about their sound. You can also email or call an Advisor at 1-888-955-6000 for help sorting through our selection.
Last updated 9/24/2019