Best home theater projectors for 2022
Our expert's top projector picks, plus some shopping tips
In this article: My list of best home theater projectors — along with a budget-friendly alternative for each.
But first, I'll get into some basics that can help you find the best projector for you.
Projector setups used to feel out of reach for those of us without the darkened space of a dedicated home theater room. These days you can find one for almost any room or budget, but it still helps to have a little basic knowledge before you leap in.
Projector shopping tips
We have a great selection of home theater projectors from Epson, Sony, Optoma, and other top brands. You can get a more in-depth look at projector features and specs in our complete projector buying guide, but here are some basic questions to get you started.
Where is it going?
Projectors can be ceiling-mounted or placed on a stand. And ultra short throw models are designed to go almost directly under your TV.
If you can't control the light level in the room, you'll want a projector that gets bright enough to compensate for that. And if you're lugging it out to the backyard or beyond, you'll also want to consider the size and weight. Check out our portable projector buying guide for more info on some of our mobile models.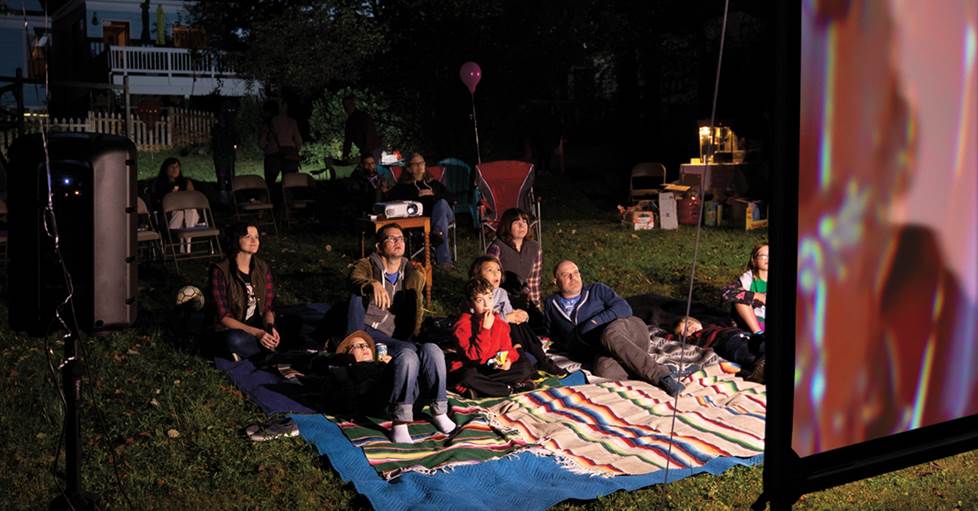 If you're using it outside, we suggest getting a projector that offers at least 2,000 lumens.
Lamp vs. laser
Most projectors use either a lamp or a laser light source. Lamp-based projectors have bulbs that will get dimmer over time and need to be replaced. Laser projectors tend to cost more up front but deliver the same brightness for years — virtually maintenance-free.
How important is resolution?
Most of our projectors are still 1080p, and they offer an economical way to get a big, bright picture. You can get a fully feature-packed 1080p model for a lot less than a native 4K projector.
Some projectors can display a resolution higher than their native resolution using something called "pixel-shifting." These projectors display parts of a frame very rapidly one after the other, with the pixels shifted diagonally. Your eyes perceive it as a single fluid image containing all of the original detail in the 4K video signal. They are a great budget-friendly alternative to native 4K.
Projectors listed as "native 4K" are going to deliver the most detail, but they'll have a price tag to match. If you are going really big with your screen, it's probably going to be worth it.
Consider what extras you want
Not all projectors include speakers, so you should plan for a sound system. If that's not in the budget, or you just want an all-in-one device, make sure your chosen model includes built-in speakers. Some projectors also offer smart features like a built-in streaming platform.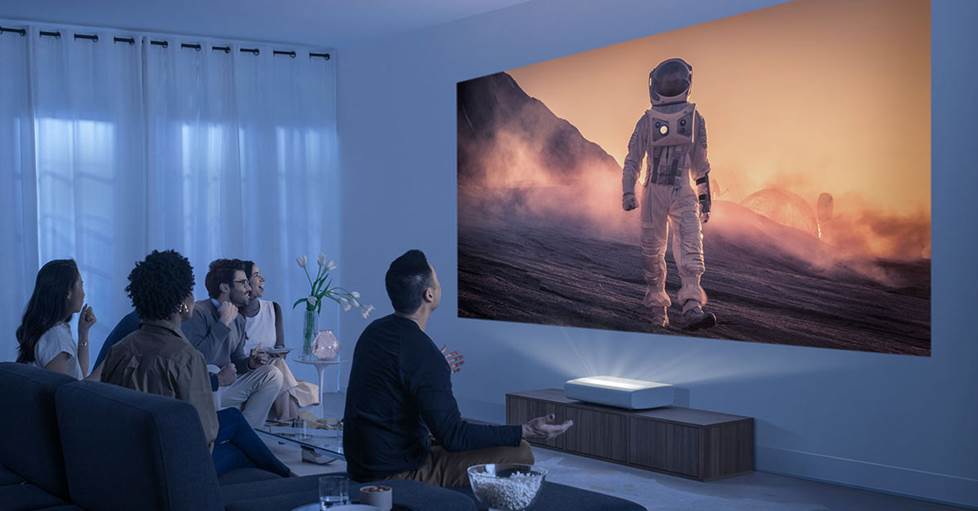 You can project against a wall, but for the best picture quality we suggest saving some room in the budget for a screen. Check out our projector screen buying guide for info on that.
Top projector picks for 2022
We sell a $25,000 JVC projector that is arguably "the best." But even if you had the budget for it, that 55-pound beast isn't going to work that well for small spaces or backyard movie nights. So here's my short list of best picks for some common scenarios.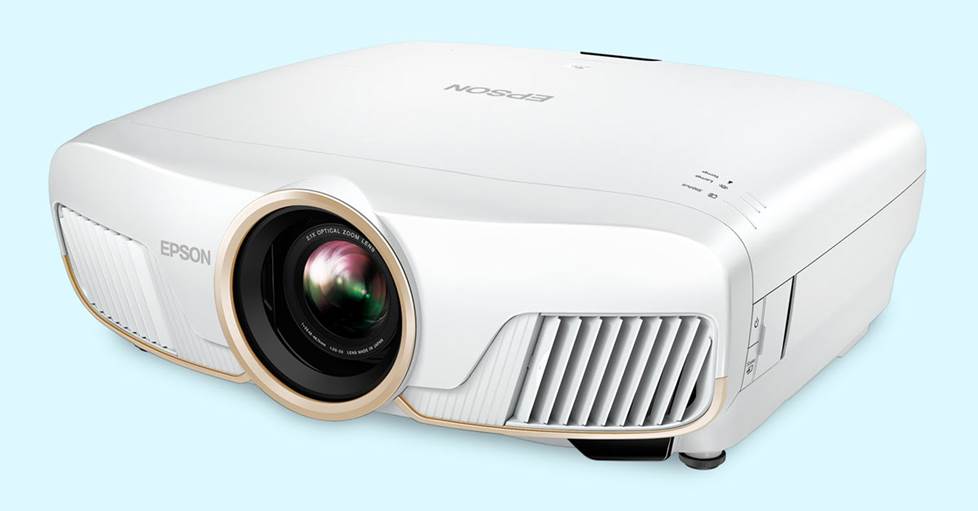 Customer favorite — Epson Home Cinema 5050UB
Epson projectors are very popular, and the 5050UB is a longtime favorite of Crutchfield customers. It delivers a big, bright picture as well as HDR and 10-bit color processing for dramatic color and contrast.
Details
native resolution: 1080p (1920 x 1080 pixels)
Epson PRO-UHD™ 4K Enhancement Technology uses pixel-shifting to provide a more detailed, higher-resolution image than 1080p
powered horizontal and vertical lens shift allow you to get a perfectly true image from off-center positions
Epson UltraBlack™ technology suppresses light leakage, enables 1,000,000:1 dynamic contrast ratio
light output: 2,600 lumens (UHE lamp)
A wallet-friendly alternative
You can save some money with the Epson Home Cinema 4010. It doesn't offer quite the brightness and contrast of the 5050UB, but it's also $1,000 cheaper.
What our customers say about the Epson 5050UB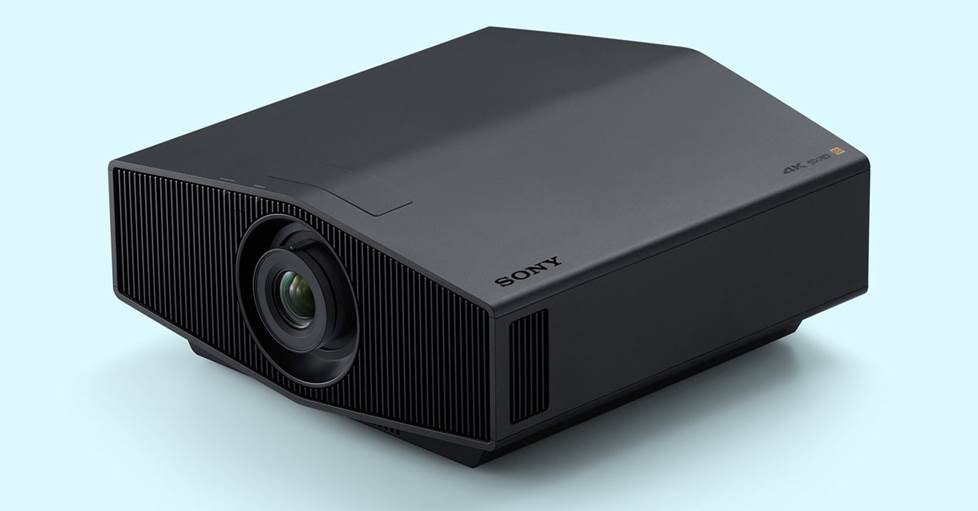 A 4K projector for your dedicated home theater — Sony VPL-XW5000ES
The VPL-XW5000ES is based on the same 4K Digital Cinema SXRD™ technology found in Sony's professional projectors. But you don't need 4K material to be wowed by this projector. Sony has some of the best video processing available in a consumer projector, and one of its biggest strengths is upscaling HD content to 4K quality.
Details
native resolution: 4K (three 0.61" SXRD panels with 3840 x 2160 pixels each)
X1™Ultimate video processor enables Dynamic HDR Enhancer and Super Resolution
30% smaller and 35% lighter than its predecessor
IMAX Enhanced certification for improved performance with IMAX Enhanced 4K/HDR content
available in black or white
light output: 2,000 lumens (Z-Phosphor™ laser light source)
A wallet-friendly alternative
The VPL-XW5000ES is currently the most budget-friendly native 4K projector we carry, but you can save a bit of money by opting for a pixel-shifting 4K projector like the JVC LX-NZ3W. It also comes in your choice of black or white and offers dynamic light control for optimal picture contrast.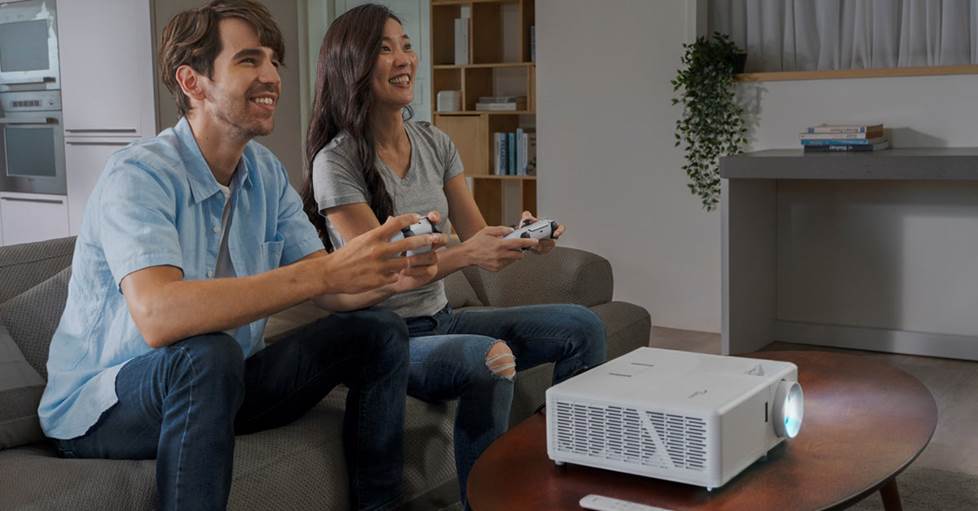 Best projector for gaming —Optoma UHZ50
I love playing couch co-op games with my husband, but our 55-inch TV just feels so small with a split screen. The lightning-fast UHZ50 laser projector is a great option for gamers who want to upsize their play area. It has an input response time of 16.7ms for 4K at 60Hz or a lightning fast 4ms for 1080p at 240Hz — great for fast-paced console or PC gaming. It also has a dedicated game mode that optimizes settings for better shadow detail — so you can actually see what else is in that dark cave with you.
Details
native resolution: 1080p (uses pixel-shifting technology to display true 4K UHD resolution — 3840 x 2160)
input response time of 16.7ms for 4K/60Hz or 4ms for 1080p/240Hz
2,000,000:1 contrast ratio
3 HDMI 2.0 inputs; HDMI 1 input supports ARC (Audio Return Channel)/eARC (enhanced Audio Return Channel)
light output: 3,000 lumens (DuraCore laser)
A wallet-friendly alternative
The Optoma UHD38 is a lamp-based projector that offers similar gaming features at a lower price.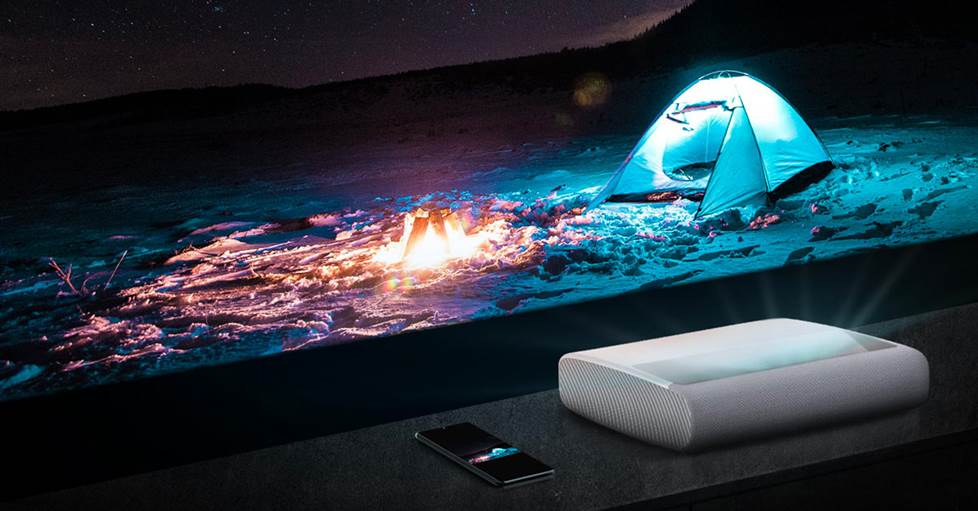 Best ultra-short throw projector — Samsung The Premiere LSP9T
If living room real estate is at a premium, then a UST projector is the way to go. And Samsung's LSP9T has one of the shortest throw distances I've seen — it can be placed almost directly under your screen, mere inches from the wall. Its streamlined design will look good there, too. It has a robust speaker system and a triple laser light source that delivers excellent contrast, color, and detail even in rooms with some light.
Details
native resolution: 2716 x 1528 (uses pixel-shifting technology to display 3840 x 2160 4K resolution)
decor-friendly look features premium Kvadrat fabric and is available in black or white
built-in 4.2-channel speaker system (40 watts) uses Acoustic Beam arrays to deliver panoramic sound
built-in streaming platform and voice control
Filmmaker Mode automatically adjusts picture settings to preserve the director's intent
light output: 2,800 lumens (triple laser light source)
A wallet-friendly alternative
If you have more wiggle room in your space than your budget, the LSP7T is a great choice. It has a lot of features in common with its spendier sibling, but it uses a single laser light source that doesn't get as bright.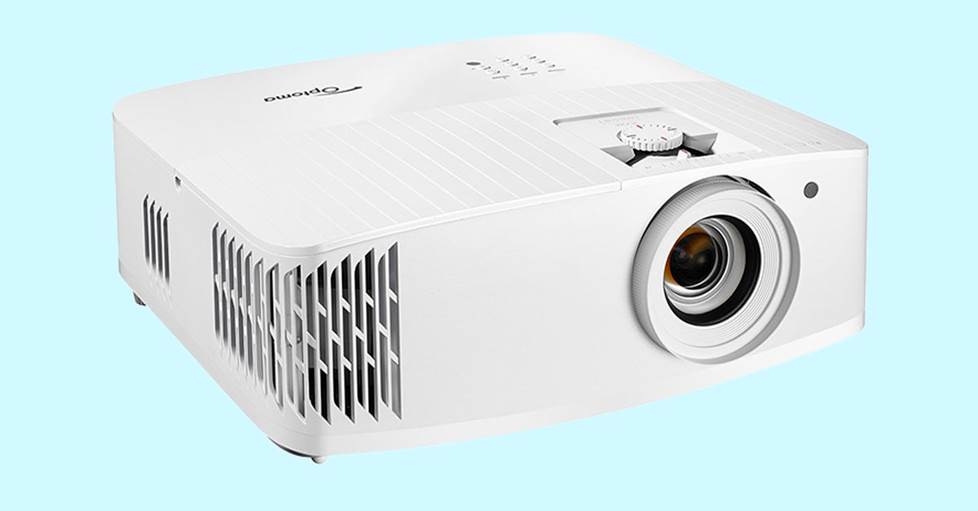 Best projector for outdoor movie night — Optoma UHD55
Optoma's UHD55 is a lightweight projector that gets bright. In fact, it has enough light power that you can probably start your backyard movie night before the sun has completely set. It can also display a true 4K picture thanks to special pixel-shifting technology.
Details
native resolution: 1080p (uses pixel-shifting technology to display true 4K UHD resolution — 3840 x 2160)
covers 95% of the DCI-P3 color space (the digital cinema standard)
enhanced gaming mode supports 1080p at 240Hz
can project huge images (up to 300")
light output: 3,600 lumens (lamp)
A wallet-friendly alternative
The Epson Home Cinema 1080 is a great option for a budget backyard setup. It can't display 4K, but it is compact and gets almost as bright as the Optoma.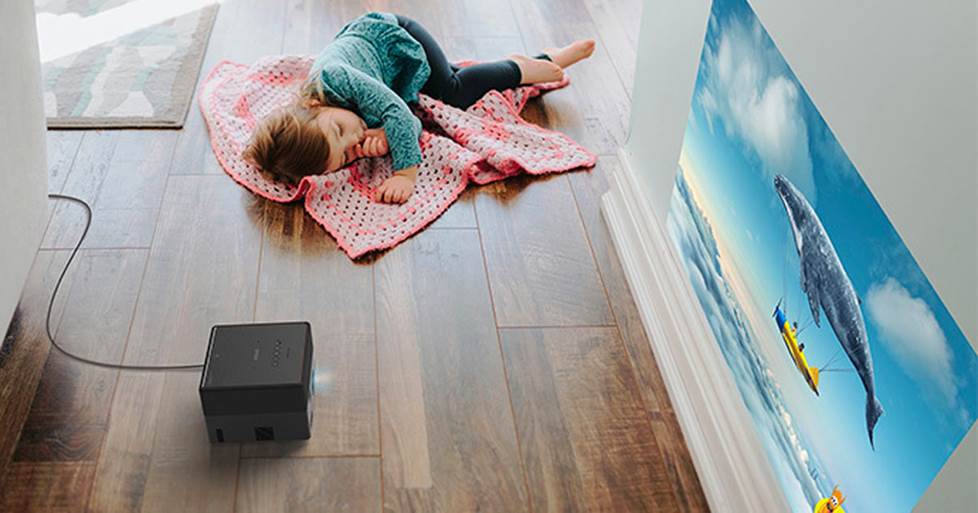 Best portable projector — Epson EpiqVision Mini EF12
If you don't want to have to worry about connecting anything but a power cord, the Epson EpiqVision Mini EF12 is a great choice. It has the Android TV streaming platform built in, along with a speaker system that was custom designed by Yamaha. And the ultra-compact design makes it easy to store or move around from room to room. It's also perfect for a bedroom projector setup.
Details
native resolution: 1080p (1920 x 1080)
built-in Android TV for streaming content
200,000:1 contrast ratio
Chromecast built-in for casting content from your compatible Apple® or Android™ device
Bluetooth 5.0 lets you stream music from your phone to built-in speaker
light output:1,000 lumens (multi-array laser diode)
A wallet-friendly alternative
The teeny tiny Kodak Luma 350 is small enough to fit in a pocket and can run for two hours on a full charge of its built-in battery. It also has Wi-Fi and a modest built-in speaker. This ultra-portable model has a light output of 200 lumens, so it's best for smaller screens.
What our customers say about the Epson EF12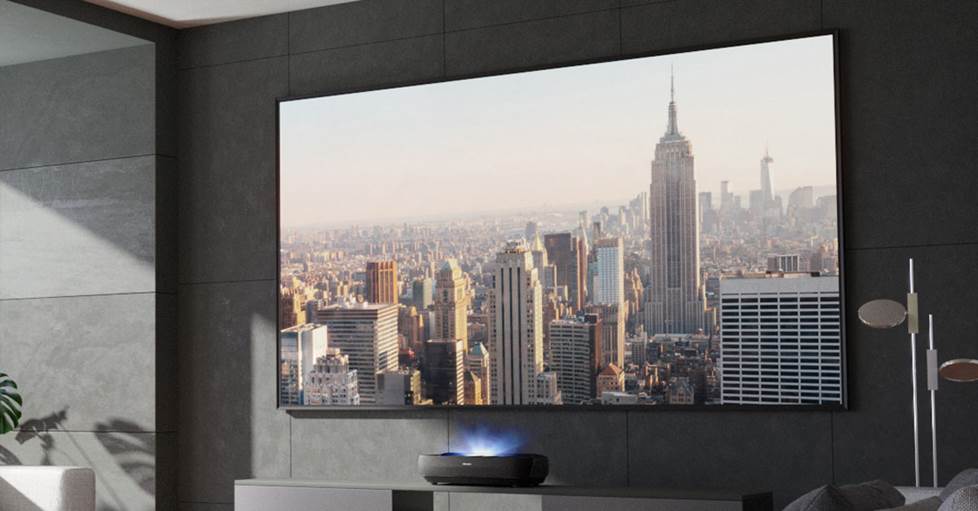 Best projector and screen combo package — Hisense 100L9G-CINE100A
Different kinds of projectors require specific kinds of screens in order to deliver the best possible picture. If that sounds overwhelming, go for a pre-matched set like the Hisense 100L9G-CINE100A package. It includes an ultra-short throw laser projector and a 100-inch ALR (ambient light rejecting) screen. The projector has tons of smart features, plenty of connection options, and a built-in speaker system.
Details
includes UST projector and 100" ALR screen with 0.4 gain
native resolution: 1080p (uses pixel-shifting technology to display 4K resolution — 3840 x 2160)
reproduces 107% of the BT.2020 color space for 1 billion colors
built-in tuner receives over-the-air HDTV broadcasts
Chromecast built-in lets you cast your favorite entertainment apps and video content from your phone or laptop
3 HDMI inputs (two 2.1, one 2.0); port 2 supports enhanced Audio Return Channel
light output: 3,000 lumens (TriChroma laser engine)
A wallet-friendly alternative
The projector included in the Hisense 100L5G-CINE100A package uses a more basic laser that doesn't deliver the wide color gamut of the step-up model. It also doesn't get quite as bright, but its 2,700 lumens still deliver enough light power for rooms with some ambient light.
Need more guidance?
Have questions? Our expert Advisors know the gear inside and out.
Your Advisor can send specific Crutchfield pages to your screen, saving you a lot of browsing time. You'll get a shopping cart loaded up with everything you need for your new home theater.
Free lifetime tech support is included with your Crutchfield purchase.
Last updated 5/26/2022