Best marine speakers for 2022
Customer favorites, best-sellers and cool stuff
In this article: We'll take a look at some of our (and your) favorite marine speakers.
What makes these speakers so popular? Let's dive in and take a look. And keep reading for a few shopping tips to help you find the right gear for your boat.
The first thing you need to know about marine-rated speakers is that if you own a boat, you really need marine-rated speakers. The marine environment is tough on everything, and moisture, spray, sunlight, and extreme temperatures will turn an ordinary set of car speakers into useless ballast in no time.
The second thing you need to know about marine-rated speakers is that there's a wide selection of styles, sizes, and designs out there. Whether you're upgrading the sound on a bass boat or building a multi-zone system for a yacht, there's a set of speakers that's perfect for your needs.
The third thing? If you have questions, give us a call or chat. We have a dedicated team of marine audio experts who can help you build a system that'll really rock your boat.
What makes these speakers favorites?
The speakers highlighted in this article are more than just best-sellers. They're also rated highly by customers who've already bought and used them.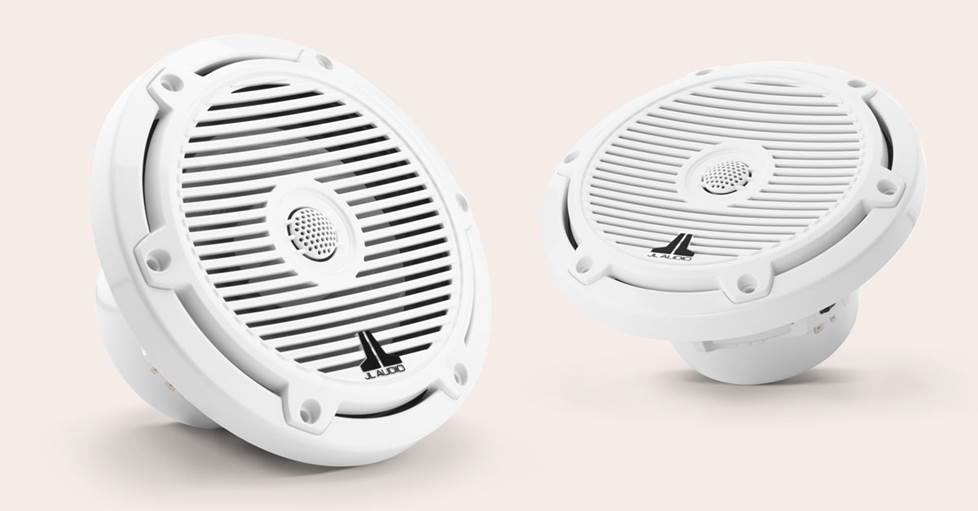 JL Audio M3-650X-C-GW — 6-1/2" marine speakers
What you need to know: These 6-1/2" marine speakers give you marine-rated reliability and outstanding sound. The 3/4" treated silk dome tweeter is mounted directly to the "Classic" grille for optimal sound performance, so you'll hear all the highs clearly.
Why we like them: These speakers sound great and the styling blends into almost any boat. You can mount them in your boat's cockpit or bulkhead walls, either as stand-alones or in conjunction with a subwoofer.
Learn more about JL Audio M3-650X-C-GW marine speakers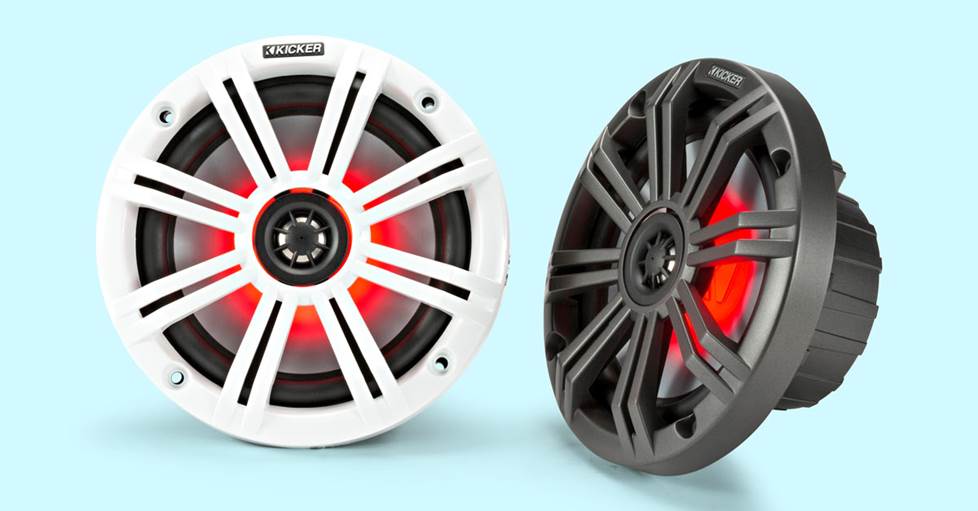 Kicker 45KM654L — 6-1/2" marine speakers with LED lighting
What you need to know: These 6-1/2" marine speakers sound terrific, and with built-in LED lighting and aggressive styling, they're pretty stylish, too. You can adjust the multi-color LEDs to suit your boat or your mood, so they'll add a lot to your evening cruise.
Why we like them: Whether you're mounting them in a bulkhead, or installing them in a set of Kicker's custom enclosures, these speakers look and sound terrific. They even include two sets of grilles (charcoal and white), so you can choose the look you want for your boat.
Learn more about Kicker 45KM654L marine speakers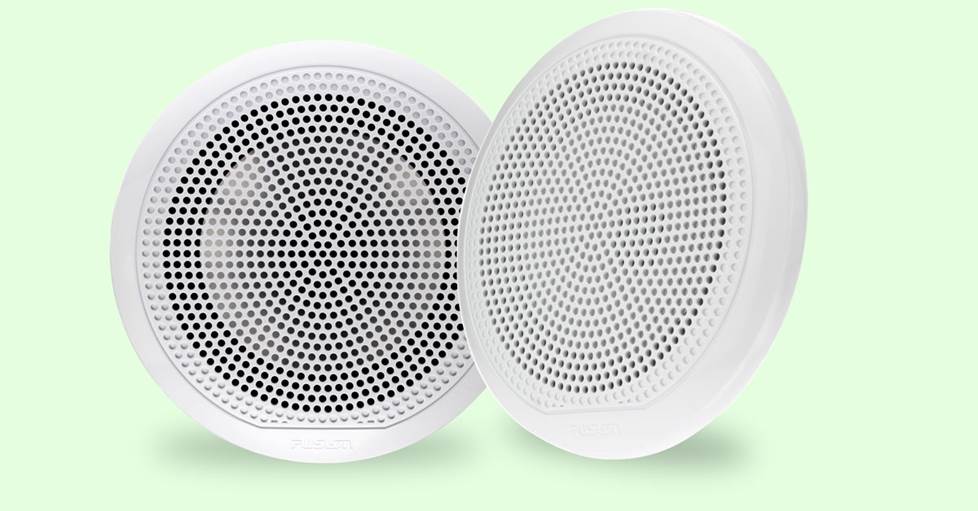 Fusion EL-F651W — 6-1/2" shallow-mount marine speakers
What you need to know: Sometimes you want to install a speaker, but there just isn't enough mounting depth for a normal speaker with a big magnet. If that's the case in your vessel, you need a set of Fusion's EL Series shallow-mount 6-1/2 speakers. They're available in white (shown) or black, so there's a style to suit your boat, RV, or camper.
Why we like them: These slim speakers will fit in places others won't, so they're ideal for deck or cabin installations. They'll handle up to 20 watts RMS, so you can power them with a quality radio or a small amp.
Learn more about Fusion EL-F651W shallow-mount marine speakers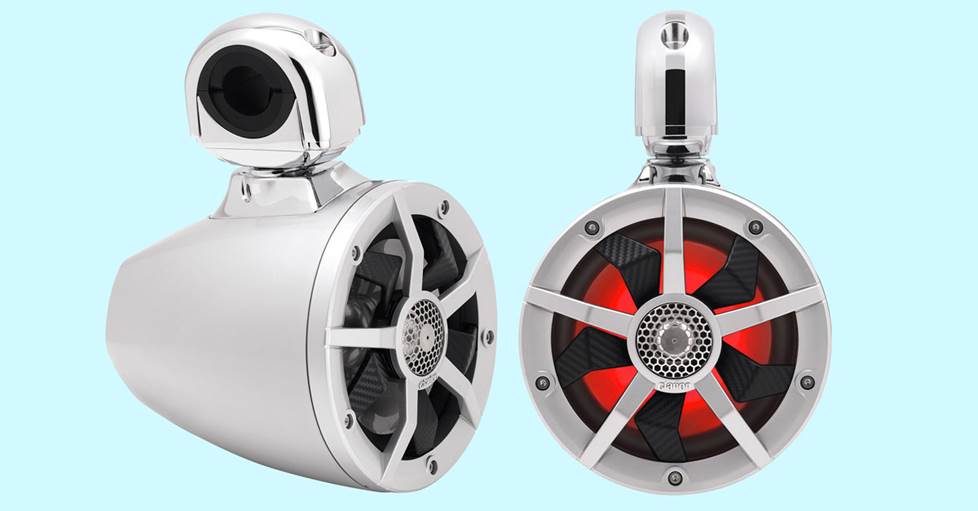 Clarion CM1624T — 6-1/2" tower speaker with RGB LED lighting
What you need to know: These powerful wakeboard tower speakers bring big sound to your afternoons on the water. They'll handle up to 80 watts RMS (200 watts peak) and they're tough enough to handle high volume all day long. You'll hear your music over engine noise and wind roar, and you'll also be impressed with the depth and detail they bring to your tunes.
Why we like them: Yes, they sound great, but the RGB LED lighting really ups the cool factor. The red, green, and blue lights can generate over 16 million color combos, so you can create the look you like. You can also use the 360-degree swivel to point your tunes where you want them to go, or get the speakers out of the way.
Learn more about Clarion CM1624T tower speakers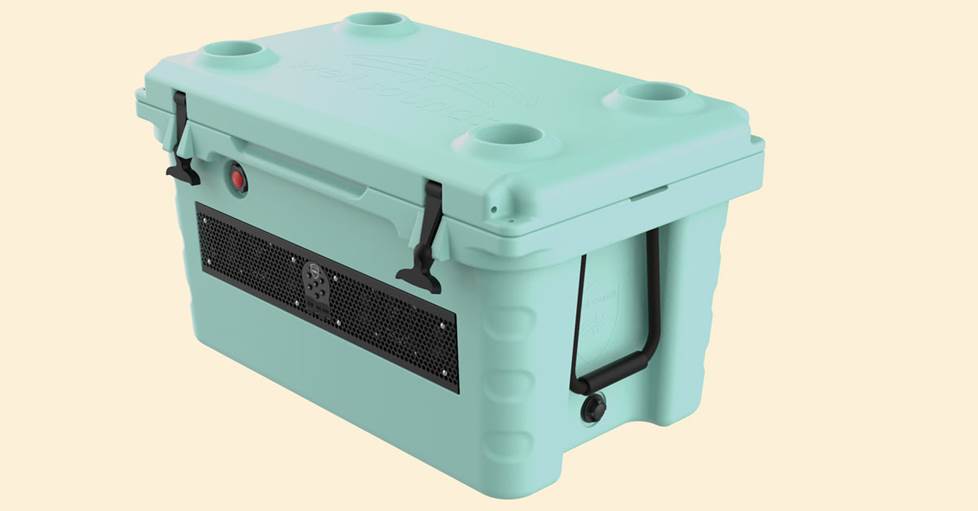 Wet Sounds SHIVR-55 — Cooler speaker system with built-in Bluetooth
What you need to know: This rugged cooler holds plenty of food and beverages, but it also contains a Bluetooth® stereo system with a built-in amp and six speakers. The built-in lithium-ion battery pack gives you up to eight hours of play time, and you can recharge it from any AC outlet.
What makes it so good: With six Wet Sounds Stealth speakers and a 200-watt DSP amp, this thing can really crank. Use the built-in Bluetooth connectivity to play music from your smartphone or other device, or plug a device into the AUX input. It's available in five cool colors (Seafoam shown) and with a 58-quart (55 liter) capacity, the SHIVR-55 will hold pretty much everything else you need for a party.
Learn more about the Wet Sounds SHIVR-55
Smart advice for speaker shoppers
When you're shopping for marine speakers, there are some things to keep in mind when you're perusing the spec sheets.
What to look for in marine speakers
Look for plastic cones (polypropylene is a popular choice) and durable rubber surrounds for maximum weather protection, along with corrosion-resistant mounting hardware. Of course, you'll also want to make sure the speakers can handle enough power to pump out tunes over wind, water, and engine noise.
Confirm the speaker size you need
With marine speakers, one size doesn't necessarily fit all. Before you order new speakers, remove one of the old ones, measure the cutout diameter, the depth of the cavity, and the space around the cavity. With that info in hand, you'll know that you're getting speakers that will fit the space you have in mind. Also, if you're going to install the speakers somewhere near your compass, make sure they're magnetically shielded.
Add bigger speakers and more power
Wakeboard tower speakers are a must if you're into wakeboarding or water skiing. When you've decided that it's time to add tower speakers, there are three things you need to take into account: power, mounting, and wiring. More power equals more sound for the folks out at the end of the rope, so don't be afraid to go big here. You'll also want to make sure your amp is up to the task, so make sure you also find an external amplifier that has an RMS power rating that's equal to or less than the speakers' power-handling specs. For more info, check out our Tips for installing tower speakers on a boat article.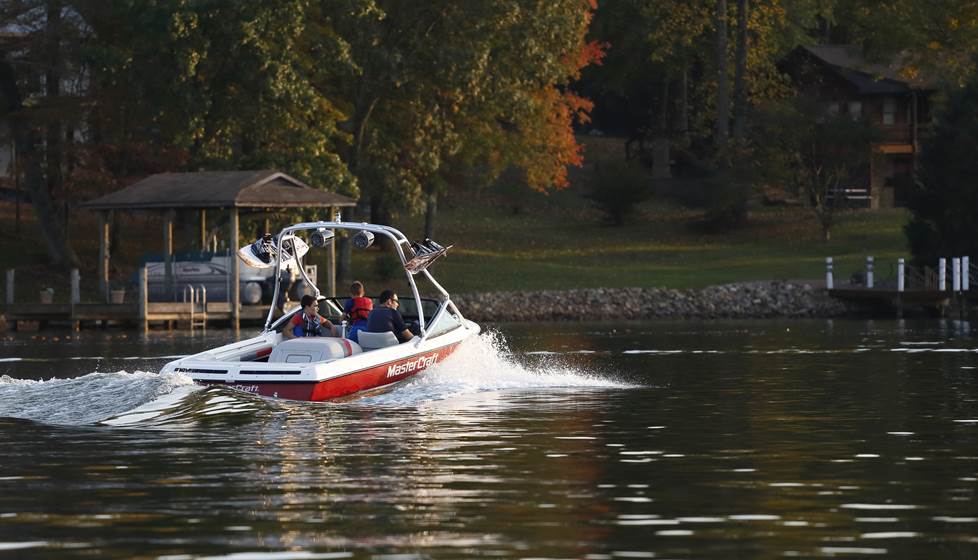 Add a little LED flair
Great sound is one thing, but great sound with extra style is even better. We stock plenty of great-sounding speakers that also have built-in RGB LED lighting. They look cool and they really rock, plus a little extra lighting is always nice on an evening cruise. There's also a great article that focuses exclusively on LED lighting for boats.
Use marine-rated wiring
And finally, make sure you use the right wiring when you install your new speakers. As nice as they are, they'll be pretty useless if you skimp on wiring. Be sure to use marine-rated power and speaker wires to connect everything, plus a marine amp wiring kit for your amplifier(s). It's a smart investment that'll keep your system sounding great for seasons to come.
Expert advice for your boat
Ready to upgrade the audio on your vessel? Let Crutchfield help. If you basically know what you want, you can start browsing our extensive selection of marine audio gear. If you're just starting the planning process, check out our growing collection of marine audio articles.
And if you need help, contact our Advisors. We have a team of dedicated marine experts who can help you create the marine stereo of your dreams.
Last updated 7/19/2021