Best marine stereos for 2022
These popular picks bring versatility, great sound, and marine-rated toughness to your boat
In this article... We'll take a look at some of our most popular marine-rated receivers.
These rugged receivers are customer favorites, and when you hear how they perform on your boat, you'll know why!
When it comes to choosing the right marine receiver for your boat, you have options. The one thing that's not optional is that it really does need to be a marine-rated receiver. As any boater who's tried to skimp a little by swapping in a regular old car receiver will tell you, that's a very short-term solution to a long-term issue.
Marine receivers are made for this.They're designed for high performance, yes, but they're also designed for durability. These radios have to withstand sun, water, and corrosion, so all the switches and ports are moisture-proofed, the circuits are conformal-coated for maximum protection, and even the displays are checked for visibility in bright sun.
If all that sounds serious, relax. All that serious work results in marine radios that you won't have to worry about when you're out having fun. The popular radios discussed below are all designed to give you outstanding audio performance for seasons to come.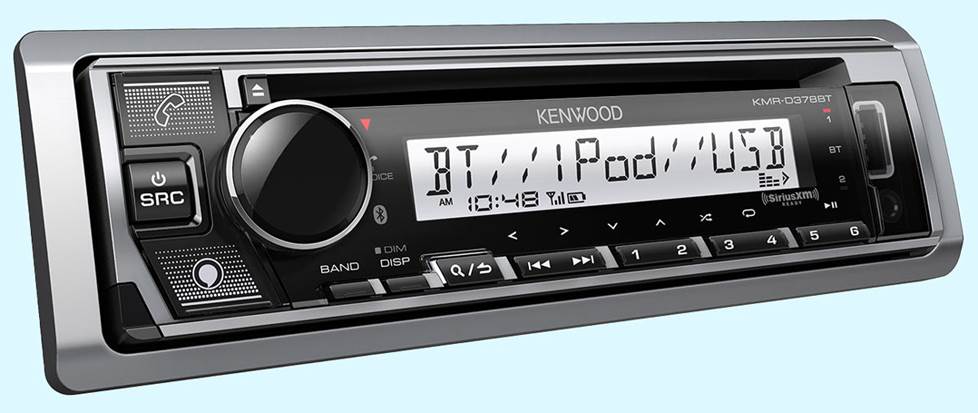 Kenwood KMR-D378BT – Classic style and cutting-edge performance
The classics never go out of style, which is why single-DIN marine receivers like this Kenwood remain so popular. With the KMR-D378BT, you can enjoy streaming Internet music, Bluetooth® audio, high-res FLAC files, CDs, and radio. Plus, with your smartphone and the push of a button, you can control it using Amazon Alexa voice controls. If you need more power for your marine speakers, a set of ultra-clean 4-volt preamp outputs lets you add marine amps to the mix.
Get speakers, too! This receiver is also available in a package that includes a pair of 6-1/2" marine-rated speakers. It's an instant audio upgrade for your boat!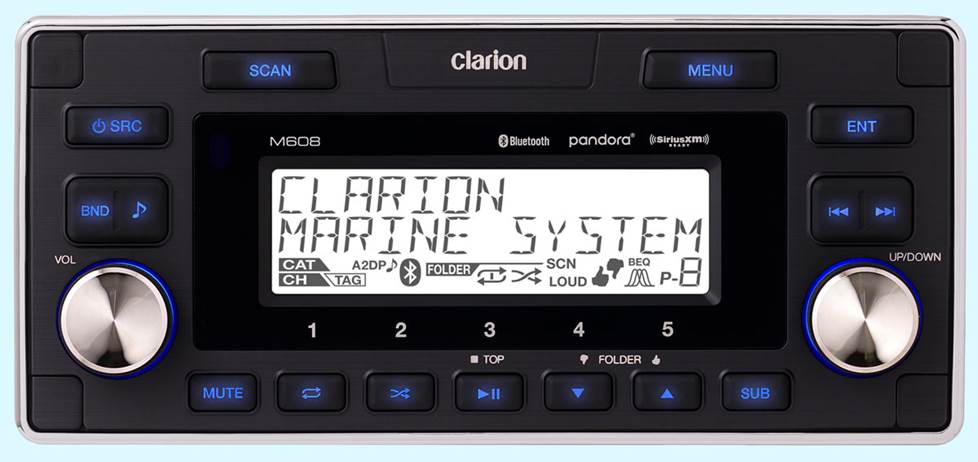 Clarion M608 – A multi-zone marvel
Clarion's multi-zone M608 digital media receiver is a great way to add sound and style to your boat. This powerful, versatile receiver includes built-in Bluetooth for music streaming, lots of connectivity options, eight preamp outputs and the security of IP55-certified water resistance.
The M608 also gives you 4-zone audio control, so you can split the boat into four distinct areas to suit your needs. Each zone can be controlled by a compatible Clarion wired remote control (sold separately). And if you're a SiriusXM satellite radio subscriber (or plan to be), the M608 works with the SXV300 tuner (sold separately).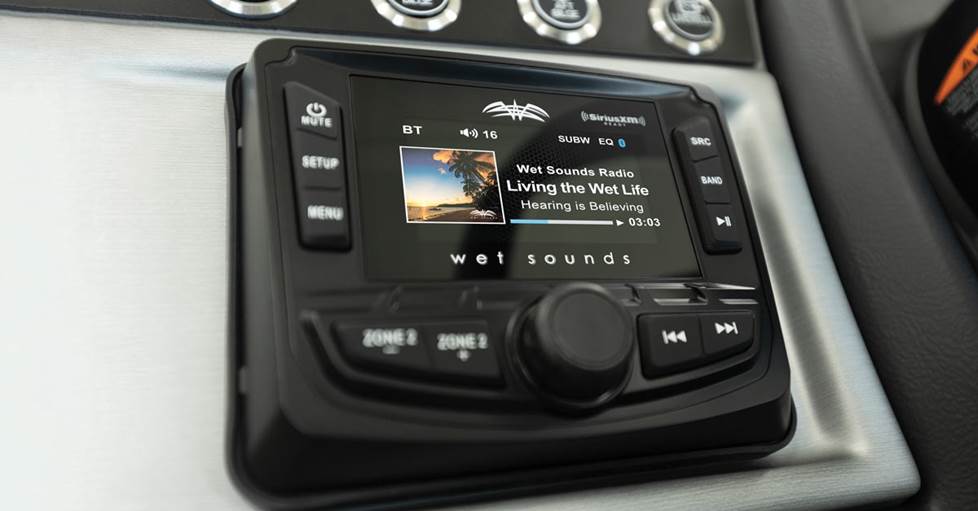 Wet Sounds WS-MC-2 – Compact design with a big list of features
The popular, versatile Wet Sounds WS-MC-2 receiver does a whole lot of stuff and fits into a standard-size gauge opening. Built-in Bluetooth lets you stream music, and "Simple Secure Pairing" makes it easy to use your Android or Apple smartphone to crank your tunes.
You'll also like the global AM/FM/Weather Band tuner, plus a charging USB port and an AUX input for your digital music player. The clean design and 3" TFT screen makes it easy to read and easy to use, and you can also add a Wet Sounds MC-TR transom remote to control your music.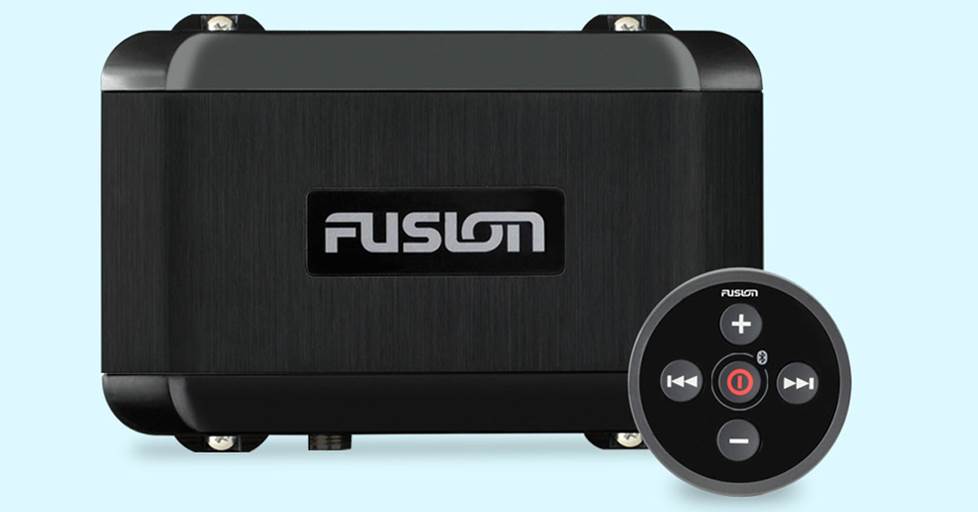 Fusion MS-BB100V2 – A hideaway receiver with standout performance
Finding space to add a stereo to your boat can be a challenge, but a compact, marine-rated "black box" receiver is a great solution. Fusion's hideaway MS-BB100V2 digital media receiver mounts out of sight and delivers outstanding performance.
With AM/FM radio, USB/AUX playback, and Bluetooth connectivity, this 2-zone receiver gives you lots of entertainment in a compact package. The package includes a compact dash-mounted controller and the hideaway black box source module. You can also use the Fusion-Link app to turn your Apple or Android smartphone into a remote, too.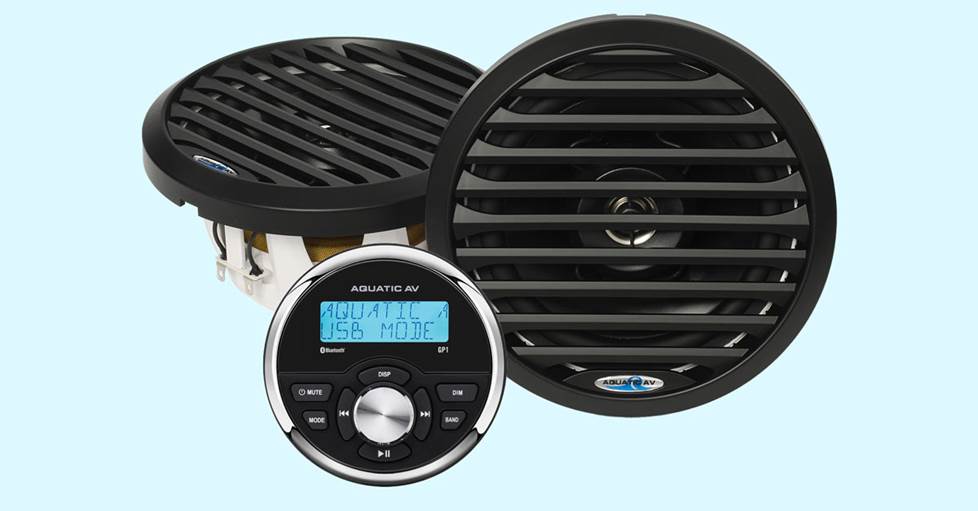 Aquatic AV GC112 – An all-in-one stereo and speaker system
Looking for an all-in-one audio system for your small boat, golf cart, or UTV? The Aquatic AV GC112 audio system contains a gauge-mount marine digital media receiver, a pair of 6-1/2" speakers, an antenna, and a panel-mount USB input. You'll get great sound, outdoor-ready reliability, and plenty of cool features.
Built-in Bluetooth connectivity lets you stream your favorite tunes, and you can also play music stored on a USB drive or plug a device into the AUX input. If you want to connect an external amp, there's a set of 2-volt RCA outputs. The 6-1/2" Aquatic AV Pro-Series marine speakers can handle up to 50 watts RMS and feature super-cool blue LED lighting.
Other things you'll need
Once you've chosen your boat's new stereo, make sure you have everything you need to install it properly and get the best possible sound.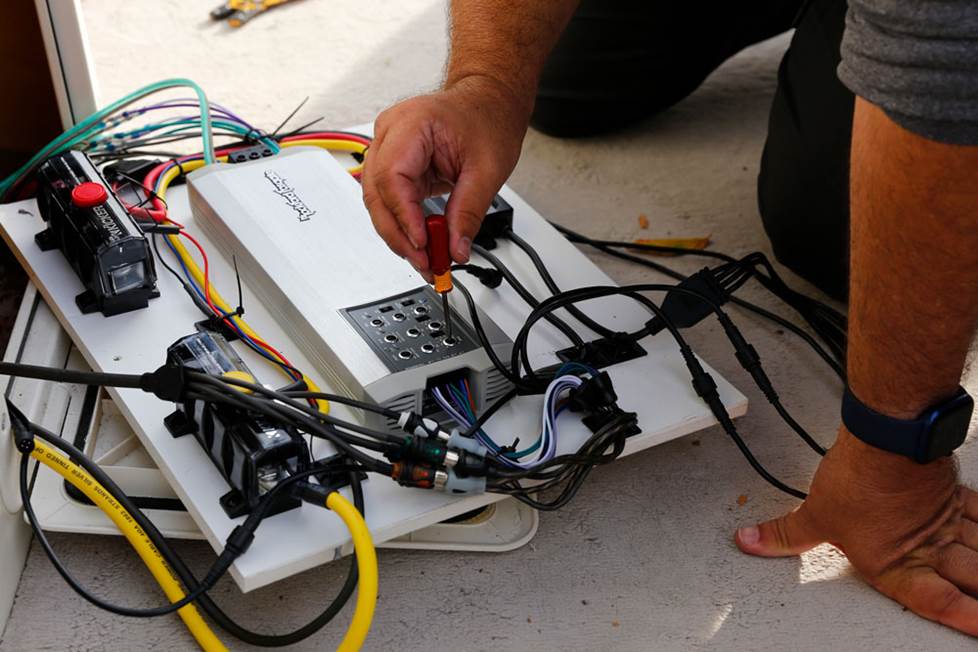 Adding an amplifier to your boat's system will bring out the best in your new stereo and speakers
The more power your boat's speakers get, the louder and better they sound. Most aftermarket marine receivers come with built-in 4-way amplifiers, but that stereo power might not be enough, especially if you install wakeboard tower speakers on your boat.
So if you like it loud or just want to drown out the nautical noise, you really should invest in a marine-rated amplifier. Be sure to choose an amp that has an RMS power rating equal to or less than the speakers' power-handling specs.
Marine-rated speaker wire and cables
Marine-rated wiring is an essential part of any marine audio system. All wires should be tinned, because bare copper can corrode quickly in salt water conditions.
Learn more
We have lots of great articles that will help get you ready for your DIY marine audio installation project. For more info, you can start with these three:
Cool gear and smart ideas for your boat's new audio system
Best wakeboard tower speakers for 2022
Got questions? That's what we're here for!
Thinking about upgrading the sound on your boat? If you have any questions about choosing and installing your marine radio (or speakers or amps), our expert marine audio advisors will be happy to answer them. Give us a shout.
Last updated 1/4/2022