Best multi-channel car amplifiers for 2022
One amp to power your whole audio system
In this article, we present eight of our best-selling multi-channel car amplifiers with mostly 5-star customer reviews:
Let's find out what makes these particular amps so good.
You want your music to sound and feel loud, clear, and powerful — so you need to add an amplifier, plus a subwoofer in most cases. One of the physical attributes of sound is that it takes power to produce enough of it to hear and discern all the subtleties in music: high notes and low notes, from soft to loud, harsh to mellow.
Your music will sound best with an amplifier designed to play loudly, without distortion, and with enough power to fill your vehicle.
Versatility of the 5-channel amplifier
Using a 5-channel amp is one of the most efficient ways to power music in your car. The diagram below illustrates some of the ways you can use a 5-channel amp to get the job done.
A 5-channel amplifier can power front left and right speakers, rear left and right speakers, plus a subwoofer in a basic car stereo system.
In an active front stage setup, a 5-channel amp could be used to power front left and right tweeters and woofers, plus a subwoofer.
You can also use a 5-channel amp to power left and right high-performance component speakers with bridged amp channels, while also powering a subwoofer.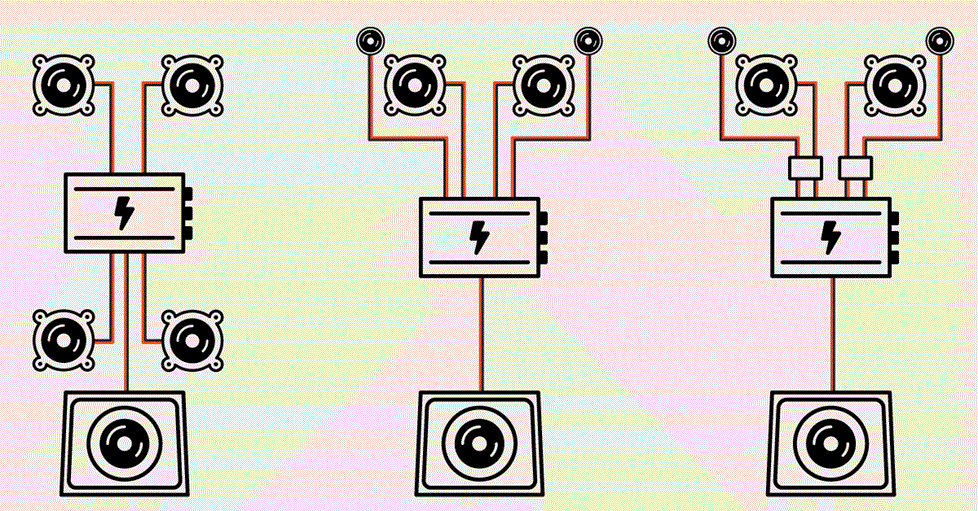 Three different 5-channel amp configurations
6- and 8-channel amps
Other multi-channel amplifiers come in handy in larger vehicles with front, middle seat, and rear speaker locations, as well as when working with 3-way systems that include tweeters, midrange drivers, and mid-bass speakers, with or without a subwoofer.
Important amplifier features to consider
Let's talk about the basics of shopping for a new amplifier.
Amplifier Size
Compact amplifiers will fit almost anywhere in almost any vehicle. Generally speaking, the more power and tuning features an amplifier has, the larger its chassis is, and finding a location for it in your vehicle becomes more of a challenge.
How much power do I need?
For your full-range speaker system, there are basically three power levels of amplification for you to choose between.
25 to 60 watts RMS per channel, if you just want your music to sound full and clear above your vehicle's wind and road noises;
65 to 80 watts RMS per channel, if you want your music to pop and make you want to sing and dance;
and at least 100 watts RMS per channel, if you like your music loud and bone-shaking.
Your subwoofer will sound best being powered with at least five times the amount of power of each full-range channel, in order for the bass to sound balanced with the rest of your music. The multi-channel amplifiers available will produce enough subwoofer power by themselves for most systems, and will also provide connection options for adding another sub and amp for those who like their bass extra-loud.
Signal processing
The sound produced by most sources often needs to be processed — tone-adjusted to fit whatever speakers and subwoofers are in the system so they play without distorting. Every amp has high-pass filters so low notes won't buzz and pop through small speakers, and low-pass filters so high notes won't play through subs. Some amps feature more complex digital signal processing (DSP) for advanced, customized tone and coherence adjustments — like input signal-summing, multiband equalization, time-alignment, and output level-balancing.
System integration
Two common questions are, "Will this work in my car? And if so, how do I wire it in?" If you already have an aftermarket receiver, adding an amplifier is a pretty straight-forward process. You use RCA cables from the receiver to the amp, speaker wire from the amp outputs to the car's speaker wiring, and amplifier power and ground cables to the car's battery and chassis.
However, many cars today have built-in multi-function receivers that are impossible to replace, along with factory amplifiers that may or may not be able to be bypassed or replaced. What's often needed is some sort of interface device, like a line output converter or digital signal processor, to reduce powered factory signals down to manageable levels, and process factory EQ'd signals to achieve the over-all tone and impact you want in your music. Some amplifiers, as you'll see below, feature high-level inputs with signal mixing and digital processing built in, to help integrate the amp into almost any kind of car stereo system.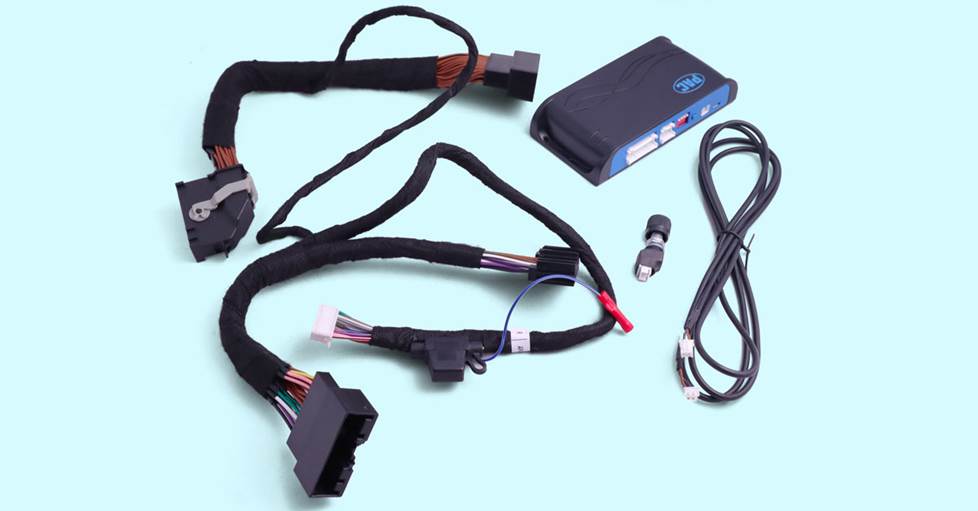 PAC AmpPRO aftermarket amplifier interface module and T-harness for select Ford vehicles
But for some vehicles, that's not enough, and an amplifier replacement interface module and vehicle-specific T-harness will be necessary in order to add an aftermarket amplifier and retain your vehicle's system controls and other functions. Give us a call before you buy your multi-channel amplifier so one of our Advisors can help you figure out you'll need to install the amp in your vehicle. For more on system integration, see Adding an amp to a premium factory system.
Why did we choose these amps?
These are some of our best-selling amplifiers. They also earned an average Crutchfield customer review rating of four or more stars. So, not only do our customers buy these amplifiers, they're so pleased with their purchase they take the time to provide some feedback after they've spent some time with the amplifier.
You can use this collection of amplifiers as a starting point in your search for your amp. After looking them over, if you want to dive deeper into what to look for when shopping for a 5-, 6-, or 8-channel amplifier, check out our Car amplifier buying guide.
[Check out all of our best-selling and top-rated multi-channel amplifiers]
---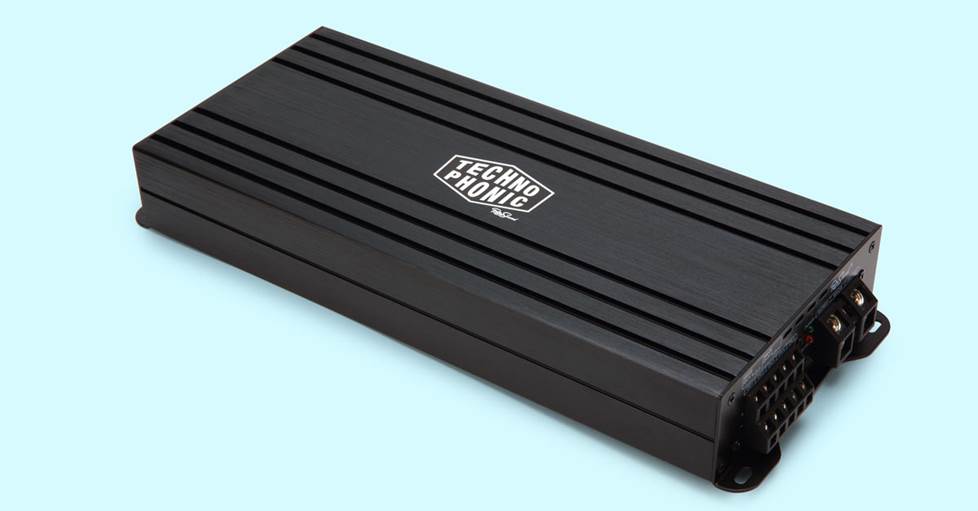 RetroSound Technophonic — Compact power pack on a budget
Basics: RetroSound's Technophonic 5-channel amplifier provides centralized power for your entire system from a compact chassis less than 2 inches high that'll fit in a lot of out-of-the-way locations inside whatever vehicle you drive. The Technophonic's subwoofer channel features a bass boost, so you can really pile it on if you want, and a wired remote that lets you adjust the level of bass from your front seat.
Details:
65 watts RMS x 4 + 330 watts RMS x 1
190 watts RMS x 2 (bridged) + 330 watts RMS x 1
Steep 24 dB per octave crossover filters let you precisely fine-tune the signal to optimize the sound for your particular speakers and subs
Preamp (RCA) inputs only — will require an interface device (see above) for use in a factory stereo system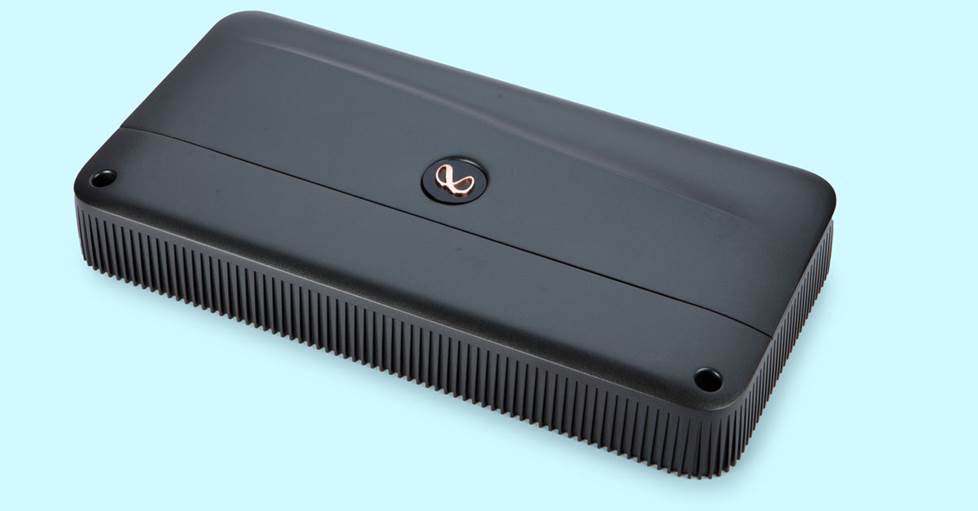 Infinity Reference 7005A — Top sound quality and powerful bass
Basics: Infinity's sleek Reference 7005A five-channel amplifier will add firepower and excitement to your music without losing its cool. The front and rear channels feature Class AB amp technology, for the highest fidelity playback for your speakers. The subwoofer channel's Class D design ensures that its output will put minimal strain your vehicle's electrical system, no matter how hard the bass hits.
Details:
50 watts RMS x 4 + 500 watts RMS x 1
140 watts RMS x 2 (bridged) + 500 watts RMS x 1
Subwoofer controls include a low-pass filter, bass boost, a phase switch, and a wired remote.
Speaker-level inputs and signal-sensing turn-on allow the amp to work in almost any system, even one with a factory radio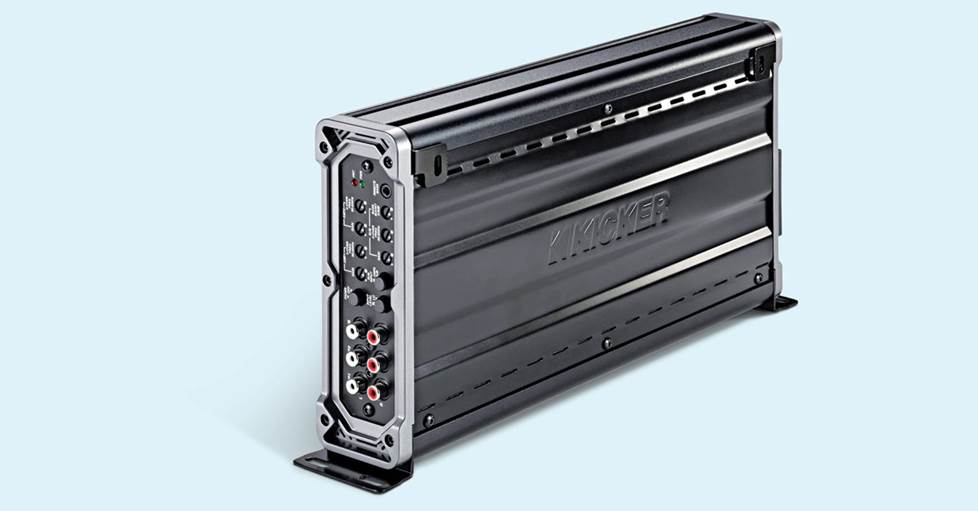 Kicker 46CXA660.5T — Power all day long
Basics: Kicker's 46CXA660.5T five-channel amplifier will play your music loud and clear. Fail-Safe Integration Technology (FIT™) keeps this amp's input free from noise or interference, so you can tap into your factory system speaker wires for a signal without a worry. A 3-second turn-on/turn-off delay eliminates system pops and other noises. The amp comes with hardware that lets you mount it vertically, so you can put it in a location that takes up very little floor space and looks cool too.
Details:
65 watts RMS x 4 + 300 watts RMS x 1
180 watts RMS x 2 (bridged) + 300 watts RMS x 1
subwoofer channel features include a subsonic filter, bass boost, and connection for optional wired remote
high-level inputs can handle up to 40V (about 400 watts) — will work with premium factory systems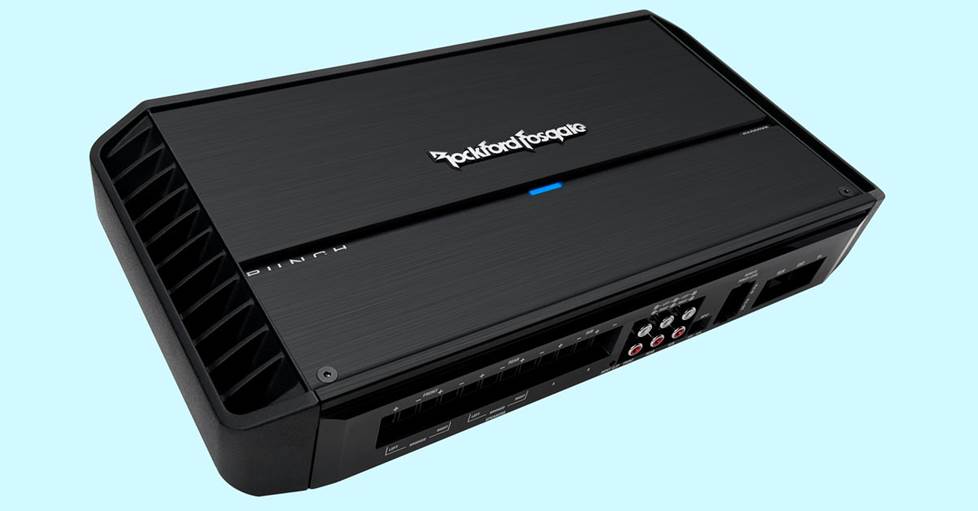 Rockford Fosgate Punch P1000X5 — 5-channel, high-performance powerhouse
Basics: Rockford Fosgate's Punch P1000X5 provides big power for your whole system. The Punch EQ2 feature boosts both bass and treble to liven up the mix. The proprietary MEHSA Dynamic Thermal Management system dissipates heat evenly across the amp and out through the high-mass heatsink, efficiently drawing damaging heat away from vital internal parts. The C.L.E.A.N. (Calibrated Level Eliminates Audible Noise) setup system ensures your music will sound as pristine and powerful as possible.
Details:
75 watts RMS x 4 + 500 watts RMS x 1
250 watts RMS x 2 (bridged) + 500 watts RMS x 1
subwoofer channel can power a 1-ohm sub
C.L.E.A.N. gain setup system includes clipping lights and links to setup tones
speaker-level inputs with signal-sensing turn on allow the amp to work in almost any system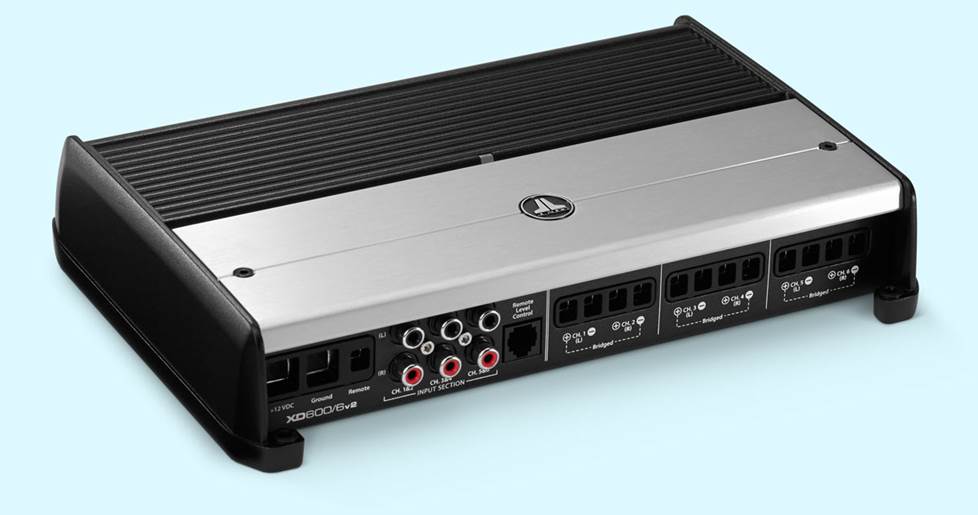 JL Audio XD600/6v2 — Six channels of clean power for flexible system design
Basics: JL Audio's XD600/6v2 six-channel amp packs a wallop far beyond what you'd expect from something so small. Proprietary NexD™ amplifier technology allows this compact amp to play your music with true fidelity and impressive impact, without straining your car's electrical system. A cast alloy heatsink and Advanced Rollback Protection System cooling keep this amp at optimal temperature, eliminating thermal shut-downs. You can set up this versatile amp to power just about any system, so you'll never outgrow it, no matter how your audio plans may change.
Details:
75 watts RMS x 6
75 watts RMS x 4 + 200 watts RMS x 1 (bridged)
differential-balanced inputs eliminate input noise
speaker-level inputs can handle up to 8V (about 16 watts), so an interface device is recommended for use in a factory system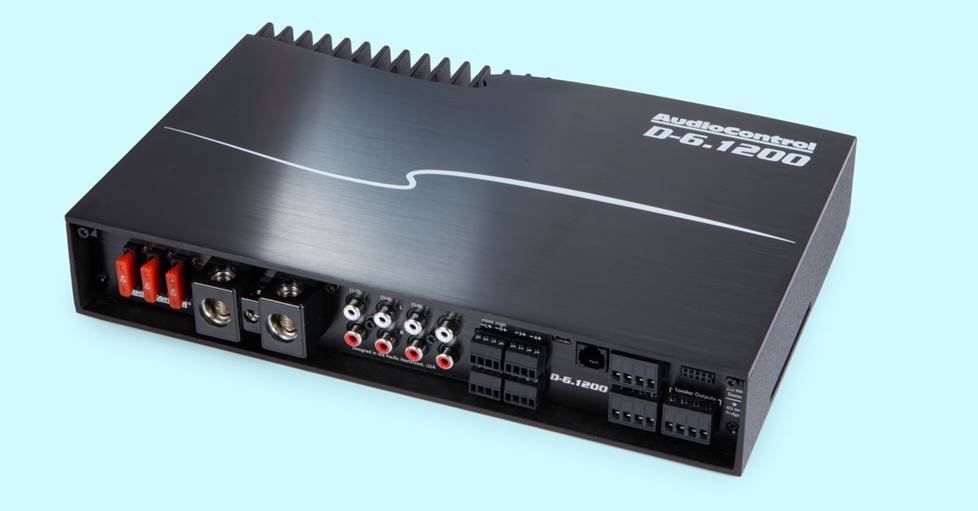 AudioControl D-6.1200 — Powerful amplifier with digital sound processing
Basics: AudioControl's D Series D6.1200 six-channel amplifier provides two keys to unlocking great sound in a car stereo system: serious power and extensive sound controls. The amp's Smart-User DSP software package, which runs on your laptop, includes input signal summing and routing, variable crossovers, 30-band equalizers, time alignment, phase correction, AccuBass™ bass correction, and real-time analyzers (RTA) for the inputs and outputs so you can visually confirm the spectacular improvements in the sound quality. Sounds fancy, and it is, but their software is easy (and fun) to use.
Details:
125 watts RMS x 6
125 watts RMS x 4 + 400 watts RMS x 1 (bridged)
LED optimization and clip indicators
high-level inputs can handle up to 40V (about 400 watts) — will work with premium factory systems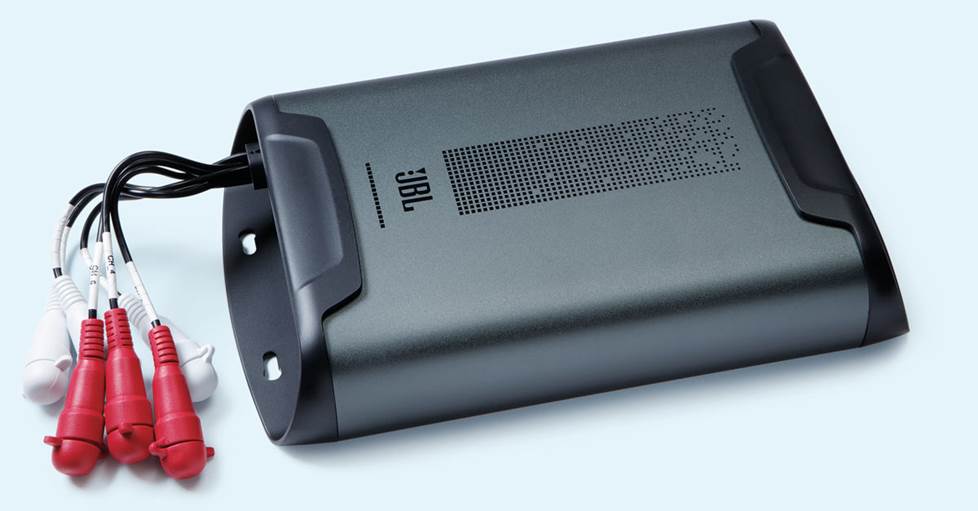 JBL DSP4086 — High-fidelity processor/amplifier with the flexibility of eight channels
Basics: You want high-fidelity sound spread evenly throughout your vehicle, not bleeding ears and a thumping sub. JBL's incredibly compact DSP4086 eight-channel amplifier and sound processor can power front tweeters and woofers plus rear door and rear deck speakers, while letting you fine-tune every signal to blend together and create your perfect customized sound. The Windows-run DSP Tuning Software controls include signal mixing and assignment, equalization, crossover filtering, phase adjustment, and time delay.
Details:
40 watts RMS x 8
60 watts RMS x 8 at 2 ohms (non-bridgeable)
includes wired remote for ch 7/8
speaker-level inputs allow the amp to work in almost any system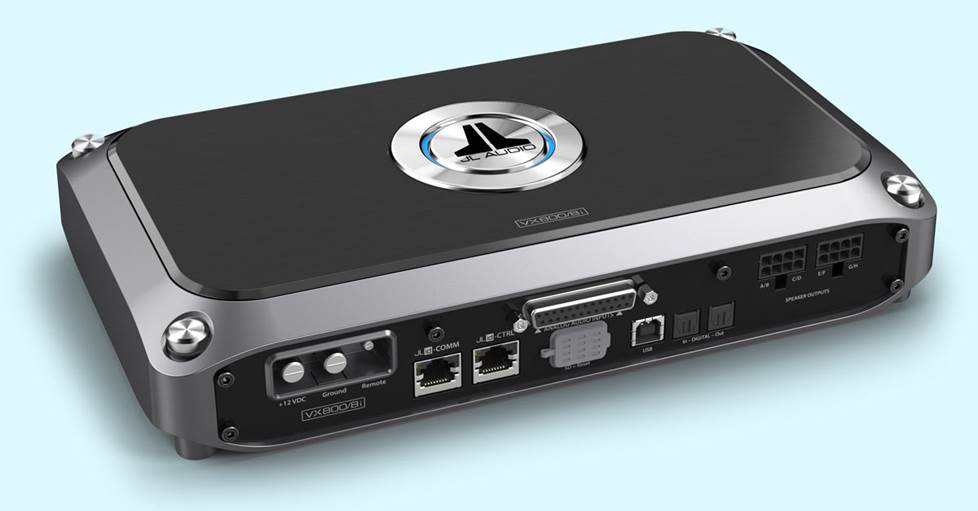 JL Audio VX800/8i — Powerful amp plus DSP
Basics: The VX800/8i VXi Series 8-channel amp combines JL Audio's latest amplifier technology with micro-device maker AKM™ software to create this customized processor-amplifier hybrid. You make all your settings and adjustments from your compatible device running JL Audio's TüN™ 24-bit, 96 kHz processing software — that includes signal routing and mixing, 10-band parametric EQs, time-alignment, high- and low-pass filters, and output level control with 0.1 dB precision. In addition to tuning the audio signal, the processor provides a master clock signal for the Class D amplification, increasing audio accuracy. Truly, this amp offers intense and exacting sound controls.
Details:
75 watts RMS x 8
75 watts RMS x 6 + 200 watts RMS x 1 (bridged)
3 Project Levels of DSP tuning: Basic, Advanced, Expert
JLid™ connections for optional network, Bluetooth®, and digital remote control
speaker-level inputs allow the amp to work in almost any system
Need help deciding? Give us a call
Adding an amplifier is a great way to improve the sound quality in your vehicle. Choosing the best multi-channel amplifier that'll fit in your vehicle and produce the amount of power and features you want is often challenging and confusing. For help, read our car amplifier buying guide, and then contact our advisors if you have any questions or to confirm what you need to install a new multi-channel amp in your car.
Popular questions customers ask
If the sound gets muddy when you turn it up, you need the added power of an amplifier. You probably know the difference in sound between your TV speakers and a home theater system. An amplifier in your vehicle can make that kind of difference. You'll hear a bigger, fuller sound, with more detail and greater impact, especially if you've installed better speakers in your vehicle.
The first consideration is how many speakers you'll be powering and how much power each speaker will handle. Once you know that, you'll know how many amplifier channels you'll need and how much power you'll want.
Yes, you can, as long as you have a basic knowledge of electronics and you're handy with tools. You'll have to run a power wire from your vehicle's battery back to your amp's location, and then a ground wire from the amp to your vehicle's chassis. It's important to do the job correctly so you don't damage your vehicle. Our Tech Support people can help you if any issues come up.
Check your speakers or sub to see how much power they can handle in terms of "watts RMS." For a subwoofer, you should select an amplifier that produces approximately that much RMS power. Speakers are more forgiving, so you don't always have to max them out, although more power always sounds better.
The easy answer is "one speaker per channel." You'll need two channels to power a pair of speakers, four channels to power your front and rear speakers, or one channel to power a subwoofer. There are plenty of exceptions to this rule, so contact an Advisor to get the best advice for your situation.
Last updated 6/14/2022