Best powered subwoofers for 2020
Our top picks for great bass with music and movie soundtracks
In this article: Our top picks for adding great bass to your stereo or home theater system, along with a few shopping and setup tips.
Iabsolutely love the sound and feel of great bass. Sitting down to watch a movie — or working out to my hip-hop playlist — instantly improves my day. So yeah, I consider myself a bass enthusiast, and relish every opportunity I get to audition a new sub at work, or to rock out to my own system at home.
Narrowing the field
We carry a ton of different powered subwoofers — several tons actually, if you weighed one of each model together! So I've put together this short list of my favorites to help you get the most out of your budget and space. I've also included a few tips for getting the best bass out of your stereo or home theater system.
What makes these subwoofers my favorites?
My selections are based off of my listening experiences, customer feedback, ratings, and reviews. This is by no means an exhaustive list, but it highlights some of the best options available.
Best bang for the buck: ELAC Debut 2.0 SUB3010
The ELAC Debut 2.0 SUB3010 was designed by acclaimed speaker guru Andrew Jones. And for the money, it's one of the sweetest subs available. Jones designed this relatively small enclosure with a 10" front-firing woofer and a 10" down-firing passive radiator, making it a potent combination that sounds bigger than it actually is.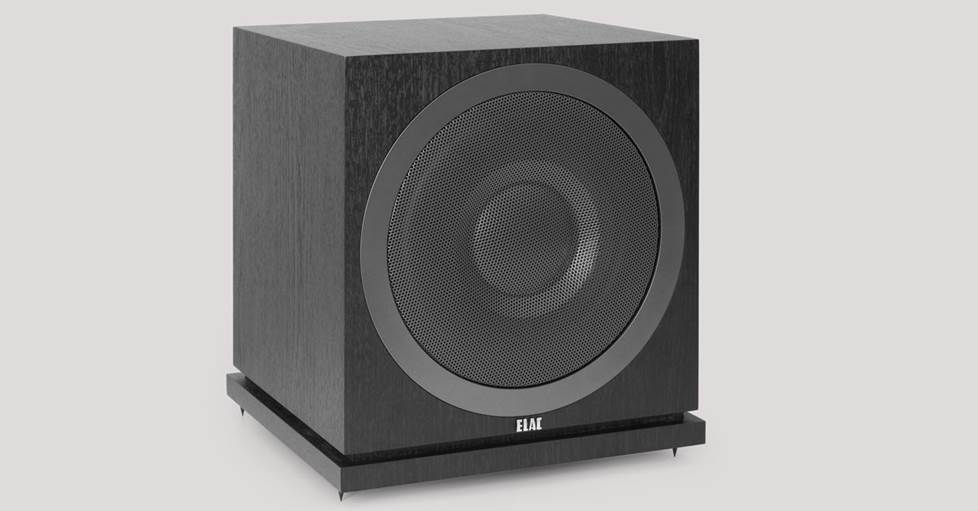 The SUB3010 combines great sound with intuitive, app-based controls to land at the top of my best subwoofers list.
Control it from your phone
The real magic behind the SUB3010 lies in how you set it up and control it. Everything is done from your device's touchscreen, which means no more reaching behind the sub with a flashlight to change settings. Being able to change output levels, equalization, and other sound settings from your couch makes this sub stand out from other models in its size and price range.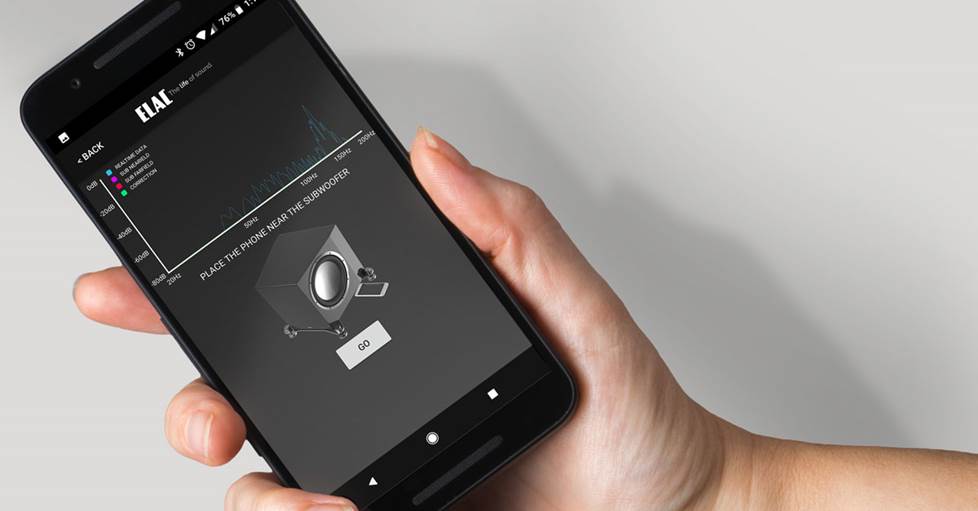 Room equalization and sound control are done from an app on your phone or tablet.
Details
10" front-firing, high-excursion woofer
10" down-firing passive radiator
200-watt RMS amplifier (400 watts peak)
frequency response: 28-150 Hz
app control for room equalization, EQ, volume, and more
13-15/16"W x 14-11/16"H x 15-1/16"D
Best budget powered subwoofer: Polk Audio PSW10
You don't have to spend a ton of money to get quality bass, and the Polk Audio PSW10 is a perfect example of this. It may well be one of our least expensive subs. But we've carried this value-packed model since 2004, making it one of our longest-tenured home speakers. The PSW10 is a solid choice if you have a small room, or are on a tight budget.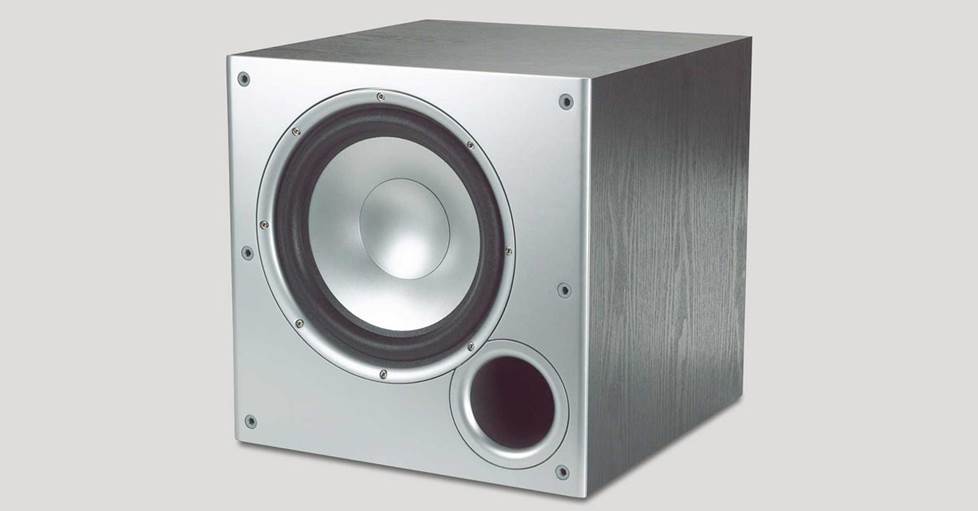 The Polk Audio PSW10 has been a customer favorite for 15 years. It's one of the best home speaker values we offer.
This compact sub works equally well in a music system as it does in a home theater. Use it with confidence while streaming music, watching a movie, or playing your favorite video games.
Details
10" front-firing woofer
50-watt RMS amplifier (100 watts peak)
frequency response: 40-160 Hz
14"W x 14-3/8"H x 16-3/16"D
Best subwoofer for small rooms: Cambridge Audio Minx X201
If you look under my left hand at the top of this article you'll see just how small the Cambridge Audio Minx X201 is. It's downright tiny! But don't let this sub's diminutive size fool you — it cranks out surprisingly strong bass and gets stellar reviews from our customers.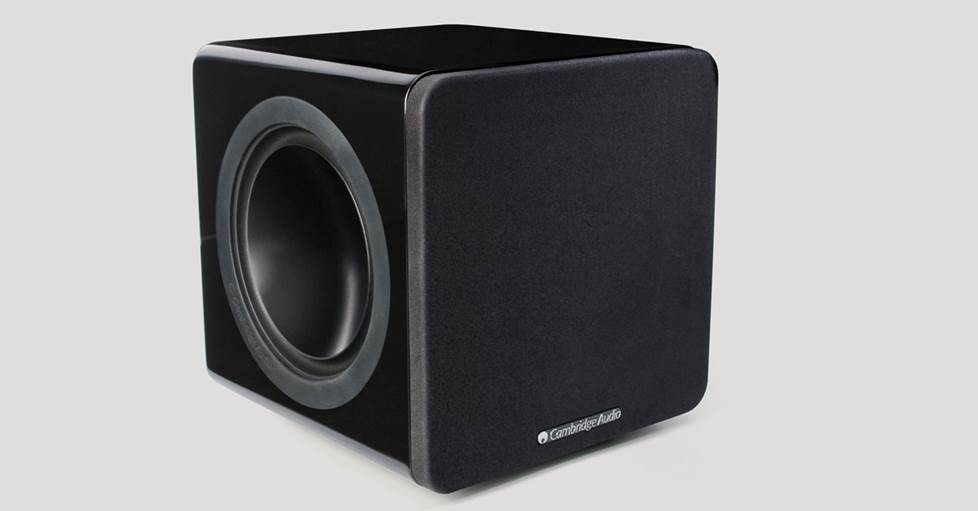 The Minx X201 may be small in size, but packs some serious punch thanks to its two side-firing passive radiators. They move in tandem with the powered driver to help reinforce bass output.
I recommend the Minx X201 for small rooms like a den, home office, or bedroom system. This sub is also an excellent choice for a sweet computer audio system at your desk, since it won't occupy hardly any floor space. It's even available in black or white to match your décor.
Details
6-1/2" front-firing woofer
dual side-firing 6-1/2" passive radiators
200-watt RMS amplifier (400 watts peak)
frequency response: 36-200 Hz
8-1/4"W x 8-5/8"H x 10-1/16"D
Best subwoofer for medium-sized rooms: Klipsch SPL-120
If you have a medium-sized room, check out the Klipsch SPL-120.
This hard-hitting 12" sub is powered by a 300-watt RMS amplifier — enough "oomph" to shake the walls, but also provide controlled, accurate bass. It's the kind of sub that makes dinosaur and spaceship movies take on a whole new level of realism in your room.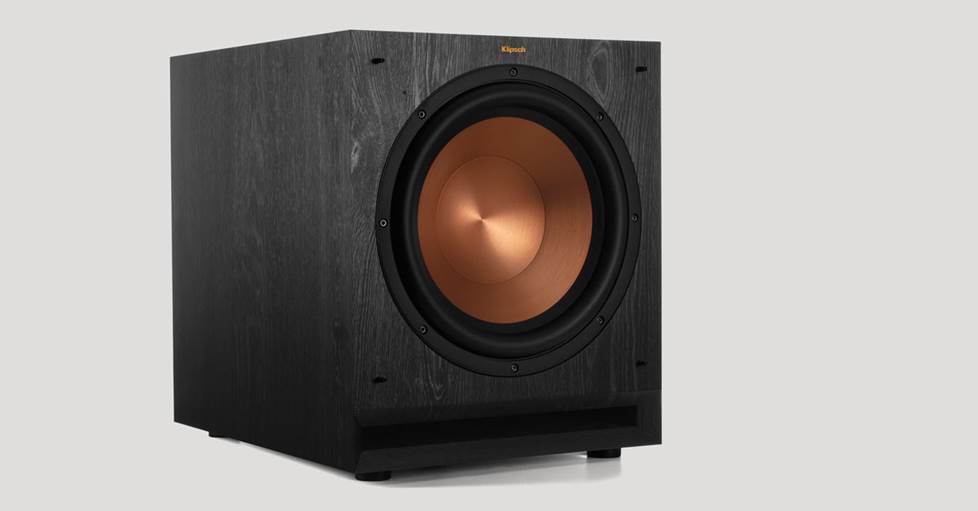 The Klipsch SPL-120 is an ideal choice for getting deep, controlled bass in medium-sized rooms.
I have a 12" Klipsch sub in my 11'x20' living room, and it's been a terrific fit. It satisfies my craving for deep bass, and its shiny copper woofer adds a nice pop of color to the room.
Can I make the pictures on the wall shake when I want? Absolutely! But more importantly, I get to enjoy clean, accurate bass at any volume level — crucial for when my family doesn't want to rock as loud as I do. (Which, to be honest, is pretty much all the time!)
Details
12" front-firing Cerametallic™ cone woofer
300-watt RMS amplifier (600 watts peak)
frequency response: 24-125 Hz
compatible with the Klipsch WA-2 wireless audio adapter kit
14-3/4"W x 17-11/16"H x 21-1/4"D
weight: 45 lbs.
Best powered subwoofer for large rooms: SVS PB-2000 Pro
SVS has become one of the industry's top subwoofer companies, and the PB-2000 Pro is a perfect example of why.
This rockstar sub can fill large rooms with ridiculous amounts of high-quality bass, and is an excellent choice if you really love to feel the bass hit you in the chest during action scenes.
Its ported enclosure does take up a good amount of real estate on your floor, so you'll want to measure your available space ahead of time.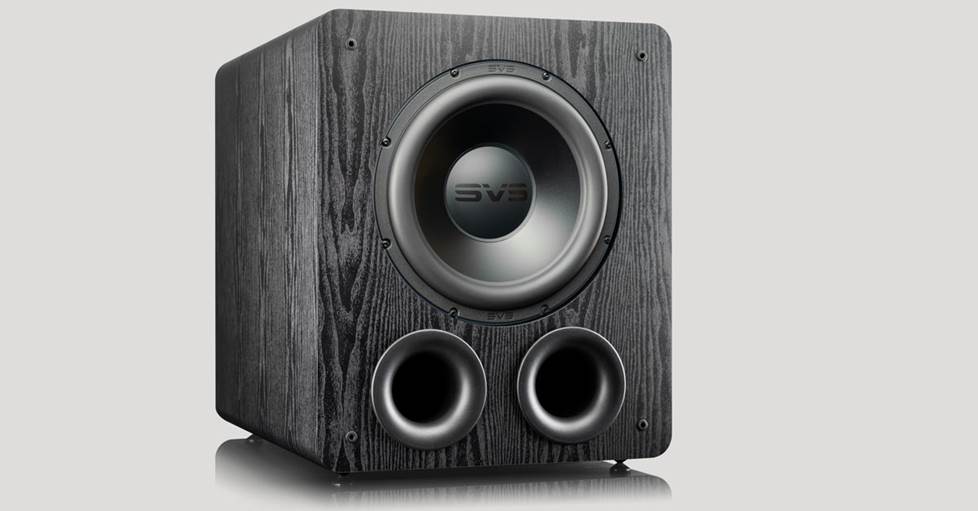 Want your sub to knock your socks off? The mighty SVS PB-2000 Pro can do that and then some.
Details
12" aluminum woofer
550-watt RMS amplifier (1,500 watts peak)
frequency response: 16-290 Hz
17-5/16"W x 20-15/16"H x 23-15/16"D
weight: 64.8 lbs.
Biggest and baddest powered subwoofer: SVS PB16-Ultra
No list of best subwoofers would be complete without the SVS PB16-Ultra. This gargantuan sub epitomizes the company's track record of high-end performance with impeccable build quality and expert-level sound-tweaking options.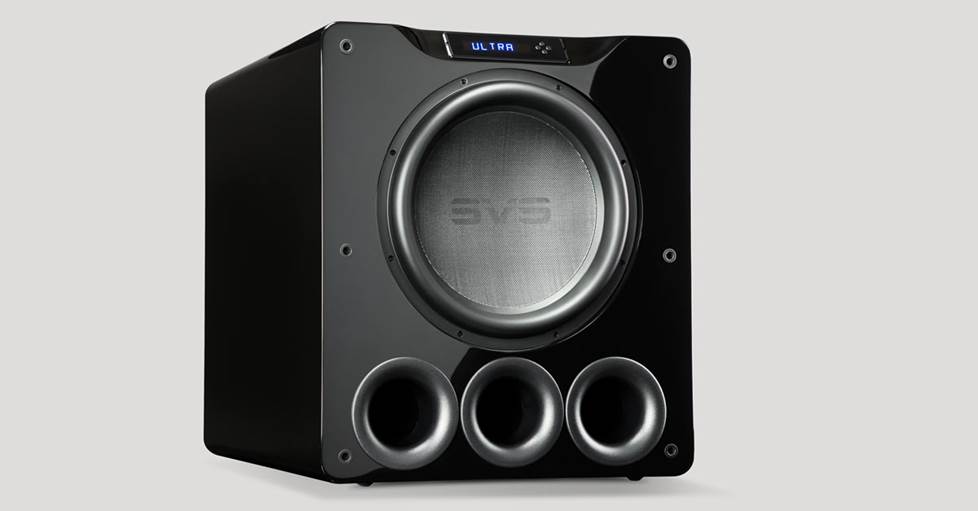 This 175-pound subwoofer masterpiece can fill even the largest rooms with titanic bass.
This sub can produce crazy levels of bass, for sure. But it also offers impressive control for such a large, ported enclosure. The PB16-Ultra is a terrific choice for an elite stereo or home theater system in a very large room.
Friendly heads-up: this sub is not for the faint of heart. I mean, just look at the thing — that trio of tunnel-sized ports on the front means business. And at 174 pounds (!), you're probably going to want to invite a friend over to help you get it set up.
Details
16" fiberglass resin composite cone with cast aluminum basket
1,500-watt RMS amplifier (5,000 watts peak)
bass-reflex (ported) cabinet design with three 3-1/2" high-flow flared ports
convenient front-mounted display with subwoofer controls and 8-digit LED display
3 digital parametric EQ filters with adjustable frequency, cut/boost, and Q values
subwoofer control and bass management smartphone app for Apple® and Android devices
21-3/4"W x 25"H x 31"D
weight: 174.5 lbs.
Tips on choosing the right subwoofer
There are a few key factors to keep in mind when shopping for a new sub. You'll want to consider your room size, where the sub will go, and the size and quality of your other speakers. My subwoofer buying guide has detailed tips on how to choose the right sub for your room.
Connect with us for a personalized recommendation
Have questions about choosing your next sub? One of the great benefits of shopping with Crutchfield is working with an expert Advisor. For one-on-one shopping advice, call, email, or chat with us today.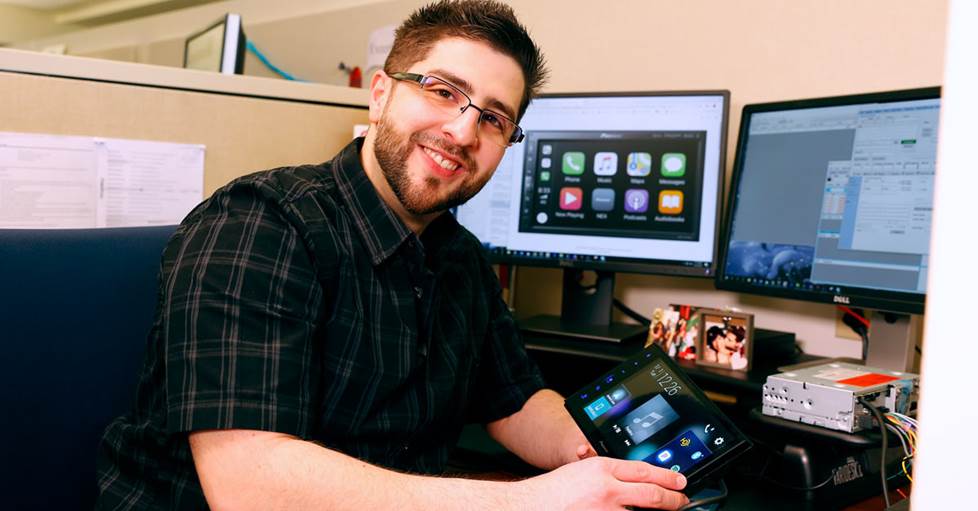 Give us a shout today for free, personalized advice.
Our advisors can send specific Crutchfield pages to your screen, saving you a lot of browsing time. Best of all, they know the gear inside and out, so they can help you make the right choice.
Get the most out of your new subwoofer
Once you've gotten your new sub home, check out our tips for set-up to get the best sound possible from your system. Free lifetime tech support is included with every Crutchfield purchase.
Put a stop to shaking, rattling, and rolling
Quick story: my living room has glass bookshelf and fireplace doors, along with tall windows that line three of its walls. All of these used to rattle like crazy when bass hit during movies. It drove me nuts!
One day I decided that I'd had enough. I bought an isolation platform to decouple my sub from the hardwood floor. Voila! Just like magic, the rattling and vibrations instantly disappeared. I even had to dial the sub back because the bass was suddenly stronger. It is without a doubt the best money I've ever spent on my system.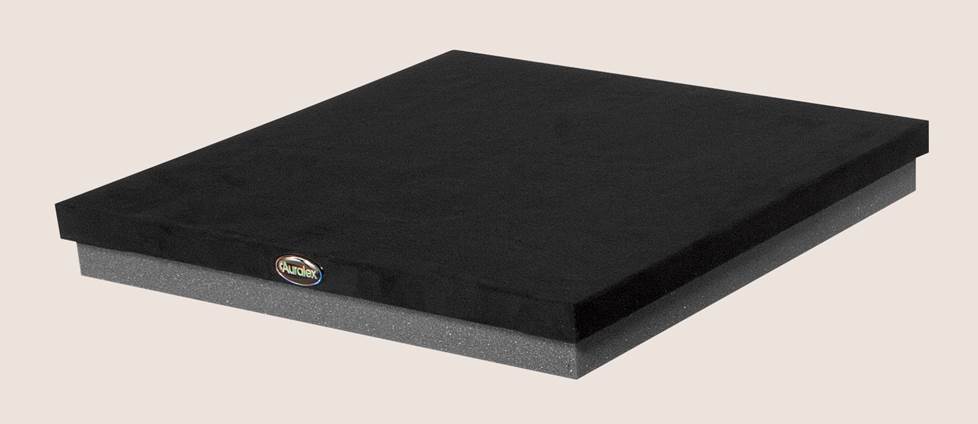 A subwoofer isolation platform, like the Auralex SubDude-II™, can make a huge difference in how your sub sounds.
Jump into the conversation
If you have a question about a sub you're considering — or want to pick my brain about anything in the article — leave a comment below. I respond quickly, and if I don't know the answer I'll find someone here that does. Thanks for reading!
Last updated 12/18/2019