Best shallow-mount car subwoofers for 2022
Low-profile subs for tight locations
In this article... I'll discuss eight of our customer-favorite and best-selling shallow-mount subwoofers.
What makes them sure bets for 2022? Let's take a look! I'll also share some shopping tips at the bottom of the article.
've loved car subwoofers ever since I first sat in a friend's car as he showed off his new system. He turned up the volume and my fate was sealed – I won't be able to drive without a sub in my car for the rest of my life. But as cars get smaller and cargo space gets more precious, shallow-mount subs have become more and more popular.
You'll find a wide range of shallow-mount subwoofers on our site, ranging from 6-3/4" bantam-weights to 13.5" bruisers, designed for people who prefer to design their own systems rather than opt for a powered sub. So how do you choose the right one for your vehicle? To help you narrow your choices quickly, we've compiled this list of our customer-favorite shallow-mount subs.
What makes these favorites?
The subs highlighted below are not simply top sellers. They have earned an average Crutchfield customer rating of 4 (or more) stars, which means our customers are seriously satisfied with their purchase once they've installed it. I've used that info to create a tight list of some of our best.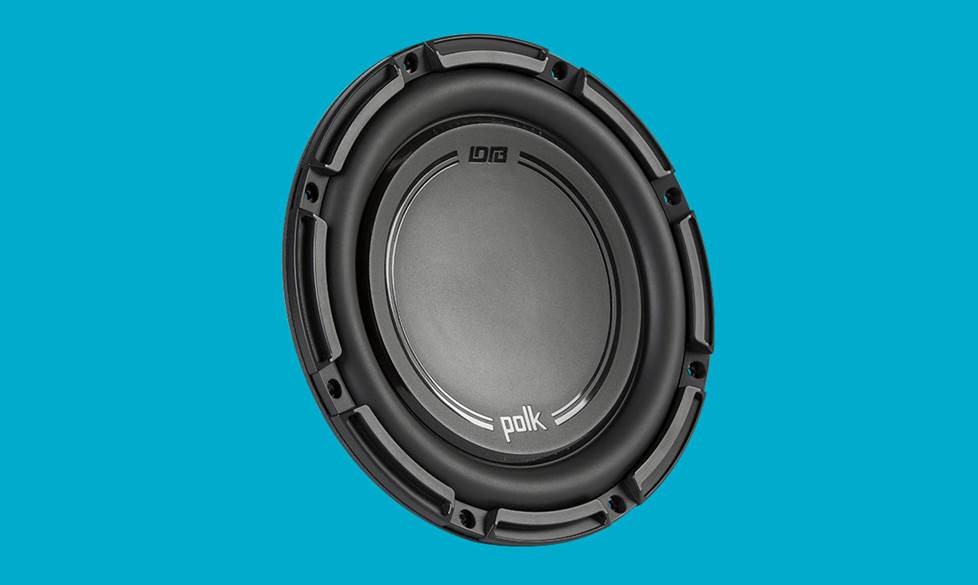 Polk Audio DB 1042 DVC — Durable, water-resistant bass
Polk's DB+ Series 10" shallow-mount sub handles up to 350 watts RMS. It's durable enough to be certified for use in fresh-water boats and convertibles, and it comes in at 4-3/8" deep. If space is really tight, this is not the shallowest sub in the bunch and it needs an enclosure with at least a foot of airspace. But it does sound absolutely great, especially considering its very reasonable price. Whether you use a sealed or ported enclosure, this Polk sub delivers well-defined bass, making it easy to blend it with your speaker system.
Size: 10" shallow-mount subwoofer with dual 4-ohm voice coils
Power handling: handles up to 350 watts RMS (175 watts per coil)
Specialty: marine-certified for use in boats and convertibles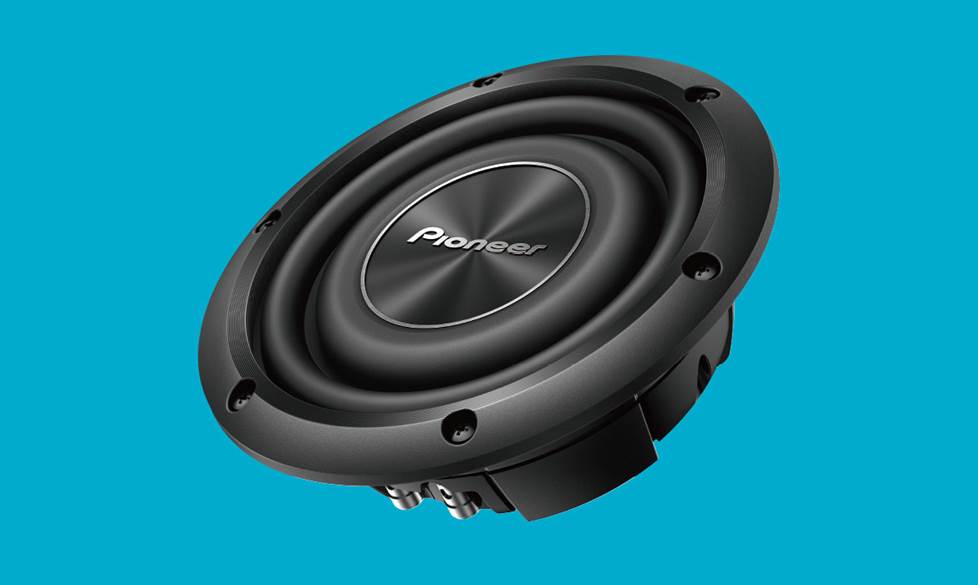 Pioneer TS-A2000LD2 — Designed for factory systems
Pioneer makes several very cool shallow-mount subs, but I mention the TS-A2000LD2 shallow-mount 8" model for one very important reason. Apparently, someone at Pioneer had some serious foresight when he or she designed the bolt pattern on this little sub, because it literally drops right into the factory 8" subwoofer location in a large number of vehicles with no drilling required. And its 1-ohm impedance works well with many factory amps designed to work with a low-impedance factory sub. At only 2-5/8" deep, this Pioneer can fit in a box with as little as 0.15 cubic feet of airspace – folks, that's a very small enclosure which can fit in some pretty tight spaces.
Size: 8" shallow-mount subwoofer with dual 2-ohm voice coils
Power handling: handles up to 250 watts RMS (700 watts peak power)
Specialty: great for factory enclosures and custom boxes in tight spaces
Kicker 48CWRT674 — The little sub that could
This Kicker 6-3/4" subwoofer is a little giant that handles up to 150 watts RMS, sits only 2-3/4" deep, and works in a box as small as 0.18 cubic feet. If you don't want to put a sub box in your vehicle, these also work well in the 6-3/4" speaker openings on the rear deck or in the rear doors of your vehicle.
Install these Kickers where your factory speakers used to be, power them with a good amp, and just run bass to them. Your neighbors won't hear you coming, but you'll greatly improve the bass response in your vehicle without using up any space at all. (Note: this sub's power handling capability is diminished in a free-air application like this, so you'll want to use an amp with a little less power, maybe 75 to 100 watts.)
Size: 6-3/4" shallow-mount subwoofer with dual 4-ohm voice coils
Power handling: handles up to 150 watts RMS (300 watts peak)
Specialty: great replacement for many small factory woofers and other factory locations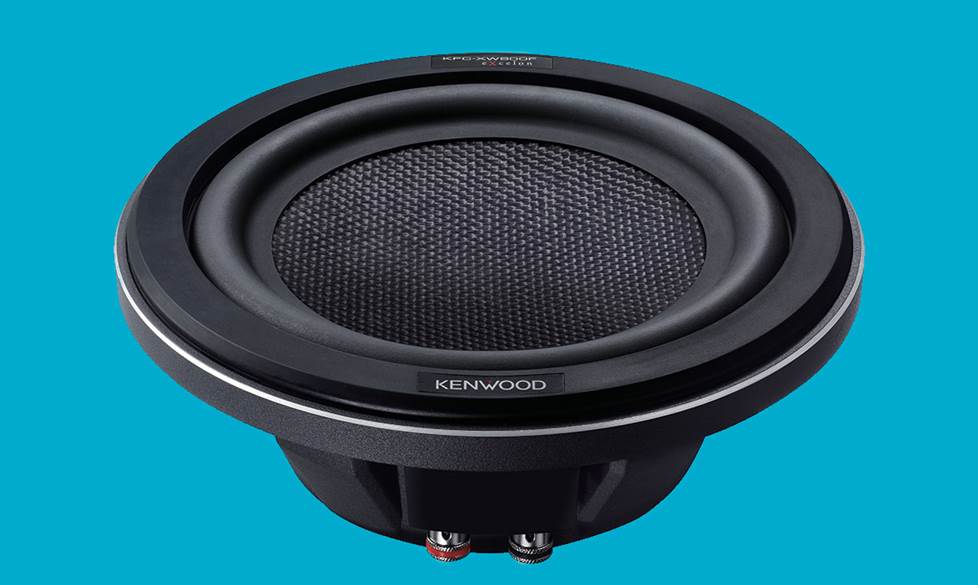 Kenwood Excelon KFC-XW800F — A subwoofer for excellent sound quality
I had an hour commute with a Kenwood Excelon sub in my car for 7 years and I loved every minute of it. If you're a newbie to the world of bass, this shallow-mount 8" model from Kenwood features a carbon/glass fiber cone built into a cast-aluminum basket, which means you get incredibly accurate bass.
Keep in mind, no 8" subwoofer will deliver the crushing sound pressure level (SPL) that many people like for reggae, metal, and rap. But if you like the clean bass that emanates from your home speakers, you'll love this Kenwood for its natural sound. It's the kind of sub that you never think about because it just sounds right.
Size: 8" 4-ohm shallow-mount subwoofer
Power handling: handles up to 50-150 watts RMS (600 watts peak)
Specialty: accurate sound and works in many factory enclosures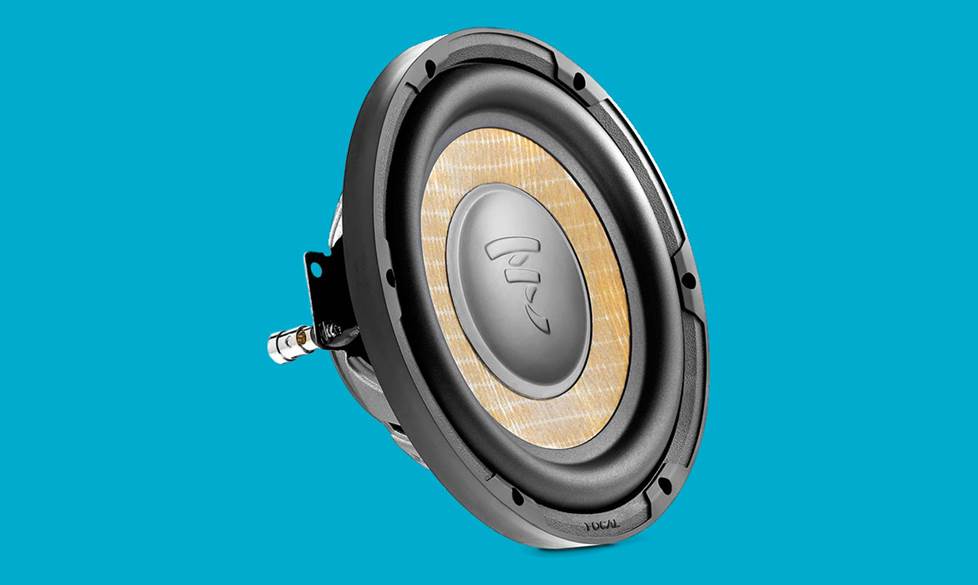 Focal P 20 FSE — A premium sub for "no-compromises" bass
Many Americans aren't familiar with Focal, one of Europe's most respected speaker manufacturers, but they've gained a lot of fans here at Crutchfield for their high-quality speakers. This shallow-mount Focal 8" sub uses some unusual materials to deliver premium bass, most notably a cone made from a layer of flax fiber sandwiched between two layers of glass fiber. (Yes, the same flax plant that's used to make textiles and other products.)
This material and other technologies were developed originally for Focal's highly regarded home speakers, and these discoveries trickled down to their car speakers and subs. This little sub is a great candidate if sound quality is a primary concern for you. It handles up to 200 watts, has a depth of 3", works well in a very small enclosure, and wow it sounds good.
Size: 8" 4-ohm shallow-mount component subwoofer
Power handling: handles up to 200 watts RMS (400 watts peak)
Specialty: high-end design and sound quality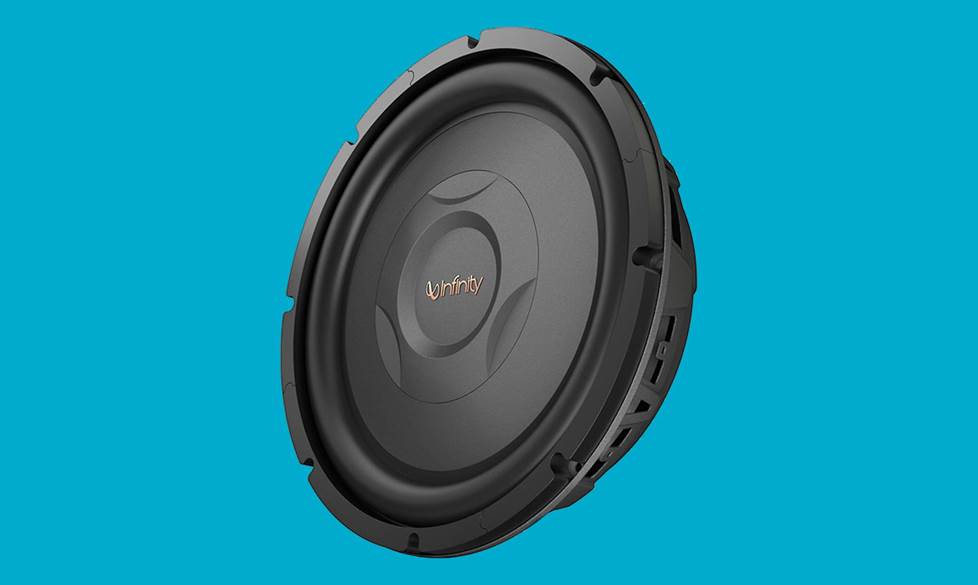 Infinity REF1200S — A 12" powerhouse, when a smaller sub just won't do
Infinity makes great speakers, and their Reference Series 12" shallow-mount sub is no exception. Designed for people who are looking for significant bass, this unusual-looking speaker handles up to 250 watts RMS and sits only 3-1/4" deep, impressive for a sub this large. Two notable things about this sub: 1) its high efficiency rating means your amp doesn't have to work as hard to get the volume you want; and 2) you can switch its impedance from 2 ohms to 4 ohms, which is great if you get a different amp or add another Infinity sub to your system. And did I mention that this thing is built like a tank?
Size: 12" shallow-mount component subwoofer
Power handling: handles up to 250 watts RMS (1000 watts peak)
Specialty: selectable 2- or 4-ohm impedance for flexible system building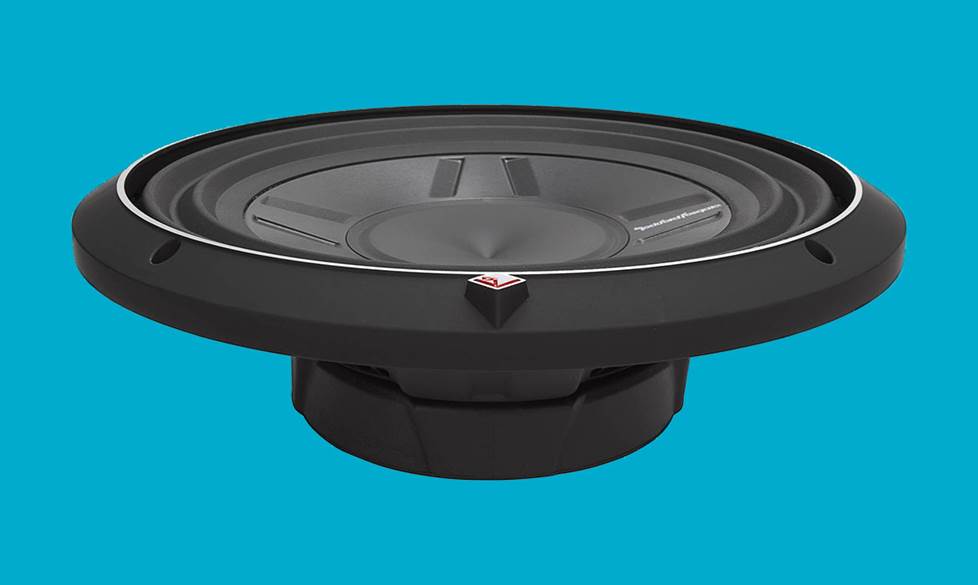 Rockford Fosgate P3SD4-12 — Powerful performance from a technological marvel
Rockford Fosgate is a name revered by bassheads everywhere, as they were one of the first companies to develop and manufacture amps and subs for cars. The P3SD4-12 Punch Series model is a real performer, handling up to 400 watts while boasting a depth of only 3-11/16". It uses an anodized aluminum cone with a Santoprene rubber surround, which requires some breaking in to reach full performance. But once it does, look out. You can expect impressive playback levels, and really powerful bottom end that will make your music punch like crazy.
Size: 12" shallow-mount subwoofer with dual 4-ohm voice coils
Power handling: handles up to 50-400 watts RMS (200 watts per voice coil)
Specialty: big bass sound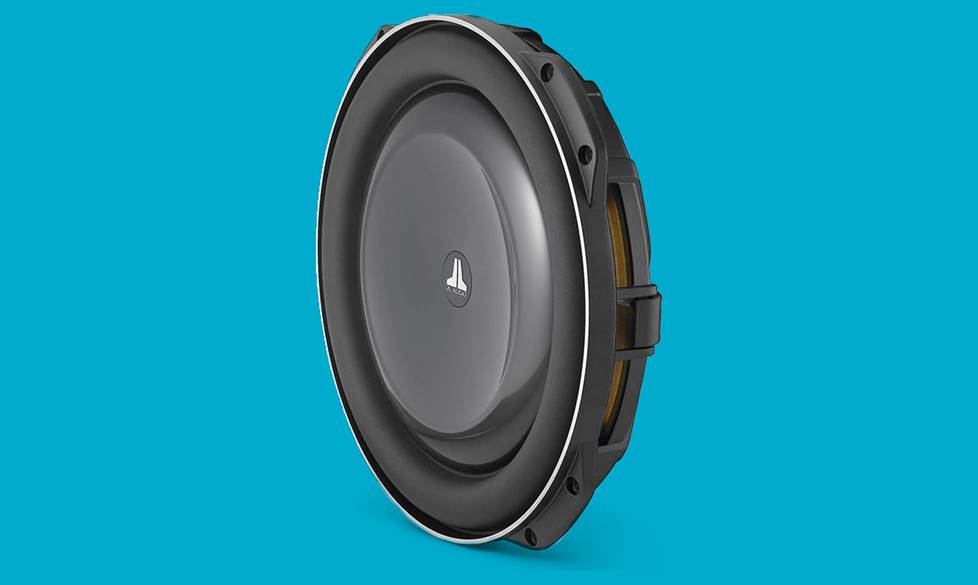 JL Audio 13TW5v2-4 — Only 2-5/8" deep, but look out!
In the Jungle of Shallow-Mount Subs, there is a king, and its name is JL Audio 13TW5v2-4. This 13.5" sub is only 2-5/8" deep, handles up to 600 watts RMS, and will fit in a sealed box as small as 0.8 cubic feet. The most impressive thing about this bass beast is that there are no compromises in performance – paired up with a powerful amp, this thing hits really, really hard. Great for custom installations, this pancake of a sub was made for people who want it all – incredible performance in an extremely compact package. End of story.
Size: 13.5" 4-ohm subwoofer
Power handling: handles up to 600 watts RMS
Specialty: radical shallow-mount design with extremely small airspace requirements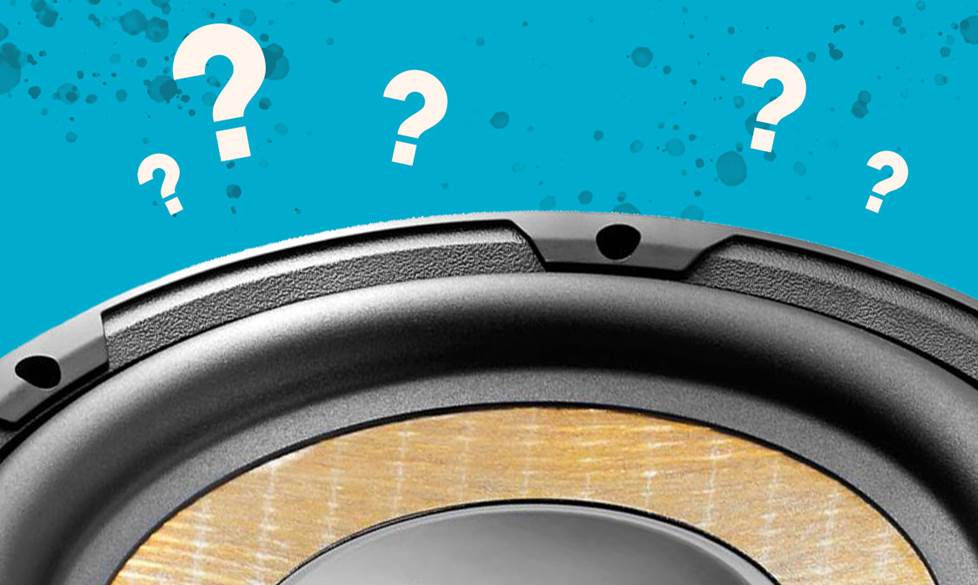 How do I choose the right subwoofer?
If you're already considering a shallow-mount sub, you probably have a special "use case" in mind: replacing an 8" factory subwoofer with something that'll drop into the same location, or putting together a more custom installation where a traditional subwoofer isn't going to fit.
So one of the first factors is settled: Subwoofer size. This helps narrow your search. But where do you go from there? The other important factors for choosing a subwoofer include:
Power — Pay attention to RMS power ratings, not peak power ratings. RMS ratings measure continuous power handling or output and are a much more realistic measure than peak power. Make sure the sub can at least handle your amp's output power.
Sensitivity — Sensitivity goes hand-in-hand with power to achieve high output. A sub that has a higher sensitivity rating requires less power to produce the same amount of sound as a model with a lower sensitivity rating
Number of voice coils — Dual voice coil subwoofers are a popular choice among car audio enthusiasts who want more flexibility in wiring their sound systems. While typical subwoofers have a single voice coil, dual voice coil (DVC) subwoofers use two separate voice coils, each with its own connections, mounted on one cylinder.
Impedance — Most subwoofers are rated at 4 ohms impedance, but 2-ohm, 8-ohm, and dual voice coil subwoofers have become commonplace. These give you more flexibility when adding multiple subs to your system.
You'll find even more helpful shopping tips in our Car Subwoofers Buying Guide.
You'll need an amplifier
Even if you're replacing a factory sub, chances are the factory amp is not going to supply enough power for an aftermarket sub. You can learn more about finding the right amp in our article about matching amps and subs. If you want to get right to the amps, here's our selection of mono amps.
Have questions?
If you want some help picking the best subwoofer for your vehicle and music, contact our advisors. They'll help you find the right one and take the time to discuss everything you need to know about adding it to your vehicle's audio system.
Popular questions customers ask
It's simple. A subwoofer gives you more bass, reproducing lower frequencies that your other speakers can't deal with. And subs aren't just for "bassheads." Filling out those lower frequencies will make any kind of music sound better. At Crutchfield, we love to see that look of surprise and joy on someone's face the first time they hear a sub in their vehicle!
The larger the woofer, the deeper the bass. A 12" sub will play louder and deeper than a 10" sub. A single subwoofer is all it takes to reinforce your music, but if you're looking for volume, then two subs are certainly louder than one.
A sealed enclosure will sound tighter and more accurate. A ported (or vented) enclosure makes the bass louder, with more boom, but with a slight loss of accuracy. A bandpass box is a combination of those two designs for even more output in a narrow frequency range.
First, figure out where a sub will fit. If you have limited space, consider a small powered sub. You'll be surprised how much bass you'll get. Also, what are your plans for your sound system? A small sub and amp will work great for adding some bass to a factory radio, but if you have plans to expand your system, go with the biggest sub that'll fit.
Yes, all subs need an amplifier. Some subs even come with an amp built-in (called "powered subwoofers"), so you don't have to match the sub to the amp. If you prefer to customize your system, make sure to get an amp that's powerful enough for your sub. The more bass you want, the more power you'll need.
Last updated 8/30/2022