Best sound bars for 2023
Our expert's top picks, plus some shopping tips
In this article: My list of best sound bars — along with a budget-friendly alternative for each ...
... plus some shopping tips.
Adding a sound bar is an easy, convenient, and space-saving way to get great sound from your TV. A good sound bar is the perfect solution for an apartment or a living room with an open floor plan. If your décor, lifestyle, or budget won't allow for a full-blown surround sound system, you'll find a lot to like in a sound bar. Here are my top picks for 2023.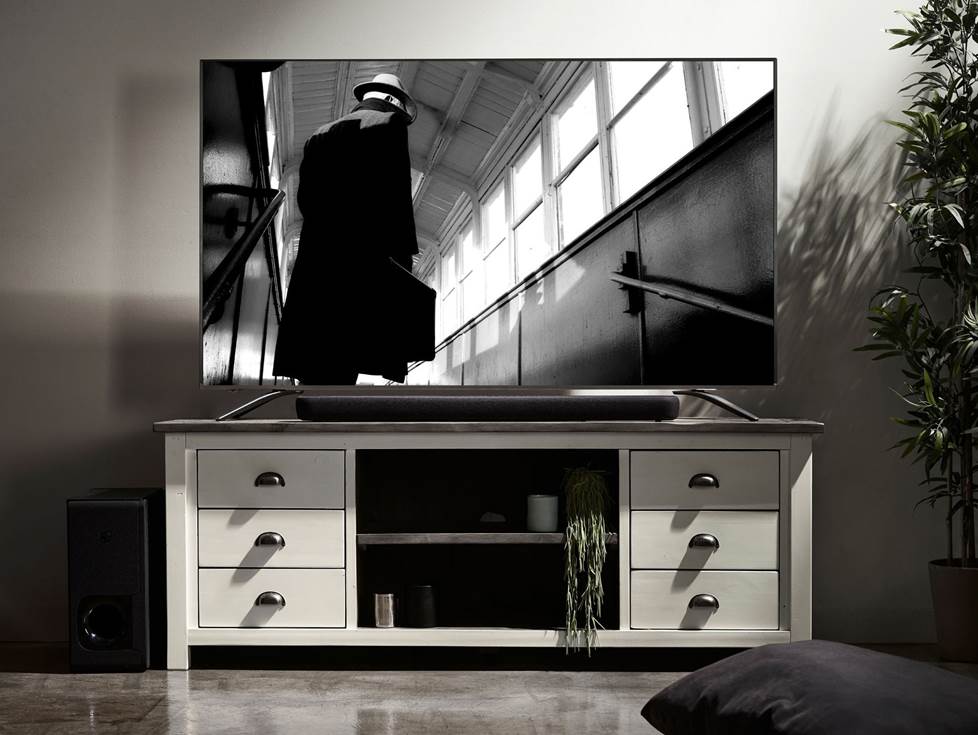 More home theater bang for your buck — Yamaha YAS-209
Yamaha's YAS series bars are always customer favorites, and we expect the YAS-209 to continue that trend. It has built-in Amazon Alexa voice control and DTS:Virtual X — a lifelike 3D virtual surround sound format.
This sound bar is easy to hook up and is compatible with 4K TVs and video sources with HDR (high dynamic range).
Details
four 1-3/4" full-range drivers and two 1" dome tweeters
separate wireless subwoofer with 6-1/2" front-firing driver
Yamaha's Clear Voice feature makes dialogue easier to understand
you can control your system with a free app
the price is hard to beat
A wallet-friendly alternative
You can save some money (and a little floor real estate) with Yamaha's YAS-109. Instead of a wireless sub, there's a pair of ported subwoofers built into the bar itself.
What our customers say about the YAS-209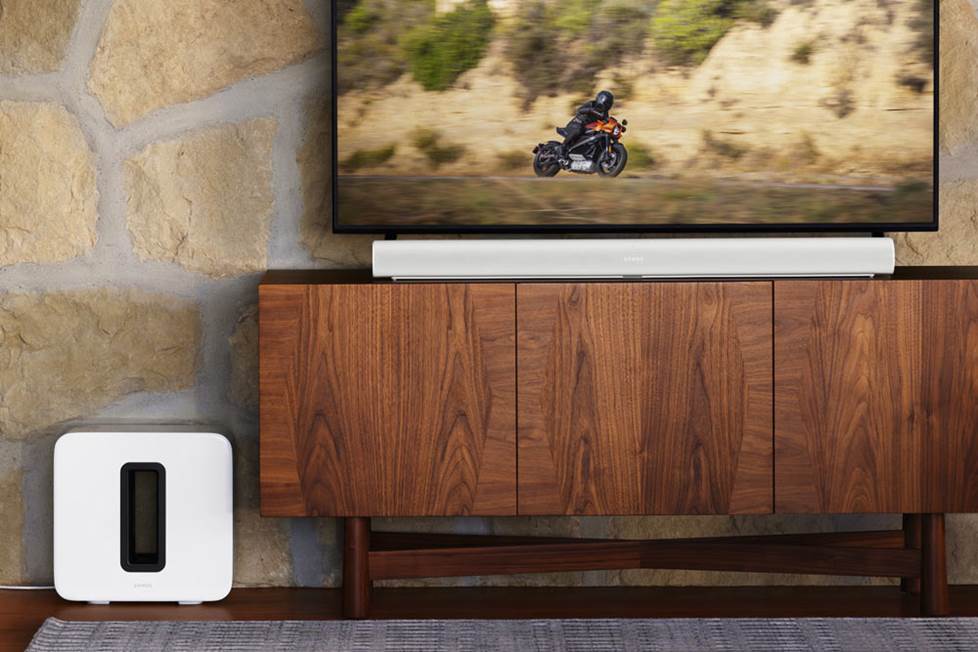 A sound bar for music lovers — Sonos Arc
Get killer TV and movie sound, including Dolby Atmos, with access to all your favorite tunes through Sonos Arc.
Sonos' Trueplay tuning lets you use an app on your iPhone® (currently not compatible with Android™) to fine-tune Arc so it sounds great no matter where you place it.
Pair a Sonos Sub with Arc to add bass impact to your home theater system. The Sub pairs wirelessly with Arc, and is a simple way to enjoy rich, full-sounding music, movies, and TV. Add additional speakers to build up to a 5.1 home theater system.
Details
eleven built-in speakers (two up-firing drivers, dedicated center channel, and eight elliptical woofers)
communicates wirelessly with other Sonos players
quick, easy setup and control with free Sonos app
you can add other Sonos speakers to your TV sound system
easy to integrate into Sonos wireless whole-home audio system
A wallet-friendly alternative
The Sonos Beam (Gen 2) is a compact but powerful offering from Sonos, delivering way bigger sound than you'd expect from a bar its size. There's also the Sonos Ray which is the slimmest and most affordable Sonos sound bar yet.
What our customers say about Arc
Voice control and a living room-friendly design — Bose® Smart Soundbar 900
The powerful Bose® Smart Soundbar 900 has heavy-duty drivers that cut right through dead spots in open floor plans. Bose's ADAPTiQ® room calibration system makes up for any challenges presented by objects reflecting sound in your room.
The 900 has Amazon Alexa and Google Assistant built-in, so you can control it — and other smart home devices — using only your voice.
Bose also offers the optional wireless Bass Module 700. In Bose's own words, "it's the difference between hearing bass and feeling thunder." It communicates wirelessly with the Smart Soundbar 900 to add realistic impact to onscreen effects.
Details
specially designed drivers deliver full, spacious sound
PhaseGuide® technology simulates surround sound
Voice4Video™ technology expands Alexa, control your TV with just your voice
support for Dolby Atmos for an immersive, theater-like experience
solid build with a metal grille and beautiful tempered glass top panel
optional Surround Speakers 700 available for added rear effects
A wallet-friendly alternatives
The Bose Smart Soundbar 600 is slimmer but still packs plenty of punch — with all the convenient smart features of the 900. And the Smart Soundbar 300 is their extra-compact little brother.
What our customers say about the Soundbar 900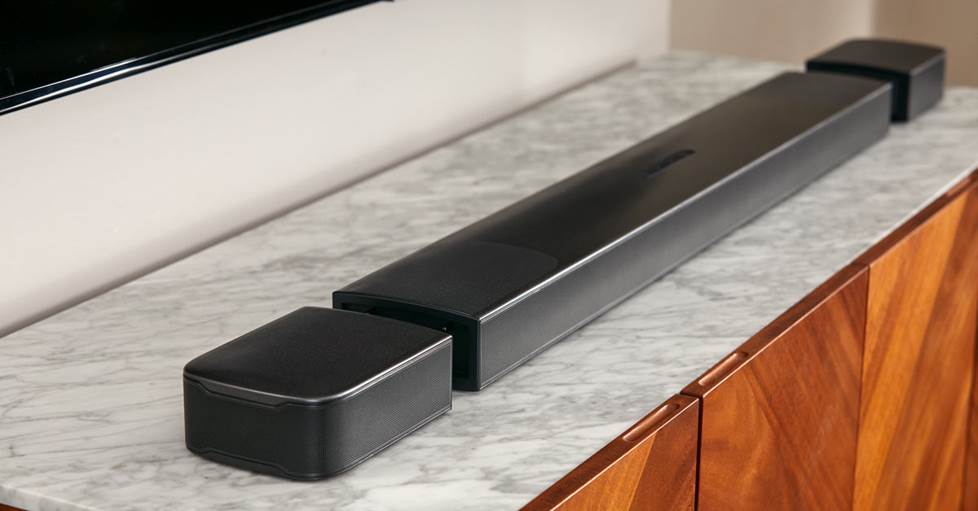 Truly wireless surround sound — JBL Bar 9.1
A lot of sound bars give you the option for "wireless" rear speakers. Sure — they make a wireless connection to the sound bar, but they still need a wired connection for power. The JBL Bar 9.1 is unique. It includes 100% wire-free rear speakers that recharge when attached to the sound bar.
Details
main bar has nine built-in speakers, including two full-range up-firing drivers for overhead effects
detachable surrounds each have one up-firing full-range driver and one 3/4" front-facing tweeter
separate wireless subwoofer with 10" down-firing driver
rechargeable surround speakers provide up to 10 hours of wireless rear/height effects
the remote has independent volume controls for sub and surrounds
wall-mount brackets are included for the bar and the rear speakers
A wallet-friendly alternative
Samsung's HW-B650 is a 3.1-channel sound bar and sub system with the option to add wireless rear speakers when you're ready for an upgrade to surround sound.
What our customers say about the Bar 9.1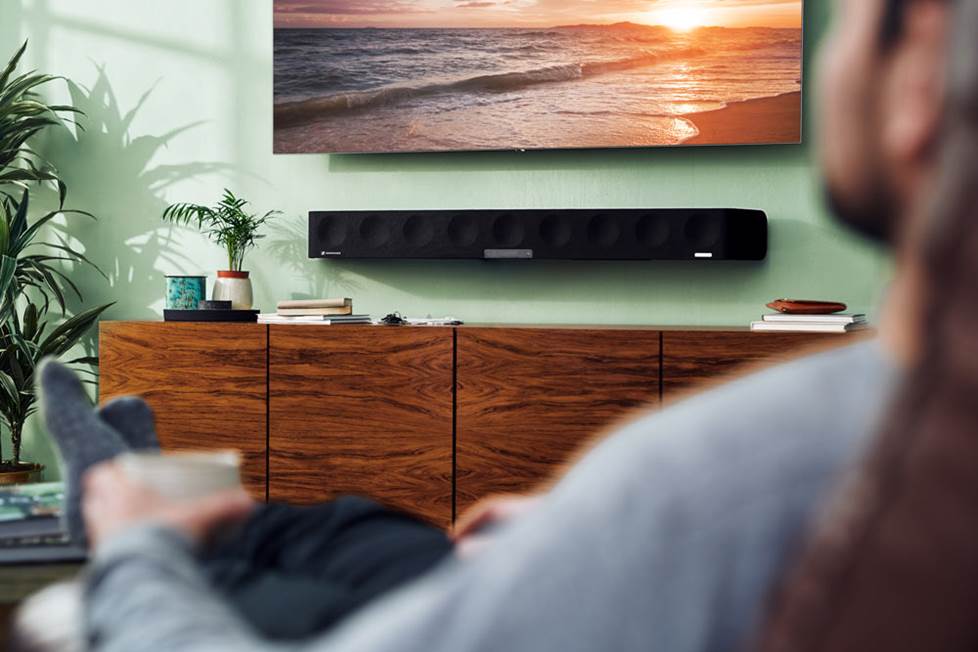 The best-sounding bar I've ever heard — Sennheiser AMBEO | Max
If you crave the three-dimensional effects of Atmos and DTS:X, but you don't want to worry about precisely placing speakers everywhere, Sennheiser's AMBEO Soundbar | Max is the way to go. It knocked our socks off when it was demoed here at Crutchfield HQ.
Details
13 built-in drivers deliver 5.1.4-channel sound from a single sound bar
AMBEO 3D technology creates an immersive experience using 32-bit processing and room calibration to virtually place speakers around the room
supports content encoded with Dolby Atmos and DTS:X
Chromecast built-in for easy streaming and multi-room music, compatibility with Google Assistant voice control
mono RCA subwoofer output lets you add your own powered subwoofer
A wallet-friendly alternative
The new AMBEO Soundbar | Plus is the Max's powerful "little" brother, offering AMBEO 3D immersion at a more affordable price point.
What our customers say about the AMBEO | Max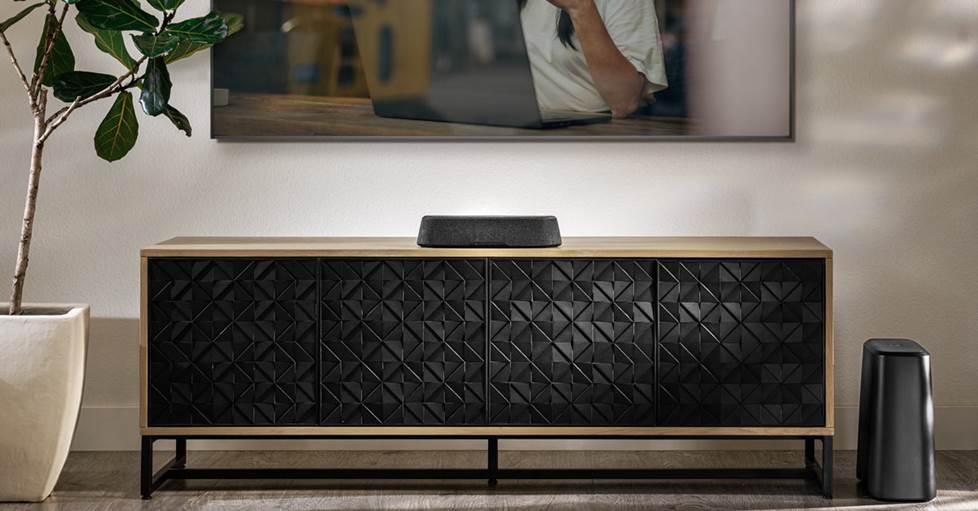 Perfect for small spaces — Polk MagniFi Mini AX
Polk's MagniFi Mini AX produces a big sound from a tiny bar. This sound bar supports Dolby Atmos for surpisingly immersive surround sound for it's size. Don't worry about the dialogue getting lost in all the sound and fury though, Polk's VoiceAdjust™ tech keeps it clear even if you're sitting in the back of the room.
Details
three 2" midrange drivers and two 3/4" tweeters
separate wireless subwoofer with 5" x 7" driver
Great sound from a compact bar
Chromecast built-in and Apple AirPlay 2 for easy streaming and multi-room music
Polk VoiceAdjust™ technology helps keep dialogue intelligible
A wallet-friendly alternative
If you don't want a separate subwoofer, take a look at JBL's Bar 2.0 — a compact solution for smaller spaces.
What our customers say about the MagniFi Mini AX
Sound bar shopping tips
Sound bars come in a variety of shapes and sizes to suit any space, budget, or TV setup. To find the right one for you, start by asking what you hope to get from it.
Are you looking for full-on home theater sound? Or do you just want to hear the TV better?
If you're simply looking for fuller sound from TV, a simpler sound bar model should suit your needs just fine.
If you'd like something that produces thrilling home theater effects, look for a sound bar with surround sound decoding.
Consider whether you'd like a separate subwoofer. Since their built-in speakers are so compact, sound bars can be lacking in the low-frequency department. A lot of them come with wireless subwoofers to fill out the lower end. And some have outputs for a wired connection to the subwoofer of your choice.
How big is your room, and how big is your TV?
In general, larger TVs and larger rooms call for larger sound bars. And more compact models are great for smaller spaces.
Consider your placement options
Sound bars can be wall-mounted or placed on a stand with your TV. And platform-style models are designed to go under your TV.
Do you have a lot of components to connect?
Is your TV is wall-mounted? It might be much easier to connect your cable box, Blu-ray player, and game console through your sound bar. Make sure you get a bar with enough HDMI inputs. See our sound bar connection and setup guide for more information.
Need help choosing?
For more shopping tips, see our complete sound bars buying guide.
Have questions? Our expert Advisors know the gear inside and out.
Your Advisor can send specific Crutchfield pages to your screen, saving you a lot of browsing time. You'll get a shopping cart loaded up with everything you need for your new home theater.
Free lifetime tech support is included with your Crutchfield purchase.
Popular questions customers ask
Not aways. Self-powered sound bars are more common than passive sound bars. You don't need a receiver or amplifier of any kind to drive a self-powered sound bar. The amplification is built into the bar itself.
We carry over 50 sound bars that can learn your remote's commands. This helps keep the number of control devices to a minimum. From your TV's remote, you can adjust the volume, switch sources, and more.
Yes. While your TV's speakers might have had you saying, "Huh?" a lot, sound bars are great for making dialog discernible. Some have a dedicated center channel for dialogue, and many even have dialog enhancement modes that add even more emphasis to voices.
If you already have a self-powered subwoofer you'd like to use alongside your sound bar, you're in luck! We carry a handful of models that have a dedicated mono subwoofer output. All you need to connect the two is a standard subwoofer cable.
Most of the sound bars we carry have Bluetooth built in for streaming your favorite tunes. Some models only support basic Bluetooth, while others support higher resolution codecs like aptX and LDAC. There are also a few models that support Bluetooth transmission, which lets you send audio wirelessly to headphones and compatible Bluetooth speakers.
Last updated 11/3/2022