Best stereo gear for your Ford F-150
Upgrade the audio and more in your Ford pickup
In this article... we'll give you ideas for improving the sound system in your F-150. Some of the highlights are:
A new stereo to add the latest technology to your dash
New speakers to add clarity to your music
Add an amplifier to bring out more musical details, and yes, add greater volume
Subwoofer options to get the bass that all music needs
Other conveniences to make your truck just a little bit better
America loves pickups. From bare-bones work trucks to leather-lined luxury trucks that cost more than the down payment on a good-sized house, pickups can be anything you want them to be. That's probably why they're the most popular vehicles in the country.
When it comes to pickups, Americans seem to love Ford trucks the most. Now in its thirteenth generation, the venerable F-Series has been the country's best-selling vehicle, period, for the better part of the last three decades. Chevy and Ram (nee Dodge) have plenty of fans, too, but the F-Series is the king of the truck mountain.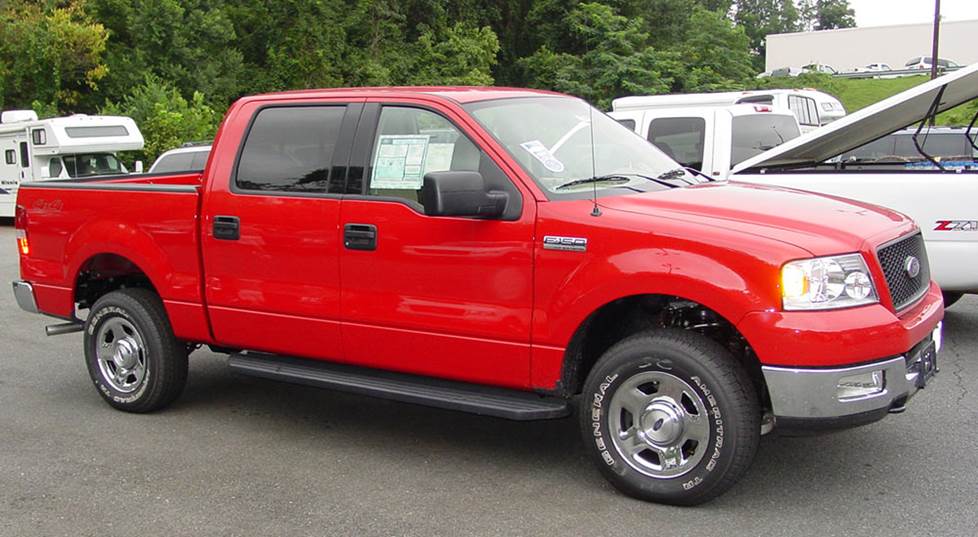 Want to learn more about what's involved in upgrading the stereo in your Ford? Our Research Garage has informative Vehicle Profiles on three decades of Ford trucks, and there's more to come!
Stuff to fit any Ford truck
New F-Series trucks are selling like crazy and the older trucks are still running like trains, but no matter the age of your truck, the factory stereo system can always be improved. Whether it's new tech or just better sound, there's a lot that can be done with your Ford pickup. This guide will give you a high-level view of what's possible and, when you're ready to shop, our industry-leading vehicle database will help you find exactly what works in your truck.
Gear for your F-series truck
We're focusing mostly on the F-150, simply because of that model's longevity and sheer marketplace dominance. But this information applies to pretty much any F-Series truck, from the vintage F-100 to hard-working F-250s and F-350s, to the modern, massive F-450.
Gear for other Ford trucks, too
The same is true for Ford SUVs, like "big" Broncos, Expeditions, and Excursions, not to mention Lincoln's Navigator and Blackwood. Yes, even the Blackwood.
A lot of this info also applies in varying degrees to other Ford trucks, including Rangers, Rancheros, "baby" Broncos, and even the nifty little Courier mini-truck.
Just enter your vehicle info to find out what fits your Ford.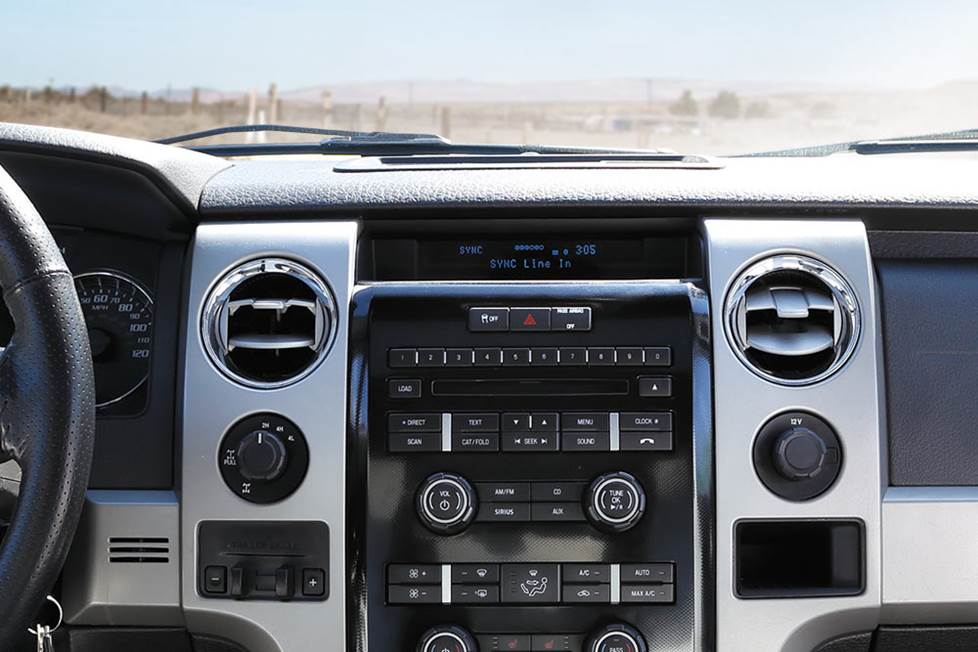 We have stereos to fit pretty much any Ford F-150, including this 2012 model.
How to get the best stereo for your Ford F-150
If you're shopping for a new stereo for your F-150 you've come to the right place. Crutchfield carries a wide range of single-DIN (2" tall) and double-DIN (4" tall) receivers, and when you buy from us, you'll get a nice discount on the dash kit and wiring harness you'll need to install your new stereo.
Replacing the stock radio in an F-150 has been a pretty simple process for most of the last few decades, but as technology has improved, the process has changed a bit. A brand-new F-150 with MyFord Touch is obviously a more complex thing than a '99 F-150 with an old-school AM/FM/cassette radio.
Detailed stereo and speaker removal instructions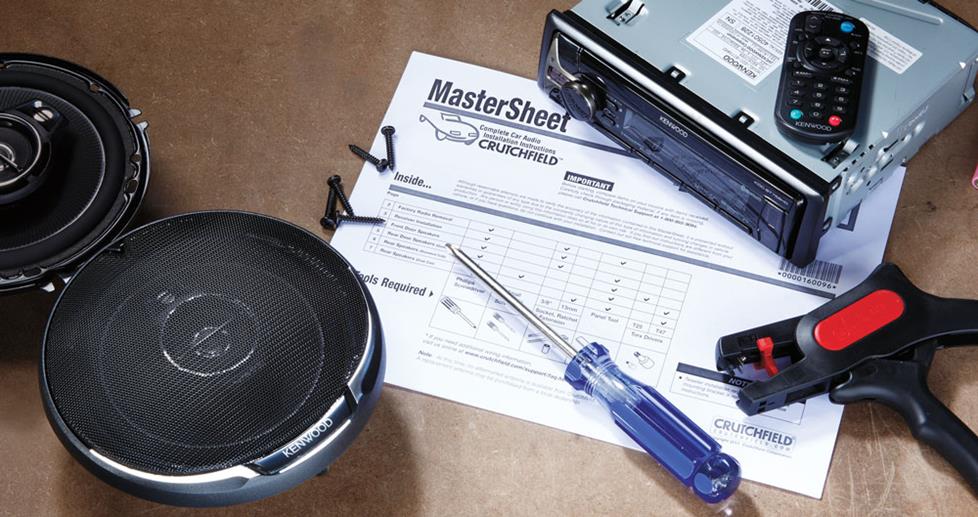 Crutchfield's exclusive
vehicle-specific instructions
will guide you through the disassembly process. You'll also get installation instructions for the dash kit and wiring harness needed for hooking up your new stereo. Plus you'll get free in-house tech support for the life of your new gear.
For more recent F-150s, there are even custom-fit stereo/dash kit combos that fit right into your dash, retain factory SYNC or MyFord Touch functionality, and add a ton of audio performance. These top-of-the-line stereo kits are really impressive and they're well worth a look.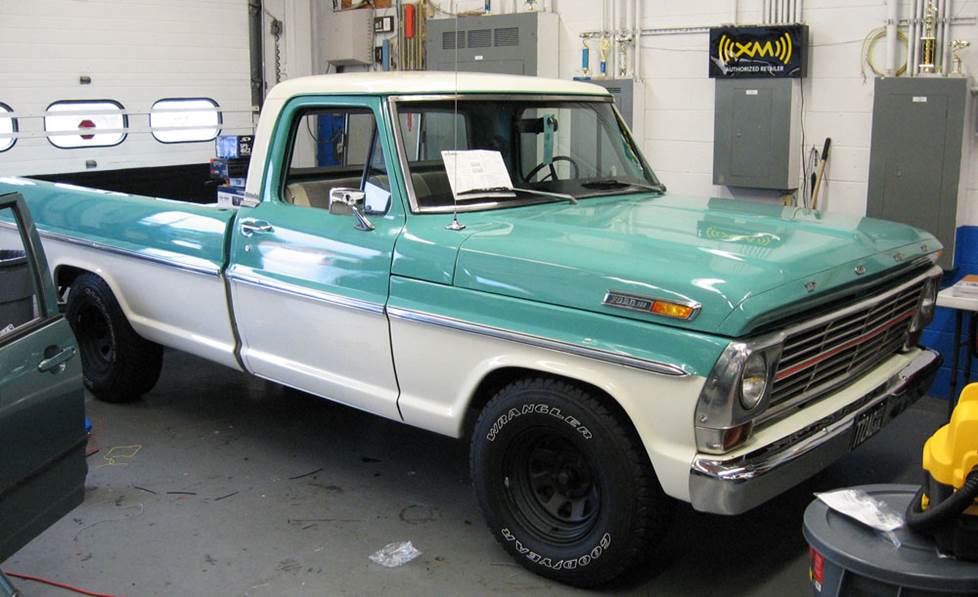 For older Ford pickups like this one, Retrosound audio gear is the best solution for better sound.
Stereo solutions for vintage trucks
If you want to enjoy modern sounds in your vintage Ford pickup, but don't want to hack into that original dashboard to install a modern single-DIN receiver, we have you covered there, too. Retrosound's incredibly cool digital media receivers are designed for older vehicles, so you can replace the shaft-style radio in your older truck and keep the vintage look you love. A variety of models and styles are available, so enter your vehicle information to see what'll work in your pride and joy.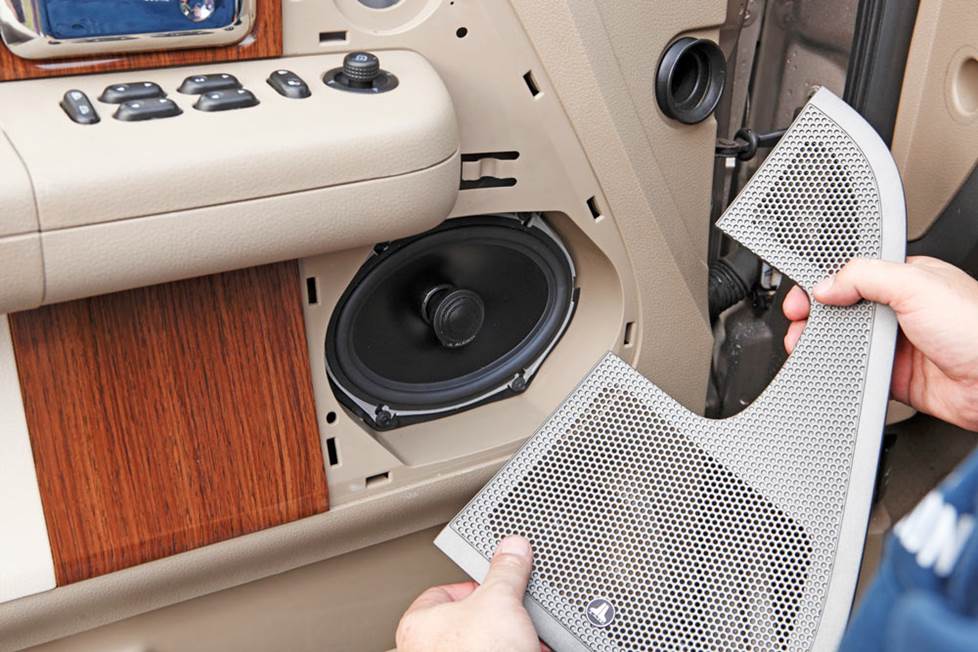 A new set of front door speakers will make your F-150 sound better, whether you replace the stock receiver or not.
Choosing the right speakers for your F-150
Upgrading the stereo is a great first step, and it's the one we recommend for most owners. But speakers are a big deal, too. Trucks are noisy beasts, and if you've added knobby tires, you're probably hearing a lot more roar than music.
Factory speakers really aren't that great to begin with, and they age fast. Upgrading those wheezy old speakers with new ones will make a big difference in your truck's sound. Aftermarket speakers will get the most out of the new receiver and make your music sound better than ever, especially when you crank it up. Just enter your vehicle info to see what fits your truck.
When you order your new speakers from Crutchfield, you'll get a nice discount on the wiring harness and mounting brackets you'll need to install them in your F-150. And if you need installation tools, we have those, too.
Kick panel pods let you add more speakers
In some F-150s, including older models, one cool way to improve your sound is to install a set of Q-Forms Kick Panel Pods. These unloaded, custom-fit speaker enclosures fit into the space where your kick panels are now. They hold a set of 6-1/2" component speakers (sold separately) in an ideal position, angling them to maximize sound quality.
The pods are available in a variety of colors to match your truck's interior and, while installation takes some work, it's not beyond the capabilities of the experienced DIY-er. Enter your truck info to see what'll work in your F-150.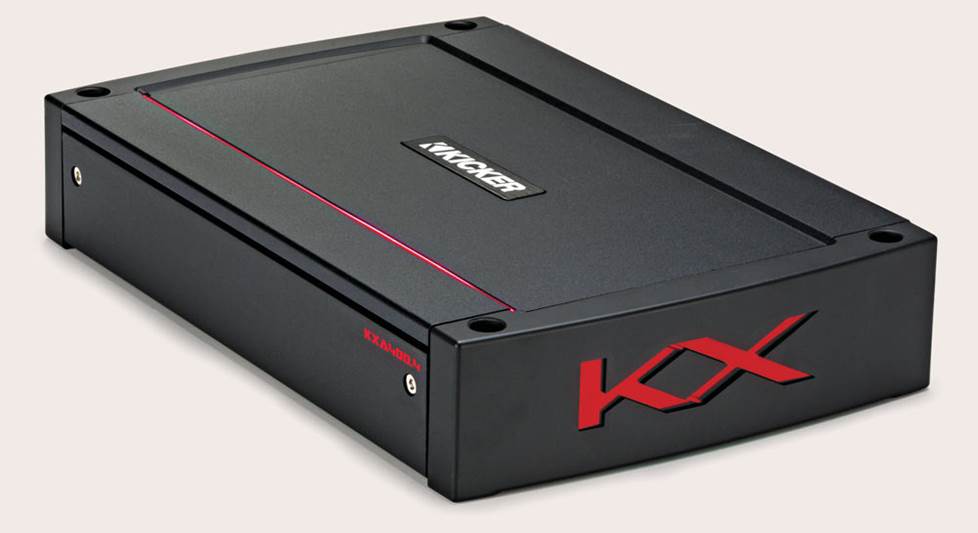 Adding an amplifier to your Ford's audio system will help you get the most out of your new receiver and speakers.
Boost your F-150's sound with an amplifier
"But it's a truck," you say. "The new speakers are right there. Why do I need an amplifier?" Okay, point taken, but it's still a smart upgrade if you really want the best possible sound in your F-150. An amplifier is especially important if you're keeping the factory stereo.
An aftermarket 4-channel amp, for example, will help you get the most out of your new speakers. You'll get cleaner power (and a lot more of it), which will result in much, much better sound. You can go for a 5-channel amp or even a mono amp if you also want to power a subwoofer.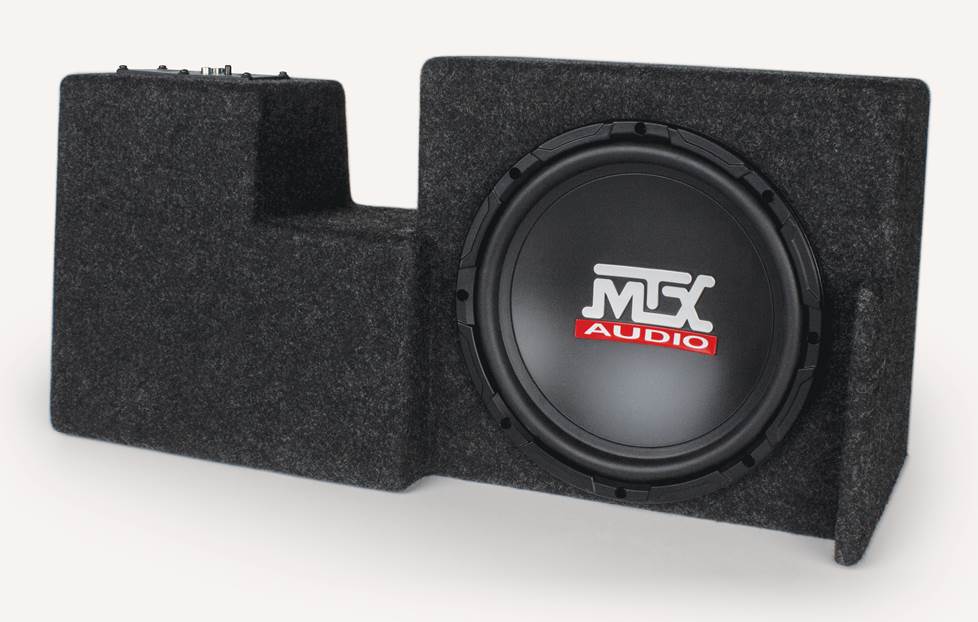 This MTX ThunderForm loaded enclosure fits under the rear seat of your 2009-2014 Ford F-150 Super Cab, so you get great bass without losing any space. It's equipped with a 10" Terminator sub and a cool-running 200-watt amp.
Subwoofers that fit your F-150
The bigger the cab, the easier it is to add a subwoofer to your F-150.
Standard Cab trucks (older or newer) don't offer much space, obviously, but if you get creative, you might be able to find some room for a compact powered subwoofer. It depends on the space behind the seat (if there is any) and/or under it. Measure carefully, then give us a call and talk to one of our expert advisors.
Extended Cab and Crew Cab F-150s give you more options. There's more room to work with and, depending on your truck's model year, more custom-fit options that'll fill the cab with bass. You can choose from unloaded, loaded, and amplified versions, and some are available in colors to match your truck's interior. To see the subwoofer options for your F-150, enter your vehicle information.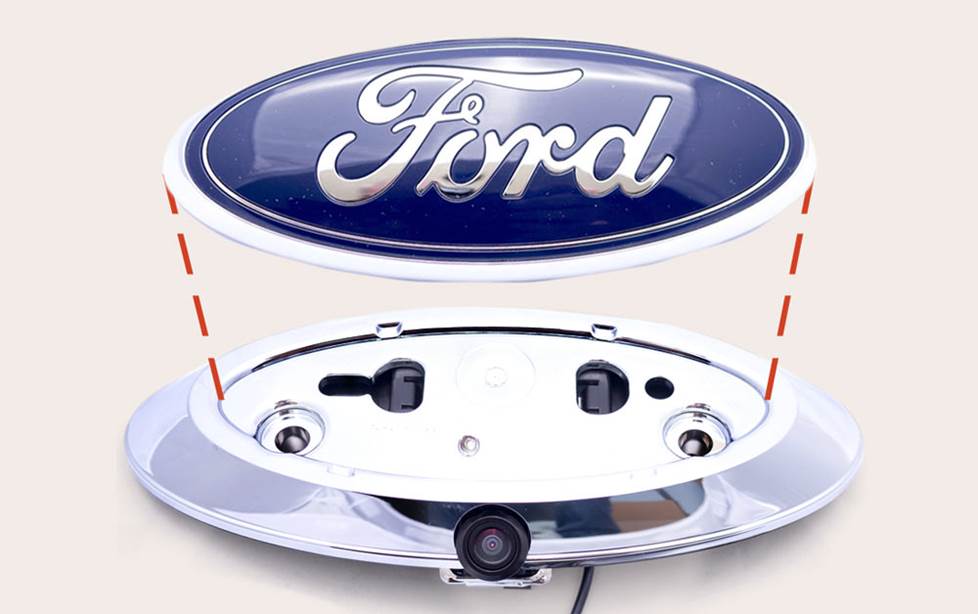 The Crux CFD-03E camera is cleverly hidden in a replacement Ford logo emblem, so you can mount a rear-view camera on your 2004-up Ford pickup. You can also integrate this camera with the MyFord Touch 8" screen radio found in select 2011-up trucks. All you need is Crux's RVCFD-79 Rear-View Integration Kit (sold separately).
See more by adding a camera to your F-150
The bigger the F-Series, the bigger the need for a backup camera. When you're way up there in that vast expanse of truck, it can be kind of challenging to maneuver in parking lots, garages, and even your own driveway. You can choose cameras that work with your new big-screen double-DIN receiver, of course, but if your truck doesn't have space for one of those, there are camera systems that replace your factory rear-view mirror.
There are plenty of universal camera systems, but there are also custom cameras designed specifically to work with select F-Series trucks. Enter your truck's info to see what's available for your pickup.
The scenery out in front of your truck can be pretty interesting, too. Dash cams are really handy around town, while action cams are very cool for capturing all the sights of your off-road excursions. And if you happen to have an F-150 Lightning that you take to the drag strip, you'll definitely want to record your racing exploits, right?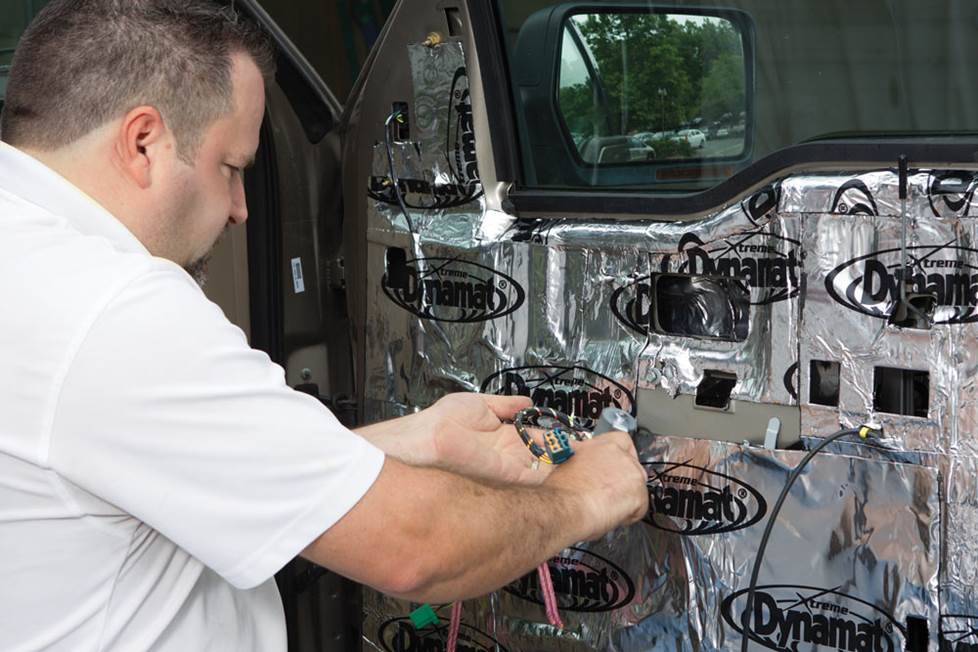 Dynamat will dampen the sounds you don't like and help you get more enjoyment out of the ones you do
Other ideas for your F-150
As you might expect with a truck that's been this popular for this long, there are lots of ways to upgrade the entertainment, durability, sound quality, and security in any Ford F-150. Here are a few ideas from our experts.
Sound insulation
If you have an older (late 60's to early 00's) F-150 and you want to maximize your sound by minimizing road noise, check out a Hushmat thermal and sound insulation package. These custom kits includes pre-cut pieces to fit the firewall, doors, floor, roof, and rear wall of your truck. You'll have to disassemble the interior to apply Hushmat directly to the body panels, but it's totally worth the effort if you've built a serious system. You can cut outside noise by up to 15dB and your truck will be better insulated against heat and cold, too! Enter your truck's info to find the Hushmat package that fts your F-150.
Dynamat is another sound-insulating option for your truck, especially when you're replacing the door speakers anyway. This soundproofing material is a great way to dampen the sounds you don't like and get more enjoyment out of the ones you do. For more information on installing Dynamat in a Ford pickup, check out the informative series of articles about our 2004 F-150 project truck.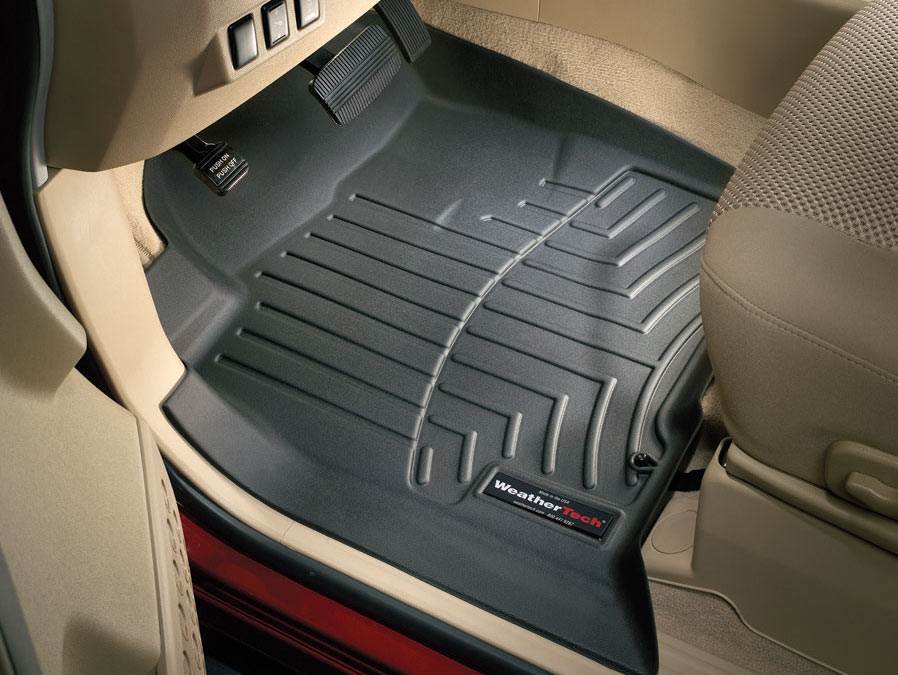 A set of WeatherTech custom-fit floor liners is a smart upgrade for any F-150
Floor mats
No matter how much you pamper your F-150, you're eventually going to get involved in some sort of truck-like activity that gets you and/or it dirty. When that happens, it's a good idea to have a set of WeatherTech Floor Liners and Mats in your truck. These incredibly durable mats trap moisture, contain dirt, and keep your factory carpets looking good. Just enter your vehicle info to see what's available. There are bedliners and SUV cargo mats, too!
Antenna replacement
The antenna on your older F-150 has no doubt led a very hard life. If it's still working, you don't have to replace it when you install a new receiver, but this is as good a time as any for an upgrade. And if your truck doesn't have an antenna (possible), you'll need to install one. The prices are reasonable and the installation process is, too, so it's a smart thing to do when you're replacing your old radio.
Water- (and mud-) resistant gear
If you spend a lot of time in mud and muck, you might want to look into marine audio gear for your F-150 or Bronco. Marine receivers are sealed to keep out salt and spray, so they can stand up to mud and sand, too.
Unfortunately, our Outfit My Car tool won't sort the marine stereos for fit, so we encourage you to give us a call. Our internal database does allow our advisors to see which ones will fit your Ford, so we can help you find what you need. We also offer marine-rated speakers, subwoofers, and amplifiers, so you can build an audio system that's tough enough for extreme off-roading.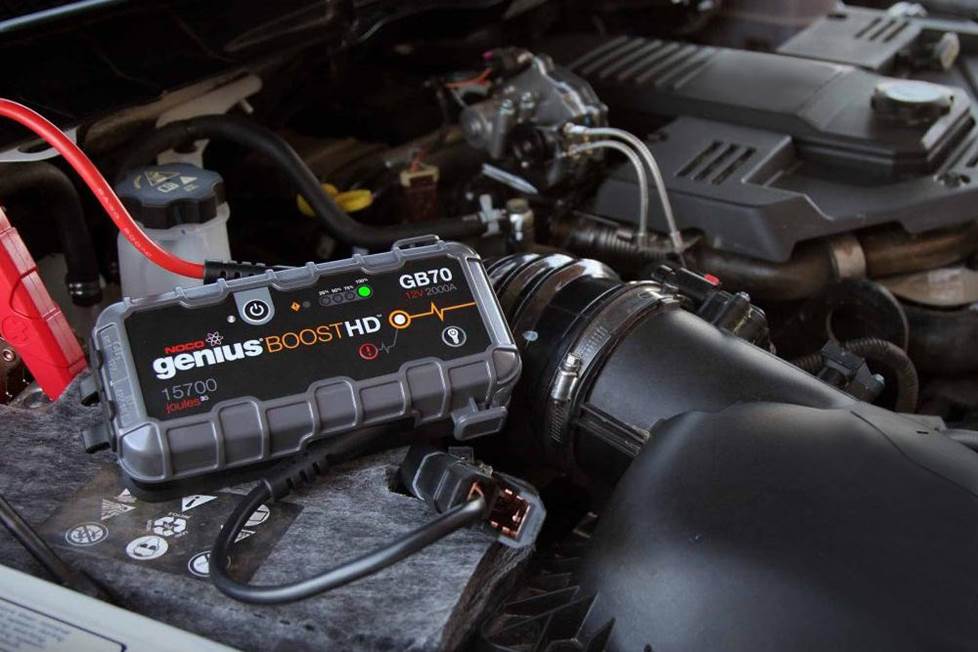 The NOCO GB70 portable lithium-ion power pack delivers 2000 amps to jump start the battery in almost any vehicle, and it also features a USB port for charging your mobile devices.
Get a charge when you need one
We know you're smart enough to be careful about your battery, of course, but dead batteries do happen. What you need is a compact, powerful, easy-to-use charger that can jump your F-150 in an emergency – wherever you are. We offer a wide variety of power packs that can do just that, plus charge your phone, tablet, or other device.
Security systems and remote start
Installing a security system in your F-150 or Bronco won't be easy (security systems rarely are), but it's definitely a good idea if you tow long distances and stop overnight. Our Crutchfield Advisors can help figure out what you need to get the job done, but we usually recommend taking your truck to a professional installer.
Adding remote start capability to your truck lets you warm it up in the winter or cool it down in the summer. Installation is usually easier with these systems, but we still ask that you call to order so that we can make sure you get the right harness for your ride.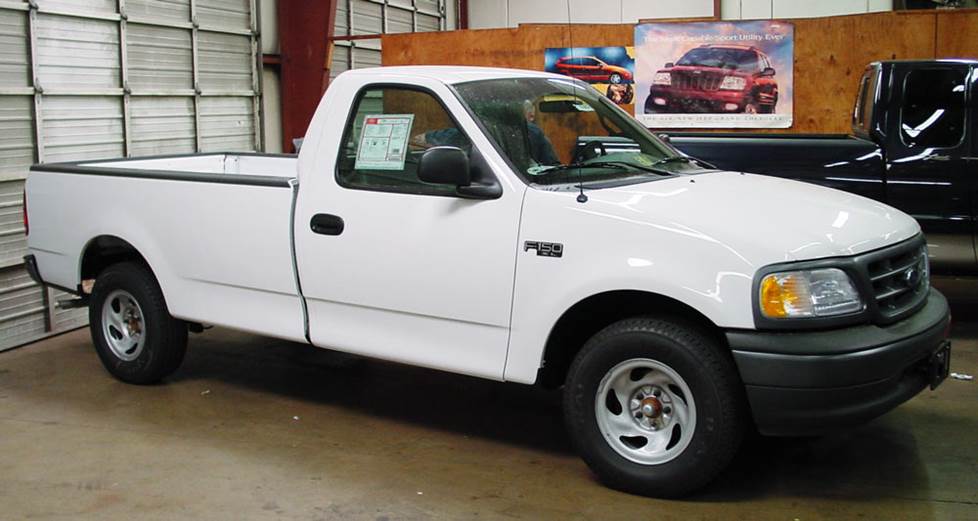 Our experts will help you find the gear that's right for your F-150
Got questions? That's what we're here for!
An F-150 project is never truly "done," mostly because adding and upgrading gear is part of the fun of owning a truck in the first place. If you have any questions, our Crutchfield Advisors will be happy to answer them.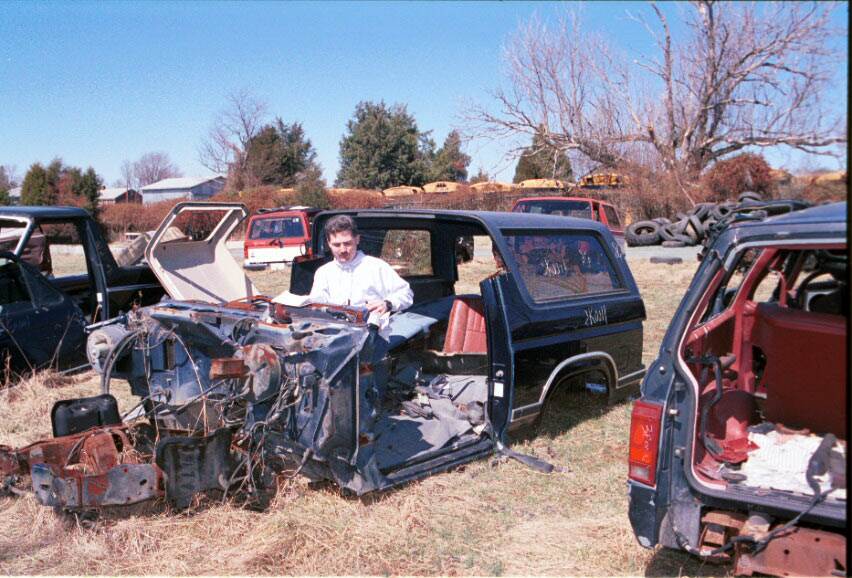 Our Research Team goes to great lengths to research Fords and other vehicles. Believe it or not, we learned quite a bit from the remains of this Bronco!
Popular questions customers ask
Adding GPS navigation requires that you get a touchscreen stereo, of course, and you have two options. First, Android Auto and Apple CarPlay let you use your favorite GPS app including Apple Maps, Google Maps, and Waze. If you want GPS navigation without tying up your phone, you'll have to get a new stereo with built-in navigation.
Yes, when connected via USB or Bluetooth, you can play music from your phone on the radio. And if you're using CarPlay or Android Auto, you can control most music apps from the stereo's touchscreen for a "true" car stereo feel.
Our vehicle database is unmatched. We've taken apart the dashes and door panels of more than thousands of vehicles and measured every space and bolt pattern. We'll also make sure you get the right installation gear when you order.
You'll need a special adapter to keep those handy buttons working with your new stereo. When you shop on our site, we'll show you all the options for installation hardware, including the right adapter for the steering wheel controls.
New stereos will often work with your existing backup camera. We'll let you know before you make your purchase. If your car doesn't already have a camera, you'll find compatible backup cameras under the stereo's "Accessories" tab on our site.
Last updated 7/6/2022