Best of the best Bluetooth speakers
We compare five of our top wireless speakers
Heads up!
Welcome to this article from the Crutchfield archives. Have fun reading it, but be aware that the information may be outdated and links may be broken.
When our customers ask us about Bluetooth® speakers, they usually mean the compact, portable speakers that you can grab and take just about anywhere. Those are great — you just whip out your smartphone and wirelessly play tunes at parties, picnics, or wherever music is welcome. But there are larger, higher-performance options that offer more features and better sound quality.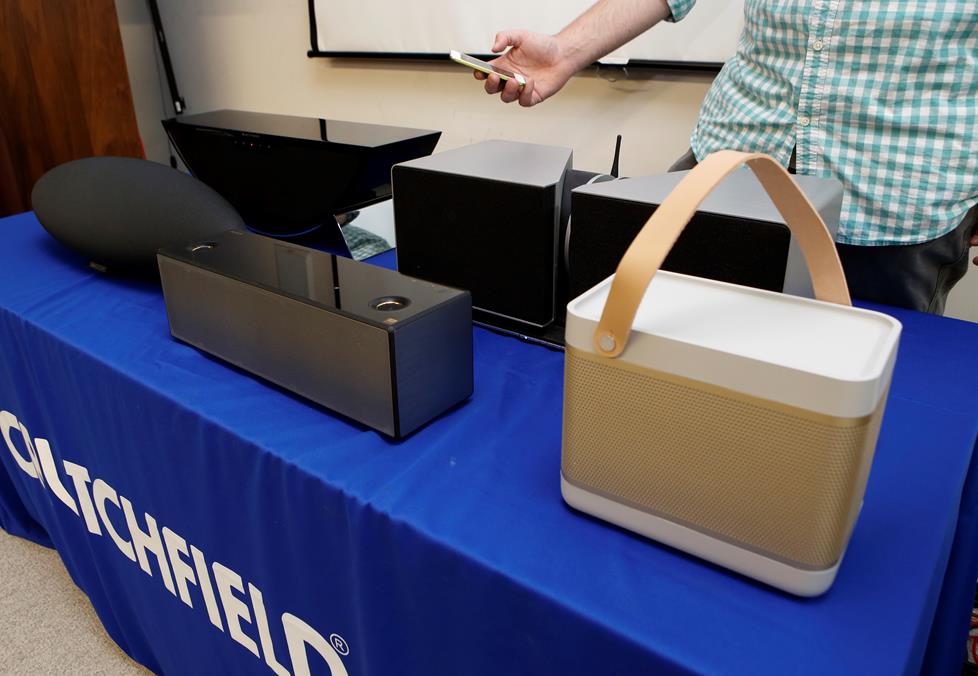 For our hands-on comparison, we streamed music over Bluetooth from the Tidal app on an iPhone.
These all-in-one speakers are super easy to setup and use. Plus, they look slick and complement pretty much any decór. In fact, many music lovers are choosing them over conventional stereo systems. So our Advisors are often asked: Which one is the best of the best?
The Test
We took five of our top-performing Bluetooth speakers into the Crutchfield Labs and gathered a group of experts from our Charlottesville, Virginia headquarters. Our panelists rated each speaker on a scale of 1-5 for each of the following categories: Style, usability, amount of volume, features, and sound quality.
We sampled three songs on each speaker: One hip-hop track, one live rock/bluegrass song, and one classic jazz recording.
---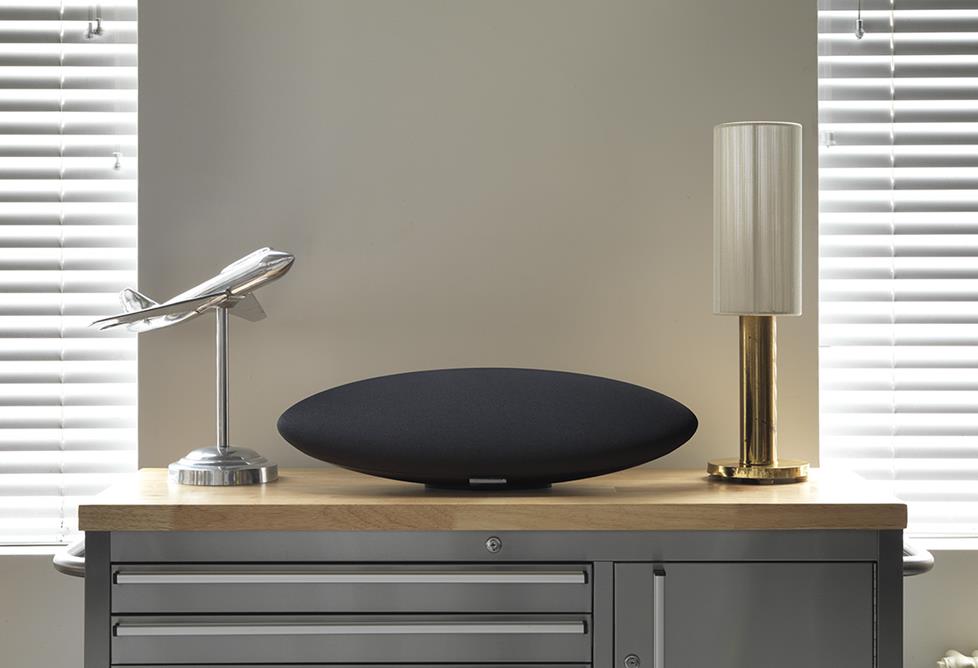 Strengths: Looks, sound quality, ease of use
Features beyond Bluetooth: Apple® AirPlay®, Spotify® Connect
Who it's for: The style-conscious music lover who also appreciates great sound.
Best overall combo of style, sound, and usability. If you're an audiophile or an Apple user, get this one. I would.

Dave Brown, A/V Writer and Editor
B&W's Zeppelin Wireless, the latest generation of their fashionably-shaped wireless speakers, received good marks across the board from our experts, but really dominated the categories of style and sound. Many noted hearing stereo separation with an incredibly wide sound dispersion. On the live track, vocals were front and center, rather than muddled in the mix.
Most were smitten with the sleek style. One of our Advisors, Bryce, said he's always been a fan of the Zeppelin style. He thought this one sported the signature clean look, even with 50% thicker casing than previous models, which helps kill resonance.
Bluetooth pairing was quick and easy once we located the touch-sensor button at the base of the speaker. Other wireless features like Apple AirPlay for Apple users and Spotify Connect for Spotify premium customers give the Zeppelin Wireless the striking versatility to match its appearance.
AVERAGE SCORES:
---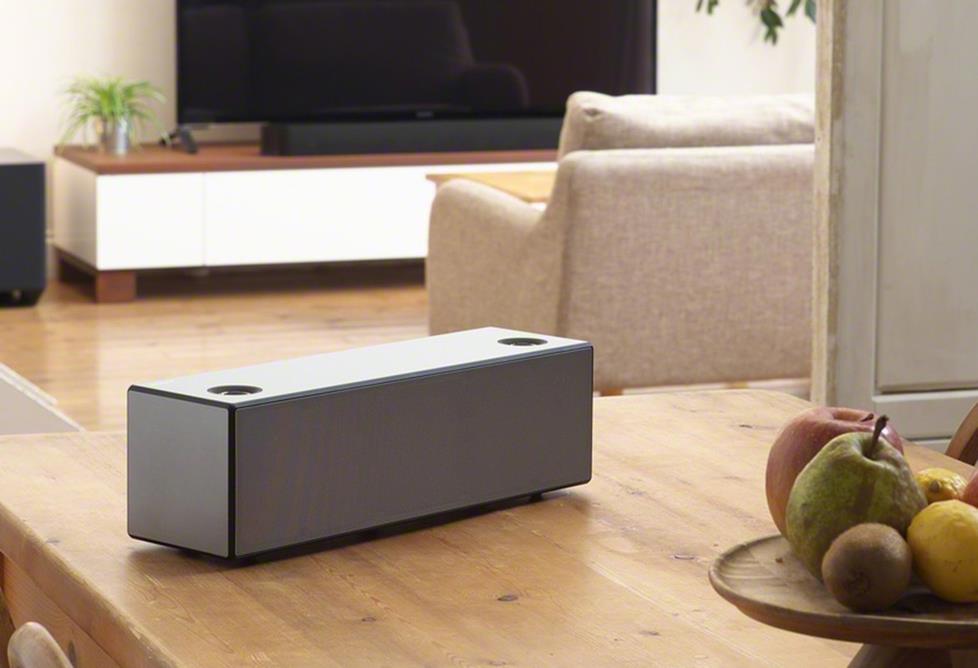 Strengths: Features, Ease of use
Features beyond Bluetooth: Fully loaded with features, both wireless (including AirPlay, Wi-Fi, Google Cast) and wired (2 USB ports - Type A and Type B, plays High-Res music files)
Who it's for: People who have a High-res music collection or who like the ability to connect their laptop, along with the wireless option. Places where the bigger speaker won't fit.
This had the most wireless connectivity. Crisp highs and a clean live concert sound. Its compact size will also fit short shelves well.
Eyebrows rose when we read the list of features packed in the low profile, understated Sony SRS-X99. Receiving an almost perfect score for "Features," our experts loved the freedom of choice offered by the speaker. "It's got it all," said writer Dave Bar, "and it's easy to access."
Along with Bluetooth, the SRS-X99 can also connect to your home Wi-Fi network. It's the only speaker we tested with Google Cast, Google's new user-friendly way to send audio wirelessly. The group also admired the back-lit buttons that illuminated when you waved your hand above them.
AVERAGE SCORES:
---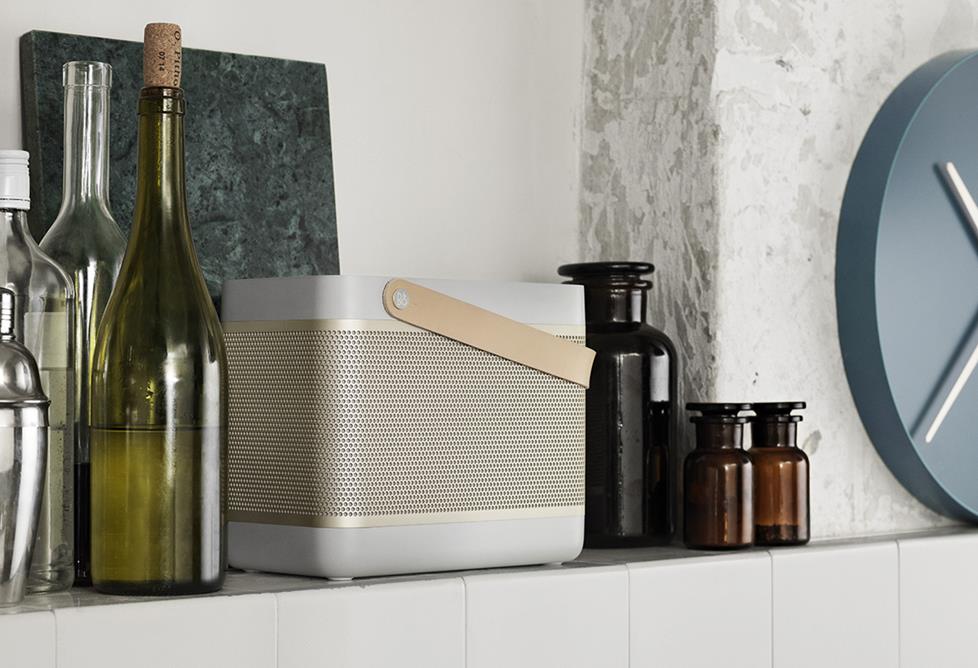 Strengths: Ease of use, amount of volume
Features beyond Bluetooth: Built-in rechargeable battery
Who it's for: Those who want big sound at home, and on the go – it's the only portable speaker we tested
Built-in battery — A major plus! I coach high school color guard and for practice, we need BIG sound both inside the gym and out on the football field. This would work well for both, plus look good when you take it out and about.

Janelle, Customer Support
For something that's roughly the size of a 12-can cooler, the B&O Beolit 15 can really crank. And it wasn't just the volume that impressed our panel. "Crisp highs and vocals," said Morgan, "it really sounded great on the jazz track."
A built-in rechargeable battery and handy leather strap ensure you can grab this good-looking speaker and enjoy it wherever you bring that small cooler, too.
AVERAGE SCORES:
---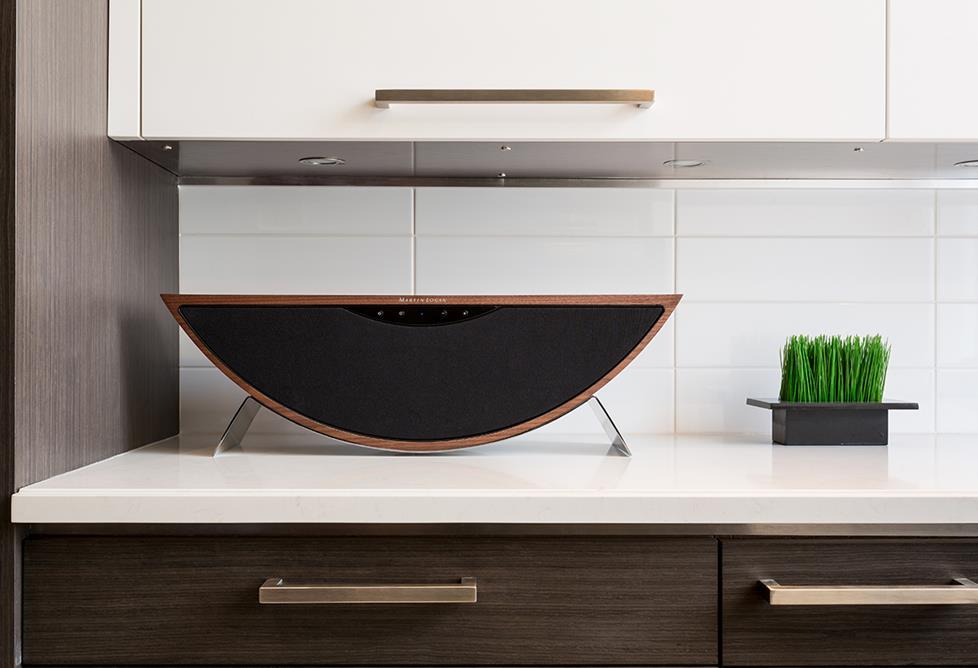 Strengths: Style, features
Features beyond Bluetooth: AirPlay, USB input, and optical digital input for connection to a TV
Who it's for: Someone drawn to an interesting, one-of-a-kind look, and wants big sound for everything from rock to classical.
The MartinLogan Crescendo has the most unique styling. For sound quality, it's 5 out of 5… I could hear the air flowing through the trumpet on the jazz track.
"Looks classy," said Janelle. "It has modern flair," agreed one of our Advisors, Rocky. "Way cool," "elegant show piece," "very contemporary design," "looks awesome..."
Many of our experts found the moon-shaped MartinLogan Crescendo — which comes finished in piano black or natural walnut — easy on the eyes.
And it was pretty nice for the ears too: "you don't often hear stereo separation like that from a single speakers," said A/V writer Josh Crane, "plus the bass really thumped on the hip-hop song."
Bryce thought it would be perfect for "someone looking for a happy mix of sound quality and looks." The Crescendo handled all genres and sounded pleasant at all volumes. And when we cranked it, the sound played loud and clear.
AVERAGE SCORES:
---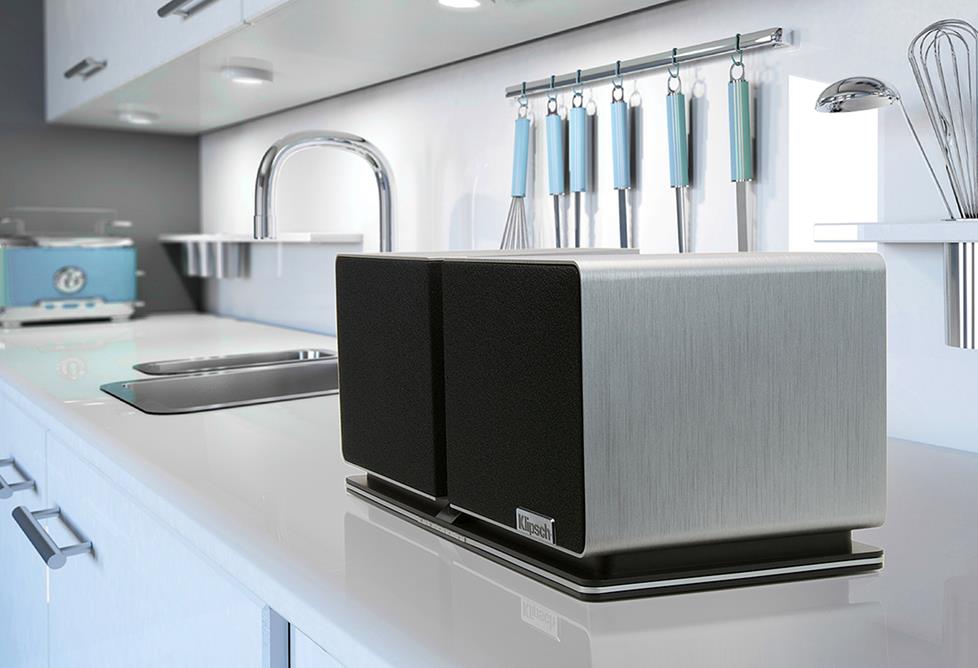 Strengths: Amount of volume, sound quality
Features beyond Bluetooth: aptX (a higher quality Bluetooth stream), AirPlay, Wi-Fi, USB input for playback from Apple devices, optical digital input for connection to a TV.
Who it's for: If you like powerful sound, big bass, and find yourself always yelling "turn it up," this is the one.
This is thing is a monster. THE best for volume and bottom end. It also has fantastic frequency response.
The Klipsch Stadium is a beast of a wireless speaker. It has 400 watts of total power and uses two 5-1/4" long-throw subs for high impact bass that stood out in our large, sound-swallowing listening room. Throw in a couple midrange drivers, along with a pair of Klispch's famous horn tweeters and you've got a Bluetooth speaker on steroids.
And superlatives were heaped upon it by our experts. In fact, the 4.68 score earned for Volume was the highest of any category on the board. "Super clean and excellent bass," said Mathilda. When we asked her what it was best for, she simply replied, "everything."
AVERAGE SCORES: