Subwoofers rule: finally, I get it
Heads up!
Welcome to this article from the Crutchfield archives. Have fun reading it, but be aware that the information may be outdated and links may be broken.
Before I started working at Crutchfield, I associated car subwoofers with punk kids that roll up on you at traffic lights, sporting that low-frequency rattle that reminds you of the Space Shuttle taking off.
But after a tall glass of Crutchfield Kool-Aid, I started learning more about them and realized that car subwoofers aren't just for scaring everyone over 30 - they're vital to well-balanced sound. Inherently I knew this, since I appreciate the low tones - I'm a bass guitar player, after all. I also appreciate what my "home theater in a box" subwoofer does for movie sound. But for some reason, my mind never made the connection that a subwoofer in my car could be a good thing.
I replaced the stereo and all four speakers in my 1996 Honda Accord about six months ago, and while it sounded great, the low end was obviously lacking. And I like to hear what the bass player's doing when I listen to music. But I was still hesitant to add a sub, because (a) I didn't want to become a public nuisance, and (b) I have a bit of a phobia when it comes to wiring.
Well, I finally took the plunge and put a powered sub in my trunk. My goodness, what a difference. I could feel the kick drum hits, just like when you see a band play at a club. The bass was prominent, but not irritating. I was going for a realistic balance, not just bass for the sake of it, and once I got there by fiddling with the crossover/gain, etc., I had a big smile on my face (still do!) All the songs on my thumb drive that I had grown tired of were given new life. In fact, I started adding music that I knew would sound good with the sub.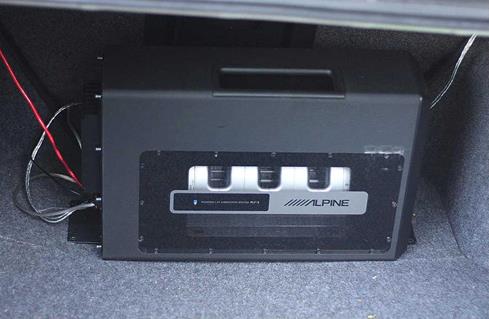 This powered sub fit nicely in the trunk of my '96 Honda Accord.
The
powered sub
turned out to be just what I wanted. It puts out tight, clean bass that enhances pretty much any piece of music I listen to. My receiver doesn't have a dedicated subwoofer output or a low-pass filter, but the sub has a wired gain knob that I mounted within reach for any needed adjustments. If I had been thinking ahead, I'd have looked for some subwoofer-friendly features when I was shopping for receivers, but thinking ahead isn't a strength of mine.
Installation was pretty easy. I printed out a Crutchfield's
Amplifier Installation Guide
, got an
8-gauge amp wiring kit
, and went to work. The process was pretty straightforward, even for a beginner like me. I got it all hooked up, finally, and...it wouldn't turn on. I called
Crutchfield Product Support
, and within three minutes the rep identified my shaky ground connection and recommended a better spot. Problem solved. Those guys really are good.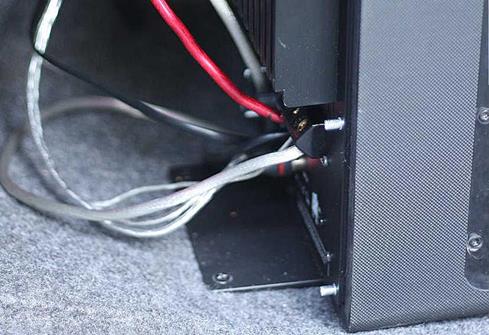 I may be over my fear of wiring now. This wasn't too tough.
Now I see the light - a subwoofer makes pretty much every piece of music sound better. They're not just for loud music. Anything with bass and drums will do, or even an orchestra - think of the increase in presence a cello would have. Old country tunes with a stand-up bass sound incredible, too. Add a sub to your car stereo rig, and you'll find yourself listening to more music than ever before.
I apologize to all the bass junkies I used to think were crazy. I know you were just trying to get me to understand how much more fun it is to listen to music in the car when there's a sub kicking out the low notes. Now I'm the guy with the subwoofer in the trunk. Public nuisance? No. Public service.