Better car audio, Tip #5: Build or buy a better subwoofer box
Heads up!
Welcome to this article from the Crutchfield archives. Have fun reading it, but be aware that the information may be outdated and links may be broken.
The quality of the bass you get from your component subwoofer doesn't depend on the woofer alone. You'll need a strong, tightly-constructed enclosure for optimum subwoofer performance.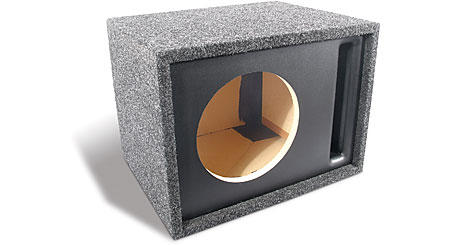 If you're building a sealed box, make sure it's sealed up tight. Air leaks can really hurt your sub's performance. If you're using a ported box, make sure you've got the right sub in there. You can destroy a sub that's designed for sealed box use by driving it hard in a ported enclosure. Also, it's important to build a box with the correct interior volume and port dimension for the sub you've picked out. A mismatch can result in poor performance or a sub fatality.

You can also avoid all of these issues by buying a premade or ready-to-assemble enclosure that'll work with your subwoofer.
This post is excerpted from a recent article in our Learning Center, Jeff's Tips for Getting Maximum Sound Quality in Your Car.