3 benefits of using USB to connect an iPod to a car stereo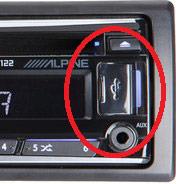 My old iPod® mini died a couple of weeks ago. No need to mourn, it had a good life. But when I purchased a new iPod, I realized something important about car receivers and iPods.
My car receiver, an old Pioneer, has a USB input that supports iPod connection and control. The USB connection didn't work woth my old mini, so when I played it through my car stereo, I had to connect it with the auxiliary input and the headphone jack. But my new player works fine with the USB input, and this connection offers several important advantages to the auxiliary input — important advantages to keep in mind when you're shopping for a new receiver.
1. The sound is simply better
Most car receivers that offer USB iPod control bypass the iPod's digital-to-analog converter (DAC). The iPod's built in DAC is fine for when you're listening on headphones, but it isn't of the same quality as the DAC built into my receivers and most better car receivers. The sound was clearer, and had more depth of field than I was used to hearing with an iPod connected through the auxiliary input.
2. I can take advantage of sound enhancement features designed for compressed music files
My Pioneer sports a feature called Advanced Sound Retriever (ASR). ASR compensates for information that's lost in the compression process so the sound from a music file is much fuller and lifelike. Many manufacturers offer similar features — for example Alpine's Media Xpander fills a similar role. But with my Pioneer receiver, ASR isn't available with an analog connection, like the auxiliary input. A device connected via the USB input, however, can use it.
3. I enjoy the hands-on control
With an auxiliary input, I had to fumble for the iPod when I wanted to change a song or playlist. Being able to control what I'm playing from the receiver is preferable to me. Add in being able to read song and artist information on the receiver's display, plus charging for my iPod, and I'm a lot happier than I was with the auxiliary input.
One more bonus — now I keep my iPod in the glove box when it's in the car, connected to the USB input. I don't have to worry about unplugging it and putting it away if I step out of the car when running errands. It's out of sight when I'm in the store, and ready to play when I get back in the car.
Editor's note: This article was originally published in March 2009, but the point still holds true. USB is the way to go when playing an iPod in the car.