Essential electronics for tailgating
Heads up!
Welcome to this article from the Crutchfield archives. Have fun reading it, but be aware that the information may be outdated and links may be broken.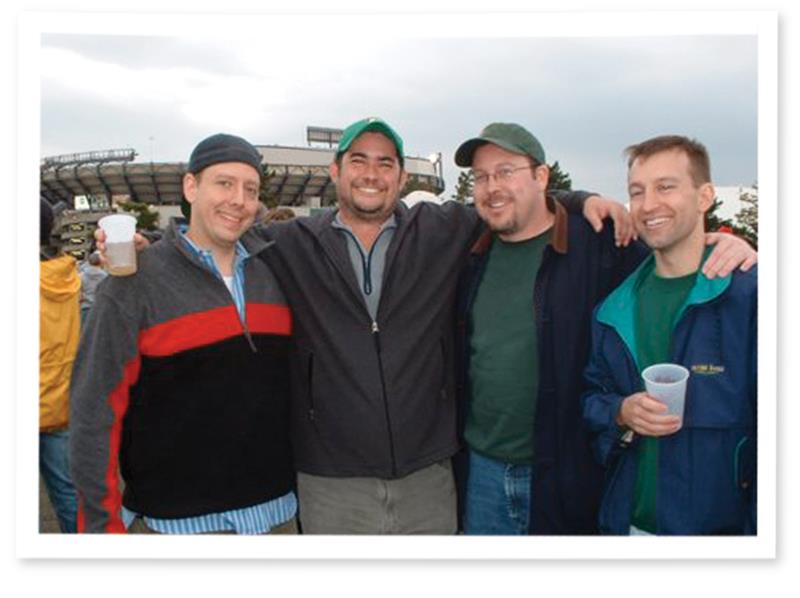 Now, some people will tell you that the key to a successful tailgate is the spread, and they're on to something. But experience has taught me that the right combination of electronic equipment can elevate your party from "memorable" to "classic." What follows are all the things — be they circuit-loaded or cheese-covered — that make a tailgating weekend great.
Getting there
For fanatics like me, driving long distances to home games (my drive is twelve hours each way) is totally worth it. I really love going to away games, too — I get to explore new towns, check out new stadiums, and meet new fans. Here are a few tips for getting there before kickoff and keeping team spirit alive.
Nothing makes for a successful tailgate like actually making it to your destination, and GPS is your friend there. These days, GPS is about way more than getting from point A to point B; lots of systems not only give directions, they do things like call out street names, show 3D renderings of buildings and landmarks (even stadiums), and find nearby gas stations and restaurants. Many also work with traffic info services in metro areas that keep you up to date on road conditions ahead, so a nav piece can serve you well even if you know the roads like the back of your hand. They come both as in-dash devices (which usually play DVDs and control an iPod®, too) and portable pieces that are easy to take in and out of the car.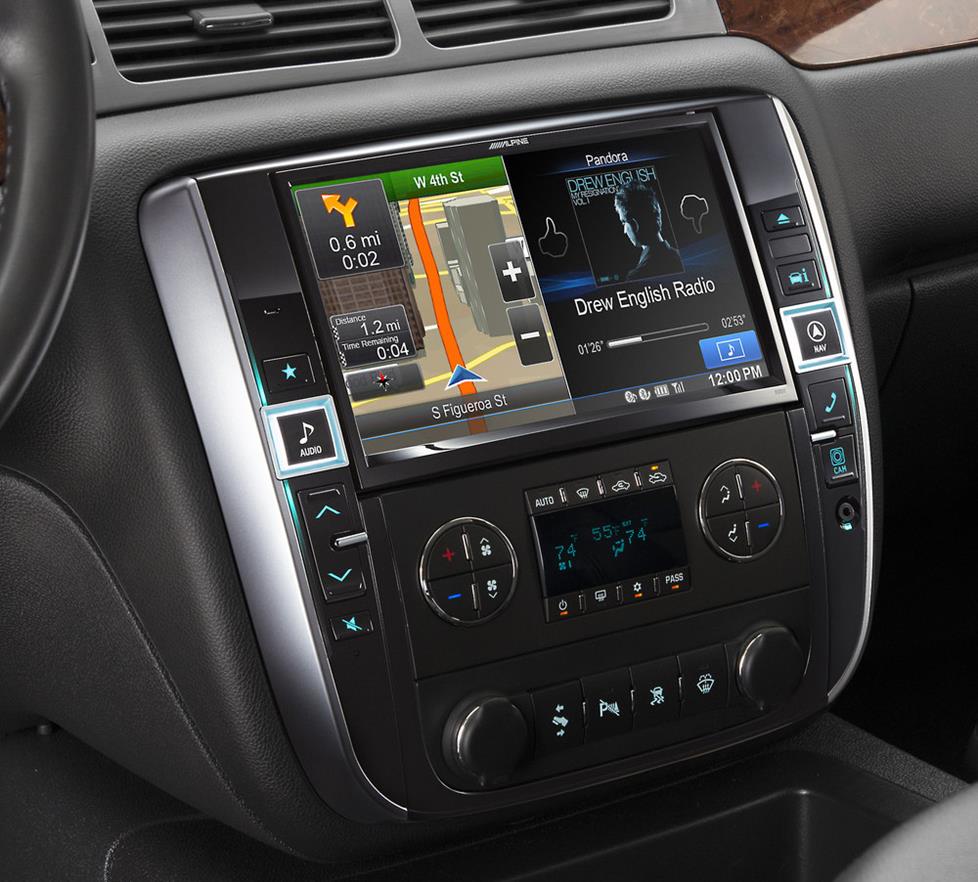 Video to go
Few things get football fans as fired up as watching classic games on DVD. So here's my favorite scenario: we're heading west on I-80 with two classmates in back wearing headphones, watching the game that marked the first time we ever stormed the field — a last-second, one-point squeaker in the snow. (Meanwhile, another classmate and I are up front, with the iPod plugged into the receiver and cranking out a road mix that's nothing but pure nostalgia.) Twelve hours just fly by. If your car already has headrest monitors, the folks in back are all set. But if you're thinking of adding a new backseat video system, there are two options I recommend choosing from: overhead or headrest.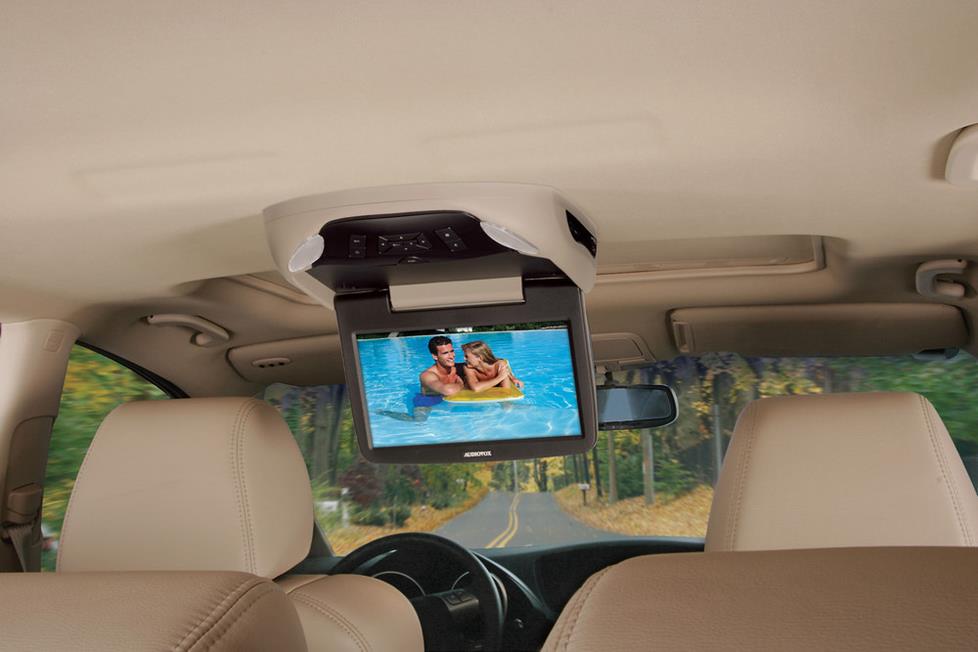 Overhead monitor
Bluetooth® compatibility
Having a Bluetooth system in the car might seem like a minor thing to some, but I can't emphasize enough just how useful it is. We all know how much of a hassle it can be to try to wrangle different groups of people who are scattered all over town. Especially while driving. But having Bluetooth capability in the car can spare everyone some serious pain.
Many receivers these days will pair with Bluetooth phones to deliver hands-free calling through the stereo system. What this means is that when the phone, rings, you just tap a button on the receiver to answer. You hear callers' voices over the car speakers, and they can hear you thanks to a mic that you mount unobtrusively in the car. With Bluetooth, it's so much easier to make plans and coordinated schedules, then get on with enjoying the weekend.
Time to tailgate
There's no doubt about it — the right food and the right beverages, and plenty of them, are essential for getting a great tailgate party off the ground. But when it comes to keeping the party going, there's actually more to it than food and beer. Here are a few technologies that make a real difference.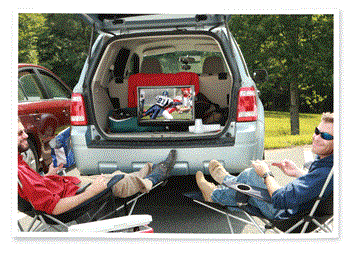 Part of the fun of tailgating is catching the action from other games, especially if your game doesn't start until late afternoon or evening. In years past, you either had to show up in your motor home or run a noisy generator in order to power a TV big enough for the whole group to crowd around. LCD TVs, however, have changed the rules of the game.
That's because they're remarkably lightweight and power-efficient, which makes them ideal for the tailgating environment. They're easy to transport, easy to set up (especially in the back of an SUV), and, best of all, easy for everyone to see. Just remember to bring an antenna along to pick up local over-the-air stations — the unpowered tabletop kind you use at home should do the trick.
You'll need a power source
Of course, if you don't have power, any TV you bring with you is just wasting space where you could have fit an extra cooler. That's where a power inverter comes in. Inverters convert the DC (direct current) power a car puts out into AC (alternating current) power, the kind used by home electronics. They're an essential part of tailgating, given that most vehicles lack an AC-style plug anywhere. Some manufacturers offer televisions that work directly with 12-volt power. There are even options for portable solar power.
Don't forget the tunes...
Call me old school, but I say the right mix of music is a critical element in any successful tailgate. I tend to stick with portable Bluetooth speakers as my musical source, since they come in a variety of sizes for mobility — they let me tie into my smartphone to wirelessly stream super-long playlists without having to lug around lots of gear. The less I have to keep track of, the better. And using a rechargeable Bluetooth speaker instead of the car stereo reduces strain on the car battery.

...or the spread
Way back in our college days, food at a tailgater was an afterthought; it's easy to not worry about what to eat when you've got a dining hall close at hand. These days, though, we like to make sure we have plenty of great stuff to eat as we get ready for the game. The spread can vary from game to game, often depending on who's there and who we're playing. My favorite contribution is my stuffed green chile cheeseburgers (I'm originally from New Mexico, where green chile is a dietary staple). They're fantastic, in that they look like regular hamburgers, but when you take a bite, you hit a delicious vein of chile and melted cheese. They're actually quite simple to make:
Ingredients: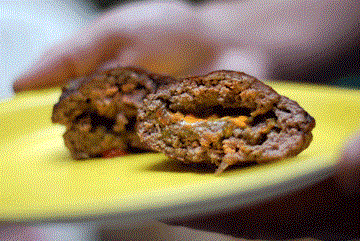 hamburger patties
shredded cheese (cheddar, typically)
diced green chiles (in some specialty grocery stores, you can actually find diced green chiles from Hatch, New Mexico; just look for the yellow cans)
The recipe:
Shape a standard-sized hamburger patty into a shallow cone
In the cone, place a small spoonful of diced green chile and a generous pinch of cheese
Pinch the top of the burger closed, then lightly flatten the patty. Make sure the patty is well sealed, so that no cheese or chile can be seen; you don't want them "leaking" as you grill them.
Grill to desired doneness
Slide onto bun, top as desired, and enjoy!
Heading home
Sundays are the saddest days for the college football road-tripper. We're all exhausted from the very fine work we did the day before, we're six full days away from our next game, and we're facing the prospect of a long drive home. What to do?
Surfing the web
Yes, it's possible these days to turn a car into a wireless Internet hotspot. Smartphones let you stay connected just about everywhere you go. I love having access to scores and postgame press conferences. (And it doesn't hurt to be able to Tweet about our team's victories.) It's also a great way to kill time while we wait for the parking lots to clear out and traffic to die down a bit.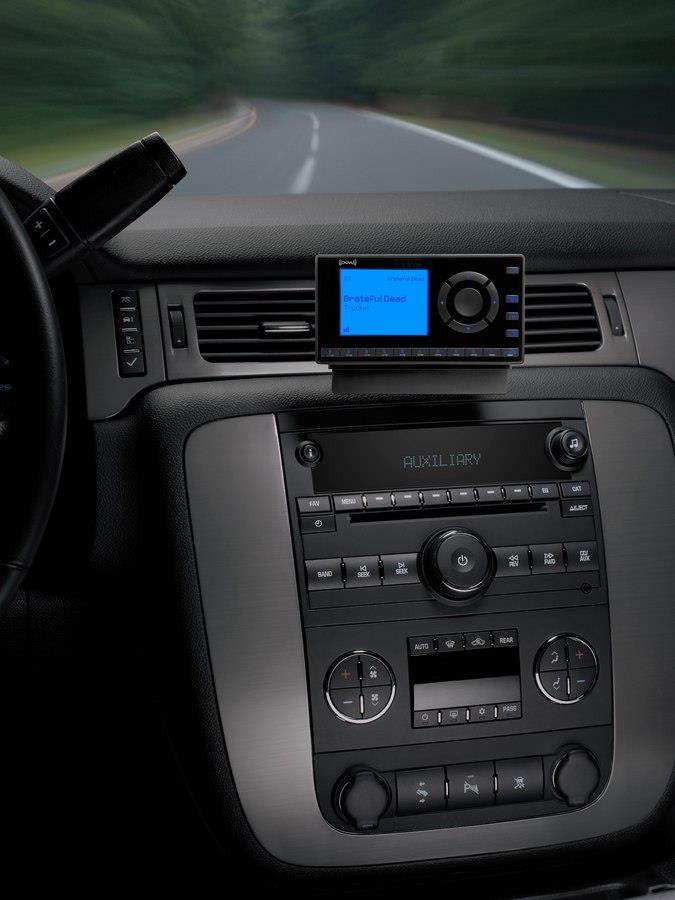 I've come to depend on satellite radio to make the Sunday drive bearable. SIRIUS broadcasts the entire NFL — every game, every week, from coast to coast. Gone are the days of hunting for the clearest AM signal we can find as we pass from town to town, hoping that it's broadcasting a game. Instead, we get to enjoy games from around the league. It satisfies our football cravings, as we head home to rest up — in anticipation of doing it all again the next week.