Equipping the classic car -- a Crutchfield advisor's story
Heads up!
Welcome to this article from the Crutchfield archives. Have fun reading it, but be aware that the information may be outdated and links may be broken.
I had the opportunity the other day to talk to Bob, one of our most experienced Advisors, who had a great story to relate. A little background first...
At Crutchfield we pride ourselves on the amount of information we've got in our exclusive vehicle databases. We've got information on receiver and speaker fit for thousands of vehicles, so in almost every case we can set up a system that'll work with your car in just a few minutes.
But sometimes our Advisors get a call, email, or chat about cars we DON'T have information on — vintage and classic cars. Classic cars present some interesting installation issues for us and their owners. The radios in these vehicles are of a very different design than the radios we sell now, and in some cases the classic or antique car may not have even HAD a radio when it was built. To add a radio involves cutting the dash — something most owners don't want to do, for obvious aesthetic reasons.
Yet, at the same time, many classic car owners don't have any problem with installing a "stealth system" — one that's hidden away, yet controllable by a remote of some sort. The challenge is finding the right gear to match what the owner wants to do. That's where our Advisors come into the picture — they've got the product knowledge and creativity to come up solutions classic car owners are looking for. Bob was kind enough to give me a few moments of his time so I could interview him about his most recent classic car conversation.
Ken: How often do you get calls, emails, or chat from classic and vintage car owners, looking for a system that they can put into their car without changing the look?
Bob: It's not an everyday thing, but when we do the owners are willing to spend some money to make sure they get it right.
Ken: Did this customer say why they got in touch with us first?
Bob: They were referred to us by a friend. Word of mouth is important in the custom car world — people are always talking to each other, looking for the right parts and suppliers.
Ken: What kind of car did they want to install the stereo into?
Bob: A real classic — a 1932 Ford coupe.
Ken: So, what was he looking to do?
Bob: He wanted a hide-away system, but he wanted to be able to control everything right from the driver's seat. He also wanted a CD changer for his music. That made it tough — thanks to iPods and other music players, CD changers are starting to get a little rare. It's important to note that he, like almost everybody I talk to with classic cars, did NOT want to modify the dash.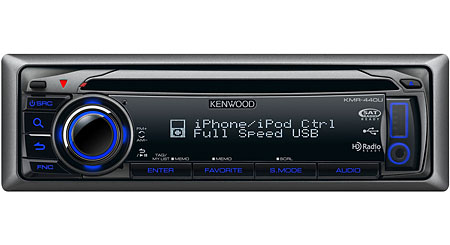 Ken: What gear did you find for our '32 Ford owner?
Bob: We started with the Kenwood KMR440 marine receiver (above), because it works with a wired remote, the Kenwood KCA-RC170MR. That way the receiver can be mounted out of sight, but the driver can still control it easily — the remote even has an LCD screen so they can see what's playing or what station they're listening to. I added in an extension cable for the remote, so he'd have more mounting options, and of course we got him a 10-disc CD changer, the Kenwood KDC-C719, to complete the system.
Bob was pleased with the work he was able to do with the customer — it's always rewarding to be able to put your expertise to work to solve an interesting problem. If you've got a classic, custom, or vintage car, get in touch with us — we'll be happy to help you work out a system that meets your needs.
Of course this wasn't the first time we've worked with a customer with this kind of request. For an outstanding example of a stealth install, check out this story on Bill H's 1963 Studebaker Avanti, pictured below.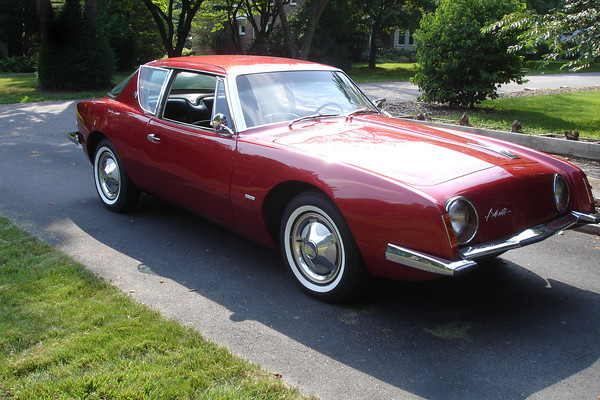 And there's one other possibility out there for many classic car owners. Retrosound makes a line of radios that fit into the old-fashioned "shaft-style" dash openings found in many cars from the 50s, 60s, and 70s, complete with custom faceplates to match the look of specific models. While they look classic, inside they boast powerful amps and digital tuners, and they come equipped with inputs and outputs that'll accommodate your 21st-century gear, like MP3 players and external amplifiers. Contact our personable Advisors and we'll see if we can find a model that works for your car.