Laying the Foundation, Part 2
Heads up!
Welcome to this article from the Crutchfield archives. Have fun reading it, but be aware that the information may be outdated and links may be broken.
So, what effect did replacing my Yukon's factory radio with the Alpine have on the rest of the factory system? (See Part 1 for background.) It really notched it up, no kidding. Fatter bass, more dimensionality and presence. The kinds of things you'd associate with a cleaner signal path and better amplification -- all vastly superior in the aftermarket head unit. Although I did discover that this particular Yukon's factory system contains outboard amplification (not the well-known Delco/Bose® system, which would have required an OEM interface adapter in order to use the CDA-9887). That means that the factory system is re-amplifying the signal (as well as noise and distortions) coming off of the new receiver's speaker outputs. To my way of thinking, it's a testament to the cleanliness of the Alpine's audio circuitry that there was still such a dramatic improvement in sound quality.

I've been using my iPod nano quite a bit with this new rig. Typically, I'll load in my tunes as lossless 16-bit .wav files (homey doesn't do lossy file formats when engaging in critical listening) and navigate them with the 9887. (Note: I have to downconvert my 24-bit mixes in iTunes, because the nano won't play them. I assume it won't be long before Apple releases upgraded firmware that will accommodate even higher resolution files.) The CDA-9887's iPod navigation system is so impressive for a car stereo, it's worth mentioning here. Just as when I use my iPod by itself, I can browse by Playlist, Artist, Album, Song, Podcast, Genre, and Composer. If I want to, I can scan my full library and access songs directly; I can even skip over dozens of them at a time with a cool feature called Percentage Search.

From a sound quality perspective, hooking up the iPod with the Alpine Control Interface cable allows the nano to feed digital information directly to the Alpine's high-end digital-to-analog converter -- bypassing its own DAC and its relatively noisy internal headphone amp -- for smoother, more nuanced sound. [blogger edit, 2/1/2010: this information is incorrect. The KCE-422i interface cable, while bypassing the iPod's headphone amplifier, does not send digital information to the CDA-9887's pre-amp section. The iPod's internal digital-to-analog converter is still being used. See user comments below. Thanks, Roger D.] Essentially my iPod functions as a fully controllable external hard drive that I can load down with large .wav or .aiff files and still have room for a big chunk of my iTunes collection.
Not that I listen for pure enjoyment much in the car. Mostly, I use my commuting time to listen to our CD-under-construction in order to make mixing decisions. By the time I get back into the studio for another crack at a mix, I have a pretty good idea of what needs to be done. If I really need to concentrate, there are a couple of nice parks I drive to, where I switch off the engine and settle back and listen. Sometimes, these moments even trigger ideas for changes to arrangements and/or orchestrations.
The repeat play feature comes in very handy when evaluating mixes; I might need to listen to a track repeatedly over many drives (it's probably best I travel alone, huh?). I find Shuffle to be a very useful playback mode, as well. Hearing our compositions in random order gives me an idea as to how well the tunes stand on their own, without dependency upon what precedes or follows them. Alas, an artist can't assume that listeners will be hearing a group of songs as an interdependent work of art these days. It's a good thing Abbey Road came out in 1969.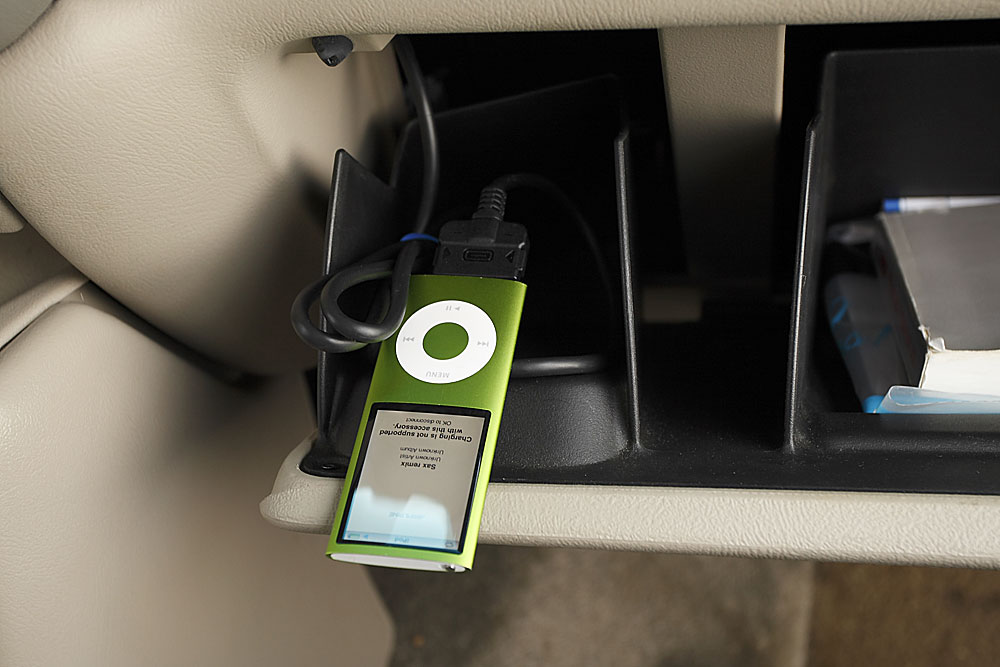 Read the entire Building a Mobile Listening Lab series:
Laying the Foundation, Part 2