The Focal XS 2.1 Multimedia Sound System delivers audio goodness
Heads up!
Welcome to this article from the Crutchfield archives. Have fun reading it, but be aware that the information may be outdated and links may be broken.
I recently had an opportunity to take home a
Focal XS® 2.1 Multimedia Sound System
and try it out for a while. It was an assignment I readily accepted. Focal (pronounced Foh-CAHL) is a French-based company that's been manufacturing high-end speakers since 1985. We've carried
Focal car audio products
for a while, but the XS was the first of their home audio systems we've brought in. Their car speakers perform well, and I was curious to hear their foray into the realm of computer speaker systems.
Plus, the Focal's XS system had a unique feature that I especially wanted to check out with my own equipment and my own music.
Instead of plugging into the headphone jack of a PC, the XS uses a USB cable. This lets the system do a number of things — such as bypassing the computer's sound card. The system's powered subwoofer contains a DAC (digital-to-analog converter) that processes the signal.
I knew that most computers (including my MacBook) have adequate — not great — digital sound decoding built in. It wasn't until I plugged in the Focal system that I found out just how low that threshold of adequacy was.
First impressions
The system includes two high-quality full-range speakers designed for close listening and a powered subwoofer. When I was sitting at my computer table my music seemed to come from a large, deep sound stage floating in front of me. Unless I leaned over and put my ear against a speaker, I couldn't readily distinguish what was coming from what channel — it all blended together.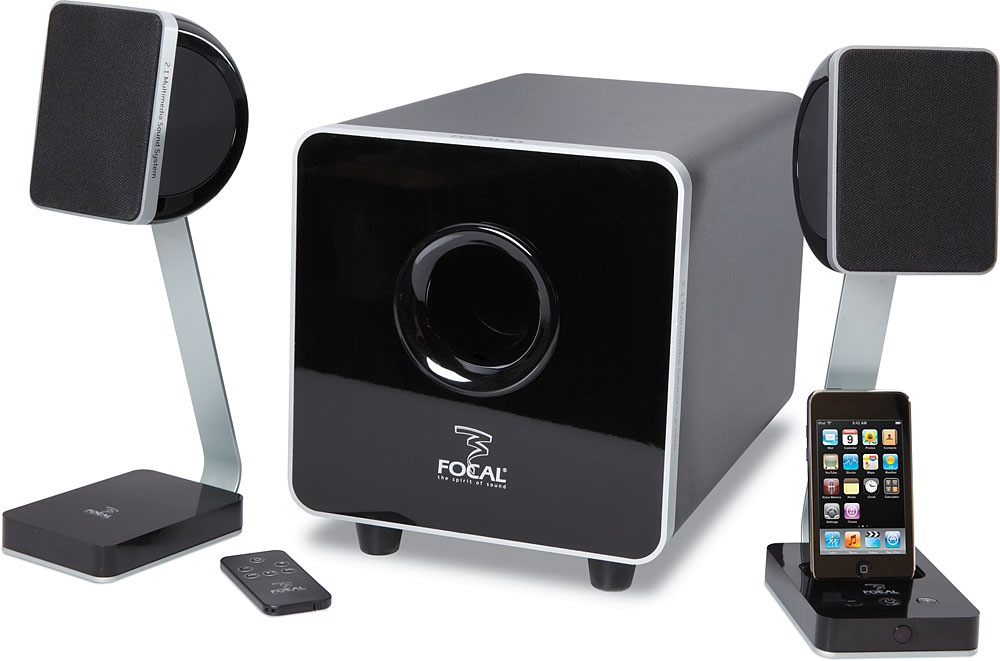 The down-firing sub did a great job filling out the foundation. I listened to a wide variety of music, everything from classical symphonies burned from SACDs to mono garage band tracks from the early 1960's. I seldom noticed sound emanating directly from the subwoofer, but when I turned if off, everything sounded shallower and had less presence.
I've gradually been converting my music library to Apple Lossless, but there are still some old 128 Kbps files hanging around. I could easily tell which was which through the Focals, which is what I expected. I was surprised, though, to discover that those lo-rez files had some sonic detail in them that quite frankly I hadn't heard before. Focal's DAC decidedly made a difference.
I also listened to a lot of different Internet radio stations, many of which had highly compressed signals. When I normally listen to Internet radio directly through my computer, I characterize the experience as listening to AM radio. When I listened through the Focal XS, I heard much more detail and clarity. Depending on the station, I was hearing what I would consider FM radio- to bookshelf system-quality sound. Which, considering the sources, was pretty darned good.
Designed for desktop use
Surface area is at a premium at my home computer station, and the Focal desktop speakers took up very little of it. The system's remote had a magnet on the back so I could just attach it to the metal brace of one of the speakers. It definitely made the remote easy to find — and kept it from getting buried under piles of paper, a fate of many of our credit-card sized remotes.
Playing an iPod through the system
There was an iPod dock built into one of the speakers, which also helped cut down on clutter. It also meant I didn't have to plug an additional USB cable into my computer. A button on the back started the syncing process, and of course my iPod charged while docked.
While the Focal system can bypass a computer's sound card, it does NOT bypass an iPod's DAC. So there was a little difference in sound quality when I played the same track directly from my iPod and then from the computer's music library. It's not a huge disparity, though, and still superior to what I've heard from most of the systems I've tried with my iPod.
Selecting the sound source
One caveat: when I first plugged the Focal's USB cord into my computer, the system didn't immediately start producing sound. I had to go into the sound control settings on my MacBook and select the Focal as my external speaker. Once I did that, I didn't have any problems, even after disconnecting and reconnecting. The computer automatically defaulted to the Focal XS when connected. Maybe it was just a Mac thing.
Head filling rather than room filling sound
Our computer station faces into a fairly large open kitchen/family room with a cathedral ceiling. There was a temptation to use the system to play music while we were doing other things. Resist that temptation. The Focal XS is designed for close-in listening, and that's what it does exceedingly well.
Once I moved outside of the ideal listening space, the sound softened and lost detail. If you're looking for a system to provide background music, I'd recommend something else. But if you're working on a computer for long periods of time (and who isn't these days?) the Focal XS can deliver a listening experience that rivals a good home audio system. When I was sitting in that sweet spot typing away on my laptop, the Focal XS 2.1 Multimedia System's soundscape really made my stored music come alive.