The TEAC SR-100i scores big on sound
Heads up!
Welcome to this article from the Crutchfield archives. Have fun reading it, but be aware that the information may be outdated and links may be broken.
Hey TEAC!
There were two things that hit me right away when I borrowed a TEAC SR-100i powered speaker system to review.
1) It was heavy — about 12 lbs. or so.
2) It had a very distinctive shape — one that reminded me of something.
Looking at the image at right, you might think it was a football, but that's not quite right. It reminded me of the title character from the Nickelodeon cartoon show, Hey Arnold!.
A distinctive shape, to be sure, and one that commanded attention wherever I placed it in the room. But TEAC didn't create the SR-100i just to make a visual impression. They built it to make a sonic impression as well — and built it in a way that makes this powered speaker system a great single-source audio component.
And there's a reason for that weight. There's a lot of quality electronics inside that casing, as well as some high-performance speakers and a few other things besides.
iPod and iPhone functionality
The SR-100i features a retractable dock for an iPod or iPhone. It's a feature I actually liked quite a bit. If I was just using the built-in FM radio, or playing a CD, I could push the dock back into the body of the component, and have a player with smooth, unbroken lines. The dock is spring-loaded, so just a slight push will make it pop out, ready for use. I could use the system's remote to operate my iPod, which was nice. Control was pretty basic — just play, pause, off/on, and skip track. But those are basically all I need during a normal listening session with my iPod anyway.
CDs and thumb drives...
The system's top-loading CD player worked well. I placed the disc in the slot and it slipped into the SR-100i and queued up for play pretty quickly. The remote gave me the same basic controls over the CD that I had over my player. A USB port in the back let me also enjoy tracks from a thumb drive. The only drawback was that the SR-100i could only play MP3 and WMA files. For some people, that might not be a problem at all, but since most of my library's stored in Apple lossless format (worse yet — it's on a Mac), I actually had to convert some songs over to MP3s in order to try out the feature.
Fortunately, it was worth the effort. The system displayed folder and track info, so I could navigate to the song I wanted to, using the remote. How quickly I could get to the song I wanted depended in part on how many songs were in the folder, as I had to scroll through a list. No worries, though. When I put music on a thumb drive, I prefer to have several folders with (relatively) few songs in them, as opposed to a few folders with lots of tracks. It just seems to make sorting through the music easier — at least for me.
...and radio, too
This is indeed an all-in-one powered speaker system. The SR-100i also had a built-in FM tuner, as well as a digital clock with dual alarms. Because of its size, I have my doubts that I'd ever use it as a clock radio — at least in my bedroom. But the options were there, if I wanted to use them. As with many tuners I bring home, I needed an external antenna to really pull in the stations (we live in a bad area for radio reception). The SR-100i coupled with a Terk Tower amplified indoor antenna did the trick.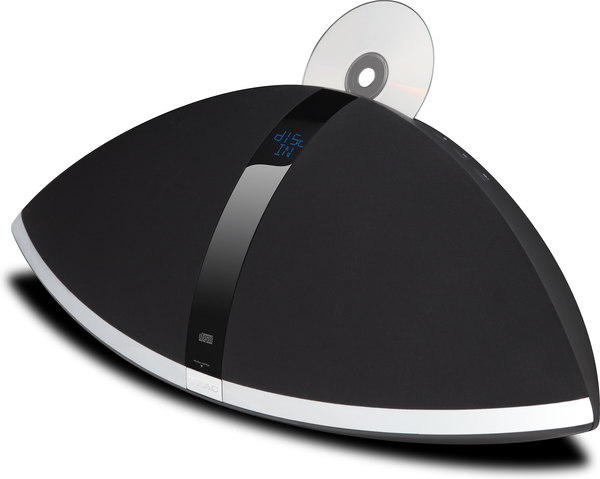 Sound that astounds
Having tried out quite a few powered speaker systems, I came to the SR-100i with a preconception of what the system would probably sound like. I was wrong — very wrong. Behind that Arnold-shaped (or football-shaped if you prefer) cabinet are some pretty impressive speakers. Each channel had a 1-1/4" tweeter with a 3-1/2" woofer with a port to enhance the bass. And the cabinet's nice and dense (which added to the weight also). That's a good thing, because the more inert the cabinet, the less chance it has to add unwanted sympathetic vibrations that can cloud the sound.
Bottom line, I was hearing the sound that the speakers produced, and nothing else. That's a definite plus when you're listening at lower volume levels. The system was quite responsive with the volume turned down. How would it do with the volume up?. With 100 watts of power, I could get the system cranked plenty loud. But loud doesn't always equal good.
In this case, it did.
Regardless of the source, the SR-100i delivered sound with plenty of detail. FM radio is probably the most problematic. Generally, I get a compressed, almost tinny sound from systems when I use that sound source. This time though, I heard a nice, full soundfield with some real depth to it. When I put on a CD and played the same song I heard on the radio, it was easy to hear the FM signal was still a little wanting. But even if the details weren't always there (as they weren't at the broadcast source), the SR-100i made my FM stations sound very warm and inviting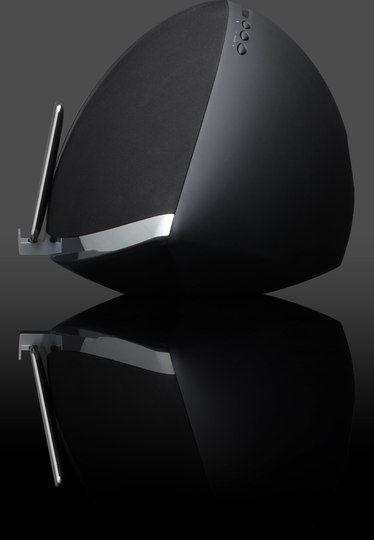 Of course, the better the audio sources, the better the SR-100i performed. The music from my CDs seemed to leap into the room, even at lower volume levels. There was a depth to the sound that I wasn't used to hearing in a single component system. This seemed especially true for acoustic music, such as Sharon Isbin's Road to the Sun album. I could hear the fretwork go whizzing by as this classical guitarist performed. Even at higher volume levels, the music never seemed forced. The speakers maintained an accurate, natural sound even at levels that filled our cathedral-ceiling family room.
The SR-100i did well with acoustic tracks in general, as well as those with electronic instruments. In addition to a goodly selection of current rock, pop, and R&B, I also gave it a challenge -- Morphine. This 90's trio had a unique sound, relying solely on slide bass, tenor sax, and a deep baritone lead singer. Even though everything — vocals, sax, and bass — were all growling away in the low register, the SR-100i reproduced it all with amazing fidelity. Everything sounded clean, and I could easily separate out everything that was going on with each of the musicians. Very impressive.
Overall impressions
OK, so the SR-100i reminded me of Hey Arnold! But that wasn't a bad thing. I really liked that cartoon character.
And I really liked the TEAC SR-100i. Although it's an all-in-one system, there's no compromise on the quality of construction, nor the performance of the speakers. I enjoyed consistently great sound whether I was listening to the radio, MP3s, my iPod, or a CD. And that was true whether I was cranking Phideaux full blast, or enjoying a quiet moment with Bebel Gilberto.