Connecting Your Blu-ray Player
Getting the best picture and sound
Heads up!
Welcome to this article from the Crutchfield archives. Have fun reading it, but be aware that the information may be outdated and links may be broken.
Stunning 1080p video, ultra-detailed surround sound, instant video and music streaming — Blu-ray players offer the best high-def experience out there. But if you don't use the right connections, you could miss out on some of the high-end performance you paid for.
How to get high-definition video
You can use either a component video or HDMI connection from your Blu-ray player to your HDTV and get a beautiful picture. Component video can work great if you have a 720p or 1080i HDTV, but Blu-ray players aren't capable of outputting 1080p via this connection. So if you have a 1080p HDTV, making an HDMI connection is a must. [Shop for HDMI cables.]
| | |
| --- | --- |
| An HDMI connection is the only way to get a full 1080p picture from a Blu-ray player. (AudioQuest Carbon HDMI cable pictured above). | A Blu-ray player connected to a TV via HDMI. Click to see a larger version in a new window. |
Also, all Blu-ray players manufactured in 2011 and beyond will "downrez" (limit the resolution) of high-definition signals sent from players to TVs via analog connections — including component video — as part of an anti-piracy measure. High-def discs can provide video with 1920 x 1080 resolution, but downrezzed analog signals would be converted to 960 x 540, which is closer to standard DVD than to high-def. This means that full high-definition signals will only be reliably available via secure digital connections such as HDMI.
How to watch 3D Blu-ray movies
If you have a new 3D-ready Blu-ray player, then you're going to need a few things to get it properly connected. First, you'll need a TV capable of displaying 3D video. You'll also need a pair of 3D glasses from the same manufacturer as your TV for each person watching the 3D movie.
If you plan to send 3D video signals through a receiver, you'll need a 3D-compatible receiver that can pass the specially formatted video signals on to your 3D TV. An added bonus of a 3D-capable receiver is that you can use an HDMI connection between your 3D player and receiver, which is the only way to enjoy the highest-quality Blu-ray surround sound formats.
You'll also need HDMI cables to connect all your 3D gear. Most recent HDMI cables should be up to the job, especially if they're 2 meters or less in length. If you're buying new cables, look for ones labeled "high-speed," "1.3," or "1.4" to be sure. Check out our article about HDMI and our introduction to 3D TV for more info.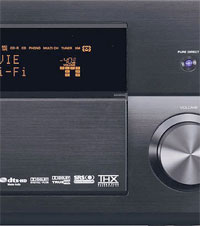 Not sure if your receiver can decode the new audio formats? Look for Dolby Digital Plus, DTS-HD, and Dolby TrueHD logos on the front panel.
How to get next-generation audio
To get next-gen audio with a Blu-ray player, you'll need a receiver that has an HDMI connection or multichannel analog inputs. While you can use optical and coaxial digital connections to get standard Dolby Digital and DTS, they don't have the bandwidth to support the new, more detailed formats. If you have a newer receiver with decoding for the latest audio formats, like Dolby TrueHD and DTS-HD Master Audio, then your receiver will have an HDMI connection and this is what you'll want to use.
What if your receiver has an HDMI jack but doesn't have surround sound decoding for the new formats? Don't worry — many Blu-ray players can decode Dolby Digital Plus and Dolby TrueHD internally. They then convert these formats to PCM, and send the PCM signal to your receiver via HDMI. (All HDMI-equipped receivers can decode PCM, so you don't need to worry about any compatibility issues if you choose this option.)
If your receiver doesn't have HDMI, then you'll need to connect your Blu-ray player using the multichannel analog outputs. This setup uses the player's internal surround sound decoder and outputs the signal as analog. When going this route, be sure to use good quality cables to minimize signal loss.
How to stream audio & video from the Internet or your computer
Most newer Blu-ray players offer some form of Internet connectivity, and give you the option to play movies and music from providers such as Netflix®, Blockbuster®, YouTube™, and Pandora®. This type of connection also allows you to download certain special features known as BD-Live content available on some Blu-ray discs.
Blu-ray players that offer Internet connectivity will always offer an Ethernet port allowing you to directly connect your modem or router using a CAT-5 or CAT-6 cable. Some players even give you the option of wirelessly connecting to your existing home network, either with the addition of an optional dongle or through built-in Wi-Fi. Check out our articles on enjoying the internet on your TV and enjoying music, movies, and photos from your computer on your TV for more information.