Bluesound Pulse Soundbar review
A TV sound solution and top-notch music player in one
Heads up!
Welcome to this article from the Crutchfield archives. Have fun reading it, but be aware that the information may be outdated and links may be broken.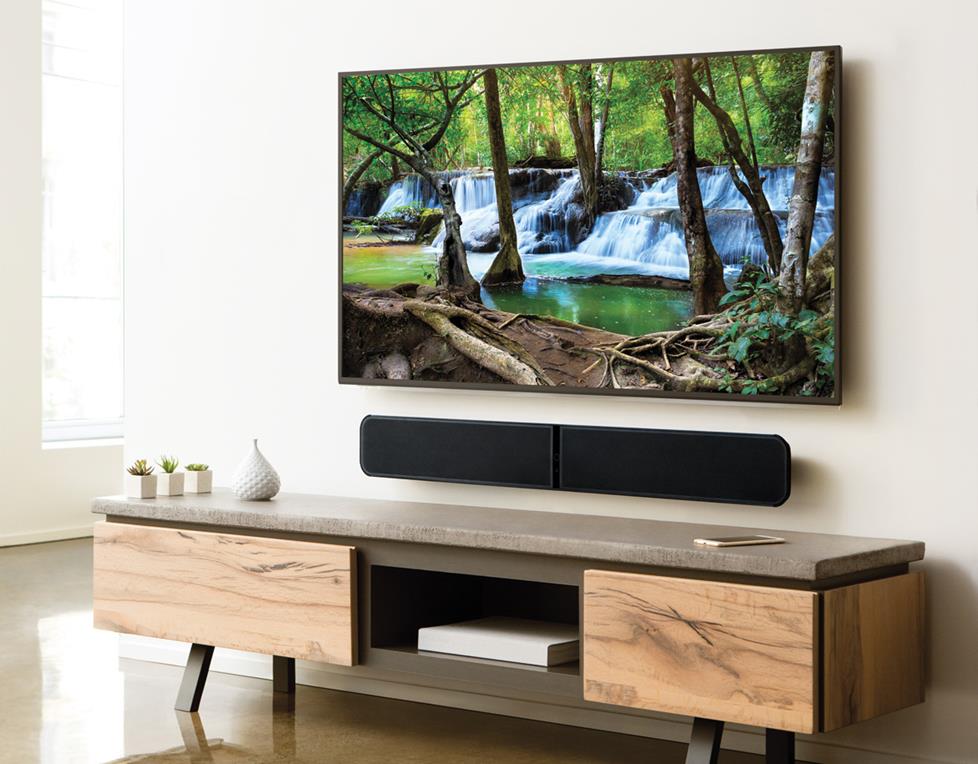 My first experience with the Bluesound Pulse Soundbar was pretty eye-opening.
I strolled into our vendor training room and saw two impressive-looking tower speakers plunked down in front. I assumed these large speakers were pumping out the tunes — I heard wide-open, nuanced sound throughout the room. Then I realized that the music was actually coming from the Bluesound bar in-between them.
My first thought? "Man, I have to try this out in my TV setup at home."
What is Bluesound?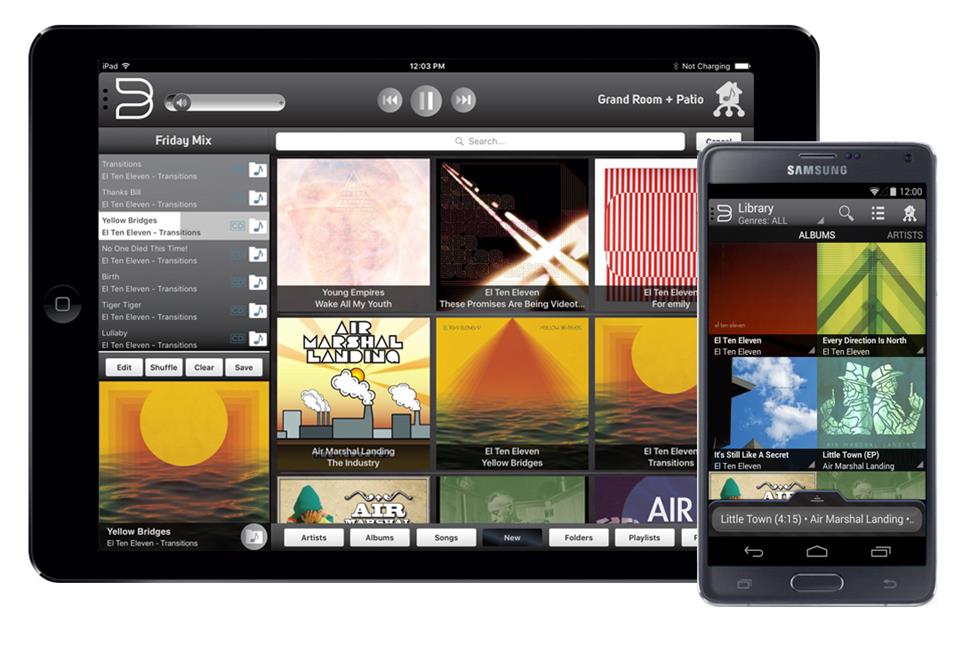 Control all your music and Bluesound speakers with the BluOS app for your phone or tablet.
Bluesound is a collection of premium speakers and audio components that play music wirelessly. They come in all shapes and sizes, so you can place them in different rooms to create a sweet-sounding whole-home music setup. And you control them all with a single app on your phone or tablet.
The Bluesound BluOS app puts your digital music collection at your fingertips, along with top streaming services like Spotify. You can play high-resolution music wirelessly, including streaming MQA files from TIDAL MASTER.
A bar designed for top-notch sound
Bluesound's goal for the Pulse Soundbar was pretty simple: make the best sounding bar possible for both TV sound and movies. That means you won't find the plethora of audio inputs found in many of the sound bars at this price. (In fact, there are no HDMI inputs or outputs.)

Bluesound kept the audo connections simple — you'll find a digital optical input and RCA analog input.
Instead, every design dollar and detail went toward producing powerful, expansive home theater sound from this single bar. And the company has some audio heavy-hitters around — famed speaker designer Paul Barton (of PSB Speakers fame) helped create the Bluesound Pulse soundbar.
Powerful drivers and processing enhance TV watching
Peering past the bar's aluminum grill, it looked like there were essentially two side-by-side bookshelf speakers, turned over flat. And boy did they seem heavy-duty. I saw good-sized, real-deal drivers — not the miniature ones you might expect to find in a sound bar.

There are six drivers in total (two tweeters, two midrange drivers, and two low-end drivers), each powered by their own precisely-matched amp.
The powerful drivers are slightly angled. Together with Bluesound's advanced digital sound processing, they add serious depth to what you're watching. The processing delays certain effects and bounces sound off your walls to create a surround sound illusion. Two bass radiators help reinforce the low-end.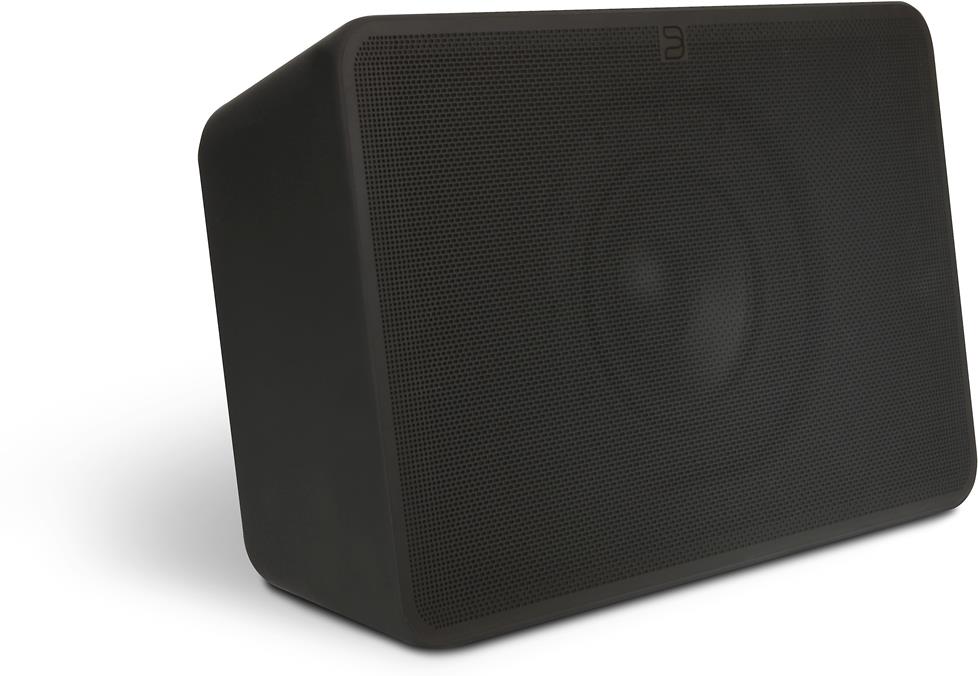 Need more bass? Bluesound also offers the Pulse Sub — a powerful, wireless sub for the Pulse Soundbar.
Setting it up
This is a large sound bar – almost 6 inches high and about 3-1/2 feet wide. That will block a TV if both are sitting on top of a TV stand. I used the included "kickstand" feet and sat it on a lower shelf of my stand, but you'll also find wall-mounting brackets in the box.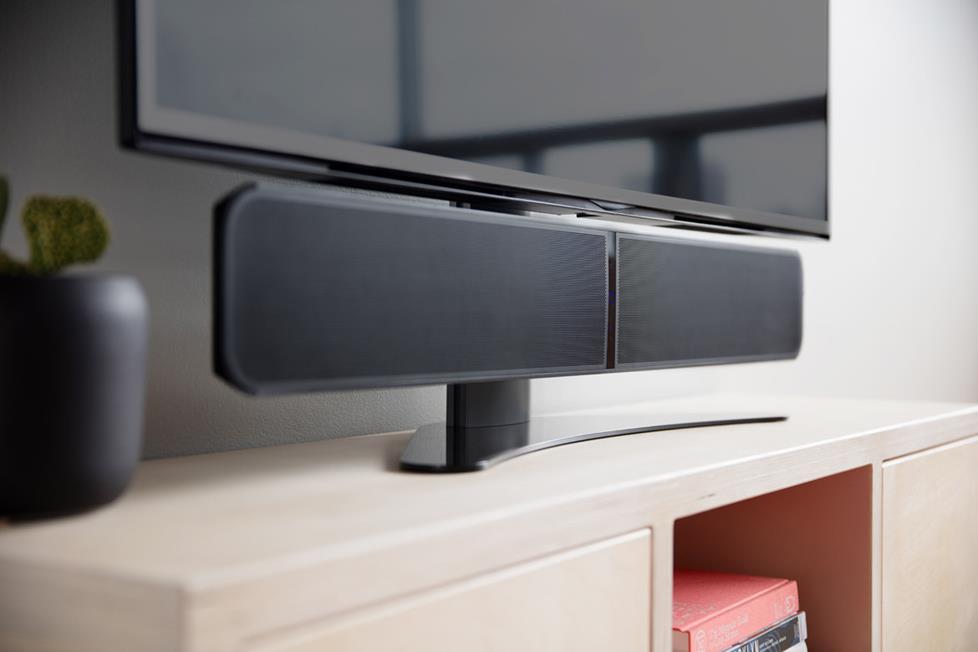 The optional Bluesound TS100 tabletop stand will hold your TV and the Pulse Soundbar.
It only took one digital optical cabel to connect the bar to my TV. But I couldn't test the sound out just yet...
A step you cannot skip — using the BluOS app
Before I could hear TV sound or music from the bar, I needed connect it to my home network. An Ethernet connection gives you the strongest, most reliable connection. But my modem and router are on the other side of the room, so I had to go wireless. This requires a pretty robust Wi-Fi setup.
The BluOS app helped walk me step-by-step through setup. It is a free download in the Apple App Store and Google Play, and it was recently updated to simplify the setup process.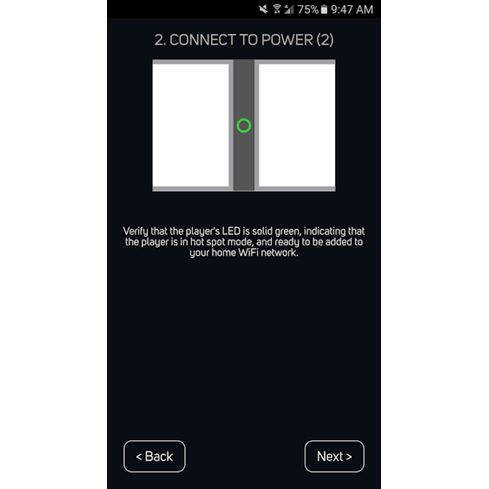 Screen shot of the BluOS app — the Pulse Soundbar automatically recognized my WiFi signal during setup.
It was pretty painless connecting the sound bar to my wireless network. The one hiccup was my fault: I fat-fingered my Wi-Fi password, so I had to start from scratch. Still, I was up and running in 10 minutes.
I enjoyed the layered, powerful TV sound
The BluOS app serves as the main control for the Bluesound system. But I "taught" the bar to recognize my Xfinity cable remote's power and volume commands.
For basketball – the first thing that popped on my TV – Bluesound's default "TV" listening setting worked well. Play-by-play dominated the mix, but I heard just the right mix of cheers, music, and squeaking shoes to feel the excitement of the live crowd.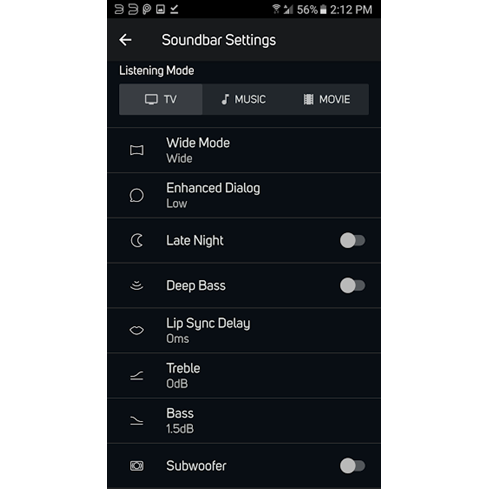 The BluOS app lets you fine-tune the sound with settings like dialogue and bass boost.
Maximizing our movie night
My wife and I rented The Shallows on Blu-ray to test the bar's "Movie" setting. During Blake Lively's surfing scenes, subtle, splashing sounds surrounded us. We were in the middle of the ocean with the character, isolated from the rest of the world.
The Pulse bar does big and bold well, too. During a shark attack scene, the intensity escalated with the loud crash of waves, gnarly gnashing of teeth, and sickening thud of our protagonist slamming into an island of rocks. Dramatic blasts of the techno soundtrack helped build tension before and during the chaotic scene.
Beautiful stereo music playback
That range from subtle to powerful enhanced music playback, too. Spotify Connect worked seamlessly. Even the sound profile automatically flipped to the "Music" setting.
David Bowie's "Subterraneans" (on Crutchfield's "Get to Work" Spotify playlist) was appropriately haunting. His monk-like chanting brought a low-end chill that crept to every corner of the room. It was cut by the upper-registers of the saxophone that suddenly seemed to show up front and center from where I was sitting.
High-res music through a sound bar? Yes!
Back in the BluOs app, I tried TIDAL MASTERS – their selection of albums in MQA format. Songs streaming with MQA sound closer to their studio master quality than typical compressed music files.
I called my wife in for a demo. She's a music fan, but not exactly a critical listener, so she didn't expect to notice much of a difference. But almost immediately she realized there was an uptick in sound performance. She listened for a second, and simply said, "Oh yeah."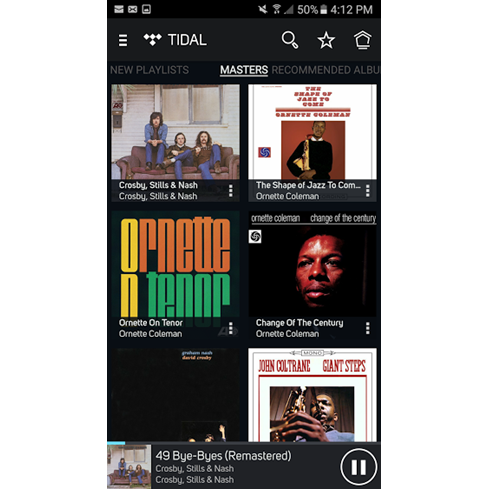 Bluesound lets you stream studio-quality MQA music files via TIDAL MASTERS.
The sound seemed to open up and breathe a little more with the higher-resolution files. Roberta Flack's "Killing me Softly" was a highlight. The strong thump of the bass and percussion took over my rapidly nodding head at first. Then my movement was forced to slow down by Flack's beautiful "can't-be-rushed" vocals as the song went on. Her voice was crystal clear, and there was an extra spaciousness to the song.
Conclusion
This is an excellent-sounding bar that can trick you into thinking you have several speakers around your TV room. It lacks the receiver-like connectivity that other sound bars have these days. But the sound quality and advanced control you get from the BluOS app are two worthy trade-offs.
And the gravy on that is you can add other Bluesound speakers and components to other rooms and control them all with the same BlueOS app.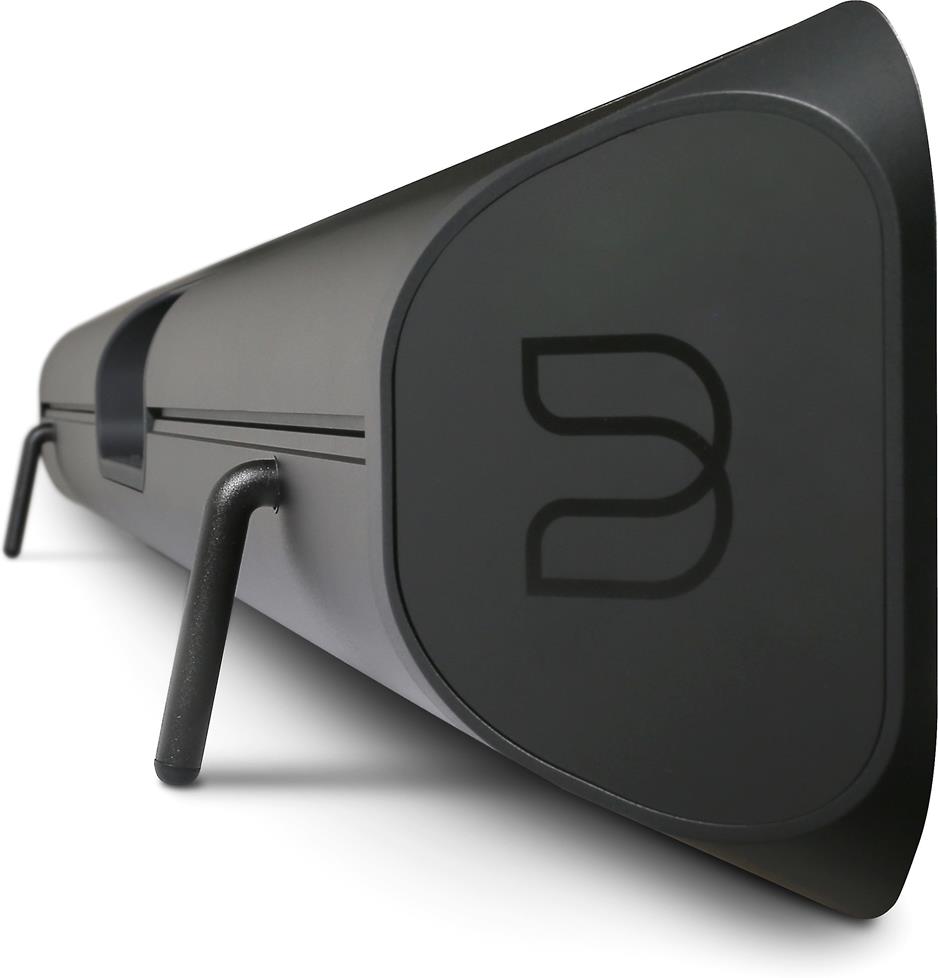 Side view of the Bluesound Pulse Soundbar (with included "kickstand" feet)