Bluetooth and Beyond: a Crutchfield ebook
Curious about wireless audio? Download our comprehensive guide
Heads up!
Welcome to this article from the Crutchfield archives. Have fun reading it, but be aware that the information may be outdated and links may be broken.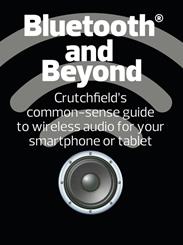 In the old days, wires were a fact of life if you wanted to listen to music. Now, wireless technologies like Bluetooth® and Wi-Fi® make it easier than ever to get your music playing — without complex setups or cables linking your source and your speakers.
For instance, imagine selecting a song on your smartphone, and hearing it play through a high-performance Bluetooth speaker system across the room. Wireless audio give you the freedom to stream music to many different types of speakers without messing with cable connections. But where to start?
This guide, written in everyday language, gives you an overview of common wireless options, how they work, and how they can work for you. It covers everything from portable Bluetooth headphones and speakers, to sound bars, wireless speakers for the home, and Sonos multi-room audio systems. Whether you have an iPhone® or iPad®, or an Android™ smartphone or tablet, you'll find compatible options for wirelessly streaming music and Pandora®, Spotify®, and Internet radio stations.