Bluetooth® motorcycle speakers bring big sound to your bike
Rugged handlebar systems make it easy to enjoy your music while you ride
ajor myth about motorcycle audio: You need a big bike with a full fairing to get the sound you want when you're out on the road. Turns out all you need is a phone with Bluetooth® and a rugged, all-weather system that mounts on your handlebars.
To prove it, we installed motorcycle handlebar speakers on two very different motorcycles owned by two Crutchfield employees. Installation is easy, the sound is surprising, and these travel-tested systems are still bringing smiles to these enthusiastic riders.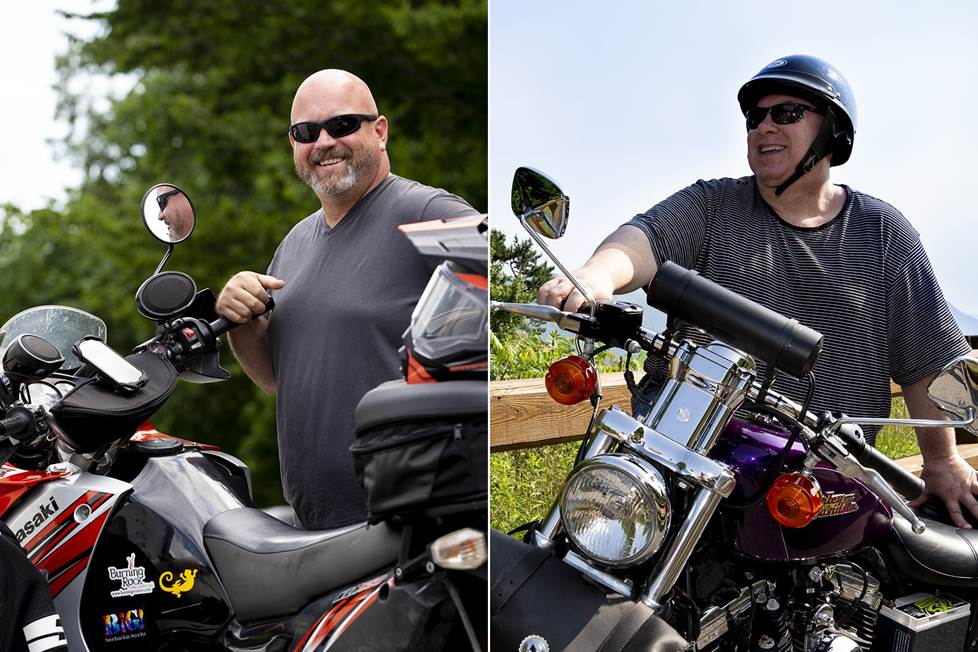 JR (left) and Levi have very different motorcycles, but they both enjoy great sound
JR's Kawasaki sounds great with a JBL Cruise handlebar kit
JR, Crutchfield's Training Manager, mostly rides his Kawasaki KLR650 around town and on the many country roads in our area, but he recently took it on a very long road trip to Niagara Falls and back. Along the way, he really got to know his JBL CRUISE Bluetooth handlebar kit. (Note: the model JR has is not longer available, but there's a new version.)
During his travels, JR was able to stream music from his phone (it works with any Bluetooth-enabled device). Each rugged, weather-resistant pod houses a heavy-duty JBL 2-1/2" speaker powered by 20 watts from the system's amplifier, and JR reports that the sound is remarkably crisp and clear. And the integrated USB port keeps his smartphone charged while he's riding.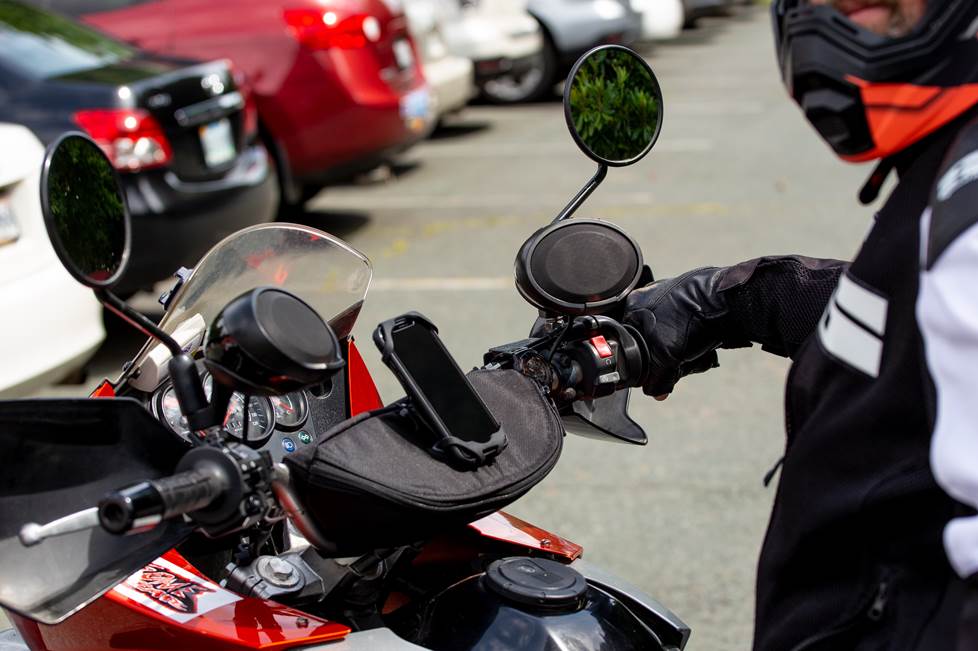 Helmet, jacket, gloves, phone, speaker system...ready to go!
The sleek, aerodynamic pods are paintable, but the stock black finish looks pretty good on JR's bike, so he's sticking with it. The controls are located in the top of the right speaker, and JR confirms that the buttons are easy to use, even with gloves on.
Here's what JR installed on his Kawasaki
Levi's Harley-Davidson rocks an MTX handlebar speaker
Levi, one of our expert Sales Advisors, mounted a compact MTX MUDHSB-B handlebar speaker (since discontinued) on his Harley-Davidson Sportster 1200. This all-weather, all-in-one system sports six speakers and an internal amp that delivers powerful sound at any speed. What really impressed Levi (and us, when we heard it) is how directional the sound is. You can enjoy your tunes without annoying others.
This MTX is a great choice for any motorcycle. Built-in Bluetooth® connectivity with NFC pairing lets it stream music directly from a smartphone or tablet, and there's also a 3.5mm aux input that works with other devices. For even bigger, better sound, that aux output can be used to integrate an external amp, a sub, or more speakers.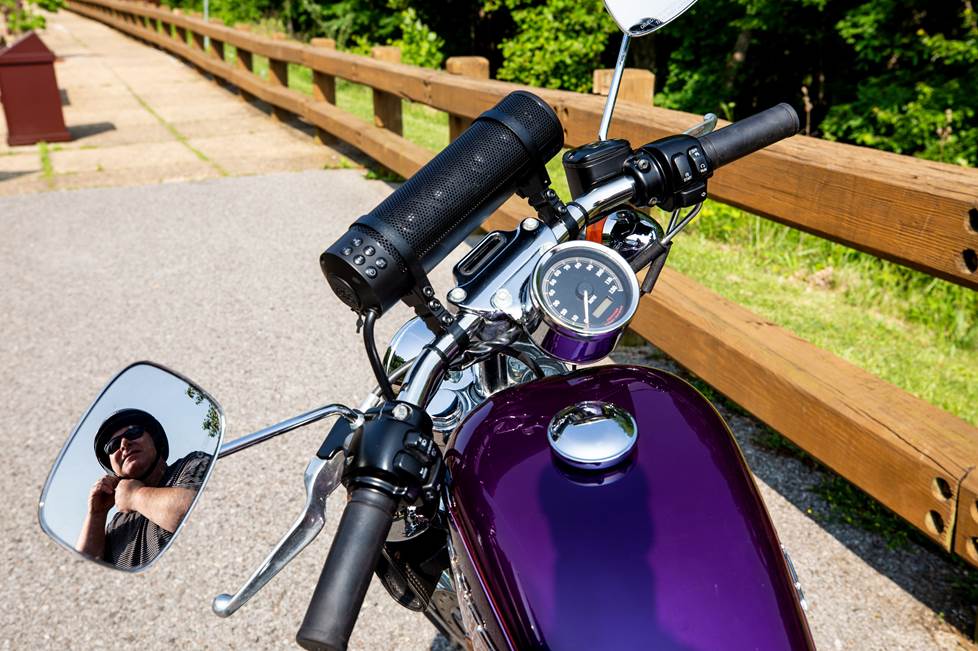 The MTX speaker produces a ton of sound for such a compact package
The durable IP66 weather-resistant shell looks great and blends right into any motorcycle (or ATV). The patent-pending universal mounting clamps fit handlebars bars between 7/8" and 1-1/4", so this sound bar can be a rugged, roadworthy addition to a variety of motorcycles, not to mention ATVs and side-by-sides.
Get better sound on your motorcycle
Thinking about upgrading the audio on your motorcycle? Check out our full selection of motorcycle audio systems. And don't hesitate to reach out to our Advisors. Their experience with systems like these can save you hours of research!