BOOM Urchin Bluetooth® Portable Speaker
A rough-and-ready speaker system comes clean
Heads up!
Welcome to this article from the Crutchfield archives. Have fun reading it, but be aware that the information may be outdated and links may be broken.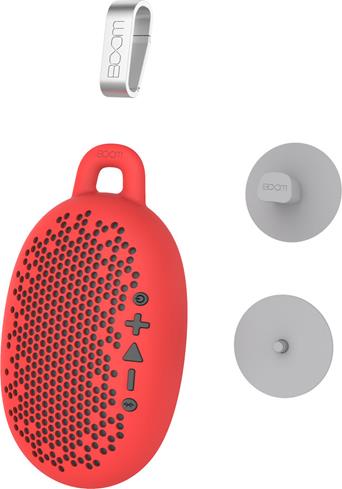 I've auditioned Bluetooth portable speaker systems in a lot of places — in a field, on decks, in living rooms, kitchens, a garage, and the Crutchfield Lab — but this was the first time I tried one in the shower.
Seemed like a good idea. The Boom Urchin uses Bluetooth to let you wirelessly stream music from a compatible smartphone, tablet, laptop, or other device. As long as my smartphone was within 30 feet of the Urchin, I could play music through it.
But where to try it out around the house? Well, the Urchin is shock- and water-resistant, and BOOM claims its "R4A" (Ready for Anything), Its suction-cup hook seemed ready-made for affixing to the shower tile. So…
Showered with praise
Turns out the Urchin mades a great shower accessory. Its oval shape makes it look like an overgrown soap on a rope, and it can be plenty loud. And that's important, because my shower stall's plastic doors partially block the sound of a portable system sitting safely on the counter.
I had the Urchin hung out of the direct path of the shower, so I didn't have to worry about the stray droplets that splashed on it. But understand: the Urchin's water-resistant, not water-proof. If I had dropped it in a bathtub full of water, I would have killed it dead.
Comfortable in its own skin
The Urchin is encased in a removable silicone skin designed for the rough-and-tumble of mobile listening. It's thick enough to act as a shock absorber — at least for an occasional tumble to the floor. The skin also has a flap that tightly seals over the system's inputs and outputs, blocking out moisture. A thick loop is integrated into the skin. It's big enough to make connecting the included carabiner, or hanging on the suction-cup hook easy. But because it is silicone, it bends easily, so you don't have a rigid loop sticking out, and sticking you.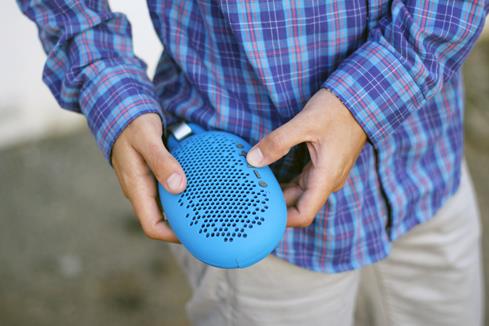 The controls are raised and easy to use by feel.
Portability plus
The Urchin was built to travel — something I came to appreciate. Its smooth, oval shape made it easy to take in and out of my backpack — no sharp corners to catch on fabric. And those rounded surfaces helped when I just had the Urchin hanging from its carabiner on my belt loop. No corners to poke me as I moved about (something I've experienced with boxy portables).
The Urchin weights 12.1 oz., which is as little hefty for this type of portable. Initially I was aware I had something hanging from my belt loop. The Urchin is a solid little system that lives up to its shock-resistant claim. As mentioned, it survived a few drops to the floor, and bumping around on my belt and backpack.
Loud is allowed
So what did the Urchin sound like? Pretty darned good — with the right type of music. The system has two full-range speakers that really put out some volume. Of course it did well with near-field listening (like in the shower), but it had no problem blasting my tunes across a room, either. I set the Urchin at full volume in our family room and started walking. I could clearly hear it throughout our first floor, even when I was two rooms away (with the doors open).
Even outside, the Urchin kicked out an impressive sound field. Not enough for the neighbors to complain, but definitely enough for everyone on the patio to enjoy the music.
Sounds like fun!
Let's be clear — if you like to listen critically to Mozart string quartets, this probably isn't the system for you. The Boom is intended for casual listening to music with heavy bass and crunchy highs — metal, rap, dance, etc. It decently reproduced my acoustic bluegrass, jazz and classical test tracks. But I heard a slight metallic edge to them that bordered on harshness.
For the popular genres I mentioned before, though, the Boom nailed it. The sound was focused and punchy. The bass wasn't super low, but it was always there and it was always pounding. Guitar solos sliced through the air, and synthesizers buzzed with crackling energy. The Boom Urchin was made for party tunes, and that's the sound it delivered.
Simple controls
The Boom Urchin has finger-friendly buttons that control volume, play/pause and talk. Each button has a different shape, making the Urchin easy to control just by feel. That was handy when I had it hanging from my belt, walking around. Looking down to adjust volume would be awkward and might have caused a serious misstep.
Bottom Line
I don't think BOOM's R4A claim was exaggerated. The Urchin's made for mobility, and is durable enough to work just about anywhere — on a ski slope, at the beach, or on a rock climb. It's got enough volume and punch to be heard in all of those situations. And when you're ready to clean up after your outdoor adventures, the BOOM Urchin can even accompany your singing in the shower.