Bose QuietComfort Earbuds II review
The best earbuds for canceling noise...and more
've been covering and auditioning headphones long enough to spot a major step forward for the technology. The Bose QuietComfort Earbuds II defy rules, logic, conventional wisdom, and historical precedent. It's quite the engineering feat. Headphones this small — earbuds — simply aren't supposed to cancel noise this well.
Pros
Cancel noise better than any earbuds
Excellent, well-balanced sound with depth and presence
Streamlined, ultra-portable design
Rest comfortably in the ear
Cons
Top-notch performance comes at a premium price
Battery life is on par with most noise-canceling earbuds, but not above average
Bose has finally gotten us here: earbuds that silence external distractions as well as the finest over-ear noise-cancelers. Not that I'm shocked — they pioneered the category and have consistently improved their noise-canceling circuitry with each release. But the previous-generation QC Earbuds canceled noise so well, I didn't think another leap like this was possible — especially because these earbuds are even smaller and lighter.
Unboxing: earth-conscious packaging and ultra-portable design
Bose continues a refreshing new trend we've seen from many electronics companies lately. They packed the QuietComfort Earbuds II inside a low-key, yet substantial carton made of paper and other recyclable materials. Nice to see that Bose is so mindful of their packaging — and trusting their products to do the talking.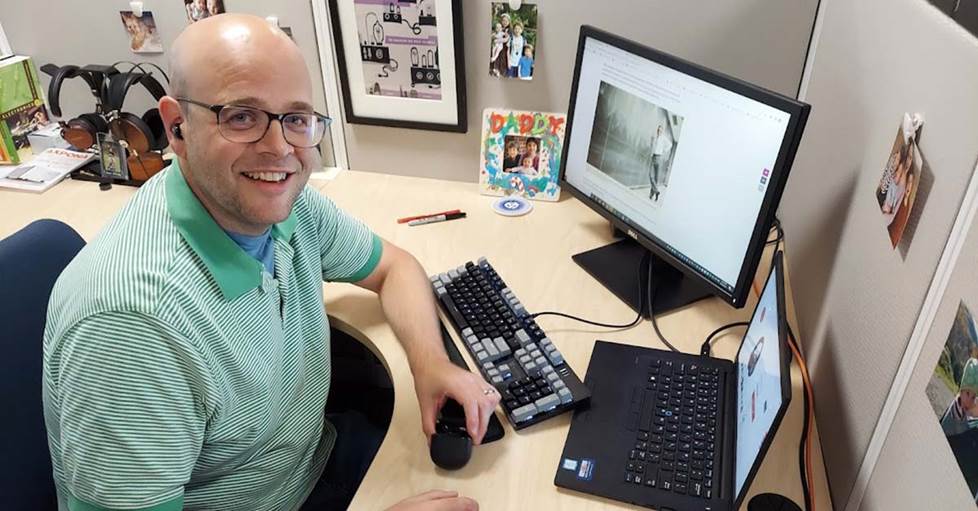 The Bose QC Earbuds II fit discreetly and rested just inside the ear, so I could wear them through a whole work day without fatigue.
Their design doesn't resemble any in-ear model from Bose's past. The QC Earbuds II sat flat in my ears and didn't protrude like the originals. They're also sweat-proof and pack into a pocket-sized charging case, making them a convenient choice for work, exercise, and travel. Music plays wirelessly via Bluetooth 5.3 — a newer, more reliable version of the popular wireless technology.
Renowned Bose comfort with redesigned ear tips
Bose also tweaked the design of their soft, silicone ear tips — yet another change for the better. These umbrella-shaped ear tips are smaller and sit a little further in than tradtional Bose StayHear tips. They rest securely and comfortably inside the ear, but not as deep as some other earbuds.
It's a wonderful compromise, creating a better seal for blocking out noise, while upholding Bose's reputation as the "in-ears for people who don't like in-ears." Three sizes of ear tips are included, along with three sizes of optional flexible wings. They help stabilize the earbuds, and I found they stayed in place well as I moved my head.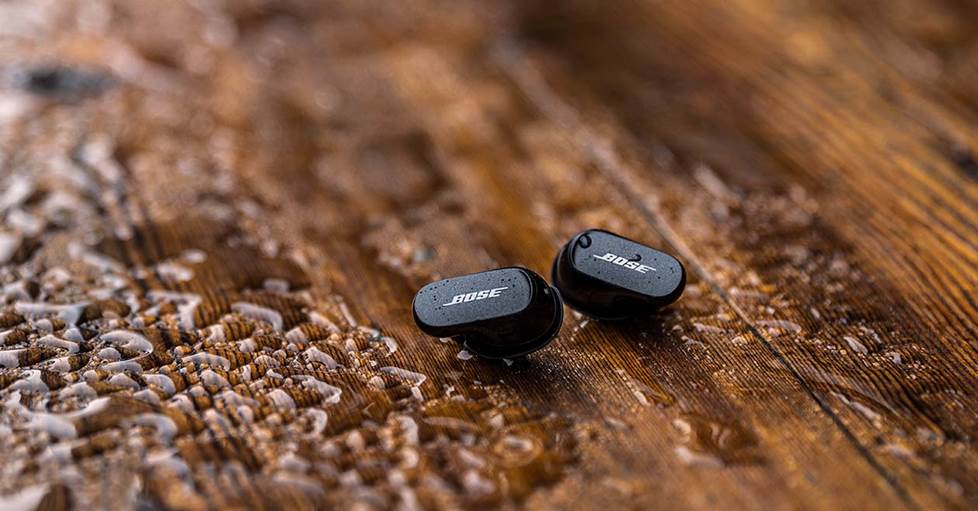 These earbuds are IPX4 sweat- and water-resistant.
Solid battery life with charging case
Since the noise cancellation is so strong, I consider these an air travel game changer. Based on my testing, I'm confident they'll silence plane-engine drone, and they take up very little space. You get more battery life from over-ear headphones for sure, but the QC Earbuds II offer six hours of battery life — easily enough to cover a short flight.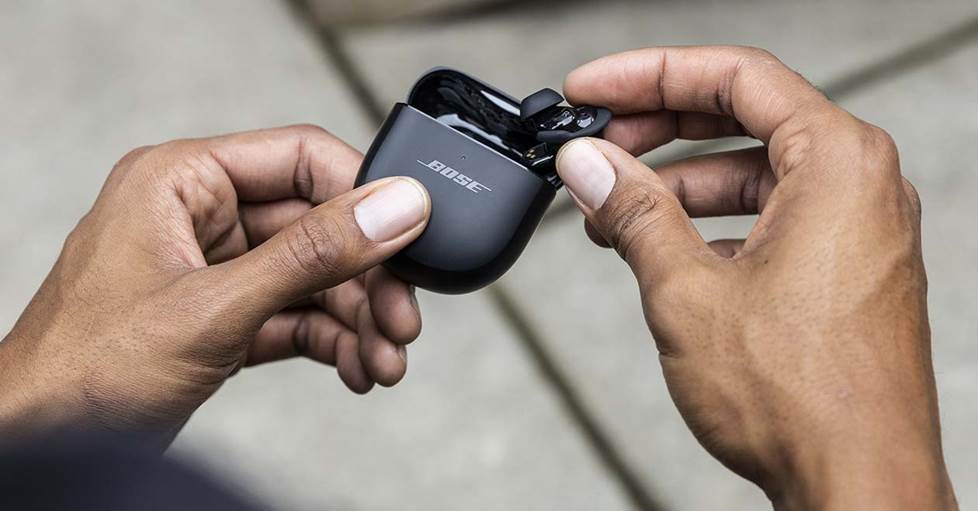 The earbuds offer up to six hours of battery life, and the charging case banks enough power to recharge them three times.
When they need more juice, just snap the earbuds into the included charging case. I can palm this small case in my hand, but it packs enough power to recharge the earbuds three times. And just 20 minutes inside the case gives you two hours of playback with noise cancellation.
Listening impressions: Top-notch noise cancellation and sound
As fantastic as the noise cancellation is here, I might be even more impressed with the audio quality. These are best-sounding Bose headphones I've heard yet — linear, well-balanced tuning with a fun, forward presentation that's also deeply layered.
But the headline feature is still the noise cancellation. Two years ago, I interviewed legendary Bose engineer, Dan Gauger. It was around the time they released the first generation QC earbuds. At the time, I didn't think noise cancellation could get much better in earbuds.
But I remember Dan telling me to look out for the future....
Brings silence to all frequencies of noise
I always like to test noise-canceling circuitry first on its own, without music. The quieting effect was striking right from the moment I put them in my ears — maybe even startling. There was no trace of the rumbling from our HVAC system and large laundry room appliances. I even removed an earbud to ensure they were still running.
And these were the first earbuds so far that've proved to be a match for my 13-year-old Yorkie's sharp, piercing bark. It didn't completely eliminate the high-frequency sound — don't worry, I would never ignore my buddy Herbie — but it did sure did tame it.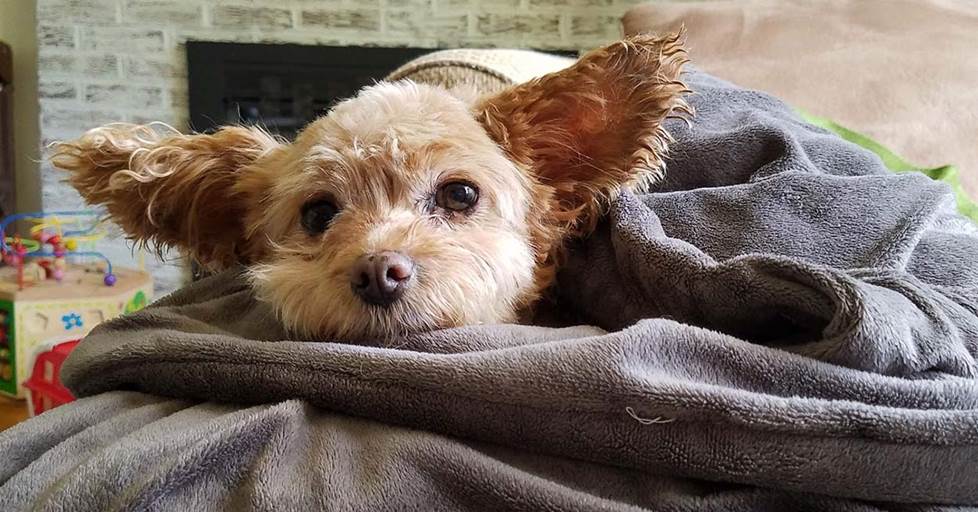 My dog, Herbie, takes a rest after putting Bose's noise-canceling technology to the test with his high-pitched barking.
Super-powerful when it's loud
These days, most noise-canceling headphones will do a decent job of reducing constant, low-frequency noises. But the QC Earbuds II are a cut above. Out in the yard, they reduced my lawnmower's large, loud engine to a gentle purr.
With most noise-canceling earbuds, I can listen to podcasts at about 50-60% volume on my phone's slider when I'm cutting grass. With the QC Earbuds II, I could listen to podcasts with the volume almost completely down and still clearly hear the hosts. I was one notch away from turning the volume off.
Likewise, I found them effective at squelching distractions in the office, even with some loud A/C repair work happening around me.
Touch control for noise cancellation and "Aware" mode
You have touch control over music, calls, volume, and noise cancellation. The controls are snappy, straight-forward, and uncomplicated. I also liked that I could pop in one earbud at a time and listen.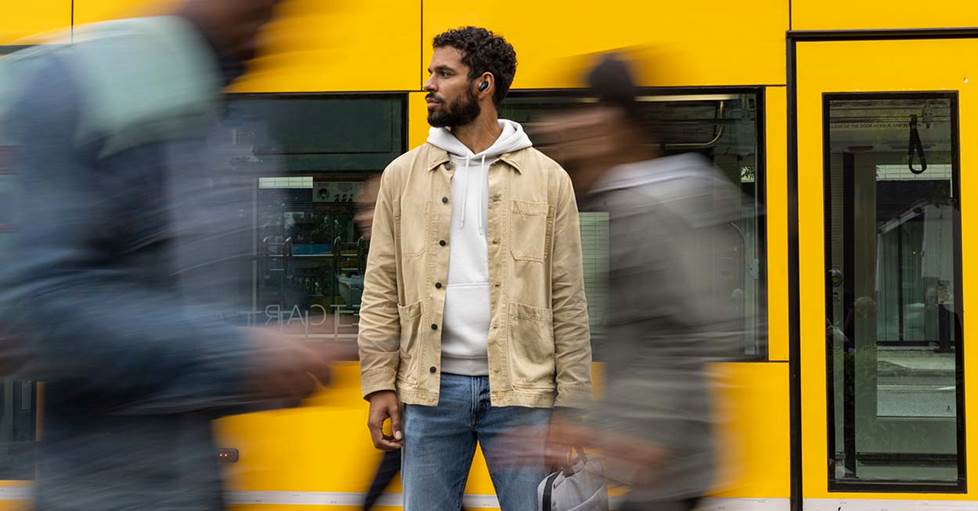 When you need to hear your surroundings, quickly switch from noise cancellation to "Aware" mode by holding either earbud.
With both in, I could toggle between "Quiet" and "Aware" modes by holding either earbud. "Quiet" delivers the maximum level of noise cancellation, while "Aware" mode lets in external sounds, so you can hear your surroundings. In the Bose Music app, a free download for Apple® and Android™, you can create additional modes and assign a certain level of noise cancellation. (You can choose from 11 discrete levels.)
Clear sound that's full, detailed, and layered
I often think of Bose headphones delivering a laid-back sound, but these earbuds came off more up-front and intimate. Percussion and lead vocals seemed to reach out and grab me, demanding attention. With that said, the soundstage never felt cramped, and there was a generous amount of space between instruments.
When I first heard DJ Khaled's "God Did" track, including the four-minute statement verse from elder-statesman Jay-Z, it was through these earbuds. Jay's vocals were appropriately front and center, but the surrounding background vocals, drum loops, guitar and orchestral samples were larger-than-life and outside-the-head. It added to the gradually building, epic feel of the verse and helped it reach a satisfying crescendo.
And the earbuds excelled on more restrained, straight-forward tracks, too. Valerie June's cover of Bob Dylan's "Tonight I'll Be Staying Here With You" is driven by the interplay between the slide guitar, keyboards, and the singer's charming soprano. The groove glides on their complementary twang, and it puts every frequency to the test. These earbuds were able to deliver it all with sparkling detail and substantive deep-end at once.
Product highlights:
100% wire-free headphones
IPX4 sweat- and weather-resistant
Bluetooth® 5.3 for wireless music listening and phone calls
personalized Bose noise cancellation calibrated to your fit and surroundings
earbud controls let you toggle between full-strength "Quiet" mode or "Aware" mode
detailed, well-balanced sound with depth and presence
three sizes of soft silicone ear tips and three sizes of winged stabilizers
free, optional Bose® Music app available for Apple® and Android™
rechargeable battery provides up to 6 hours of wireless use
included carrying case banks up to 18 hours of power to wirelessly recharge headphones
voice prompts provide information on battery life, device connection, and caller ID
touch controls for music, calls, noise cancellation, and volume
warranty: 1 year
Need more help? Contact us!
Have questions about how the Bose QuietComfort Earbuds II headphones compare to others? Contact us today.
Our expert Advisors know headphones inside and out. Your Advisor can send specific Crutchfield pages to your screen, saving you a lot of browsing time. You'll get a shopping cart loaded up with everything you need.
Free lifetime tech support is included with your Crutchfield purchase.
Last updated 9/7/2022