Brent P's 2007 Saab 9-3 SportCombi Wagon
Improving the sound while keeping the factory stereo
Brent P's 2007 Saab 9-3 SportCombi wagon
Just because you can't replace the radio doesn't mean you can't improve your car's audio. Brent P, who works in Crutchfield's IT department, boosted his 2007 Saab 9-3 wagon's sound and functionality without installing a new receiver. Here's how he did it:
So you can't replace the receiver. Now what?
"When I worked in sales at Crutchfield, I would often get calls from customers who really wanted to upgrade their car's audio system, starting with the receiver. Then they'd tell me about their car and, well, sometimes I'd have to be the one to deliver some bad news. Unfortunately, on some cars, radio replacement just isn't possible because there's no dash kit and/or wiring harness available.
Needless to say, some of these folks were quite disappointed. Sometimes I'd have a chance to tell them about all the things that ARE possible with their cars, but sometimes, they'd just hang up in (totally understandable) frustration. Trust me, I feel their pain, but the radio is just one element of a good system. There are plenty of ways to improve your car's sound while keeping the factory radio in place.
Mercedes-Benz, Volvo, Acura, Jaguar, Porsche, and Lexus are just a few brands that make it really challenging to install an aftermarket receiver. Saab is another one – and as the proud owner of a 2007 Saab 9-3 wagon, I know exactly how owners of those other brands must feel. When you enter your car info into our Vehicle Selector or talk to one of our experts and find that, radio-wise, there's nothing to be done, it IS frustrating. But there are other ways to get the sound you want in the car you love."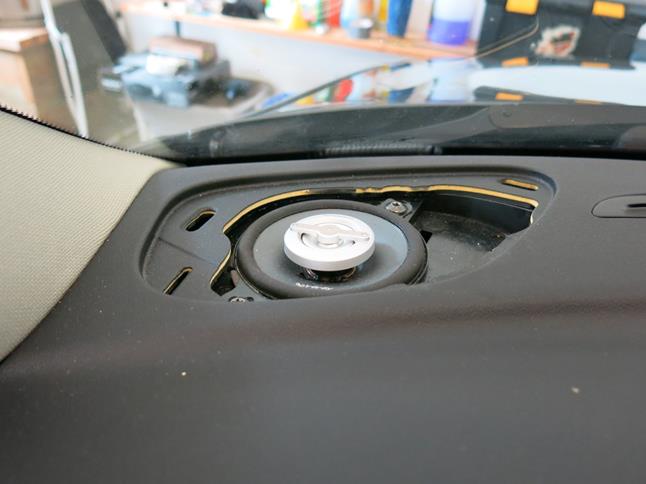 These 3-1/2" Infinity speakers fit right into corners of the Saab's dash.
New speakers make a big difference
"As an example, here's what I did with my car. I can't replace the factory radio because we carry neither a dash kit nor a wiring harness (See note below - Ed.) that works with it. Once I accepted the fact that the touchscreen nav receiver of my dreams was just that – a dream – I focused on improving the things that I could improve: the factory speakers.
I chose 2-ohm Infinity speakers because they worked best with the factory radio. The front doors got a set of 6-1/2" Infinity Reference coaxial speakers in the front doors, installed within 6.5" Boom Mat speaker baffles to quiet the door rattles.
I also installed a set of 300 Hz Bass Blockers to give the mids more 'room' and let the factory subwoofer handle the bass.I didn't replace the factory 10" Pioneer subwoofer or the two factory amps this time around, because they're doing the job I need them to do for now. Maybe later, though.
I installed one set of 3-1/2" Infinity Reference coaxial speakers in the dash corners and another set in the rear hatch. I also replaced the factory center dash speaker with a 4" Sound Ordnance P40 speaker. Now that the weather's turned cold, I'll be installing baffles on these speakers, too. The rattles and vibrations tend to increase when the temperature drops."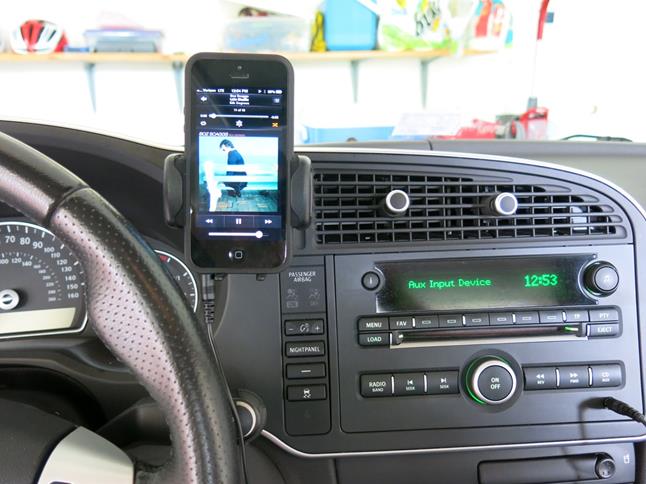 The Pro.Fit bracket keeps Brent's iPod accessible and secure.
Portable tech solutions help, too
"Okay, so that touchscreen receiver is never going to happen with this car. That's a bummer, but I'm still able to enjoy a lot of the same functionality.
I put a Pro.Fit bracket on the dash to hold my iPhone®, which plays through the factory radio with help from a Scosche auxilliary cable. As for navigation, I hook up a portable GPS for long trips out of town, and that works just fine.
My Saab doesn't sport the most elegant, high-tech dashboard in the company parking lot, but my music sounds terrific coming from the Infinity speakers, and that's the important part. I'm still looking at the same old factory receiver, but it's performing better than ever before."
Wondering what fits your car? To find out, visit Crutchfield's Outfit My Car page and enter your vehicle information.
Note: While there are kits and harnesses available elsewhere for this car, none of them retain the Saab's factory warning chimes. So while it's possible to swap in a new receiver, we don't recommend it because of the lack of chimes and the fact that the installer still has to run an accessory power wire to the fuse box. When in doubt, we always err on the side of safety.
---
Vehicles in the Custom Car Showroom are submitted by customers, fans, and in this case, Crutchfield employees. You can find more of these articles on the
Showroom main page
.