Bring the concert to your living room
Surround sound puts you in the front row
When I was younger, I was a regular at Dave Matthews Band concerts (they got their start right here in Charlottesville, VA). Those shows were a lot of fun, with incredible energy.
Now that I'm settled down with a family, I don't go to as many concerts as I used to. So instead of spending money on tickets and travel expenses, I've invested in a good sound system at home. My living room is now my go-to venue.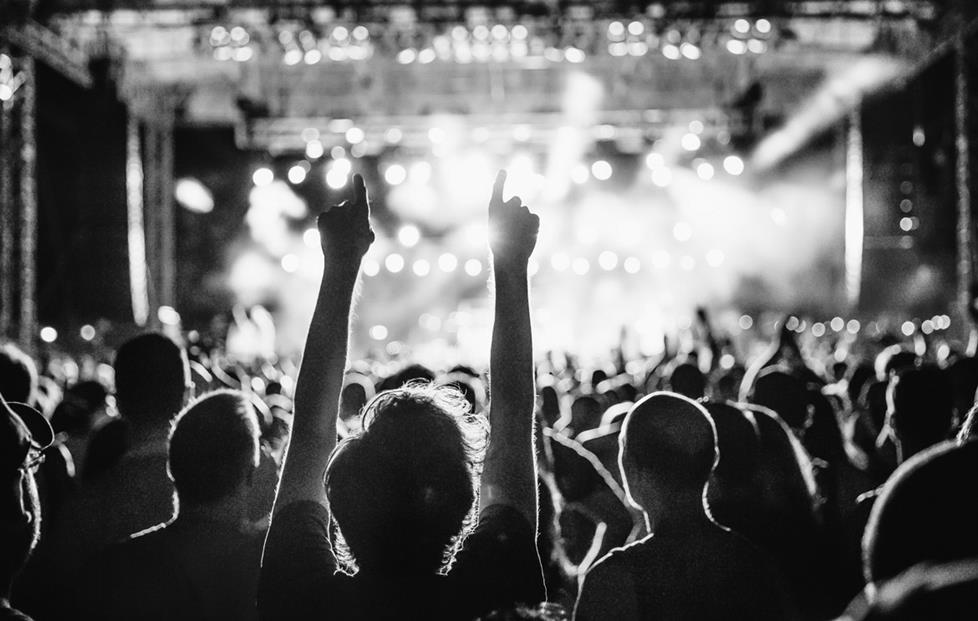 Surround sound brings concert videos to life
I love listening to live music in stereo. But when I really want to re-live the concert experience, I put my full home theater system to work. Surround sound is awesome for movies and sporting events, of course. But it's equally as enjoyable with concert videos. If you haven't experienced a live concert in your living room, you're missing out on a truly great musical experience.
A front row seat
Watching a concert at home is like watching a football game on your big screen TV. You get a front row seat every time — and you're never gouged for food and drinks. Those are the obvious benefits. So what about the sound?
The sonic benefits of a concert recording
A surround sound system uses speakers all around you to create a believable "live sound" experience. This is what brings a concert film to life.
"This is the first real "rock concert movie" ever made, and it's still one of the best. With the Rolling Stones, James Brown, Chuck Berry, and bunch of other awesome acts, this 1964 classic is an absolute must-see."
— Crutchfield writer Jon Paulette on The T.A.M.I. Show Collector's Edition
Your front speakers give you a clear "picture" of the band, letting you accurately hear where each instrument is located in the soundstage. For instance, your front left and right speakers may place the guitarist on the left, the drummer in the back, and the bass player on the right. Meanwhile, your center channel puts the lead singer's vocal front and center.
You even hear crowd noise through the rear speakers, seemingly putting you in the middle of the audience. And a subwoofer provides deep, impactful bass that mimics what you feel at a live show.
The ingredients of a good surround sound system
A traditional 5.1-channel surround sound system consists of a home theater receiver wired to front and rear speakers. It also uses a powered subwoofer to produce bass.
The receiver serves as the system hub, routing audio and video signals to your TV and speakers, while also providing the processing and amplification to deliver outstanding sound. Of course, these systems are also fantastic for movies and TV shows.
Check out our intro to home theater speakers guide and our home theater receiver buying guide to learn more about building a home theater system.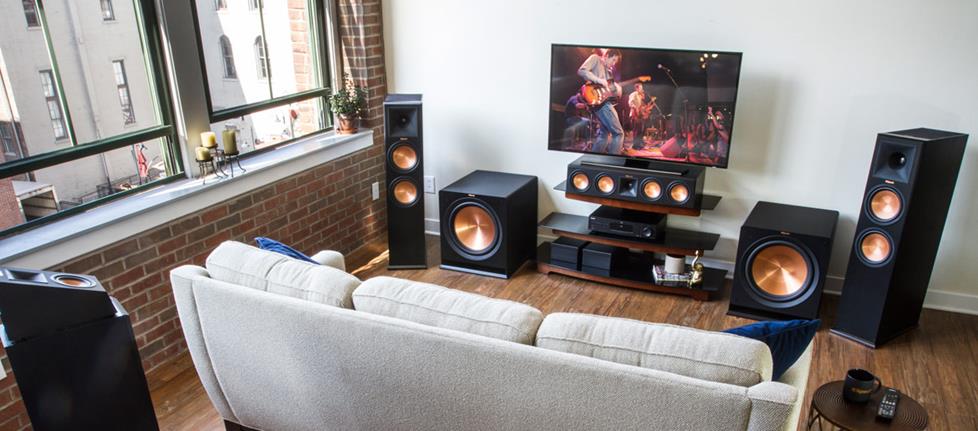 A traditional home theater pairs powerful speakers with an A/V receiver for room-filling surround sound.
Don't want to run speaker wire? Go wireless instead
We know that not every room is set up for running speaker wire. No problem. You can still enjoy great surround sound.
We offer several wireless surround systems that deliver powerful sound without a home theater receiver or any speaker wire. Each speaker is self-amplified, and simply plugs into an AC outlet for power. A central hub or sound bar broadcasts the signal to each speaker around the room.
Read our wireless surround sound guide for a full list of options.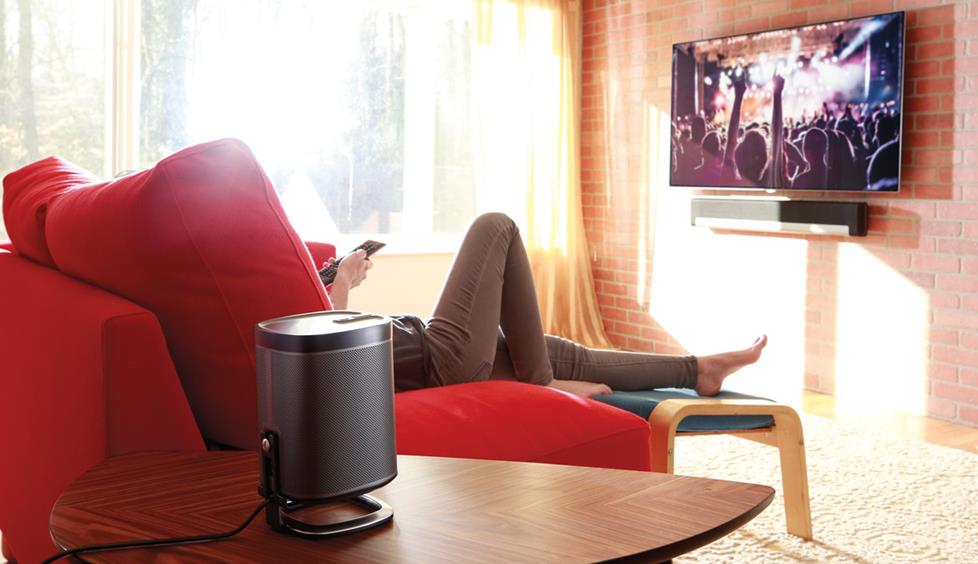 Wireless surround systems use self-powered speakers for lifelike sound. Many can even be wall-mounted, like the Sonos PLAYBAR shown here.
What's out there to watch?
Over the decades countless shows have been recorded and made available in film format. Even shows from the 1970s, which might not have HD picture quality, can sound outstanding. Audio recording technology was way ahead of video back then.
When concerts are recorded and mixed for 5.1-channel sound, audio engineers can do a lot with those extra speakers. Even concerts that were recorded in stereo and then mixed for surround have terrific sound quality. And don't forget: your home theater receiver can take a stereo signal and create a surround "mix" on the fly that uses your all your speakers.
Concerts on Blu-ray discs look and sound the best. That's because they can play high-resolution soundtracks (like Dolby® TrueHD), and deliver 5 or even 7 channels of audio. See some of favorites below, and share your own in the comments section.
Love rock music? So do we
There are plenty of shows out there on DVD and Blu-ray. There's also tons of streaming content available on Netflix, Amazon, YouTube™, and Qello Concerts. Here are a few of our favorites:
Stop Making Sense starring Talking Heads
Led Zeppelin DVD (2-disc set)
Woodstock, The Director's Cut, featuring Jimi Hendrix, Santana, The Who, and The Grateful Dead
Live at Radio City with Dave Matthews and Tim Reynolds
The T.A.M.I. Show Collector's Edition featuring James Brown, The Beach Boys, and The Rolling Stones
We're here to help
Have questions about choosing the right system? Call, email, or chat with us today for free, personalized advice. Free lifetime tech support is included with your Crutchfield purchase.