Brittany G's 2010 Dodge Charger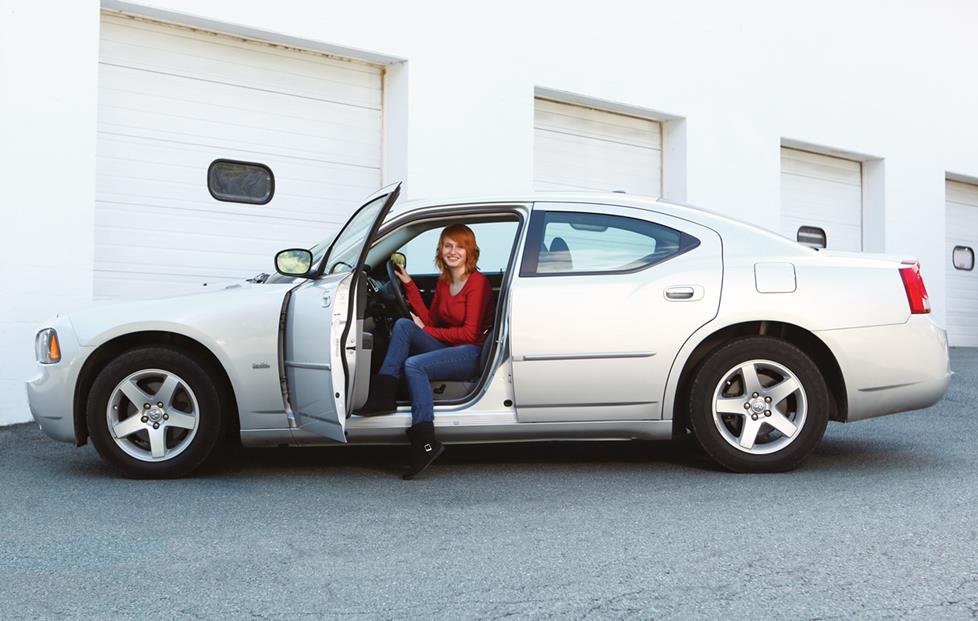 Brittany, a Crutchfield order support specialist, purchased this 2010 Dodge Charger just a few months ago. She loved the car from Day 1, but she quickly grew tired of the massively underpowered factory stereo. With help from our friends at Kenwood, the Crutchfield team put together a stellar Kenwood Excelon system that's every bit as cool as the car.
Items installed:
Kenwood Excelon KDC-X896 CD receiver
Kenwood Excelon KFC-X183C 7" full-range speakers
Kenwood Excelon KFC-XP184C 7" component speakers
Kenwood Excelon X450-4 4-channel amplifier
2 Kenwood Excelon KFC-XW12 12" 4-ohm subwoofers (50-400 watts RMS x 2)
Sound Ordnance BB122-100S Bass Bunker sealed dual 12" subwoofer enclosure
Kenwood Excelon X500-1 mono subwoofer amplifier (300 watts RMS)
StreetWires 14-gauge Super Cable Speaker Wire (60 feet)
StreetWires 4-gauge amp wiring kit w/patch
2 Streetwires 3-way distribution blocks
Tsunami 4-gauge power wire (5 feet)
Tsunami 4-gauge ground wire (5 feet)
StreetWires patch cable (16 feet)
The Kenwood Excelon CD receiver sounds great, plus it's incredibly versatile. Brittany can enjoy music from her iPod® or CD collection, Pandora® or an HD Radio™ station, plus it's SiriusXM ready if she wants to add satellite radio. Built-in Bluetooth® gives her the convenience of hands-free calling on the road.
A new receiver can make even tiny, tinny factory speakers sound better, but "better" isn't enough for a music lover like Brittany. We installed a set of Kenwood Excelon component speakers in the front doors. The 7" woofers fit into the Charger's cavernous door opening, while the 1" tweeters were surface-mounted on the sail panels. This "high-low" arrangement elevated the soundstage, and added new detail to Brittany's music.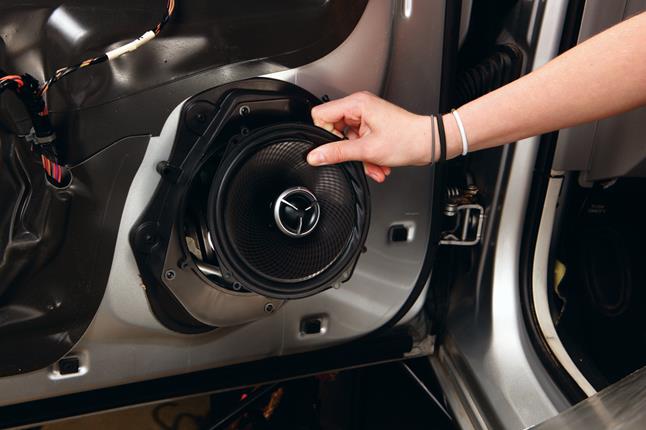 Installing the Kenwood speakers
We also installed a set of 7" Kenwood Excelon full-range speakers in the rear deck. These big speakers really filled out the sound -- and almost drowned out the memories of the Charger's original stereo.
"That system was terrible," Brittany said. "I love that I can turn this one up and it still sounds good."
She really can turn it up, thanks to the amp and subs we installed. The speakers are boosted by a Kenwood Excelon X450-4, a powerful 4-channel amp that gives the system a real kick. A Kenwood Excelon X500-1 mono amp gives the subs the juice they need to give Brittany the bass she wants.
Brittany likes music with a lot of bass, by the way, so we made sure she got plenty of it by mounting two 4-ohm Kenwood Excelon 12" subs in a Sound Ordnance Bass Bunker. Each sub is rated for up to 400 watts RMS, so the two of them can handle anything Brittany wants to blast. They're also built for heavy use, with a dual ventilation system that keeps things cool, even on long drives at high volume.
The Bass Bunker reduces vibrations and resonance, plus it's a safe and stable place to mount the two amplifiers. Wiring and accessories from StreetWires and Tsunami ensure stable connections and reliable performance.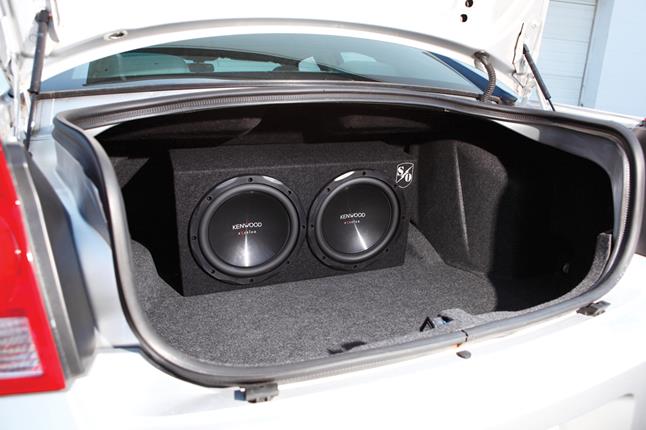 The Sound Ordnance Bass Bunker holds two big Kenwood subwoofers
Needless to say, Brittany loves the way her Charger sounds now.
"I'm all about bass, but I like being able to hear everything else," she explained. "When I really turn it up, the bass hits hard, but I can hear the singing, too. The whole system is amazing!"
Read all about our approach to building this system one piece at a time, and staying on a budget.
---
Vehicles in the Custom Car Showroom are submitted by customers and fans, and edited by Crutchfield writing staff. You can find more of these articles on the Showroom main page.