3 Takeaways from CanJam NYC 2019
Our headphone guy shares the sights and sounds of the world's premier headphone show
Heads up!
Welcome to this article from the Crutchfield archives. Have fun reading it, but be aware that the information may be outdated and links may be broken.
Stepping into CanJam NYC, I felt a burst of energy. My senses were overwhelmed by spinning turntables, glowing vacuum tubes, stacks of amplifiers, and lots of headphones.
What's a CanJam? It's an event at which audio aficionados from all over the globe meet to celebrate, audition and discuss the latest "cans" (aka headphones).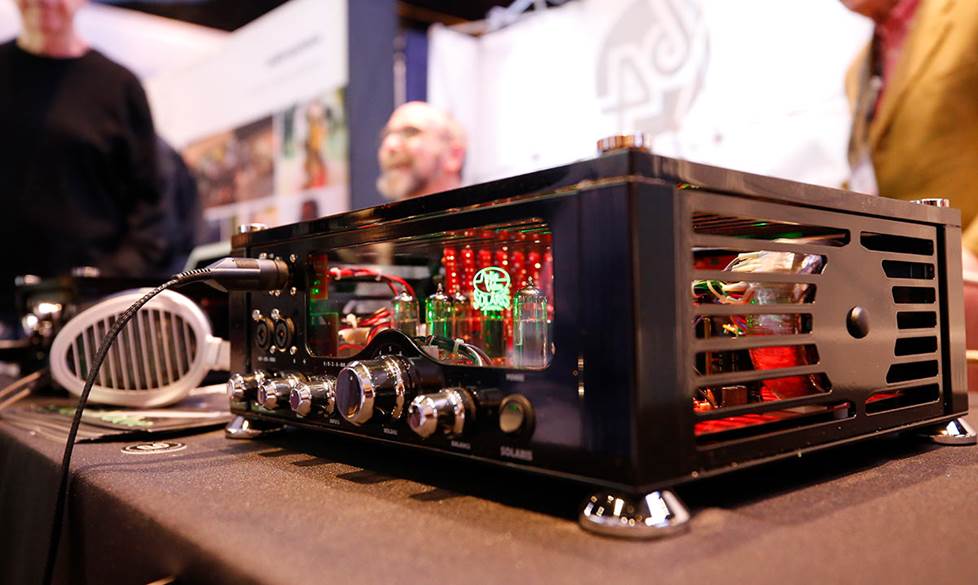 There were many, many eye-catching products at CanJam NYC. The mid-February show in New York was one of three U.S. events scheduled for 2019.
I tried out a ton of new products and talked to many headphone experts, so I'll have more in-depth articles in the weeks to come. But I wanted to quickly share some of the sights and sweet sounds from the show. Here are my big takeaways: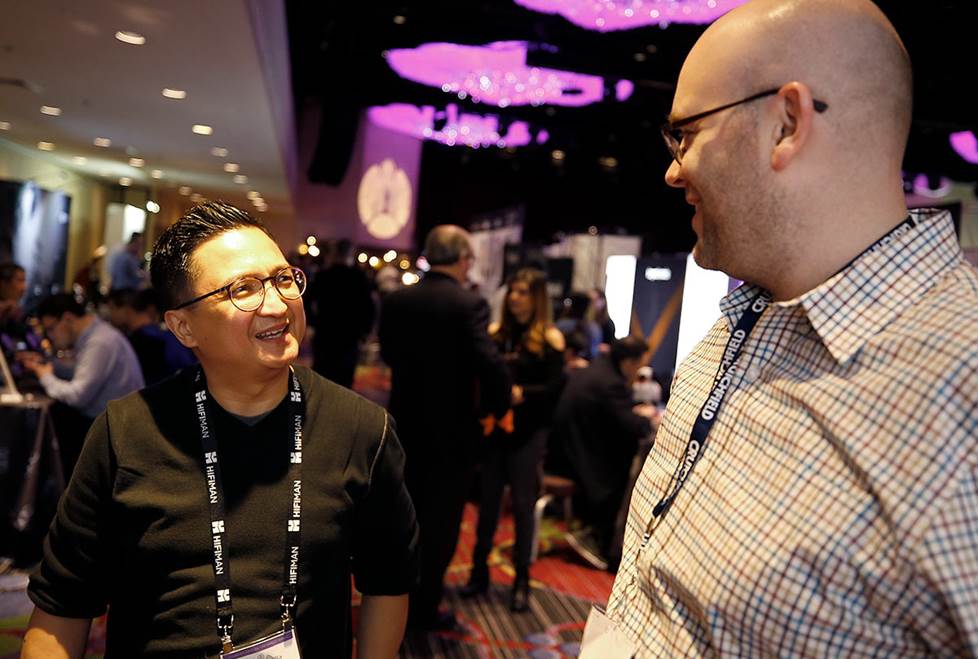 Head-fi.org and CanJam founder Jude Mansilla (left) is one of the world's leading headphone experts, and couldn't be more friendly and generous with his time and knowledge.
1. We are in a headphone boom period
I spoke to Paul Barton, the legendary speaker/headphone designer and founder of PSB speakers. He drew some parallels between today's headphone scene and what he saw back in the 70s and 80s when high-end home speakers really started taking off. There is an enthusiasm and sophistication around personal audio that simply didn't exist at this level a decade ago.
And the proof was on display around the CanJam floor.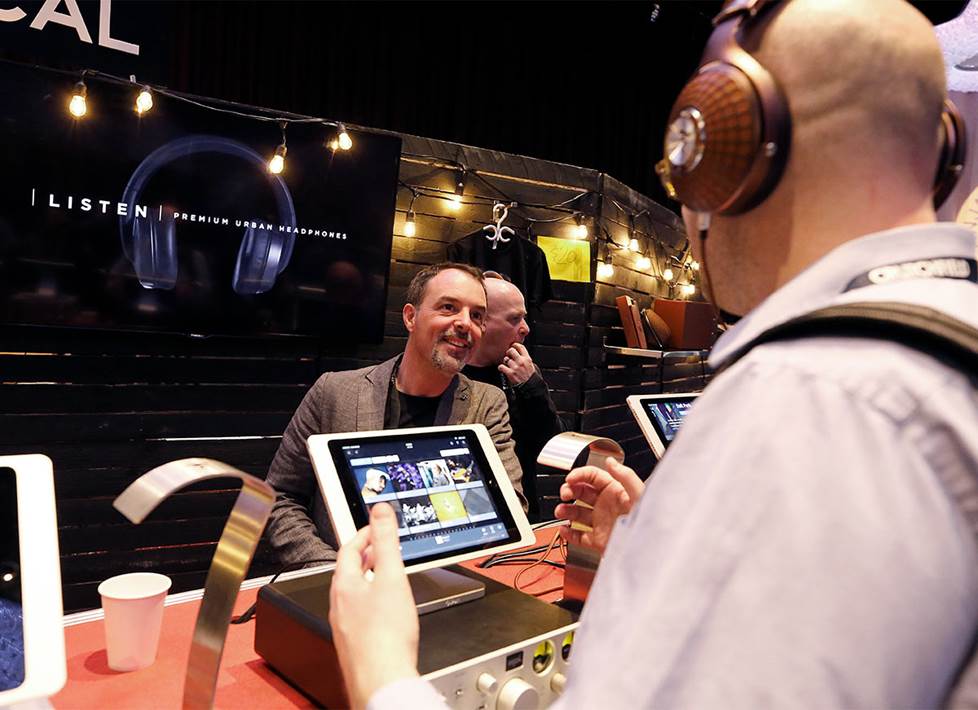 Focal's Nicolas Debard (left) watched on as I tried the new Stellia closed-back headphones.
The most buzz-worthy headphone debut at this year's show was the new Focal Stellia Closed-back headphones. They dropped the week before the show, and I asked project manager Nicolas Debard about his company's goal.
"We wanted to bring a Utopia-level performance to a set of closed-back headphones," Debard said.
Mission accomplished, I thought after listening to the Stellia on the busy show floor. These beryllium-driven headphones have a quick attack and an open-air quality that I haven't heard from many closed-back models.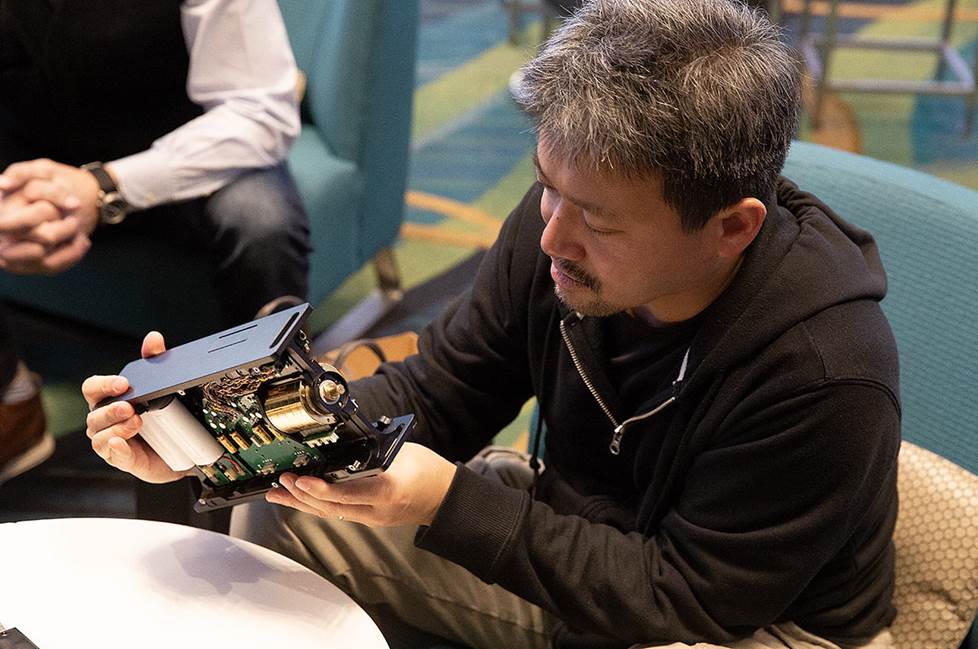 Sony's Tomoaki "Tomo" Sato shows off the advanced circuitry inside his latest masterpiece — the DMP-Z1 high-res player/headphone amp.
The day before the show, I interviewed Tomoaki "Tomo" Sato of Sony. Tomo is the product manager for Sony Walkman high-res players, and has designed some of the best-received portable audio products on the planet. His latest creation is the brick-sized Sony DMP-Z1 digital music player/headphone amp.
He opened up the heavy-duty player to show all the technical wizardry inside. A solid aluminum frame separates the analog and digital circuitry. I was surprised when he handed me the gold-plated rotary volume dial — this thing was hefty.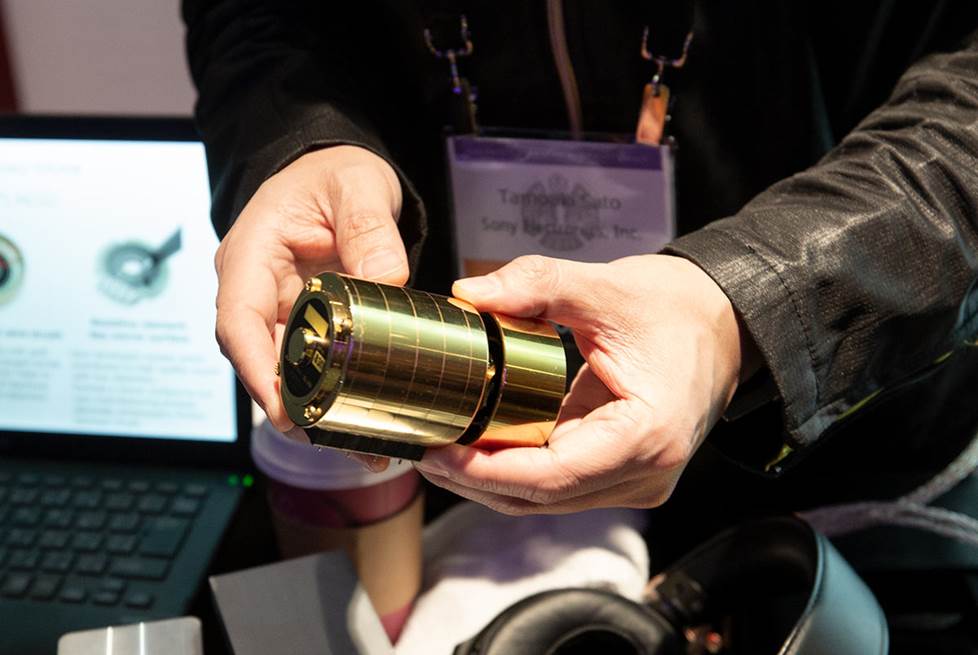 The hefty, gold-plated volume dial of the Sony DMP-Z1 was larger than most portable players.
As for the sonic results? I listened to Erykah Badu's "The Cell" through the Sony MDR-Z1R over-ears connected to this player. I'm familiar with these headphones, and I've always been impressed by their spaciousness and clarity. But through the DMP-Z1, they sounded even tighter with more muscle.
This track can sound a bit confusing through lesser listening rigs – as if all the instruments and vocals are competing with each other. But through this deluxe setup, everything was delivered with properly separated precision. Sony was in full control of the moving chaos.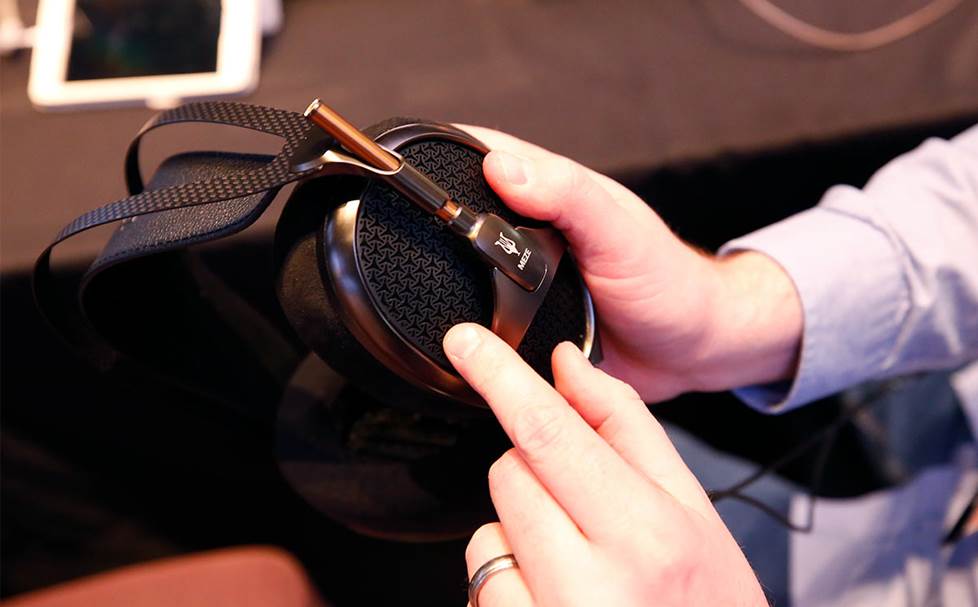 An intricately etched pattern in the earcup allows air to flow in and out of the Meze Empyrean headphones.
The Meze Audio Empyrean is one of my favorite recent headphone releases. I heard a prototype at last year's CanJam and was fortunate enough to hear a finished version just before this year's show. I said in the product description, "Meze delivers an absolutely deluxe headphone experience, with the best bass response I've ever heard in a pair of planar magnetic headphones."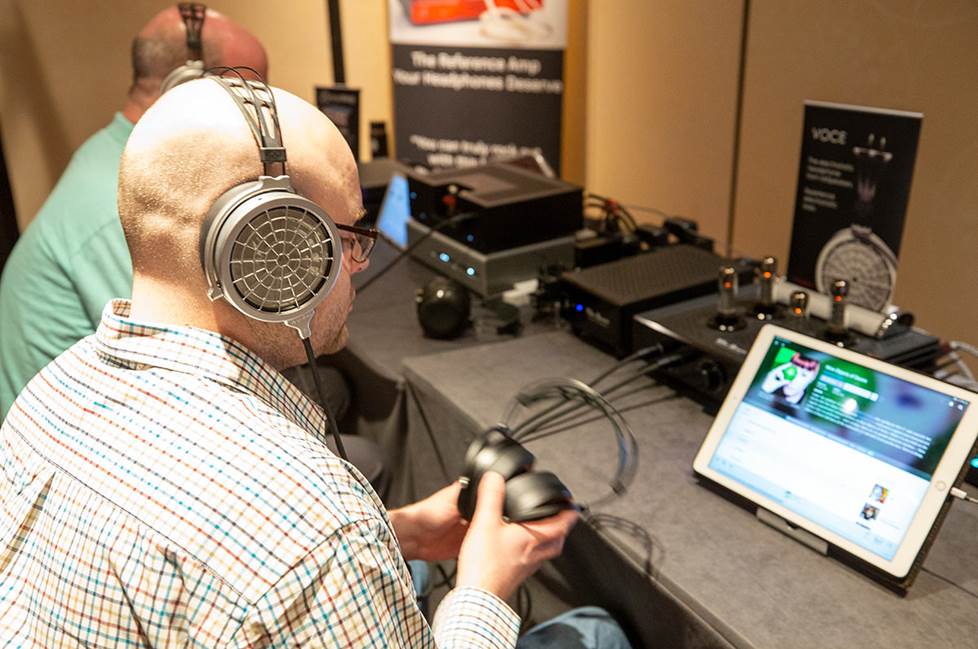 I got to spend some good quality time with the MrSpeakers VOCE electrostatic headphones.
Off the side of the ballroom, the conference areas were used for seminars and "quiet listening rooms." One listening room was dedicated to MrSpeakers headphones driven by HeadAmp amplifiers. Dan Clark — the Mr. Speakers — had his newest set of headphones on display: the Ether 2 planar magnetic open-backs. These headphones have a seamless cohesiveness that I enjoyed for all types of music.
I also jumped at the chance to try out to the MrSpeakers VOCE electrostatic headphones again. They deliver one of the finest headphone experiences I've ever heard. Each time I listen to Cowboy Junkies' "Square Room" on the VOCE — Dan uses the melancholy track to tune his headphones — I can feel the song's emotion in my bones.
2. "Wireless" is no longer a bad word at CanJam
Well, at least not entirely. For years, audio aficionados have said that Bluetooth headphones will never match the sound quality of wired headphones. Now even the staunchest purists among us have to admit that they are getting darn close.
Some of the most trusted names in audio dared to bring Bluetooth headphones to CanJam. And they met a very receptive audience.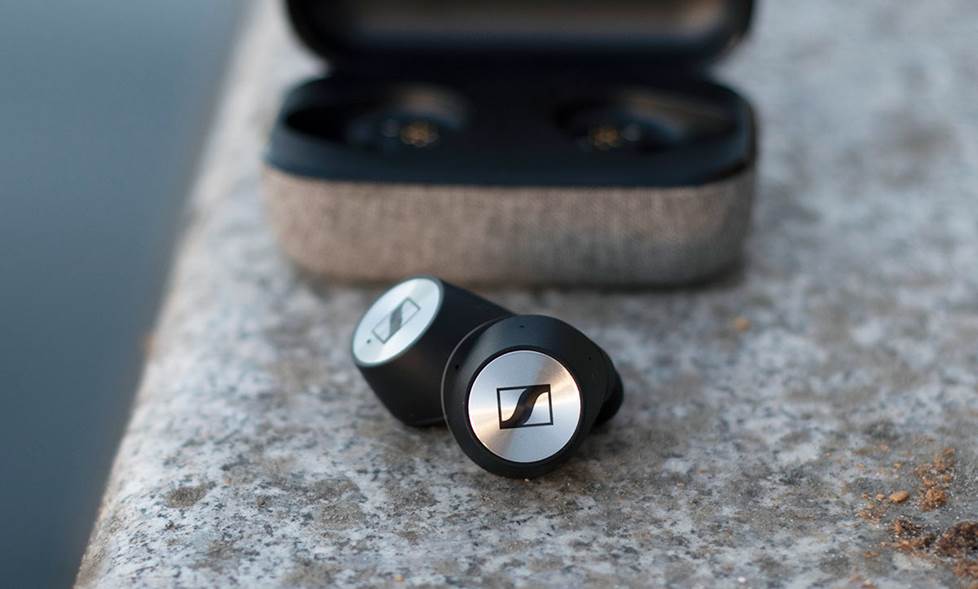 The Sennheiser Momentum true wireless earbuds were a surprise hit at CanJam.
I'm on record as saying that the Sennheiser Momentum TW headphones are "the best true wireless earbuds I've ever heard." And these 100% wire-free headphones made waves at CanJam. Sennheiser told us that many attendees walked away pleased with the smooth, articulate sound.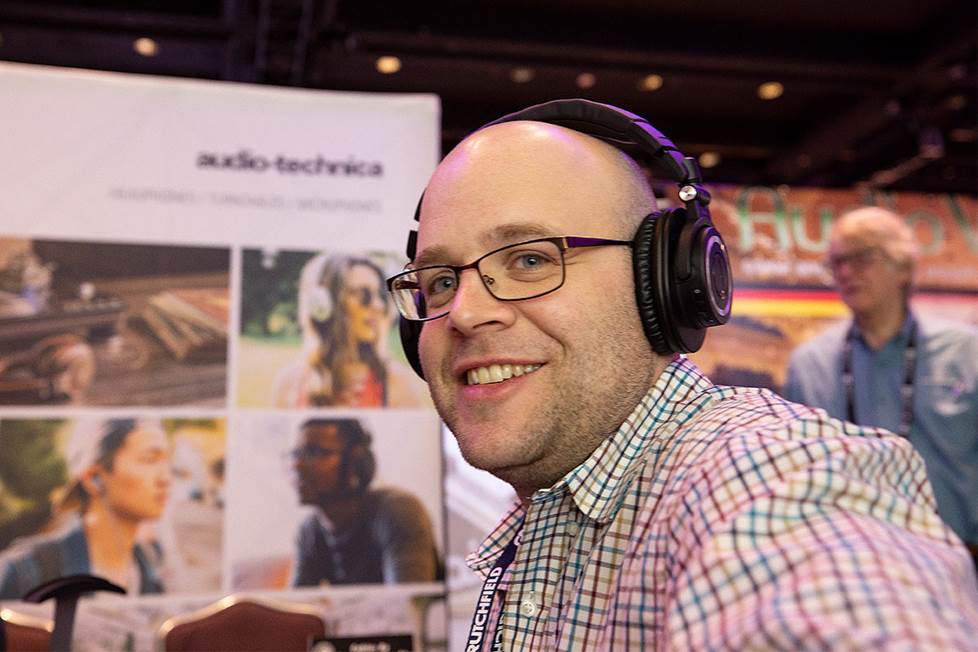 The Audio-Technica ATH-M50xBT wireless Blueooth headphones live up the lofty name of their legendary wired siblings.
I'll bet for many people here at the show, the iconic Audio-Technica ATH-M50x was their gateway headphone into this high-end hobby. The recently released wireless version, the ATH-M50xBT, sounds uncannily similar. Audio-Technica had the two side by side to prove it. In fact, I actually prefer the extra bit of punch you get from these Bluetooth 'phones.
The Audeze Mobius is a true headphone game-changer. For one, it is the world's first Bluetooth planar magnetic model. It also features built-in head-tracking for a one-of-a-kind 3D audio experience. The Mobius is great for enjoying music and movies, but it was built for gaming.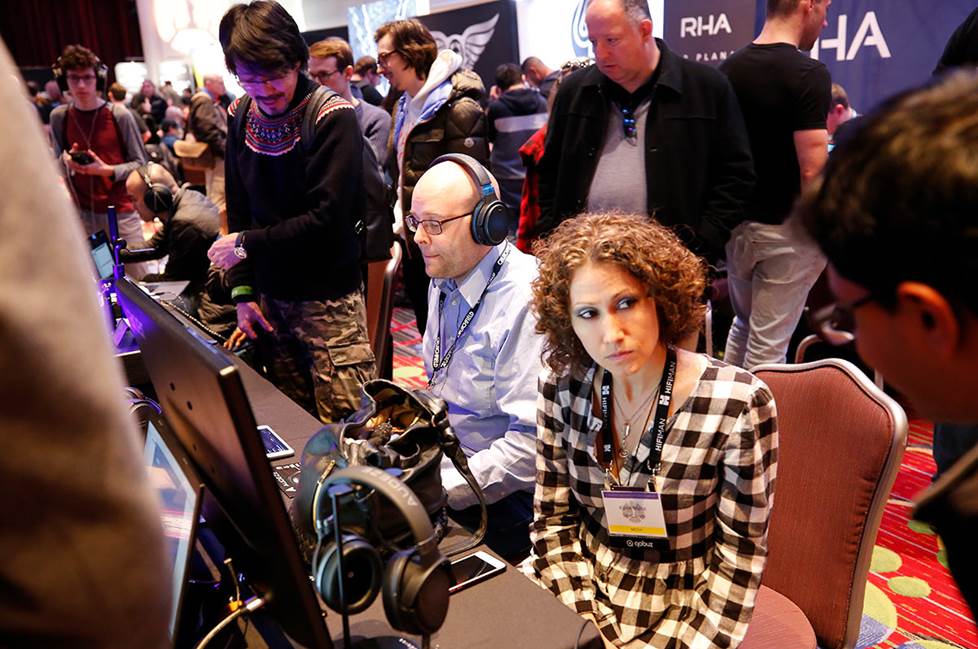 Audeze had one of the more popular booths at the show — both for their high-end LCD-series 'phones and the Mobius' unique 3D listening experience.
I wrote an in-depth article on the Mobius — complete with hands-on reviews from our in-house video game experts. But I hadn't listened to the headphones in a while. Putting them on again and watching Audeze's video demo still had me in awe.
You get the audio equivalent of a Virtual Reality visual experience. I heard objects flying around me to the left, right, and even behind.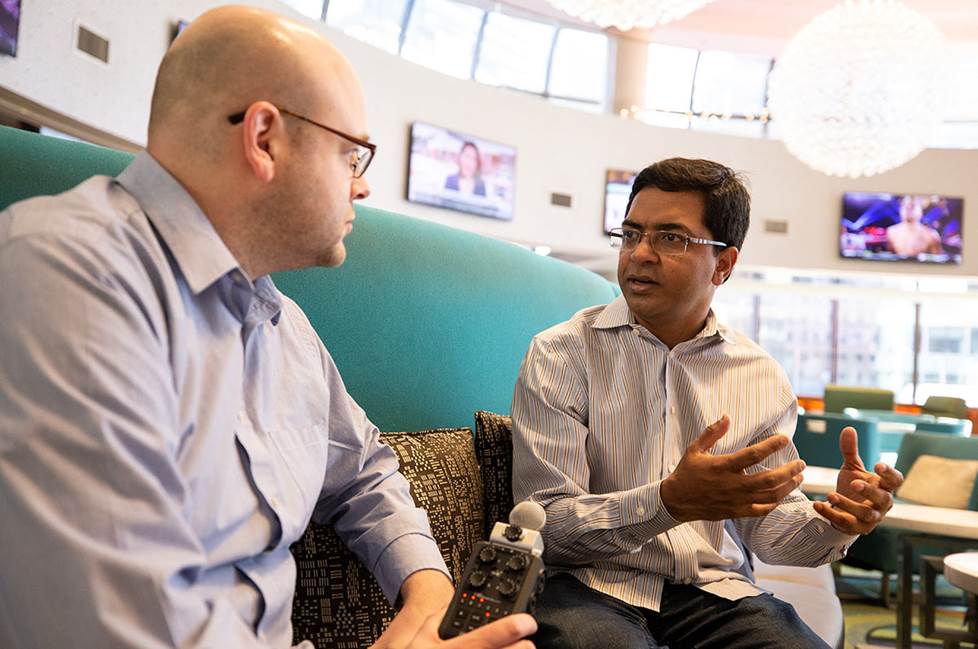 I spoke with Audeze founder & CEO Sankar Thiagasamudram about the past, present, and future of his company.
Later I sat down with Audeze's founder and CEO Sankar Thiagasamudram and discussed his company's journey. 10 years ago they had only half of a booth in CanJam, but soon they became known for making some of the best planar magnetic headphones on the planet. Now they have entered this whole new world of gaming, and Sankar is very optimistic looking ahead.
3. The people are the biggest draw of these events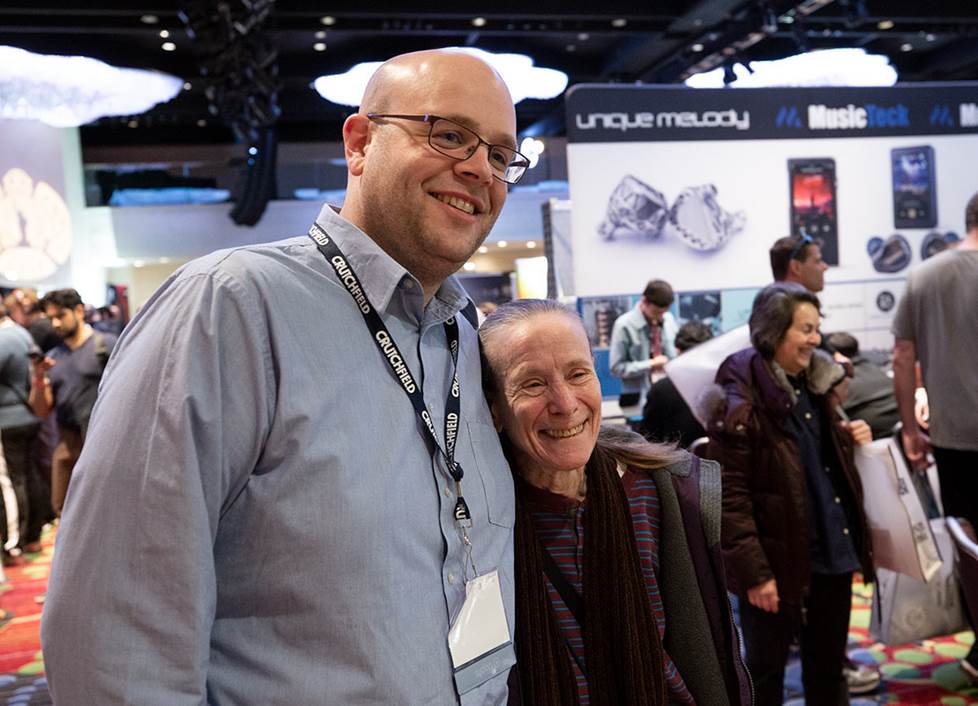 A show highlight for me was meeting Susan, a longtime Crutchfield customer who collects our catalogs and ordered her MrSpeakers headphones and Astell & Kern Kann high-res player from us.
While the gear might get top-billing at CanJam, I always find that it is the people you connect with most. Catching up with someone you haven't seen since the last show, meeting new faces — these are the types of things that make real memories.
This year, I was fortunate enough to talk in-depth with many of the heavy-hitters in headphones and audio. I look forward to sharing some of these interesting, insightful, and ultimately fun interviews with you in the future.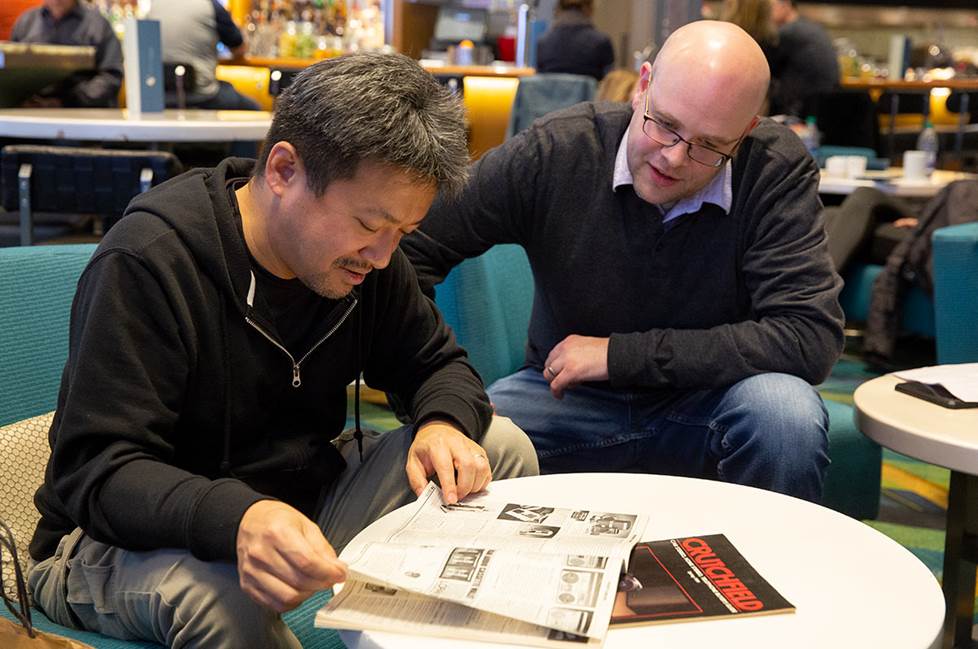 I interviewed Tomoaki "Tomo" Sato of Sony, and handed him the 1982 Fall Crutchfield catalog featuring an early Walkman cassette player.
But much as I enjoy talking to the experts, I really get a big kick talking to my fellow headphone enthusiasts. I met people from all over the world, with different backgrounds. Some were huge Crutchfield fans.
While we didn't always agree on what gear we preferred, the conversations were always cordial and constructive. It turns out music still does a good job of bringing people together...even though we could only listen one at a time.